---
November 27, 2012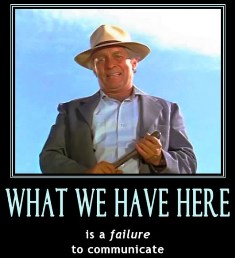 Just before Thanksgiving I almost ventured across Lake Pontchartrain for a quad-meet. I had schedules from two of the participating schools, as well one from an area official, indicating it started at either 8 a.m. or 9 a.m. A typo on my schedule had it at 7 a.m. Yet somehow I was swayed by NOLA.com's starting time of 7 p.m. We were all wrong. Four teams did attend, and the meet started at 5 p.m.
Personal reasons required that I stay home that day anyway, so I checked with some local media outlets to see if they would be covering the event. I heard back from one that they would not be covering it. I contacted a couple of coaches to see if they might have a student who could pass on results, and the first one I heard from wrote "We were not able to get a referee and were not able to wrestle this evening." I mistakenly interpreted that to mean the entire meet was cancelled. As it turned out the coach really meant that an official was not able to referee the matches that morning and that his team was not going to participate.
Because a team did not attend a match or because I did not get to go to the matches that were offered is not the problem.
The problem is that had I been able to go I would have been ridiculously early or very late. And that leads to the real problem:
Why, in this world of instant communication in which one can know exactly when a Kardashian sister sneezes, is there not a reliable and updated state-wide wrestling schedule upon which a fan can rely?
The solution, of course, is wholly dependent on the wrestling coaches to deem that a worthy goal. If they do that, then options can be explored.
An accurate and updated Website is the easiest answer these days. And it is not as if that is difficult. Despite what many people think, updating Websites can be done very quickly. Whoever takes on such a task need not stay by a computer or phone 24/7. Coaches who do not believe they can field a team for a dual meet will generally cancel prior to making their wrestlers skip a few meals to make weight. Hence whoever is used to update a Website should have at least 24 hours in which to do so.
There is also the wrestling forum on NOLA.com. It may not be used as often as it once was, but Facebook is not yet all-powerful. Plus, people viewing NOLA.com's forum are (one would hope) mainly looking for information pertaining to wrestling. Facebook depends on who is a friend with whom, and a post may not always be visible unless it goes viral. We can all agree that wrestling scheduling posts on Facebook should not go viral, right?
A simple solution which absolves coaches of unnecessary internet bothers is to appoint a team member as a media coordinator. When a dual meet is cancelled or rescheduled, the coach can just tell his media coordinator to "call and email that guy," "post that on NOLA," or, if a team has a Facebook page, "post that on Facebook." The latter two options are always available, and given 24-48 hours, so should whoever might run a Website for the same purpose.
This is not something which should involve the LHSAA's trying to pass a rule. It is just too simple to accomplish without including the quagmire which that can involve.
The coaches association could help. They should have the funds available to purchase a computer-updated Website on which coaches (or media coordinators) can make scheduling changes on their own. But that entails sending out passwords and the like, and there really is not a need for that. It is unnecessary work.
To start, let us assume someone is willing to maintain a Website for the purpose of keeping schedules as accurately updated as possible. (A system determining who would do that annually would be better, but "baby steps" for now.) Let's assume it is simple to contact that person via email or telephone. Then all it takes is the desire for coaches to want people to know when and where their events are or are not occurring. And then the NOLA.com forum and Facebook can be used as easy back-ups.
---
Responses to this editorial may be sent to the editor at editor@larwestlingnews.com.
---
---
© 2012 by Martin Muller
You may not make electronic copies of these copyrighted materials nor redistribute them to 3rd parties in any form without written permission