| | | |
| --- | --- | --- |
| | | Status: Fini |
---
29th Trygg Memorial begins today
12/01/12
109 wrestlers from 17 schools are vying for championships at the 29th annual George Trygg Memorial Wrestling Tournament today at Grace King High School in Metairie, LA.
The field includes wrestlers from the host Irish of Grace King, Rummel, St. Paul, John Ehret, Helen Cox, Pearl River, Belle Chasse, Denham Springs, Destrehan, East Jefferson, Fisher, Riverdale, Lakeshore, Holy Rosary, Chalmette, Parkview Baptist and South Walton High School in Florida.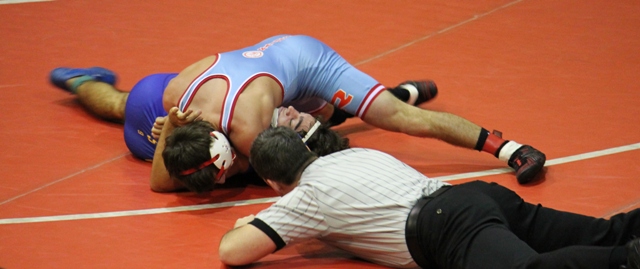 Rummel's Matt Calcote score a pin over St. Paul wrestler Matt Rader in the 126 pound semifinals.
| | |
| --- | --- |
| | |
| St. Paul's Sam Dufour grabs the leg of King's Eric Broussard. | Dufour finishes his quarterfinal match against Broussard with a fall. |
Grace King has the highest number of #1 seeds with four, followed by Rummel with three. Not listed as seeded are Logan Thompson of Belle Chasse at 195 pounds, who has won The East Ascension Spartan Open, The Central Invitational and was runner-up at the St. Michael Warrior Open.
Cody Pickrin of South Walton, FL, recorded a major upset when he defeated 2nd seed Stefon Foster of John Ehret 4-3 in the 126 pound weight class. He will face two-time defending Division I state champion Matt Calcote of Rummel in the finals.
Seeds are listed below
Weight
Seeds
Weight
Seeds
106
(1) Christopher Marson (Denham Springs)
(2) Devyn Breaud (Rummel)
152
(1) Aiman Hamide (Grace King)
(2) Dominic Iovenetti (St. Paul)
113
No seeds listed
160
(1) Brandon Briones (Grace King)
120
(1) Angelo Medina-Perez (Grace King)
(2) Tyler Mire (Rummel)
170
(1) Michael Darwin (Rummel)
(2) Blaze d'Aquin (John Ehret)
126
(1) Matt Calcote (Rummel)
(2) Stephen Foster (John Ehret)
182
No seeds listed
132
(1) Jorge Sanchez (Helen Cox)
(2) Zach Clay (St. Paul)
(3) Nick Arbough (Belle Chasse)
195
No seeds listed
138
(1) Jordan Mastrianni (Belle Chasse)
(2) Christian Heningberg (Grace King)
(3) Joe Kerry (Rummel)
(4) Deion Floyd (John Ehret
220
No seeds listed
145
(1) Tyler Frame (Rummel)
285
(1) Maycol Rizo (Grace King)
(2) Zach Mangrum (St. Paul)

Admission is $5 for adults and $3 for students/children. The concession stand is open.
---
© 2012 by Martin Muller
You may not make electronic copies of these copyrighted materials nor redistribute them to 3rd parties in any form without written permission