| | | |
| --- | --- | --- |
| | | Status: Fini |
---
Rummel splits matches in Baton Rouge
Martin Muller | November 24th, 2012
Rummel and Catholic each won five matches against each other Saturday morning, but the Bears had more pins than the Raiders, and defeated them 44-25 in a tri-meet at Catholic. Rummel did not have that problem later in the day, winning six of the ten matches they wrestled against Teurlings Catholic, all via pins leading to a 42-36 victory.
Still lacking in the heavier weight classes due to the success of the Raider football team, Rummel started each match down by 12 points. Yet they still showed why they finished only five points behind Catholic last year and nine points behind Division I champion Brother Martin.
Rummel's Devyn Breaud, at 106 lbs., was the only Raider wrestler to score a pin against Catholic, while the Bears had pins by Matthew Mire, Kevin Moran and defending state champion Brandon Luckett. Other Raiders winning matches were Tyler Mire, Matt Calcote, Tyler Frame and Michael Darwin.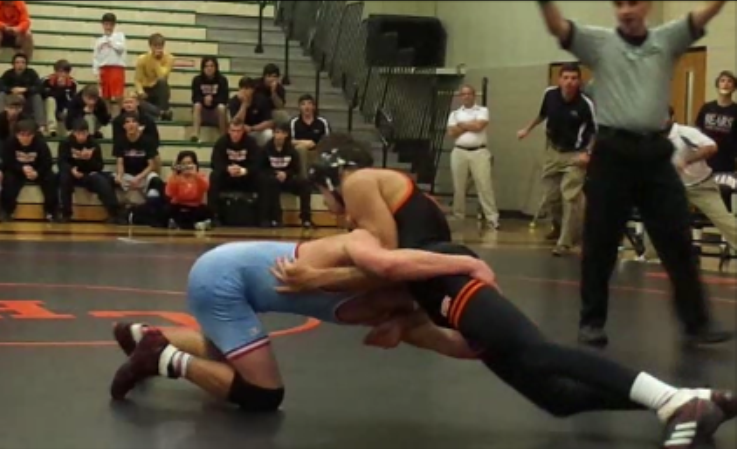 Rummel's Matt Calcote shoots for the deciding takedown in the Sudden Victory period of his match with Catholic's Brennan Taylor
The match of the day was at 126 lbs. between Rummel's two-time defending state champion Matt Calcote and Catholic's Brennan Taylor. Calcotte lost earlier in the season to Division II state champion Cody Hill of Live Oak 3-2, and then was out with injuries for a couple of weeks. Taylor, after losing in the finals of the Warrior Open to Hill, has beaten Hill in two straight tournament finals, and on the way pinned returning Division I state champion Jacob Dale of Comeaux.
Calcote took down and controlled Taylor in the first period for a 2-0 lead. Taylor rode Calcote for the entire second period to keep the score at 2-0. In the third period, Calcote was warned for stalling while riding Taylor, and with just over a minute remaining, Calcote was cited for stalling again, this time giving Taylor a point and narrowing the score to 2-1. Rather than risk Taylor scoring a 2-point reversal at the end of the match, Rummel coach Rod Cusachs instructed Calcote to let Taylor escape, tying the score at 2-2 when regulation time expired. Cusachs counted on Calcote being able to take Taylor down again, which he did at 0:14 in the Sudden Victory portion of overtime, giving Calcote a 4-2 decision.
Against Teurlings Catholic, Rummel wrestlers Robert Fairchild, Tyler Mire, Calcote, Joe Kerry, Tyler Frame and Michael Darwin all won via pins. Teurlings had pins by Jacob Rees and Travis Thibodeaux.
In the final meet of the day Catholic defeated Teurlings 59-15.
Catholic (B.R.) 44 - Rummel 25
| | | | |
| --- | --- | --- | --- |
| 106 | Devyn Breaud (R) pinned Jonathan Bradley (C) in 2:32 | 152 | Kevin Moran (C) pinned Guillermo Suarez (R) in 2:03 |
| 113 | Dominic Dewey (C) decisioned Tucker Boesch (R) 7-3 | 160 | Brandon Luckett (C) pinned Zack Bowman (R) in 0:44 |
| 120 | Tyler Mire (R) decisioned Phillip Nauta (C) 6-4 | 170 | Michael Darwin (R) decisioned Dillon Breaux (C) 9-4 |
| 126 | Matt Calcote (R) decisioned Brennan Taylor (C) 4-2 SV | 182 | Travis Jackson (C) won by forfeit |
| 132 | Matthew Mire (C) pinned Damien Tornabene (R) in 1:16 | 195 | Christian Pittman (C) won by forfeit |
| 138 | James Claitor (C) tech. fall over Joe Kerry (R) 21-5 @ 6:00 | 220 | Connor Ortego (C) won by forfeit |
| 145 | Tyler Frame (R) major decision over Reid Burns (C) 13-4 | 285 | Brandt O'Brien (R) won by forfeit |
Rummel 42 - Teurlings 36
| | | | |
| --- | --- | --- | --- |
| 106 | Robert Fairchild (R) pinned Brayden Guidry (T) in 0:58 | 152 | Travis Thibodeaux (T) pinned Guillermo Suarez (R) in 1:51 |
| 113 | Brock Bonin (T) decisioned Devyn Breaud (R) 12-6 | 160 | Alexander Kellar (T) decisioned Zack Bowman (R) 6-2 |
| 120 | Tyler Mire (R) pinned Brandon Blanchard (T) in 0:40 | 170 | Michael Darwin (R) pinned Caelan LeBleu (T) in 0:35 |
| 126 | Matt Calcote (R) pinned Tristan Lee (T) in 2:57 | 182 | Nick Schneider (T) won by forfeit |
| 132 | Jacob Rees (T) pinned Damien Tornabene (R) in 2:50 | 195 | Grant Barras (T) won by forfeit |
| 138 | Joe Kerry (R) pinned Dante Hebert (T) in 1:19 | 220 | Gregory Grappe (T) won by forfeit |
| 145 | Tyler Frame (R) pinned Dakota Hebert (T) in 1:15 | 285 | Brandt O'Brien (R) won by forfeit |
Catholic (B.R.) 59 - Teurlings 15
| | | | |
| --- | --- | --- | --- |
| 106 | Jonathan Bradley (C) pinned Brayden Guidry (T) in 1:06 | 152 | Travis Thibodeaux (T) decisioned Kevin Moran (C) 12-6 |
| 113 | Brock Bonin (T) pinned Ben Toups (C) in 1:32 | 160 | Brandon Luckett (C) pinned Alexander Kellar (T) in 0:45 |
| 120 | Phillip Nauta (C) pinned Brandon Blanchard (T) in 0:42 | 170 | Dillon Breaux (C) pinned Caelan LeBleu (T) in 1:19 |
| 126 | Brennan Taylor (C) tech. fall over Tristan Lee (T) 19-4 | 182 | Nick Schneider (T) pinned Travis Jackson (C) in 2:35 |
| 132 | Matthew Mire (C) pinned Jacob Rees (T) in 1:10 | 195 | Christian Pittman (C) pinned Grant Barras (T) in 0:32 |
| 138 | Jacob Root (C) pinned Dante Hebert (T) in 1:03 | 220 | Connor Ortego (C) pinned Gregory Grappe (T) in 2:45 |
| 145 | Reid Burns (C) pinned Dakota Hebert (T) in 3:07 | 285 | Double Forfeit |
---
© 2012 by Martin Muller
You may not make electronic copies of these copyrighted materials nor redistribute them to 3rd parties in any form without written permission