| | | |
| --- | --- | --- |
| | | Status: Fini |
---
Jesuit shows depth in Ken Cole victory
Editor | 01/31/2013 | Page 2
| | |
| --- | --- |
| Number of Entrants: | 30 |
| Returning Division I State Champions: | 0 |
| Returning Division II State Champions | 0 |
| Returning Division III State Champions | 0 |
| Current LA Classic Champions | 1 |
| Returning Ken Cole Champions: | 0 |

| | | | |
| --- | --- | --- | --- |
| Place | Wrestler | School | Score |
| 1 | (1) Ben D'Antonio | Jesuit | 7-4 |
| 2 | (2) Brock Bonin | Teurlings Catholic | |
| 3 | (3) Nicky Charles | Jesuit JV | 11-2 |
| 4 | (4) Nicholas des Bordes | Mandeville | |
| 5 | Dylan Holiday | Haughton | 0:48 |
| 6 | Evan Taylor | Bossier | |
Championship Bracket Consolation Bracket
Seed
1
2
3
4
5
6
7
8
Wrestler
School
Ben D'Antonio
Jesuit
Brock Bonin
Teurlings Catholic
Nicky Charles
Jesuit JV
Nicholas des Bordes
Mandeville
Gavin Beck
North Vermillion
Prentice Spurlock
John Curtis
Brady Williams
Parkway
Javarious Jones
Airline
Jesuit's Nicky Charles won the Mandeville Open in November. He placed third at the Trey Culotta in December. He has three victories over Holy Cross' best 106 pounders, and one apiece over the best Catholic and Rummel started against him at the time. He had 23 victories versus seven losses, and none of the three wrestlers he had lost to from Louisiana were present at the 2013 Ken Cole.
Yet Nicky Charles was seeded (and placed) third at the Ken Cole while competing on Jesuit's JV squad.
Jesuit's starter at 106 was sophomore Ben D'Antonio, who wrestled in that weight class after alternating between 113 and 120, for the first time at the Louisiana Classic, which he won. A tough 3-2 loss last Wednesday had him entering the tournament with a 4-1 record in his new weight class. Barring a major upset D'Antonio already had the #2 or #3 seed secure for the state tournament. But Coach Spencer Harris, who left many of his starting squad at home, was correct in giving D'Antonio more experience in his new weight class.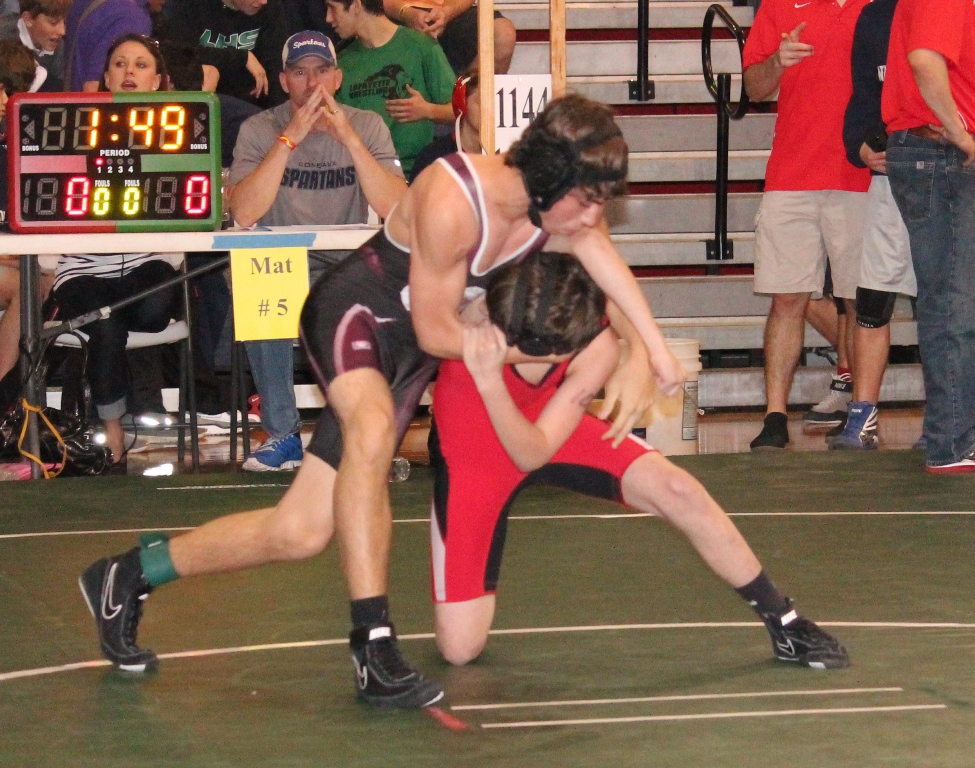 De la Salle's Cameron LeBlanc vs. Basile's (JV) Brennan Langley at 106 lbs. LeBlanc won via a pin in 4:12.
Semifinals
The 106 semifinals featured the top four seeds of the weight class. D'Antonio faced 4th-seeded Mandeville sophomore Nicholas des Bordes. Des Bordes was 20-7 entering the Ken Cole. The other side of the bracket pitted Charles against 2nd-seeded Brock Bonin of Teurlings Catholic. Bonin, a freshman, was the runner-up at the LA Classic, losing to D'Antonio 14-8. Of his six losses on the season, four came to highly ranked opponents at 113 lbs. At 106 his only losses came at the hand of a Texas wrestler and to D'Antonio.
D'Antonio defeated des Bordes with a fall in 5:30. Bonin also delivered a "knockout blow" of sorts by scoring a 16-0 technical fall over Charles. In the consolation finals Charles outpointed des Bordes 11-2.

| | |
| --- | --- |
| | |
| D'Antonio controlling des Bordes in their semifinal match | D'Antonio finished the match with a fall in 5:30. |
Finals
D'Antonio started off the finals at 106 with a quick takedown from which Bonin escaped. D'Antonio scored again on a back trip from a double-leg shot and then almost scored back points when he stepped over a switch attempt. The first period ended with the Jesuit wrestler leading 4-1. At some point during the break between the first and second periods Bonin was given another point. Hence he started the period only two points behind D'Antonio.
D'Antonio chose to start on the bottom and escaped from Bonin in the first 20 seconds. He then shot for a single, switch it to a double and scored two more points. He was able to turn Bonin to his back but not long enough to merit any nearfall points. The period ended with D'Antonio leading 7-2.
Bonin started the third period on the bottom and scored a reversal with 1:04 remaining. He threw in legs and tried a power-half, turning D'Antonio over at times but not long enough to score any points. Bonin's reversal were the only points of the round, which ended in a 7-4 victory for D'Antonio.
D'Antonio's win cemented his spot as a second seed at State in Division I behind Brother Martin's Mason Mauro. .The third and fourth spots should be determined this weekend at the Greater Baton Rouge Championships should Marson and East Ascension's Alex Betteridge meet at some point. Bonin should be seeded first in Division II.
---
© 2012 by Martin Muller
You may not make electronic copies of these copyrighted materials nor redistribute them to 3rd parties in any form without written permission