| | | |
| --- | --- | --- |
| | | Status: Fini |
---
Jesuit shows depth in Ken Cole victory
Editor | 01/31/2013 | Page 3
| | |
| --- | --- |
| Number of Entrants: | 30 |
| Returning Division I State Champions: | 0 |
| Returning Division II State Champions | 0 |
| Returning Division III State Champions | 2 |
| Current LA Classic Champions | 0 |
| Returning Ken Cole Champions: | 0 |

| | | | |
| --- | --- | --- | --- |
| Place | Wrestler | School | Score |
| 1 | (2) Connor Stampley | Comeaux | 11-5 |
| 2 | (2) Hunter Taylor | Lafayette | |
| 3 | (4) Raymond Bushnell | Basile | 8-5 |
| 4 | Andrew Aucoin | Sam Houston | |
| 5 | (6) Decoreyon Howard | Huntington | Forfeit |
| 6 | (3) Alex Simmaly | Parkway | |
Championship Bracket Consolation Bracket
Seed
1
2
3
4
5
6
7
8
Wrestler
School
Hunter Taylor
Lafayette
Connor Stampley
Comeaux
Alex Simmaly
Parkway
Raymond Bushnell
Basile
Baret Sanchez
Brusly
Decoreyon Howard
Huntington
Eric David
Baton Rouge
Trey Hebert
Teurlings Catholic
While two returning Division III state champions were in the bracket, the class of the field were Division I wrestlers from the Lafayette area. The 2nd seed, junior Connor Stampley of host Comeaux, suffered only three losses prior to the weekend. One was to the consensus favorite to win a state title, Jesuit's Mitch Capella, who was not among Jesuit's Ken Cole contingent. His other two losses, however, were to tournament top seed Hunter Taylor. Both matches were in tournament finals (the Jacob McMillan Invitational and the Rebel Open), both were decided by two points (4-2 and 6-4) and both required a "Sudden Victory" period.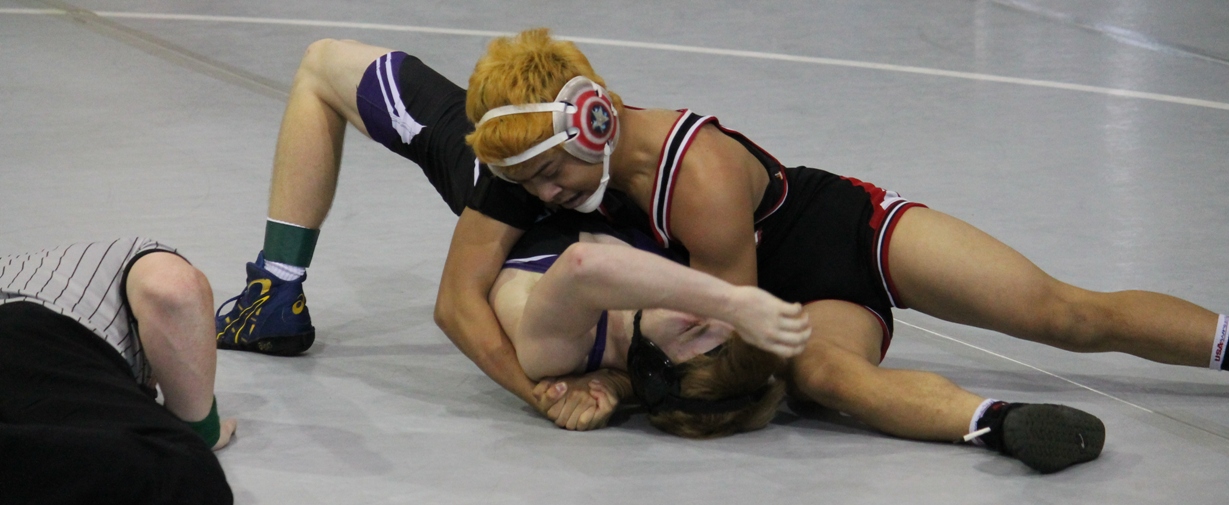 Parkway's 3rd-seeded Alex Simmaly scores a fall over Lachlan Kritsonis of Woodlawn during the first round of the 2013 Ken Cole Invitational.
| | |
| --- | --- |
| | |
| Baton Rouge's Eric David tried to lift North Vermillion's Rhett Maturin. Maturin won by a fall. | Doyline's Brittany Bates outlasts Byrd's Alex Williams 5-1. |
Semifinals
One of the returning Division III state champions was sophomore Raymond Bushnell of Basile. The fourth seed with a 17-6 record, Bushnell drew Taylor in the semifinals. Taylor's 35-4 record did not include any meeting of the Lion senior versus Bushnell. Bushnell was a very game opponent, and pushed Taylor hard before Taylor could earn an 11-8 victory.
In the other semifinal Stampley faced 3rd-seeded Alex Simmaly of Parkway. The Panther sophomore's 17-3 record included wins over Holy Cross' Beau Bush and Live Oak's Colt Olinde. Stampley's 24-3 record, however, including a 3rd place finish at the LA classic, proved to be stronger and led to a 3rd period fall in 5:29.

Finals
Stampley aggressively shot for takedowns from the start of the match, and used a single-leg to a duck under to a lift to score a takedown with 0:41 seconds left in the first period. While on top Stampley threw in a leg, kicked it across and cross-faced Taylor onto his back for two nearfall points. The period ended with Stampley leading 4-0. Early in the period Taylor received a warning for stalling.
Taylor chose the bottom position to start the second period and quickly escaped. Stopping a Taylor shot with a 1/4 nelson, Stampley shucked Taylor to the side and spun around for another two point takedown. Taylor escaped again and the round ended with Stampley leading 6-2.
Stampley chose to start the final period in the neutral position. He quickly scored a takedown with a beautiful double-leg shot. While on bottom Taylor was penalized a point for stalling again, and to add emphasis Stampley used his cross-body ride and another cross-face to score another two nearfall points. Near the end of the match Taylor escaped and Stampley gave up a takedown as the buzzer sounded. Stampley prevailed this time in regulation periods 11-5.
The match should propel Stampley to a #2 seed at the state tournament, below Capella. Stampley beat Brother Martin's Taylor Gambill 6-3 at the LA Classic, and this victory should negate the two "Sudden Victory" wins Taylor has over him. Gambill should be 3rd and, with a loss to East Ascension's Jacob Bernard, Taylor may end up as a fifth seed.
---
© 2012 by Martin Muller
You may not make electronic copies of these copyrighted materials nor redistribute them to 3rd parties in any form without written permission