| | | |
| --- | --- | --- |
| | | Status: Fini |
---
Jesuit shows depth in Ken Cole victory
Editor | 01/31/2013 | Page 5
| | |
| --- | --- |
| Number of Entrants: | 34 |
| Returning Division I State Champions: | 0 |
| Returning Division II State Champions | 0 |
| Returning Division III State Champions | 0 |
| Current LA Classic Champions | 0 |
| Returning Ken Cole Champions: | 0 |

| | | | |
| --- | --- | --- | --- |
| Place | Wrestler | School | Score |
| 1 | (5) Will LaFranca | Jesuit | 9-6 |
| 2 | (2) Anthony Scalisi | North Vermillion | |
| 3 | (1) Adrian Ducote | Lafayette | 2:30 |
| 4 | (6) Xavier Chism | Bossier | |
| 5 | Zac Funderbunk | Parkway | 2:53 |
| 6 | Landyn Thibodeaux | Airline | |
Championship Bracket Consolation Bracket
Seed
1
2
3
4
5
6
7
8
Wrestler
School
Adrian Ducote
Lafayette
Austin Scalisi
North Vermillion
Jacoby Guillory
Comeaux
Devin Bazinet
Basile
Will LaFranca
Jesuit
Xavier Chism
Bossier
Jaquis Hart
Airline
Cole Pannell
Doyline
126 lbs. has easily been the hardest weight class of the season. It includes, or at one point included, returning state champions from Division I in Jacob Dale, Paul Klein and Matt Calcote (2x returning), the current Division I favorite Austin Meyn from Brother Martin, Stefon Foster of Ehret, Angelo Medina-Perez of Grace King, Wyatt LeJeune. Brennan Taylor of Catholic is in that weight class. And also, the wrestler who has ruled them all (granted he is 3-3 vs. Taylor, but would that LA Classic match have gone into overtime had the blood not spurted?), defending Division II state champion Cody Hill of Live Oak.
That none of those wrestlers were present did little to diminish the quality of the wrestling in the 126 lbs. weight class at the Ken Cole.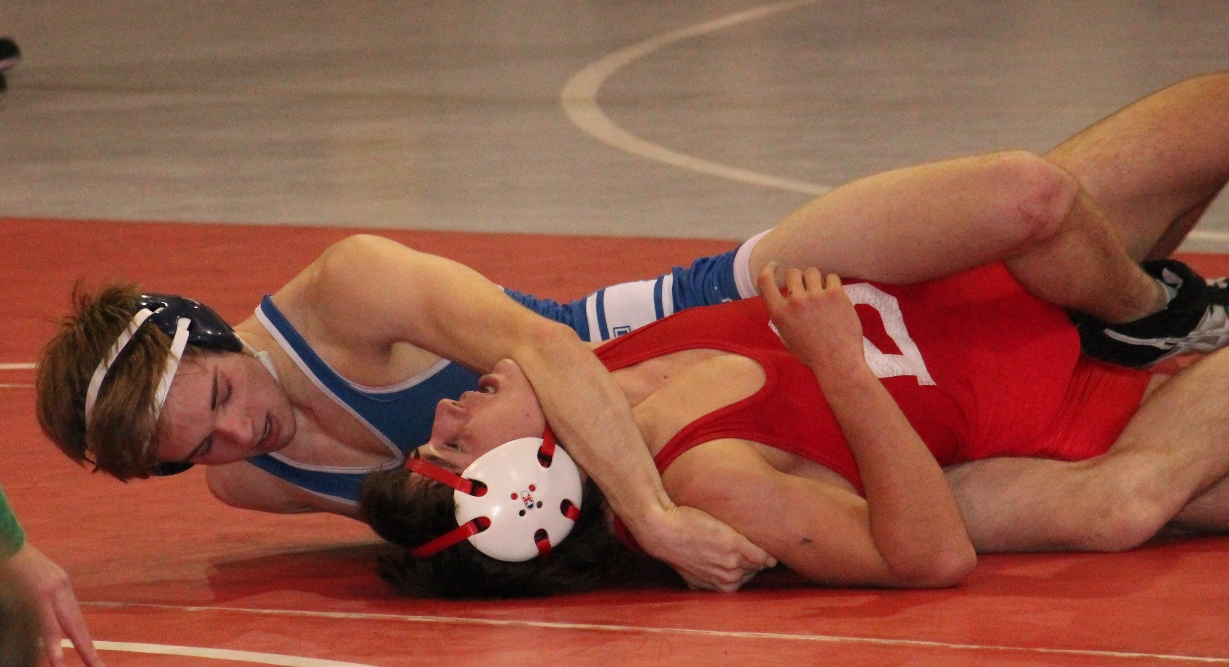 #5 seed Will LaFranca pinned Basile's Devin Bazinet in 5:30.
Semifinals
The #1 seed was Lafayette senior Adrian Ducote, who sported a 40-9 record entering the tournament. A 16-1 technical fall, a 34-second pin and a 10-6 decision earned him a spot in the semifinals. His unlikely opponent was Jesuit sophomore and 5th seed Will LaFranca. The Blue Jay sophomore with a 17-16 record used two falls and a technical fall to meet Ducote, including a fall in 5:30 over #4 Devin Bazinet of Basile.
Ducote and, well, most other people, did not see LaFranca coming out as strong as he did. He dominated the #1 seed, building an 11-4 lead before pinning him 41 seconds into the third period.
Comeaux's 3rd-seeded Jacoby Guillory had to wrestle one of the two "pig tail" matches in the bracket. That, followed by a close 2-1 win over Brusly's Nick Orcino may have proved to be too much as Guillory lost his next match to unseeded Zac Funderbunk of Parkway. That opened the door for 6th seeded Bossier senior Xavier Chism to earn a spot in the semifinals via a 12-7 victory over Funderbunk. His opponent, as expected, was North Vermillion senior Anthony Scalisi. At 17-6 had a harder than expected time getting past #y Jaquis Hart of Ailine in the quarterfinals. But he did with an 11-8 win.

The match was close early, with Scalisi only leading 6-4 after the first period. But then Scalisi started opening things up a bit. By the time the buzzer sounded at the end of the third period, he had won 23-10.
Ducote met Chism in the consolation finals and pinned him in 2:30 to claim 3rd place. Funderbunk defeated #7 Jaquis Hart of Airline in the wrestlebacks and placed 5th with a fall in 2:53 over Rayne's Landyn Thibodeaux.
Finals
The first period was close. LaFranca was able to sprawl on a Scalisi shot attempt and used a cross-face to spin around for a takedown. The period ended 2-0.
Through the quarterfinals and semifinals LaFranca demonstrated an innate talent for covering his opponents (not surprising as his father Tim was a state champion for the Blue Jays in 1984). LaFranca used it at the start of the second period when, in the bottom position, he attempted a Granby roll and then, before Scalisi could get back in a proper top position, kicked his legs over Scalisi to score a reversal. Later in the period LaFranca started a near-side cradle and then whipped Scalisi the other way to his back for a three-point nearfall. Scalisi could not score during the period and LaFranca was ahead 7-0 after two.
| | |
| --- | --- |
| | |
Scalisi did not go gently into that good night. Starting the third period he turned a switch into a sit-out escape and then scored a takedown with a single-leg shot. Scalisi then powered a forced half-nelson which flipped LaFranca onto his back. LaFranca was on his back long enough for Scalisi to earn three nearfall points, which briefly made the match a 7-6 affair. But, as most of his body was over Scalisi's when he was giving up the nearfall points, when he escaped he was already on top of Scalisi and scored an instant reversal. The match ended 9-6 with the unlikely champion being a #5 seed.
Despite placing 2nd, Scalisi should have the Division III top seed spot "locked." In Division I the top three seeds are already set in Meyn, Calcote and Taylor. Ehret's Foster has an LA Classic win over LaFranca, won the St. Paul's Invitational (Calcote was not there) and should be fourth. Look for LaFranca to be seeded 5th again.
---
© 2013 by Louisiana Wrestling News
You may not make electronic copies of these copyrighted materials nor redistribute them to 3rd parties in any form without written permission.