| | | |
| --- | --- | --- |
| | | Status: Fini |
---
Jesuit shows depth in Ken Cole victory
Editor | 01/31/2013 | Page 13
| | |
| --- | --- |
| Number of Entrants: | 21 |
| Returning Division I State Champions: | 0 |
| Returning Division II State Champions | 1 |
| Returning Division III State Champions | 0 |
| Current LA Classic Champions | 1 |
| Returning Ken Cole Champions: | 1 |

| | | | |
| --- | --- | --- | --- |
| Place | Wrestler | School | Score |
| 1 | (1) Manny Armour | Jesuit | 3:35 |
| 2 | (2) Orlando Calhoun | Northside | |
| 3 | (5) Tyler Sullivan | Calvary Baptist | 0:26 |
| 4 | Matthew Perez | Sulphur | |
| 5 | (4) Aaron Lanlinais | Comeaux | Forfeit |
| 6 | (3) Quin Gillian | Byrd | |
Championship Bracket Consolation Bracket
Seed
1
2
3
4
5
6
7
Wrestler
School
Manny Armour
Jesuit
Orlando Calhoun
Northside
Quin Gillian
Byrd
Aaron Langlinais
Comeaux
Tyler Sullivan
Calvary Baptist
Brent Bourgeois
Pearl River
David Quiring
St. Thomas More
Jesuit's Manny Armour has two losses this season. Both came in the Mid-America Nationals in Tulsa, Oklahoma, where he placed fifth. The two wrestlers who defeated him placed first and third. Now, what about Mr. Armour's wins?
It is just not enough to say that he entered the Ken Cole with 37 victories. If not a "why?" his wins certainly merit a "how?" Suffice to say 13 were first round pins while 11 were technical falls. However, the tournament did have a state champion in the mix, and it was not Armour.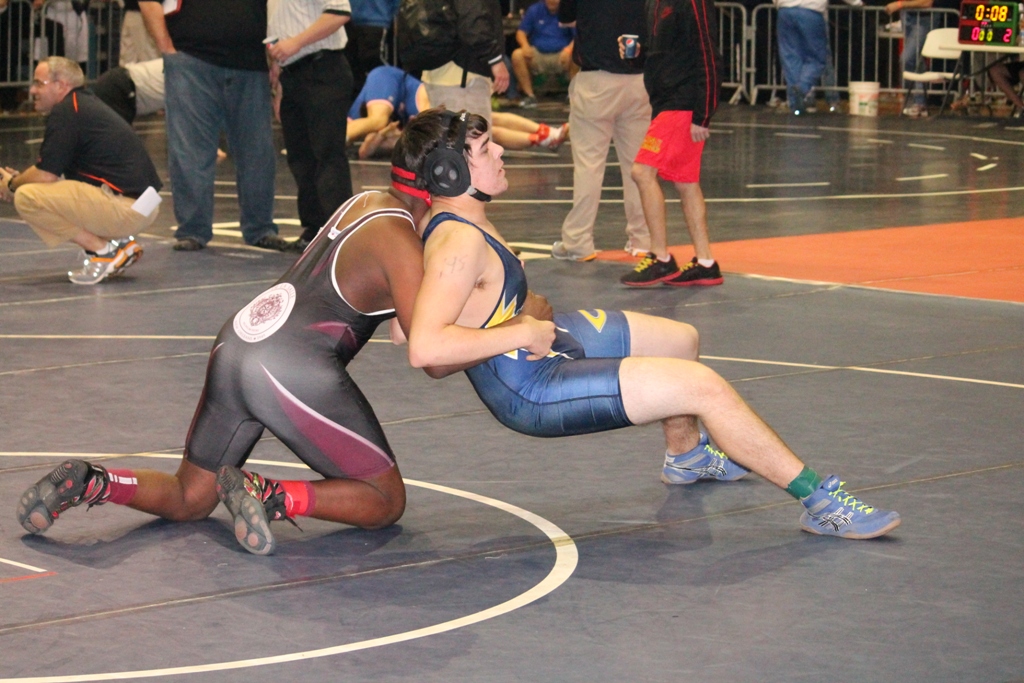 De la Salle's Trenton Anderson won a hard 6-2 match vs. Carencro's Taylor Benoit in the first round of wrestlebacks.
Semifinals
Armour scored two technical falls en route to the semifinals. There, against 4th-seeded Aaron Langlinais, who pinned his way to his meeting with Armour, Armour changed his strategy and decided to use a second round fall in 3:07 to make the finals.
The returning state champion was #2 seed Orlando Calhoun of Northside in Division II. He faced #3 seed Quin Gilliam of Byrd. It was a hard match, particularly for Gilliam who was "winded" enough or hurt enough to merit injury time, but who persevered nonetheless to the end of the match. Calhoun was the victor, though, by a 9-5 score.
Finals
Calhoun, at 14-1 over the season, his only loss being a disqualification versus Rayne's Marcantel, had not faced someone like Armour yet. Armour took Calhoun down with a double-leg shot and then used his legs to control the Vikings' wrestler for the remainder of the period, which ended 2-0 in Armour's favor.
Starting on the bottom in the second period, Calhoun tried a Granby roll that Armour countered. Yet Armour had trouble using traditional moves to turn Calhoun over. No matter. A little past a minute into the round Armour simply picked Calhoun up by his armpits and pulled him down with his back to the mat. The match ended at 3:35 and Armour had his second Ken Cole title.
---
© 2013 by Louisiana Wrestling News
You may not make electronic copies of these copyrighted materials nor redistribute them to 3rd parties in any form without written permission.