| | | |
| --- | --- | --- |
| | | Status: Fini |
---
Jesuit shows depth in Ken Cole victory
Editor | 01/31/2013 | Page 15
| | |
| --- | --- |
| Number of Entrants: | 26 |
| Returning Division I State Champions: | 0 |
| Returning Division II State Champions | 0 |
| Returning Division III State Champions | 0 |
| Current LA Classic Champions | 0 |
| Returning Ken Cole Champions: | 0 |

| | | | |
| --- | --- | --- | --- |
| Place | Wrestler | School | Score |
| 1 | (1) Spencer Lemoine | John Curtis | 5:33 |
| 2 | (2) Reginald MarKray | Huntington | |
| 3 | (4) Allen Kincade | Northside | 2-0 |
| 4 | (5) Zac Creel | Jesuit | |
| 5 | (3) Greg Peltier | Carencro | 0:40 |
| 6 | (6) Travis Santiago | Teurlings Catholic | |
Championship Bracket Consolation Bracket
Seed
1
2
3
4
5
6
7
8
Wrestler
School
Spencer Lemoine
John Curtis
Reginald Markray
Huntington
Greg Peltier
Comeaux
Allen Kincade
Northside
Zac Creel
Jesuit
Travis Santiago
Teurlings Catholic
Roytrez Williams
Bossier
Lyle Geary
Holy Rosary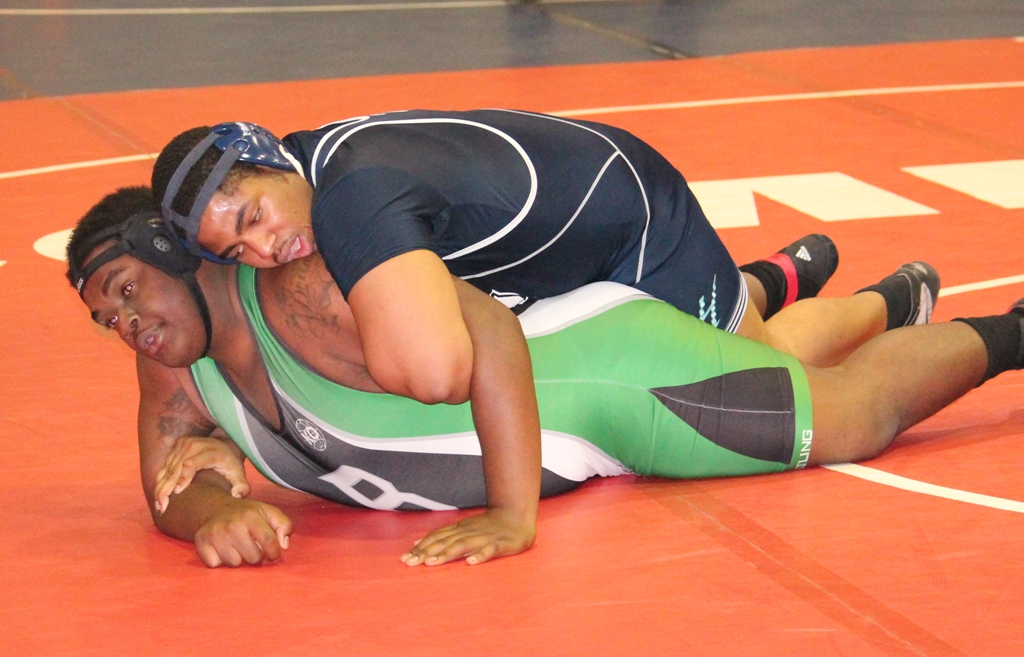 Huntington's Reginald Markray, the #2 seed, needed 1:58 to pin Bossier's #7 seed Roytrez Williams in the quarterfinals.
Semifinals
John Curtis senior Spencer Lemoine could be considered a light heavyweight until one looks at his 19-0 record. Those wins include victories over Gage Brunson of Doyline, Logan Williams of Evangel, Maycol Rizo of Grace King and Brian Arnet, formerly of Redemptorist and now attending Centreville Academy in Mississippi. Only four of his victories were not scored by falls.
Lemoine pinned his way to the semifinals to face 4th-seeded Northside senior Allen Kincade (16-2). Kincade survived a tough semifinal 7-5 victory over Jesuit's Zac Creel, but Lemoine proved to be too much. Lemoine pinned him in 2:55.
The #2 seed was Huntington senior Reginald MarKray. The only blemish on his 12-1 record was a 5-3 loss to Lemoine on December 28th. Despite the fact that the heavyweight class was the last to be decided, MarKray appeared to be in a hurry to meet Lemoine again, recording falls in 0:31, 0:20, 1:58 and in 1:04 over #3 seed Greg Peltier of Comeaux in the semifinals.
Finals
In the first period Lemoine turned a near-side ankle-pick attempt into a single-leg and then into a duck-under to get behind MarKray. MarKray reached back, grabbed Lemoine's head, and tried to toss the Curtis wrestler, but only managed to bring both of them down to the mat, at which point Lemoine freed his head and registered a takedown. MarKray used a very fast sit-out to escape from Lemoine, but Lemoine countered with a bear hug and scored another takedown when MarKray tried to lateral drop him. Lemoine led 4-1 after the first.
Lemoine chose the bottom position to start the second period and quickly escaped from his larger opponent. He then ducked under MarKray again and used a back leg trip to bring MarKray down and score another two points. MarKray stood up and scored another escape, but Lemoine used a duck-under again which prompted MarKray to fall forward onto the mat, allowing another two points and a 9-2 lead at the end of the round.
MarKray started the third period on the bottom and escaped from Lemoine again. And again, Lemoine used a duck-under, this time to set-up a single-leg shot, to bring MarKray down to the mat and increase his lead to 11-2. Lemoine inserted a half-nelson, and MarKray turned away from it too far, allowing Lemoine to quickly switch to a half-nelson on the other side which he was able to use, turning MarKray over and scoring a fall in 5:33.
Lemoine actually came close to wresting Broussard's "Most Pins-Least" time award. Broussard's five falls came in 12:13. Lemoine's came in 14:22.
---
© 2013 by Louisiana Wrestling News
You may not make electronic copies of these copyrighted materials nor redistribute them to 3rd parties in any form without written permission.