| | | |
| --- | --- | --- |
| | | Status: Fini |
---

Class AA, A, B & C Championships
John Curtis Christian School, River Ridge, Louisiana · January 18th, 2013
(Complete results and brackets may be found on the Archives Website.)
| | | | | | | | | | | | | |
| --- | --- | --- | --- | --- | --- | --- | --- | --- | --- | --- | --- | --- |
| Champion - 183 | 124 | 101 | 89 | 87 | 83 | 75 | 75 | 57 | 51 | 22 | 11 | 3 |
| | | | | | | | | | | | | |
| John Curtis | Doyline | Calvary Baptist | Episcopal | Lakeside | Evangel | Grand Lake | De la Salle | South Plaquemines | Dunham | South Cameron | Woodlawn | French Settlement |
Thirteen teams comprised the field of 94 wrestlers looking for 14 1st-place awards on Saturday. Three team awards and Outstanding Wrestler awards in the lighter and heavier weight classes were also presented.

In the end it was not that John Curtis was assured the win in the 2nd Annual Curtis AA, A, B & C Championships. It wasn't that the schools from north and west Louisiana were able to "measure up" their New Orleans area opponents for the Division III state championships a month hence. And it was not that the wrestlers were assured two matches, which many of them would not have received had they entered the Louisiana Classic, which was being held in Baton Rouge that Saturday.
In the end it was Episcopal High School of Baton Rouge Coach Phil Bode who made the assessment that meant the most. "I love this type of tournament," he said. Bode was referring to a one-day event that did not take up the entire day. He meant an event that was not so large that it prevented wrestlers a chance to place third due to the five-match rule. He meant an event that did not last into the late evening hours and thus entail the wrestlers getting home in the wee hours of the morning.
Not for coaches only

A tournament run as efficiently as Curtis coach John Kendrick ran this one did not need anything else, but that did not stop the host school.

Knowing two of the schools had a four to five hour trip back to southwest Louisiana, and four others a longer road to north Louisiana, the Curtis team put together a smorgasbord of food in the cafeteria after the matches were over for the kids and coaches to enjoy prior to their long trips back home.



[Photos below, when clicked, should open into a new window at their actual size.]
Team Trophies and Outstanding Wrestlers
Champions:
John Curtis Patriots
Runners-up:
Doyline Panthers
Third: Calvary Baptist Cavaliers
OW: Joshua Wicke
of Grand Lake
OW: Peyton Goerner
of Doyline
Other coaches will say their teams attended the event to get some experience against wrestlers with whom they are not familiar and to get more relevant experience than they might have gained at the Louisiana Classic. And that they did.
The defending Division III runners-up scored 183 points, far outpaced second-place Doyline (124) and Calvary Baptist (101). Episcopal, Lakeside, Evangel and Grand Lake followed before another New Orleans school, De la Salle, appears in 8th place. Dunham was 9th, followed by South Cameron, whose lone wrestler, Kelby Comeaux, scored all the points that were possible for the one-time wrestling powerhouse Tarpons. Woodlawn and French Settlement rounded out the thirteen-team competition, in which every team won at least one match.
Nine of the teams had individual champions. John Curtis had five. Doyline had two. Calvary Baptist, De la Salle, Episcopal, Evangel, Grand Lake, Lakeside and South Cameron each had one.
Weight
Synopsis
106

John Curtis' Prentice Spurlock was the first champion for the Patriots.

At 106 lbs. Spurlock pinned his first two opponents in a combined 62 seconds before his 9-3 victory over Episcopal's William Medick. .

This weight class was tied with 113 lbs. as the largest one of the tournament with nine entrants.

Lakeside's John Watson, who lost to Medick in the semifinals, scored two falls to place third.

113

Evangel's championship came at 113 lbs.

F

reshman Bradley Wright had pinned Doyline's Brittany Bates in 1:27 on November 5th.

Miss Bates, also a freshman, put up a much better effort during this match, only succumbing to a pin at 5:50.

Wright

, who would have scored a technical fall had he only received the associated nearfall points, has only one actual loss this season, a 9-2 loss to returning Brusly Division III state champion Baret Sanchez, versus 26 actual match victories.

He also won the Evangel Eagle Open, in which Bates placed third.

Edward Daniel of Episcopal, one of Bates' victims in her march to the finals, placed third with a pin in 22 seconds.

120

South Cameron's freshman Kelby Comeaux is the Tarpons' only representative this season, and he practices with the Grand Lake squad.

He represented the school's 64 previous state champions, including Grand Lake coach Ronnie Picou (1968) quite well with two pin to reach the finals, in which he defeated Curtis' Bryce Cortez by a score of 7-4.

Riley Smith of Lakeside placed third.

126

Cole Pannell won the first of Doyline's championships at 126 lbs. with a first period (1:21) fall over Grand Lake's Anica Logan.

Chris Danos of South Plaquemines won the consolation bracket to place third.

132

Lakeside's championship occurred in the finals at 132 lbs. in which Cameron Corley won an exciting 20-14 match against James Graham of South Plaquemines.

Hunter Withers of Evangel placed third.

138

Defending Division III state champion Joshua Wicke of Grand Wicke, at 138 lbs., dispatched of his two opponents in 1:32 and 3:00, which earned him the Outstanding Wrestler Award for the lighter weight classes.

Wicke may have been the "class" of the field, but the others had very close matches against each other.

Jack Bowman of Episcopal pinned South Plaquemines' Diontae James in the first round, but De la Salle's Dominic Bioc needed a "Sudden Victory" period to get past Jones and into the consolation finals.

Bioc was no "piece of cake" for finalist Christopher Inocencio of Doyline who defeated him 2-0 to get into the finals match against Wicke.

And Bioc won third place via only a 6-4 decision over Bowman.

145



The 145 lbs. championship was an exciting and fast paced match between Episcopal's James Davis and Jeffrey Clark of Doyline.

Davis finally proved the stronger of the two with a pin at 5:32.

The odds favored a Curtis wrestler to place third, as three of the seven participants in the weight class were from the host school.

Their designated starter Adam Saucier did just that, defeating teammate Nicholas Bloomer in 1:52.

152

De la Salle's Alex Martin probably had the best resume in the entire event field.

The returning Division III state champion placed third at the Mandeville Open, won the Griffin Open, did not place in but only lost to Brother Martin's Jordan Giroir by a point and Comeaux's two-time Division I state champion Tyrek Malveaux by two points in the Spartan Open, placed second at the Sam Sara and Thomas Jefferson tournaments and won he Brusly Invitational.

He easily took care of Doyline's John Inocencio, who placed third, in 26 seconds, and spent a little more time in the finals match, taking 1:53 to pin Lakeside's Thomas Lambert.

160

G'Cory Fullilove put Curtis back in the limelight at 160 lbs., but not easily, as only a late third period reversal garnered him a 2-0 win over Calvary Baptist's Heath Lovitt.

That match easily won the "By Far the Most Exciting Wrestling Match in which the Least Amount of Points were Scored" Award, but Coach John Kendrick forgot to have that plaque engraved.

Dunham's Clayton Kavanaugh placed third.

170

Curtis crowned its third champion at 170 lbs. in Baron Clofer, who pinned Calvary Baptist's Justice Henson in 3:53.

Clofer's toughest match was a 6-0 victory over Grand Lake's James Phillips.

Phillip's simply had an unlucky placement in the bracket, as he easily won third place with a 2:46 fall.

182

Doyline's Peyton Goerner, at 182 lbs., won the Outstanding Wrestler Award in the heavier weight classes after a tough 8-5 finals victory over Calvary Baptist's Chris Thompson.

South Plaquemines' Kevin Drury placed third for the Hurricanes by pinning Grand Lake's Michael Logan in 1:16.

195
Calvary Baptist was rewarded at 195 lbs., but it was due to an injury forfeit in the finals by Patrick Martin of Curtis.

Jerald Amaya of Evangel also received a forfeit from Grand Lake's Jameson Picou, but the circumstances of that forfeit are unclear.

220

Mason Pembo of the Patriots had to earn his championship by wrestling for 5:22 before he finally pinned Episcopal's Taylor McKay.

Luke Griffith of Lakeside defeated Calvary Baptist's Justin Hester 13-9 for third place

285

John Curtis' Spencer Lemoine admitted he was not pleased with his wrestling effort in the finals at 285 lbs.

Much of that frustration no doubt originated in two failed lateral drops of Evangel's Logan Williams.

Missing one of those at 285 lbs. can have disastrous results.

But Lemoine was able to score 16 points to Williams' 10 and win nonetheless.

Kirk Wilson of Dunham placed third with a 2:17 fall over Grand Lake's Spencer Shiele.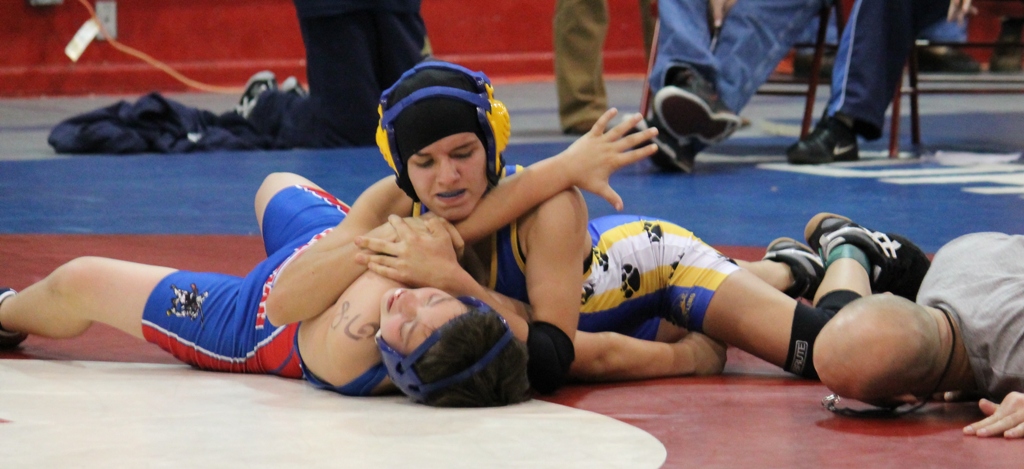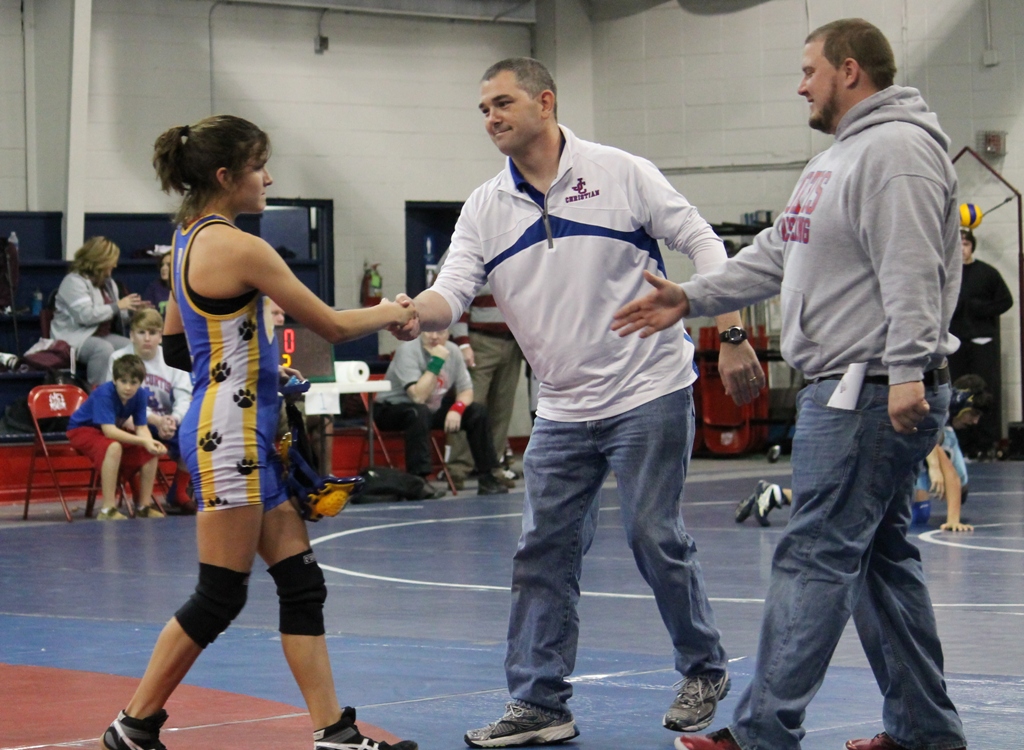 Doyline's Brittany Bates pins her way through the quarter finals at 113 lbs. and receives the congratulations of the Curtis coaches
Editor LA Wrestling News | 01/18/2013
Nine schools will converge on John Curtis Christian School in River Ridge for the 2nd Annual Class AA, A, B & C Championships. Two competitors will be from the New Orleans area in De la Salle High School and South Plaquemines High School in Boothville-Venice. Two team, Episcopal High School and University Lab, hail from Baton Rouge. Two teams will come from the Lake Charles area in Grand Lake and South Cameron. And two teams will be making the "long haul" from northwest Louisiana: Doyline High School, located east of Shreveport, and Evangel Christian Academy of Shreveport.
John Tademy, the head coach at Evangel, views the event this way: "It started with an idea to get some of the smaller teams coming together. The original idea was to expose wrestling in areas of the state, that did not have wrestling. The first ever 2A tournament was held in Alexandria. John Curtis has been hosting the tournament since. The north Louisiana teams attend the 2A tournament for several reasons. One reason is because of the family atmosphere. The coaches, wrestlers, parents, and fans are wonderful. The second reason is our kids get to go head to head against wrestlers in our division.
Divisional wrestling is important as the LHSAA State Wrestling Championships will be held at the Pontchartrain Center in Kenner on February 15th and 16th.
Also held this weekend is the Louisiana Classic in Baton Rouge. The Louisiana Classic is the largest wrestling event in the state aside from the state championships, but it is not divided into three divisions based on a school's enrolment. Additionally, the loser of a match in the first or second round of the Louisiana Classic must hope the person who won that match advances to the semifinals in order to qualify for the consolation rounds. Nine wrestlers are seeded in each weight class, so the chances of two Division III wrestlers facing each other are small. The Curtis tournament guarantees experience against Division III opponents.
A list of the participating schools with their expected rosters is presented below:
School & Wrestlers
School & Wrestlers
School & Wrestlers

John Curtis
River Ridge, LA

Weight
Wrestler
Weight
Wrestler
106
Prentice Spurlock
160
G'Corey Fullilove
106 - UN
Brendan Wilcox
160 - UN
Roger Irula
113/UN
Lane Boudreaux/Deckland Sparrow
170
Baron Clofer
120
Bryce Cortez
182
Josh Sweigart
126
Cory Ronan
195
Patrick Martin
145/UN
Adam Saucier/
Rod Schouest/
Nicholas Bloomer
220/UN
Mason Pembo/
Michael Byrd
152
Cody Hamrick
285
Spencer Lemoine

De la Salle
New Orleans, LA

| | | | |
| --- | --- | --- | --- |
| Weight | Wrestler | Weight | Wrestler |
| 106 | Cameron LeBlanc | 160 | Logan Sylve |
| 113 | Richard Smith | 170 | Ryou Morishita |
| 120 | Glenn Gebo | 182 | Stephen Robinson |
| 138 | Dominik Bioc | 195 | Trenton Anderson |
| 145 | Troy Dupont | 220 | Lee Schwartzbach |
| 152 | Alex Martin | 285 | Jalen Haydell |

Doyline
Doyline, LA

| | | | |
| --- | --- | --- | --- |
| Weight | Wrestler | Weight | Wrestler |
| 106 | Peyton Pannell | 138 | Chris Inocencio |
| 113 | Brittany Bates | 145 | Jeffrey Clark |
| 120 | Austin Page | 152 | John Inocension |
| 126 | Cole Pannell | 160 | Johnny Brooks |
| 132 | Levi Dufour | 182 | Phillip Goerner |

Episcopal
Baton Rouge, LA

| | | | |
| --- | --- | --- | --- |
| Weight | Wrestler | Weight | Wrestler |
| 106 | William Medick | 145 | James Davis |
| 113 | Edward Daniel | 152 | Jack Bowman |
| 120 | Will Forrester | 160 | Dylan Maassen-Veeters |
| 126 | Griffin Dynes | 170 | Ben Whitley |
| 132 | Grant Grantham | 220 | Taylor McKay |

Evangel
Shreveport, LA

| | | | |
| --- | --- | --- | --- |
| Weight | Wrestler | Weight | Wrestler |
| 113 | Bradley Wright | 145 | Justin Smith |
| 120 | Jacob Bailey | 195 | Jerald Amaya |
| 132 | Hunter Withers | 285 | Logan Williams |

Grand Lake
Lake Charles, LA

| | | | |
| --- | --- | --- | --- |
| Weight | Wrestler | Weight | Wrestler |
| 106 | Joey Cavolaski | 170 | James Phillips |
| 126 | Anica Logan | 182 | Michael Logan |
| 132 | Ross Dahlen | 195 | Jameson Picou |
| 138 | Josh Wicke | 285 | Spencer Schiele |
| 152 | Michael Mudd | | |

South Cameron
Creole, LA

| | |
| --- | --- |
| Weight | Wrestler |
| 120 | Kelby Comeaux |

South Plaquemines
Boothville-Venice, LA

| | | | |
| --- | --- | --- | --- |
| Weight | Wrestler | Weight | Wrestler |
| 106 | DeAndre Turner | 126 | Chris Danos |
| 106 UN | Dane Michal | 132 | James Graham |
| 106 UN | Chris Lebeouf | 138 | Dieontae James |
| 113 | Tony Sode | 170 | Jose Sylve |
| 120 | Gerald Barthelemy | 182 | Kevin Drury |
| | | 285 | Jesse Phea |

Lakeside
Minden, LA

| | |
| --- | --- |
| Weight | Wrestler |
| 120 | Riley Smith |
| 132 | Cameron Corley |
| 152 | Thomas Lambert |
| 220 | Luke Griffith |

Woodlawn
Baton Rouge, LA

| | |
| --- | --- |
| Weight | Wrestler |
| 113 | Lacklan Kristonis |

Dunham
Baton Rouge, LA

| | | | |
| --- | --- | --- | --- |
| Weight | Wrestler | Weight | Wrestler |
| 132 | Wes Belleau | 170 | Griffin Miller |
| 160 | Clayton Kavanaugh | 285 | Kirk Wilson |

Calvary Baptist
Shreveport, LA

| | | | |
| --- | --- | --- | --- |
| Weight | Wrestler | Weight | Wrestler |
| 106 | Bryce Rogers | 182 | Chris Thompson |
| 126 | Kyle Downey | 195 | Tyler Sullivan |
| 132 | Cory Anaya | 220 | Justin Hester |
| 160 | Heath Lovitt | 285 | Trey Flannery |
| 170 | Justice Henson | | |

French Settlement
French Settlement, LA

| | |
| --- | --- |
| Weight | Wrestler |
| 220 | Kyle Pitre |
---
© 2013 by Louisiana Wrestling News
You may not make electronic copies of these copyrighted materials nor redistribute them to 3rd parties in any form without written permission