2013 LHSAA State Wrestling Championships: 138 Pounds
Editor: March 27th, 2013
138 Pounds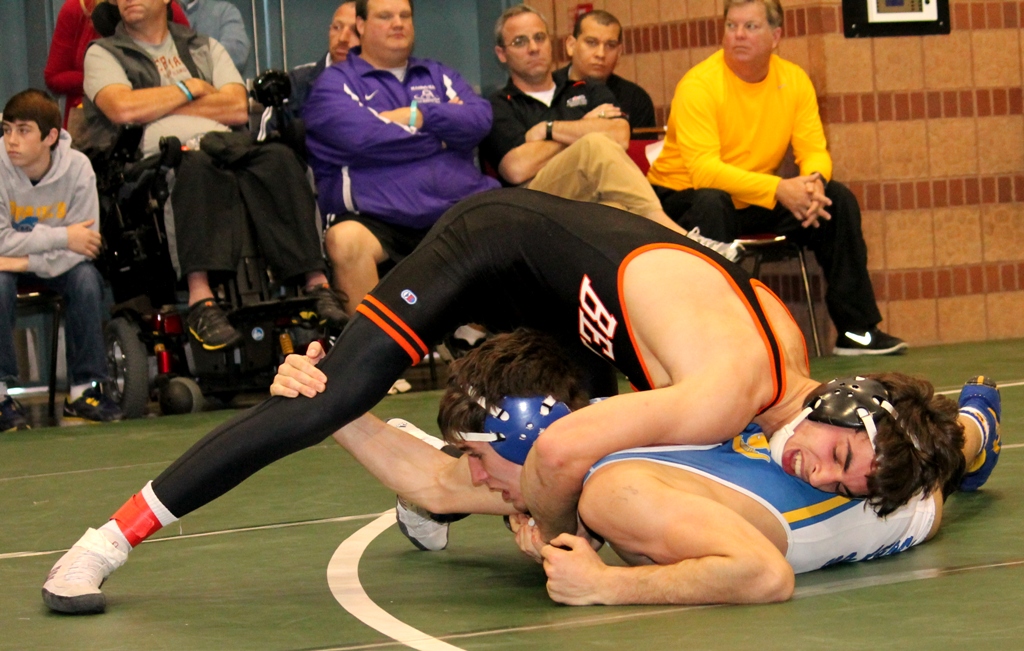 # 1 James Claitor of Catholic vs. #5 Michael Bernard of East Ascension in the Division I semifinals.
Division I


| | | |
| --- | --- | --- |
| 1st | (1) James Claitor | Catholic |
| 2nd | (3) David Englehardt | St. Paul |
| 3rd | (2) Dominic Casadaban | Brother Martin |
| 4th | (6) Abram Sellers | Comeaux |
| 5th | (4) Gaston Eymard | Jesuit |
| 6th | (5) Michael Bernard | East Ascension |

Division II


| | | |
| --- | --- | --- |
| 1st | (2) Seth Bosarge | Live Oak |
| 2nd | (1) George Benoit | Holy Cross |
| 3rd | (4) Andrew Poussan | St. Louis |
| 4th | (8) Justin Kass | Pearl River |
| 5th | (7) Cozenskii Alfred | Northside |
| 6th | (3) Brennan Trosclair | Teurlings Catholic |

Division III


| | | |
| --- | --- | --- |
| 1st | (1) Brent Matherne | Thomas Jefferson |
| 2nd | (3) Benjamin Kirkiksis | Evangel |
| 3rd | (3) Grant Wicke | Grand Lake |
| 4th | (4) Don Stufflebeam | Brusly |
| 5th | (5) Devin Pons | John Curtis |
| 6th | (7) Dominic Bioc | De la Salle |
Top Eight Seeds
| | | | | | | | | |
| --- | --- | --- | --- | --- | --- | --- | --- | --- |
| Seed | 1 | 2 | 3 | 4 | 5 | 6 | 7 | 8 |
| Wrestler | James Claitor-11 | Dominic Casadaban-11 | David Englehardt-12 | Gaston Eymard-11 | Michael Bernard-12 | Abram Sellers-12 | Joseph Kerry-10 | David Ra Suarez-11 |
| School | Catholic | Brother Martin | St. Paul | Jesuit | East Ascension | Comeaux | Rummel | Sulphur |
| Place | 1 | 3 | 2 | 5 | 6 | 4 | DNP | DNP |
Twenty-three wrestlers competed in the Division I 138 lbs. state championships.
Introduction
Claitor pins his way to a Trey Culotta Invitational championship.

Catholic junior James Claitor did not get the "hype" of returning state champions like his teammate Brandon Luckett, two-time defending champion Tyrek Malveaux of Comeaux or of Division II's Cody Hill of Live Oak. But when November of 2012 was over he had won the Spartan Invitational and had dual meet wins against Rummel, Jesuit, St. Paul and Live Oak. By the end of December he had two losses, but those were to wrestlers from Florida and Oklahoma, and in Louisiana he had captured titles in the Baton Rouge "Bulldog Open" and the Trey Culotta Invitational. Come the Louisiana Classic he had lost again, but to an Alabama wrestler in the Scott Rohrer Hoover Invitational, in which he placed third. At 25-0 against Louisiana competition, he was only seeded third, behind Brother Martin's #1 Dominic Casadaban, who also had an undefeated record but had spent a month off due to an injury in December, and to St. Paul's returning state champion Mark Englehardt, who was also undefeated by Louisianans, but at 145 and 152 lbs. Claitor cleared up the matter with a 5-4 win over Englehardt and an 11-6 win over Casadaban. After winning his match in a dual meet over Brother Martin's Mason Williams and then adding the Greater Baton Rouge Championship to his credits, in the state championships he was an obvious #1 seed.

The second and third spots were pretty obvious as well. Second seeded Dominic Casadaban defeated Englehardt in the St. Paul's Invitational, which cemented Englehardt as a #3 seed as he had victories over #4 Gaston Eymard of Jesuit and #5 Michael Bernard of East Ascension.
Rounds 1, 2 and Quarterfinals
No upsets were recorded in the first round but a #8 fell in Round 2. David Ra Suarez of Sulphur and Kevin Chester scored 28 points between them, but Suarez scored 15 to Chester's 13 for the decision.

The quarterfinals continued what would become a recurring motif in the tournament. #5 Michael Bernard of East Ascension pinned #4 Gaston Eymard of Jesuit in 4:53 for the right to face Claitor in the semifinals (misleading photo left). Claitor had no problem with Suarez, pinning him in 3:29, while Englehardt decisioned #6 Abram Sellers of Comeaux 7-2 and Casadaban needed only 3:28 to pin #7 Joseph Kerry of Rummel.
Semifinal # 1
Claitor had defeated Bernard twice during the season: once in the "Bulldog Open" finals 9-4 and then in the Trey Culotta finals with a pin in 4:46. This match ended in 5:14 and Claitor was the first entrant into the finals.
Semifinal # 2
Some probably thought the second semifinal would be the best bout of the weight class. Said Englehardt after the tournament: "I was actually more nervous for his match than the finals, because I knew either wrestler could win. We were both finalists last year, but only one of us would not be making it back." Casadaban had defeated Englehardt three weeks earlier, at St. Paul's, 7-3. This match's score was in no manner indicative of the intensity in which it was contested, and at the end Englehardt had a 3-1 victory and a second trip to the state finals.
Consolation Rounds
Jesuit's Eymard advanced through the wrestlebacks with a 15-6 major decision over John Ehret's Deion Floyd and a 6-1 decision over Sulphur's Suarez. But in the consolation semifinals he fell to Casadaban 5-1. It was Casadaban's fourth win of the season over Eymard, but the Blue Jay showed marked improvement from being pinned in their first two matches to only losing by four points in each of their last two. Sellers of Comeaux had the long route on the other side of the bracket. The #6 seed scored a major decision, 12-3, over #8 Chester of Dutchtown, and then had a bit of difficulty with Acadiana's Benjamin Rogers, winning 8-5. That set-up a match against #5 Michael Bernard. Bernard pinned Sellers in the Louisiana Classic, but not this time as the Comeaux senior prevailed 10-4 to advance to the consolation finals. Bernard was again matched against Jesuit's Eymard, and this time to win fifth place the Blue Jay defeated the East Ascension wrestler in a close 4-3 contest. The seniors from Brother Martin and Comeaux had not previously encountered one another, and neither one went out quietly. In the end it was Casadaban scoring more team points for the Crusaders, though, in a 7-6 match.
Finals: #1 James Claitor (Catholic) versus #3 David Englehardt (St. Paul)
"Claitor is a defensive wrestler, and I'm the exact opposite. I felt like he was very comfortable on top; I'm more comfortable on my feet." - David Englehardt.

Claitor and Englehardt met once before in the Louisiana Classic semifinals, won by Claitor 6-5. If Englehardt did not know much about the Catholic junior then, he certainly did going into the finals. For a while he did fine, leading at one point 5-2 in the second round. But, as he later suggested, he may have become too aggressive when it was not required, and Claitor has cat-like reactions. At times it was hard to tell if Claitor was doing anything, except that he was certainly not stalling and was scoring points. In the third Claitor started on the bottom and scored a reversal, taking a 9-5 lead. Englehardt was able to escape but Claitor was able to counter a four-point takedown attempt with a takedown of his own, and won the match 11-6.

Claitor finished the season 33-0 (41-3) while Englehardt finished 24-3 (36-4).
Top Eight Seeds
| | | | | | | | | |
| --- | --- | --- | --- | --- | --- | --- | --- | --- |
| Seed | 1 | 2 | 3 | 4 | 5 | 6 | 7 | 8 |
| Wrestler | George Benoit-10 | Seth Bosarge-11 | Brennan Trosclair-10 | Andrew Poussan-11 | Tre' Pugh-11 | Eric Broussard-12 | Cozenski Alfred-10 | Justin Kass-12 |
| School | Holy Cross | Live Oak | Teurlings Catholic | St. Louis | Benton | Grace King | Northside | Pearl River |
| Place | 2 | 1 | 6 | 3 | DNP | DNP | 5 | 4 |
Eighteen wrestlers competed in the Division II 138 lbs. state championships.
Introduction
Holy Cross sophomore George Benoit, a state finalist in 2012, had a seeding edge over Seth Bosarge due to a 6-1 "Ultimate Tie-breaker" victory and a 6-4 dual meet victory over the junior from Live Oak. Benoit also had victories over Abram Sellers of Comeaux, Thomas Jefferson's Brent Matherne and two-time Division III state champion Trevor Schermer of Brusly. Behind Benoit and Bosarge were Teurlings Catholic's Brennan Trosclair at #3 and St. Louis' Andrew Pousson at #4. It took little time, though, for the top two seeds to establish themselves as the main contenders. And Bosarge was also a 2012 state finalist.
Rounds 1, 2 and Quarterfinals
In the two Round 1 matches listed, Woodlawn's Brian Williams received a forfeit while St. Michael's senior Hunter Bergeron pinned McKinley sophomore Da Quint Gie in 1:22. In the second round all eight top seeds advanced to the quarterfinals.

Benoit followed a Round 2 pin in 1:23 with a quarterfinal pin over #8 Justin Kass of Pearl River in 3:18. #4 Poussan had a harder time but got past Benton's Tre' Pugh 9-3 (photo left). #3 Trosclair pinned #6 Eric Broussard of Grace King in 3:51 while Bosarge used a 23-8 technical fall to advance over #7 Cozenski Alfred of Northside.
Semifinals
At the Holy Cross Division II Duals #1 seeded Benoit defeated #4 Andrew Pousson of St. Louis 7-0. This time Benoit did not let the Saint into the third period, scoring a fall in 3:23 to advance to the state finals for the second consecutive year (photo left).

With 53 matches "in the books" before the tournament began, #2 Seth Bosarge of Live Oak had not yet faced the third-seeded sophomore Brennan Trosclair from Teurlings Catholic. His experience over the course of the year may have proved a factor in this match, as Bosarge pinned Trosclair in 1:31 to reach the finals against Benoit.
Consolation Rounds
#7 Cozenski Alfred of Northside made a run toward the third-place match with an 0:11 pin over Baton Rouge freshman Noah Broussard and a 2:31 fall over Tara's Collin Maum. But he fell just short against #4 Pousson, losing 6-5 and being relegated to the match for fifth place. There Alfred faced #3 Trosclair, who lost his consolation semifinals bid in a tight 11-9 match with Pearl River's #8 Justin Kass. Kass had advanced through the wrestlebacks with a pin of Shaw's Brad Albarado in 0:46 and over St. Michael's Hunter Bergeron in 4:53. For fifth place it was Alfred who scored a fall for Northside in 4:02 over Trosclair. Poussan put seeding positions back in order with a 3:58 pin over Kass to place third for St. Louis.
Finals: #1 George Benoit (Holy Cross) versus #2 Seth Bosarge (Live Oak)
The safe bet was that a 2012 Division II finalist would leave this tournament a state champion. The odds were slightly in Benoit's favor due to his two matches against Bosarge, in which he averaged two plus whatever five points in an "Ultimate Tie-breaker" round converts to in actual match points, divided by two. Well it is not much, and this time it did not prove to be enough. Very cautious wrestling by both combatants ended in a one point victory and a state championship for Bosarge. The Live Oak junior finished the season with a record of 46-11 (49-12) while the Tiger sophomore finished at 35-6.
Top Eight Seeds
| | | | | | | | | |
| --- | --- | --- | --- | --- | --- | --- | --- | --- |
| Seed | 1 | 2 | 3 | 4 | 5 | 6 | 7 | 8 |
| Wrestler | Brent Matherne-12 | Joshua Wicke-12 | Benjamin Kirkiksis-11 | Don Stufflebeam-12 | Devin Pons-11 | Jeffrey Clark-12 | Dominic Bioc-11 | Deiontae James-11 |
| School | Thomas Jefferson | Grand Lake | Evangel | Brusly | John Curtis | Doyline | De la Salle | South Plaquemines |
| Place | 1 | 3 | 2 | 4 | 5 | DNP | 6 | DNP |
Fifteen wrestlers competed in the Division III 138 lbs. state championships.
Introduction
It happened to Jacob Dale, Matt Calcote, David Englehardt, Baret Sanchez and Trenton Pelloquin. "It" being a returning state champion not being the #1 seed. It happened again at 138 lbs. in Division III as Grand Lake's Joshua Wicke found himself seeded behind Thomas Jefferson's Brent Matherne, a mere state runner-up in 2012. Matherne wrestled 54 matches before the state tournament to Wicke's 29, and each won their share of tournaments, although they never met each other during one. But it was probably Matherne's two wins over Belle Chasse's Jordan Mastrianni that sealed his spot, as Mastrianni defeated Wicke by a 16-1 technical fall at the Zachary "Big Horse" Open. Evangel's Benjamin Kirkiksis had a stellar 20-3 record entering the tournament, but one of his losses was a 10-5 decision by Wicke in the Brusly Invitational finals, putting Kirkiksis at #3. Brusly's Don Stufflebeam was seeded fourth, probably because Wicke pinned him in the semifinals of the same tournament, which Wicke could not do to Kirkiksis.
Round 1 and Quarterfinals
| | |
| --- | --- |
| | The first round presented no surprises and the quarterfinals went exactly as seeded. In those Matherne scored a technical fall, 15-0, over South Plaquemines' #8 Deiontae James. Stufflebeam had a hard time with #5 Devin Pons of John Curtis but escaped with a 3-1 win (photo left). Kirkiksis pinned fellow north Louisianan Jeffrey Clark of Doyline in 1:54 and Wicke defeated De la Salle's Glen Bioc in 4:16. |
Semifinals
Matherne needed the entire six minutes against Stufflebeam in the first semifinal, but he scored 10 points while Stufflebeam could not manage any.

The second semifinal match was a rematch of the January 12th Brusly Invitational final, won by Wicke 10-5. Kirkiksis put himself in trouble once in what was a high scoring match, but he out-maneuvered Wicke, scoring 14 points to Wicke's seven. It was not the first time a returning state champion fell, and it would not be the last of this tournament.
Consolation Rounds
It was #7 Bioc of De la Salle who made it to the consolation semifinals against Stufflebeam. His road was hard though, and involved a 6-4 win over #6 Clark of Doyline and another 6-4 win, this time in a "Sudden Victory" period, over North Vermillion's Chad Bread. Bioc continued to wrestle hard, but Stufflebeam was able to stop his progress with a 4-1 decision. Wicke waited for #5 Pons of Curtis to get through North Desoto's Nathan Goolsby by a 17-1 technical fall and a 9-0 major decision over #8 James of South Plaquemines. Wicke stopped Pons' advance with a fall in 2:33. The Curtis Patriot regrouped, though, and pinned Bioc in 1:46 to place fifth. Stufflebeam proved harder for Wicke in the consolation finals than he was when Wicke pinned him in the Brusly Invitational semifinals. Proving to be a "class act," Wicke did what another state champion who lost in the semifinals, Matt Calcote of Rummel, did before him, which was to take third place after a disappointing loss. Wicke won the match 7-2.
Finals: #1 Brent Matherne (Thomas Jefferson) versus #3 Benjamin Kirkiksis (Evangel)
Of Matherne's six losses, three were to Division II's George Benoit of Holy Cross. Two were to Division I's Gaston Eymard of Jesuit and the last to St. Paul's Mark Englehardt. Kirkiksis' schedule just did not include that caliber of competition. The Evangel junior was only able to score three points while the Thomas Jefferson senior came close to pinning Kirkiksis once and scored an additional four points in a 9-3 win. Matherne finished the season 50-6 (51-6) while Kirkiksis ended his second to last season 23-4 (29-5).
| | | | |
| --- | --- | --- | --- |
| | | | |
| Matherne scores nearfall points. | Kirkiksis tries to sit-out. | Matherne is recognized as the winner. | Matherne with Coach Dean Tessitore |
---
---
© 2013 by Louisiana Wrestling News
You may not make electronic copies of these copyrighted materials nor redistribute them to 3rd parties in any form without written permission