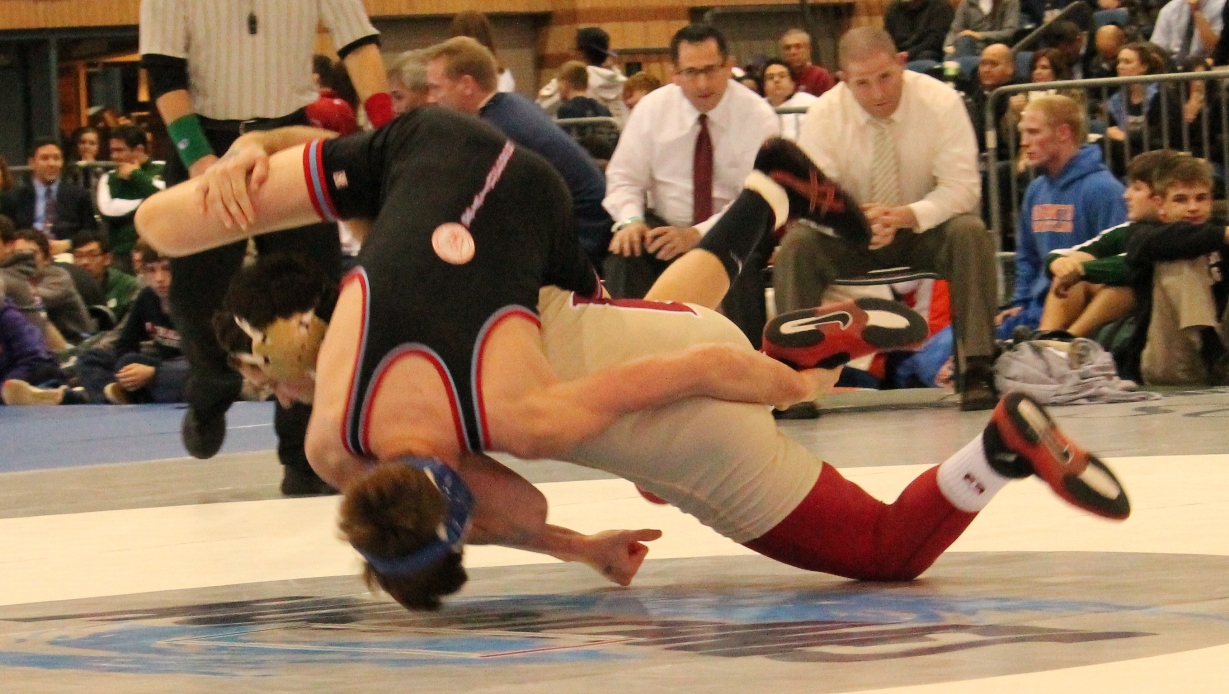 #1 Daniel Albrecht of Brother Martin vs. #3 Michael Darwin of Rummel in the Division I finals.
Division I


| | | |
| --- | --- | --- |
| 1st | (1) Robin Albrecht | Brother Martin |
| 2nd | (3) Michael Darwin | Rummel |
| 3rd | (2) Jimmy Brown | Jesuit |
| 4th | (6) Collin Kersker | St. Paul |
| 5th | (5) Ethan Eisenhardt | Fontainebleau |
| 6th | Gage Duhon | Acadiana |

Division II


| | | |
| --- | --- | --- |
| 1st | (1) Conway LeBleu | St. Louis |
| 2nd | (2) Jimmie McBride | Teurlings Catholic |
| 3rd | (4) Javian Adams | Northside |
| 4th | (5) Brody Bonura | Live Oak |
| 5th | (3) Blake Faust | Shaw |
| 6th | (6) Brayden Reynolds | East Jefferson |

Division III


| | | |
| --- | --- | --- |
| 1st | (7) Trenton Pelloquin | Basile |
| 2nd | (8) Matt Adams | Fisher |
| 3rd | (6) Dillon Prejean | Brusly |
| 4th | (2) Peyton Goerner | Doyline |
| 5th | (1) Baron Clofer | John Curtis |
| 6th | (4) DeVine DeRamus | Calvary Baptist |
Top Eight Seeds
| | | | | | | | | |
| --- | --- | --- | --- | --- | --- | --- | --- | --- |
| Seed | 1 | 2 | 3 | 4 | 5 | 6 | 7 | 8 |
| Wrestler | Daniel Albrecht-12 | Jimmy Brown-12 | Michael Darwin-12 | Jack Ingalls-12 | Ethan Eisenhardt-10 | Collin Kersker-12 | Blaze d'Aquin-10 | Cabot Bellard-11 |
| School | Brother Martin | Jesuit | Rummel | Mandeville | Fontainebleau | St. Paul | John Ehret | Comeaux |
| Place | 1 | 3 | 2 | DNP | 5 | 4 | DNP | DNP |
Twenty-three wrestlers competed in the Division I 170 lbs. state wrestling championships.
Introduction
Brother Martin had another #1 seed in Daniel Albrecht, a senior who placed 6th at 160 lbs. in the 2012 state championships. Albrecht entered with a 24-1 record against Louisiana wrestlers, with his only loss coming to Jesuit's Gage Grush in the Greater New Orleans Championships. But that was during a little "experimental" period the Crusaders used in the two weeks before the state tournament when they moved Albrecht up to 182 lbs. and Kyle Delaune down to 170 lbs. At 170 #s Albrecht had won the Mandeville Open, the Trey Culotta and the Louisiana Classic, while placing second to out-of-state wrestlers in the Cinco Ranch "Big 12" and the Blackhorse Invitational in Tennessee.
Some might have thought Rummel's Michael Darwin had earned a #2 seed after a January 5th dual meet in which Albrecht needed a "Sudden Victory" period to win a 4-2 match. Darwin, also a senior, placed third at the Mandeville Open, losing to eventual champion Albrecht, and won the Trygg Memorial, Sam Sara Invitational and Teurlings Catholic Rebel Open. But Darwin had lost twice in 12 days to Jesuit senior Jimmy Brown: 11-3 in the Louisiana Classic and 7-3 in a dual meet between the Raiders and the Blue Jays on January 30th. And Brown had four matches against Albrecht and lost all four: 10-4 in the Mandeville Open, 7-6 and via a 1:11 pin in the Trey Culotta, and 4-3 in the Louisiana Classic. Hence the top three seeds were Albrecht, Brown and Darwin. Fourth seeded Jack Ingalls of Mandeville had a very strong last few weeks of the season, but previous losses to Darwin and Albrecht, and a sporadic record in the first half of the season, prevented his victory over Brown in the Greater New Orleans Championships from landing him a higher seeding at the state tournament.
Rounds 1, 2 and Quarterfinals
Rounds 1 and 2 went as predicted, but the quarterfinals once again exhibited the #5 over #4 jinx and the other three matches were decided by a total of four points. Albrecht had a close match with Catholic's #8 Matthew Moreau, the Greater Baton Rouge champion, but won 3-2. Ingalls had defeated #5 Ethan Eisenhardt of Fontainebleau twice during the season, but the Bulldog sophomore "turned the tables," as well as Ingalls, and recorded a fall in 3:14. Darwin had proved the victor in three previous matches versus St. Paul's Collin Kersker, but Kersker proved much more difficult this time, forcing Darwin to a "Sudden Victory" round to earn a 3-1 decision. Brown also had a difficult time with Ehret's Blaze d'Aquin. Brown pinned the Patriot sophomore in 4:54 at the Louisiana Classic, but had to eke out a 10-9 win to advance to the semifinals.
Semifinals # 1
Albrecht and Eisenhardt had met in the Trey Culotta and Albrecht had a hard time with him, needing 5:36 to score a fall. Eisenhardt was able to score on Albrecht in this match, but that mattered very little as Albrecht pinned him in 4:50.


| | |
| --- | --- |
| | |
| Eisenhardt shoots a deep double-leg on Albrecht. | Albrecht "high fives" Coach J.P. Pierre while teammate Kyle Delaune waits for his semifinal match to begin. |
Semifinals # 2
Darwin had been told earlier in the day that "shooting" for takedowns can often be a good thing. Darwin listened and, even though Brown did it first, Darwin got away and shot on Brown, taking him off of the mat and putting him on his back to record his first victory over the Blue Jay and, more importantly, secure a spot in the finals against Albrecht.
| | | | | |
| --- | --- | --- | --- | --- |
| | | | | |
| Darwin and Coach Rod Cusachs wait for Darwin's match to begin. | Brown upends Darwin. | Darwin turns to score on Brown. | Brown tries to avoid a takedown. | Darwin with a single-leg on Brown. |
Consolation Rounds
Brown's next opponent, this time in the consolation semifinals, was Acadiana's Gage Duhon. The Ram senior was not seeded and, after a winning by a pin in 0:38 in the first round, lost to Kersker in Round 2 12-8. That meant a long road ahead in order to earn a top six place. He started with a pin in 0:22 over Destrehan's Isaiah Harding and followed that with a much tougher match against #8 Matthew Moreau of Catholic, which he won 6-3. #4 Ingalls was next and Duhon pinned the Skipper in 4:22 to set-up his match with Brown. Brown ended Duhon's hope for placing third, though, with a second round fall in 2:03. Duhon was relegated to the fifth-place match where he faced #5 Eisenhardt. Eisenhardt had defeated Kersker 2-1 on December 15th in the St. Tammany Parish Championships, and 2-1 was the final score in this match, but Kersker came out the winner this time, advancing to the consolation finals vs. Brown. Kersker won a hard 4-3 match over Comeaux's Cabot Bellard and pinned Zachary's Jared Durr in 2:52 to set-up the match against Eisenhardt. For fifth place it was Eisenhardt who ended up the victor, defeating Duhon 10-3. Brown had defeated Kersker 8-1 in November at the Mandeville Open, and this match was little different, with Brown winning 9-3 and placing a very important third for the Blue Jays.
Finals: #1 Robin Albrecht (Brother Martin) versus #3 Michael Darwin (Rummel)
Albrecht's November 10th pin in 5:48 over Darwin was the last thing on either wrestler's minds in the finals match. That one move made the difference in their last match, the 4-2 win in "Sudden Victory" at Brother Martin on January 5th, was all that mattered.

Albrecht "drew first blood" using a double-leg shot and fighting through stiff resistance by Darwin to score a takedown with 0:55 left in the first period. But Darwin was able to escape and the first period ended with Albrecht leading 2-1. Albrecht started the second period on top and Darwin escaped again, tying the score at 2-2 54 seconds into the round, which was the score at the end of that period. With Darwin starting the third round on top, Albrecht managed an escape with 50 second remaining and led 3-2 with both wrestlers standing. Darwin managed some single-leg shots, one of which took Albrecht's leg off of the mat, but Albrecht was able to prevent Darwin from scoring.

In a scenario such as this one, with a wrestler leading by a point as time winds down, and with both wrestlers on their feet, officials look for stalling. They thought they saw evidence of it as time expired. At first Albrecht was given a point, which gave him a 4-2 victory. But the officials reversed the error and gave the point to Darwin instead, tying the match 3-3 and sending it to a "Sudden Victory" period. Albrecht used a "high-crotch" to duck-under Darwin and score the winning points.

Albrecht finished the year with a 28-1 (43-5) record. Darwin was 39-6 (49-8).


| | | |
| --- | --- | --- |
| | | |
| Albrecht attempts a "fireman's carry" in the first period. | After his first "fireman's" is unsuccessful, Albrecht tries another, which eventually led to the match's first two points. | An official appears to give a stalling point to Albrecht, but it was soon changed in Darwin favor. |
| | | | |
| --- | --- | --- | --- |
| | | | |
| Albrecht tries a "high crotch" in the "Sudden Victory" period... | ...and is able to duck under Darwin, force Darwin's knee to the mat, and score the winning takedown, as evidenced by Coach Robert Dauterive's enthusiasm in the background. | Albrecht celebrates his state championship, which gave Brother Martin 331 points, 2 over the former point record set by the 2000 Crusader team | Albrecht and Darwin on the awards podium. |
Top Eight Seeds
| | | | | | | | | |
| --- | --- | --- | --- | --- | --- | --- | --- | --- |
| Seed | 1 | 2 | 3 | 4 | 5 | 6 | 7 | 8 |
| Wrestler | Conway Lebleu-11 | Jimmie McBride-12 | Blake Faust-12 | Javian Adams-12 | Brody Bonura-10 | Brayden Reynolds-12 | Justin Babin-11 | Matthew Wilkins-10 |
| School | St. Louis | Teurlings Catholic | Shaw | Northside | Live Oak | East Jefferson | Belle Chasse | Benton |
| Place | 1 | 2 | 5 | 3 | 4 | 6 | DNP | DNP |
Twenty wrestlers competed in the Division II 170 lbs. state wrestling championships.
Introduction
St. Louis Catholic junior Conway Lebleu entered the tournament with a 34-5 record against Louisiana competition. All but one of his losses were delivered by opponents in Division I, including Daniel Albrecht, Jack Ingalls and Gage Grush of Jesuit. His other loss was a 5-2 decision by Division II opponent Blake Faust of Shaw at the Holy Cross Division II Duals of January 12th.. Lebleu had defeated Faust 5-1 in a dual meet a little more than a month earlier, and Faust's victory did not prove enough to earn him more than a #3 seed due to three losses to Division II opponents. Teurlings Catholic's senior Jimmy McBride entered with a 24-7 record and was seeded second to Lebleu due to a loss to Northside's Javian Adams, whom Lebleu had beaten. Adams was seeded fourth.
Rounds 1, 2 and Quarterfinals
Round 1 went as expected but a minor upset occurred in Round 2 when Parkway's Dominique Crain pinned #7 Justin Babin of Belle Chasse in 2:19.
In the quarterfinals only Faust spent the entire six minutes on the mat, prevailing10-4 over #6 Braden Reynolds of East Jefferson. Lebleu needed only 0:58 to handle #8 Matthew Wilkins of Benton. Adams took 2:24 to pin #5 Brody Bonura of Live Oak, and McBride took two seconds longer, 2:26, to pin the unseeded Crain.
Semifinals

Lebleu's win over Adams was a 6-2 decision in a dual meet on January 5th. This time was not much different as Lebleu won 7-2. McBride and Faust had not wrestled previously and had no common opponents. But McBride proved the better of the two, pinning the Eagle in 3:52.


| | |
| --- | --- |
| | |
| St. Louis' Conway Lebleu turns Northside's Javian Adams to his back for nearfall points. | Teurlings Catholic's Jimmie McBride shoots a double-leg takedown on Shaw's Blake Faust. |
Consolation Rounds
After a disappointing quarterfinals loss to Adams, Live Oak's Bonura came back strong in the consolation rounds. He pinned Holy Cross freshman Nicholas Nugent in 1:12 and St. Michael's Christian Frey in 4:30. Then he upset Faust 6-4 to make the consolation finals. East Jefferson's Brayden Reynolds scored falls in 4:21 and 2:30 before pushing Adams to the brink, losing his consolation semifinals match 6-4 in a "Sudden Victory" period. Reynolds face Faust for fifth place and it was Faust who still had a little more energy left, winning 9-5. In the consolation finals Bonura got another shot at Adams, and he performed better, but the Northside senior won again, taking third place with an 8-5 win.
Finals: #1 Conway Lebleu (St. Louis) versus #2 Jimmie McBride (Teurlings Catholic)
McBride started the scoring with a takedown in 65 seconds for a 2-0 lead. The wrestlers traded points in the first two rounds and then Lebleu added two more so at the beginning of the third period the score was tied 5-5. Lebleu started in the top position. McBride escaped from him in 13 seconds and scored a takedown with 1:21 remaining in the match to increase his lead to 8-5. That was, however, enough time for Lebleu to escape and takedown McBride to tie the match 8-8, almost scoring match-winning nearfall points as regulation time ran out. The wrestlers "locked up" at the beginning of the "Sudden Victory" round, but then Lebleu shot a double-leg from pretty far away, but kept on driving forward an underneath McBride. Lebleu was able to slip behind the Rebel wrestler and bring him to the mat to win the championship. Lebleu finished the season with a 38-5 (40-6) record McBride finished 27-8.


Top Eight Seeds
| | | | | | | | | |
| --- | --- | --- | --- | --- | --- | --- | --- | --- |
| Seed | 1 | 2 | 3 | 4 | 5 | 6 | 7 | 8 |
| Wrestler | Baron Clofer-12 | Peyton Goerner-12 | James Phillips-10 | DeVine DeRamus-12 | Griffen Miller-11 | Dillon Prejean-10 | Trenton Pelloquin-12 | Matt Adams-10 |
| School | John Curtis | Doyline | Grand Lake | Calvary Baptist | Dunham | Brusly | Basile | Fisher |
| Place | 5 | 4 | DNP | 6 | DNP | 3 | 1 | 2 |
Sixteen wrestlers competed in the Division III 170 lbs. state wrestling championships.
Introduction
John Curtis' Baron Clofer had a 14-3 record with his three losses coming from Division I opponents. Doyline's Peyton Goerner had a 25-8 record against Louisiana competition. The two had one wrestler in common - Calvary Baptist's Chris Thompson. Clofer barely beat him in a 3-2 match. Goerner had wrestled Johnson four times, outscoring him 8-5 and 14-9, and pinning him in 3:45 and 1:50. Goerner had three losses to Division II competition and three losses to Division II competition, which may be why Clofer received the #1 seed position and Goerner the #2. Clofer had a 6-0 win over #3 seed James Phillips of Grand Lake at the John Curtis tournament and Goerner had a win over #4 seed DeVine DeRamus of Calvary Baptist. #5 seed Griffen Miller of Dunham had losses to DeRamus and Clofer, and #6 Dillon Prejean had a loss at the Ken Cole to Miller. The #8 seed for Fisher sophomore Matt Adams was fine as he had a 4-2 record in his six matches.
That left the #7 seed for Trenton Pelloquin of Basile, who entered the tournament with an 18-8 record. He did have a loss to DeRamus and one to Prejean. Two of his losses were to Division II opponents, with one being only a 10-7 match versus Conway Lebleu. His other losses were to Division I opponents, with one being only a 7-3 decision in favor of Rummel's Michael Darwin. But even without the close matches with the Division II #1 seed and the Division I #3 seed, one could give him some credence for being the defending Division III 170 lbs. state champion, couldn't one?
Round 1
Round 1 went exactly as predicted, although some eyebrows may have been raised by Goerner barely getting by Bossier's Lamikus Johnson while Pelloquin dominated North Desoto's J.R. Davlin with a 12-0 major decision.
Quarterfinals

The seeding took a major "hit" in the quarterfinals. Clofer became the second #1 seed of the tournament to be sent to the consolation bracket when #8 Adams of Fisher pinned him with a cradle in 2:36
(bottom left
). DeRamus followed the predicted path with a 4:41 pin of Miller, but then #6 Prejean of Brusly pinned #4 Phillips of Grand Lake. Then Pelloquin showed his displeasure re his seeding by soundly defeating #2 Goerner 11-4
(bottom right
).
Semifinals
The semifinals consisted of #4 vs. #8 and #6 vs. #7. And the semifinals proved that seeding this weight class was pointless.

The 8th-seeded sophomore, Matt Adams of Fisher, beat the #4 senior DeRamus from Calvary Baptist 10-8. Then the 7th-seeded Pelloquin defeated #6 Prejean of Brusly to advance to the finals for the second consecutive year.
Consolation Rounds
Clofer advanced in the first two consolation rounds via a pin in 3:35 over Bossier's Duncan and a 7-2 victory over Miller of Dunham. But he was stopped by Brusly's Prejean 2-1 and had to settle for one more match to determine who placed fifth. Goerner also did well in the consolation bracket by pinning Episcopal's Ben Whitley in 0:12 and defeating Grand Lake's Phillips 6-3. Bur Goerner was not finished as he recorded another win by pinning DeRamus in 2:54. DeRamus went on to face Clofer, but the #1 seed prevailed in 4:01 to take fifth place. Prejean and Goerner had not met during the season, but Prejean proved to be the better of the two on this day, winning 15-6 to place third for the Panthers.
Finals: #7 Trenton Pelloquin (Basile) versus #8 Matt Adams (Fisher)
Adams tried a throw in the first period but Pelloquin was able to slip his head out as Adams went down to the mat, giving the defending state champion a 2-0 lead. The two traded takedowns and reversals through the first and the majority of the second round, as with 0:35 remaining Pelloquin remained two points ahead with a 6-4 score. The match stayed competitive, but Pelloquin was able to add to his margin, prevailing 11-7 and taking home his second state championship. Pelloquin finished the season 18-8 while the sophomore Adams finished 7-3.


---
---
© 2013 by Louisiana Wrestling News
You may not make electronic copies of these copyrighted materials nor redistribute them to 3rd parties in any form without written permission