---
EDITORIAL
LSU drops the ball, again: UREC process as inept as the IOC's re wrestling
05/08/13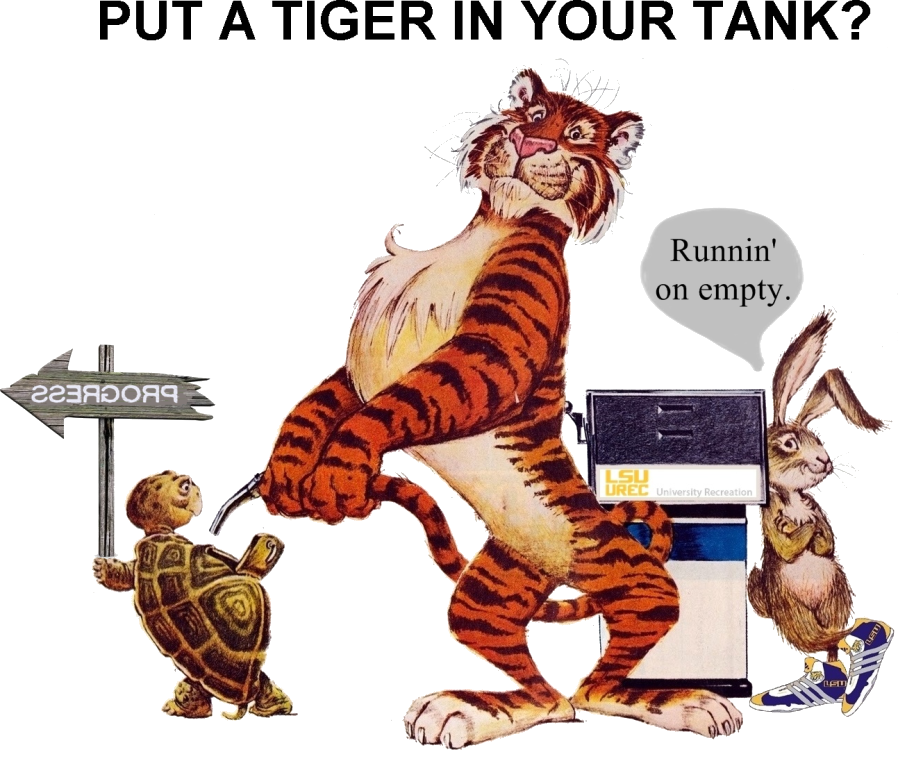 The cornucopia that once held the dream of Louisiana's wrestling youths, including that of brandishing the stars and stripes on an Olympic stage, has been dealt another blow. Now, they can't even put a tiger in their tank.
On Monday, April 30th, 2013, the Louisiana State University Department of University Recreation denied recognition of the Wrestling Club at LSU. This recognition is required for wrestlers to represent the university at wrestling events sanctioned by the National Collegiate Wrestling Association. The NCWA sanctions college programs that do not have varsity NCAA statuses, and several dozen are located within a 12-hour drive from LSU, which satisfies one of the UREC requirements.
Actually, the Wrestling Club at LSU satisfied all of the requested UREC requirements. They had a petition with over 10 interested potential members. (Currently they have @@@@@ members who have paid dues through the 2012-13 school year.) They adequately addressed safety concerns associated with wrestling and what to do and where to go in the event of a serious injury. They use the NCAA "Wrestling Rules and Interpretation" rulebook which, when grouped with the other colleges with NCWA clubs and scheduled team practices, satisfies the "Demonstration of Competition" UREC requirement.
Their UREC application was nixed, however, because only three members were present at the practice at which a representative appeared.
The International Olympic Committee at least had 74 items within 39 criteria within eight themes, as ridiculous as many of them were, which they studied prior to their hopefully temporary removal of wrestling as a "core" sport come the 2020 Olympic Games. LSU apparently only had one "hidden" criterion, which was the participation at one practice, the date of which was only known to UREC personnel.
Did the thought even occur to UREC that aside from the love of the sport, the members of the Wrestling Club at LSU have nothing for which to practice unless they can get UREC approval and then NCWA statuses? The situation is Helleresque. These are young men who want to compete on a collegiate level in events against other young men of their caliber. Sure, five members went to the 2013 Masters/Old-Timers tournament and they did just fine. But that event with its antiquated assistant directorship does not inspire one to train hard during a full collegiate wrestling season.
With approximately 300,000 participants, wrestling is the sixth most popular high school sport in the United States. No one is complaining that more people play football, basketball, soccer, baseball/softball or run track. But that is still a formidable number - representing many more students than those in high school golf, gymnastics and tennis programs. We can at least agree that more high school students (not to mention grade-school-level and middle school wrestlers) in Louisiana wrestle than participate in equestrian, right? But equestrian, rowing, sailing and lacrosse all have UREC sponsored clubs. Is it perhaps the shooting requirement that keeps UREC from sponsoring the modern pentathlon?
At the 2013 LHSAA State Championships, which drew almost 13,000 spectators, 83 teams participated. Accounting for the 14 weight classes for each school, but that not every team fills all 14, approximately 800 wrestlers participated. It is a safe bet that at least 200 of those were seniors. Not all of them opt to compete at the collegiate level. But those who do want to compete beyond the high school level, there is not a college or university in the state of Louisiana available to them.
There is a correlation between the sports offered on a varsity or club level at LSU and the sports sanctioned by the LHSAA. Of the 14 sports sanctioned by the LHSAA, 11 are varsity level sports and two are UREC club sports. Wrestling is not one of them. Actually, if one is not capable or does not desire to play on the varsity LSU soccer, tennis or volleyball teams, one has the option of playing the sports on a UREC level. That is three sports with dual representation by LSU. Right now, wrestling is only asking for the lesser of the two.
Census data indicates that in 2010 Louisiana had 64,396 more people than in 2000. Of course, that is how the projections looked in August of 2005, before Katrina. But while the population has surpassed pre-Katrina levels, the current growth projections are less than the ones between 1995 and 2005. (You want the math? It does exist.¹) Katrina, Gustav and a multitude of other problems have not exactly painted Louisiana in the best light in the last decade. And if fewer people are coming to the state, can we really afford to let others, particularly young college-bound ones, test the waters of other states?
LSU has done this before. In 1985 LSU dropped an often highly ranked NCAA Division I wrestling program due to Title IX cuts. The Southeastern Conference has one college with wrestling: the University of Missouri, which joined the SEC in the 2012-13 season and wrestles independently in Division I circuits. LSU has had a wrestling club in the past. As recently as 2009 LSU wrestlers competed in and won an NCWA Southwest Conference Championship.
Missouri also has an NCWA wrestling club that was active in 2012-13. So do the universities of Alabama, Florida, Georgia, South Carolina and Tennessee. So do Auburn and Texas A&M. That the University of Arkansas and both Mississippi SEC schools do not have wrestling clubs is indicative of the infancy stage in which their high school wrestling programs find themselves. The University of Kentucky and Vanderbilt University are the only SEC schools that do not have wrestling programs. But Tennessee and Kentucky wrestlers have the option of a number of colleges within their states. That leaves Louisiana as the only state with SEC schools that does not offer a wrestling program on any collegiate level. But the flagship university of that Louisiana, LSU, would rather sanction Ultimate-Frisbee.
Nobody is asking that LSU reinstate a varsity wrestling program. Given a little time and support, along with the addition of Missouri and the growth of the sport in SEC-member states like Tennessee, Alabama, Texas and Georgia, Louisiana wrestling might just earn that on their own. For now, though, the Wrestling Club at LSU just wants a little help from the university to compete at the only viable level available to them.
¹ Just not here. However, suburban Phoenix, Arizona, has a population just behind that of the state of Louisiana, and suburban Las Vegas has roughly half of it. What do those metropolitan areas have that the state of Louisiana lacks? The College of Southern Nevada in North Las Vegas has an NCWA program. Arizona State University in Tempe, AZ has an NCAA Division I wrestling program and a 1988 national championship to go with it.

---
© 2013 by Louisiana Wrestling News
You may not make electronic copies of these copyrighted materials nor redistribute them to 3rd parties in any form without written permission.