| | | |
| --- | --- | --- |
| | | Fini |
---
Destrehan girls continue breaking the male hold on wrestling
December 4th, 2013 | Written by: Editor
In a first for Louisiana High School wrestling, on November 26th, 2013, at Fontainebleau High School, the Destrehan Wildcats started three girls in their varsity wrestling roster against Fontainebleau, De la Salle and Hahnville. Senior Nicole Robichaux, sophomore Abby Nette and freshman Edrena François suited up for the Wildcats.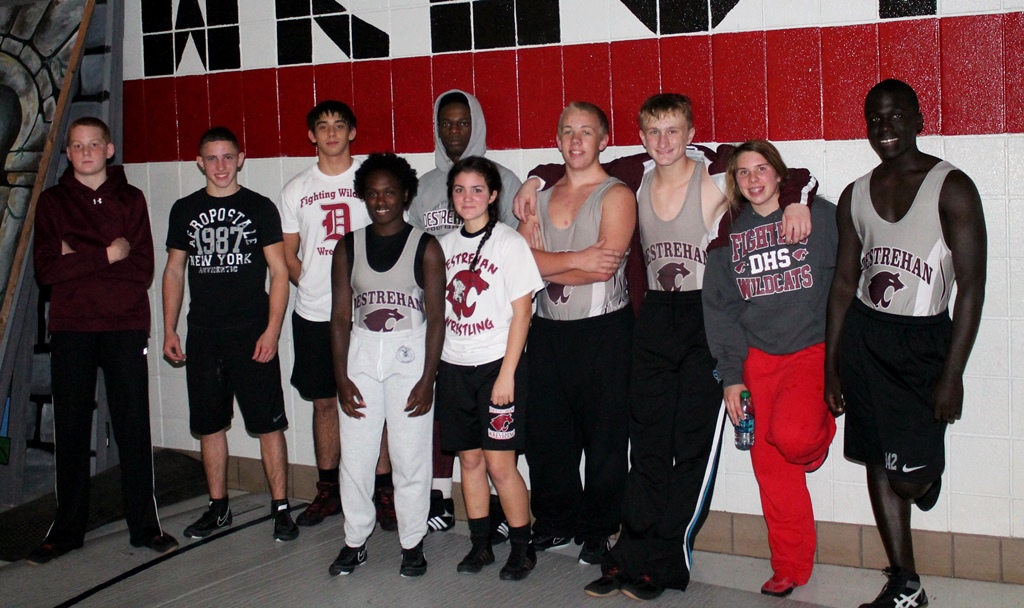 The Destrehan Wildcats varsity wrestling team, including Nicole Robichaux, Edrena Francois (front row - left to right) and Abby Nette (back row - second from the right).
That the ladies did not win their matches was not important. That the female portion of the Wildcats team raises the total number of female wrestlers in Louisiana to eight, is. Doyline, Dutchtown, East Ascension and Istrouma also have female grapplers.
Female wrestling is fast becoming a state athletic association recognized activity. California, Hawaii, Texas, Washington and several other states have female state championships. The sport has long been recognized by USA Wrestling, as it is in the Olympics, which started featuring women's wrestling in Athens in 2004.
The senior of the triad is Nicole Robichaux. While her interview was lost in transcription, suffice to say she inferred she enjoys the sport, demonstrated by the fact that this is her fourth year participating in it. She also has a victory under her belt from last season and is expected to add to that number this year.
| | | |
| --- | --- | --- |
| | | |
| Nette warms up Robichaux's arms before a match. | Robichaux on her feet vs. Fontainebleau's Jamie Willis. | Robichaux attempting to score nearfall points on Willis. |
| | |
| --- | --- |
| | Edrena Francois is just a freshman, but a very energetic one. Asked why she chose wrestling, she said "Because it's hard and it make you feel like you've accomplished something. " |
Nette, however, has a successful history behind her. As a middle school wrestler for the Scorpion Wrestling Club in Metairie, she won three USA Wrestling state championships and went on to win a national championship in Oklahoma City as an eighth-grader. Numerous wrestlers at the Spartan Open recalled Nette from their early wrestling days, as well how dominant she proved to be.
This evening, though, was her high school debut, and she admitted to some trepidation.
"I was really nervous today. My stomach was just in knots, but when I got up to the line I thought I had it. But he (De la Salle's Dominic Bioc) was very strong ."
| | | | |
| --- | --- | --- | --- |
| | | | |
| Nette works to get off of the mat vs. De la Salle's Dominic Bioc. | Wrist control against Fontainebleau's Ethan Lafont. | On her feet... | and tying up with Lafont. |
Bioc was impressed with the sophomore and admittedly a little anxious about the match-up against Nette. "I just didn't know what to expect," he said. "Is she going to be some state prodigy or is she just going to be another kid to wrestle. Gender really shouldn't be a factor when it comes to wrestling at all. You do what you need to do, what your coach taught you and what you practice.
"
Her fellow Wildcats are also impressed with their new starter.
"She's awesome [as a teammate]," said a Destrehan compatriot. When asked if he was working her hard at practices, he replied "No, she kicks my *** most of the time."
Destrehan is a Division I school so the competition at the state tournament will be ferocious for the lady Wildcats. "But "getting there" is not "half the battle" as much as deciding that they want to compete. As six minutes on a mat scares off many a star football player - these girls have already won.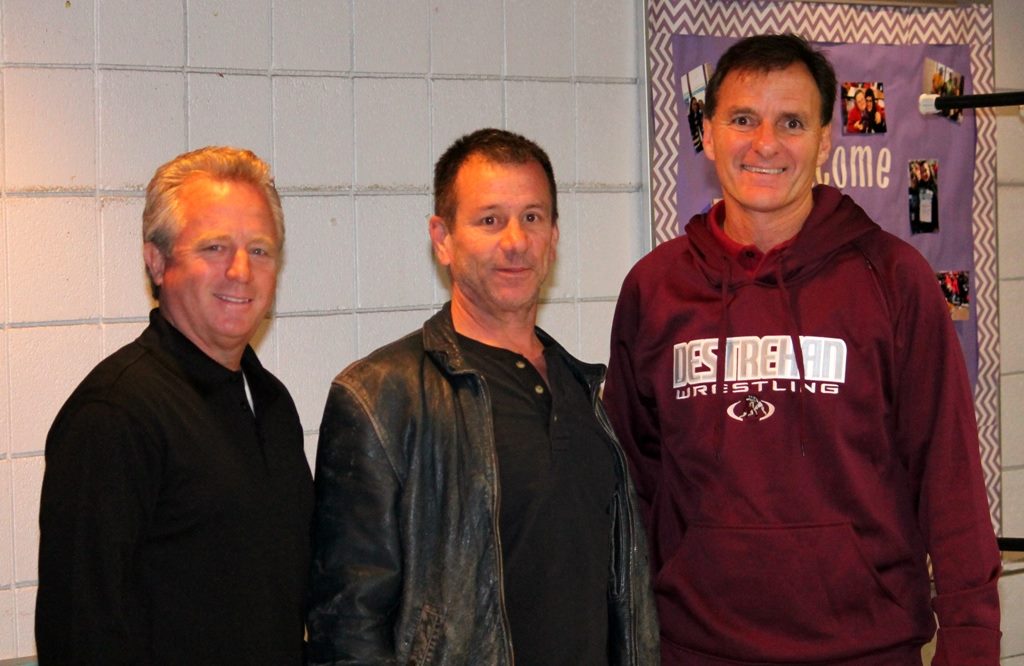 John Nette (center) is Abby's father and a 1978 Bonnabel state champion. To Nette's right is his Bonnabel teammate, as well as a Destrehan Coach, John Fogarty (state champion in 1977 and 1978). At left is Craig Seals, an East Jefferson state champion in 1977 and 1978, whose son Ryan was a Division I runner-up for Mandeville in 2009.
---
© 2013 by Louisiana Wrestling News
You may not make electronic copies of these copyrighted materials nor redistribute them to 3rd parties in any form without written permission.