| | | |
| --- | --- | --- |
| | | Status: Fini |
---
Holy Cross performs great in Las Vegas with three runners-up
December 21st 2013 | Written by: Editor
Holy Cross takes second at the Las Vegas Holiday Classic, 45.5 points behind tournament winner - Oklahoma's MacArthur High School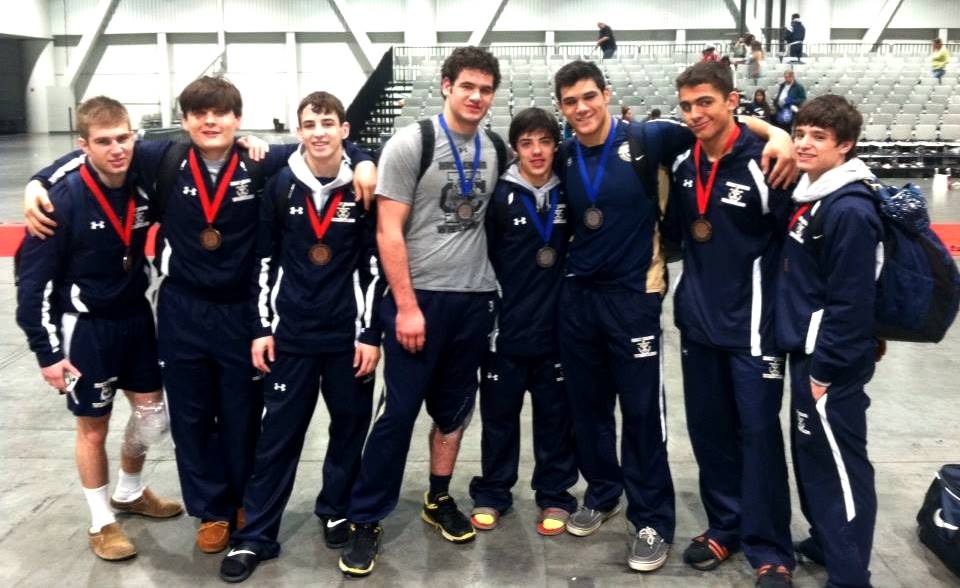 Click HERE for a link to the event's TrackWrestling page.
108 lbs.: In the third round freshman Joey Foret won 4-1 over the top seed, Juztis Yamane (Shadow Ridge, NV) in the 50-man bracket to advance to the quarterfinals. There, he met teammate Chris Zea, who won an 11-9 match in a "Sudden Victory" period over the #8 seed Jack Holm (Unattached). Zea advanced to the semifinals via an "Inj. Forfeit," which hopefully only means Foret chose to forfeit the match. Freshman Jeffery Argrave won his first round match over Aaron Alvarez of Imperial, CA with a fall in 2:42. UPDATE: Zea placed 2nd.
122 lbs.: Beau Bush was the #1 seed but after winning his first two matches he was upset by Dakota Phillips (MacArthur, OK)) via a fall in 2:17. Dylan Soileau was seeded 7th and, after winning his first two matches via falls, advanced to the quarterfinals with a 9-0 major decision over Ruben Ezalde of (BRB). UPDATE - Soileau advanced to the semifinals with a fall in 2:45. Soileau placed 5th overall.
128 lbs.: Collin Guerra was the #1 seed and has reached the quarterfinals after winning three matches. UPDATE: Guerra advanced to the semifinals with a 17-1 technical fall in 5:26. Guerra placed 5th overall.
140 lbs.: George Benoit was also a #1 seed and remains in contention in the quarterfinals after two technical falls and a pin. UPDATE: Benoit advanced to the quarterfinals. Benoit placed 3rd.
162 lbs.: Mason Williams won a second round match 3-0 before falling in the third round by a tight 3-2 margin.
172 lbs.: Junior Brice Duhe was seeded in the second spot and after three falls also finds himself in the quarterfinals. UPDATE: Brice Duhe met a tough Antonio Ancala of Canyon Springs, NV and lost his semifinals match 8-6 for his first loss of the season. Duhe placed 4th, losing to Alcala again, 6-3.
184 lbs.: Porter Dazet, who fared will in Las Vegas last season, has made the quarterfinals after two falls and a technical fall. Dazet is seeded seventh.
197 lbs.: Daniel Relayson was seeded first and is in the quarterfinals after recording two falls and a 11-7 decision. UPDATE: Relayson placed 2nd.
222 lbs.: A #3 seed at 222 lbs., Michael Yeatman advanced to the quarterfinals after exactly 3:00 on the mat. UPDATE: Yeatman placed 2nd.
HWT: After winning his second round match in 5:52, Travis Gardner was knocked into the consolation rounds, in which he won his first match in 2:34 before being eliminated.
---
© 2013 by Louisiana Wrestling News
You may not make electronic copies of these copyrighted materials nor redistribute them to 3rd parties in any form without written permission.