| | | |
| --- | --- | --- |
| | | Status: Fini |
---
South Plaquemines' new facility worth the trip
January 6th, 2014

| Written by: Editor
Anybody thinking that the trip down to South Plaquemines High School means wrestling on a boat need think again. $47,000,000 after hurricanes Katrina and Rita destroyed Buras, Port Sulphur and Bootheville-Venice high schools was spent on a first class education facility. Administrators did not forget the days when the Buras High School wrestling Wildcats ruled the Division II mats. The wrestling program found a home before the football and baseball teams did.

South Plaquemines' new school facility on LA Highway 23 in Buras.
Raised on brick supports to avoid future flooding events, the new South Plaquemines High School is 17 miles away from the end of LA Highway 23, or Louisiana civilization as we know it. It has a capacity of over 700 students. To rebuild the wrestling program, which after Hurricane Katrina was forced to practice at what was left of Belle Chasse's wrestling facilities, South Plaquemines has added three new wrestling mats and state-of-the-art score clocks.
Second year head coach Rex Williams recruited 17 wrestlers for the 2012-13 season and have 17 this season.

Five are seniors and two are juniors.

The remaining 10 range from 7th to 10th grades, providing a stellar opportunity for Williams to have very seasoned athletes on his future teams, aside from the ones he already has.
On Saturday, January 4th, South Plaquemines debuted its new facility with the first Duals on the Bayou tournament. Nine teams primarily from Division III participated. De la Salle placed first, followed by John Curtis and the host school, which placed third. Teams from Fisher, Grace King, Holy Rosary and Thomas Jefferson were some of the other programs present at the event.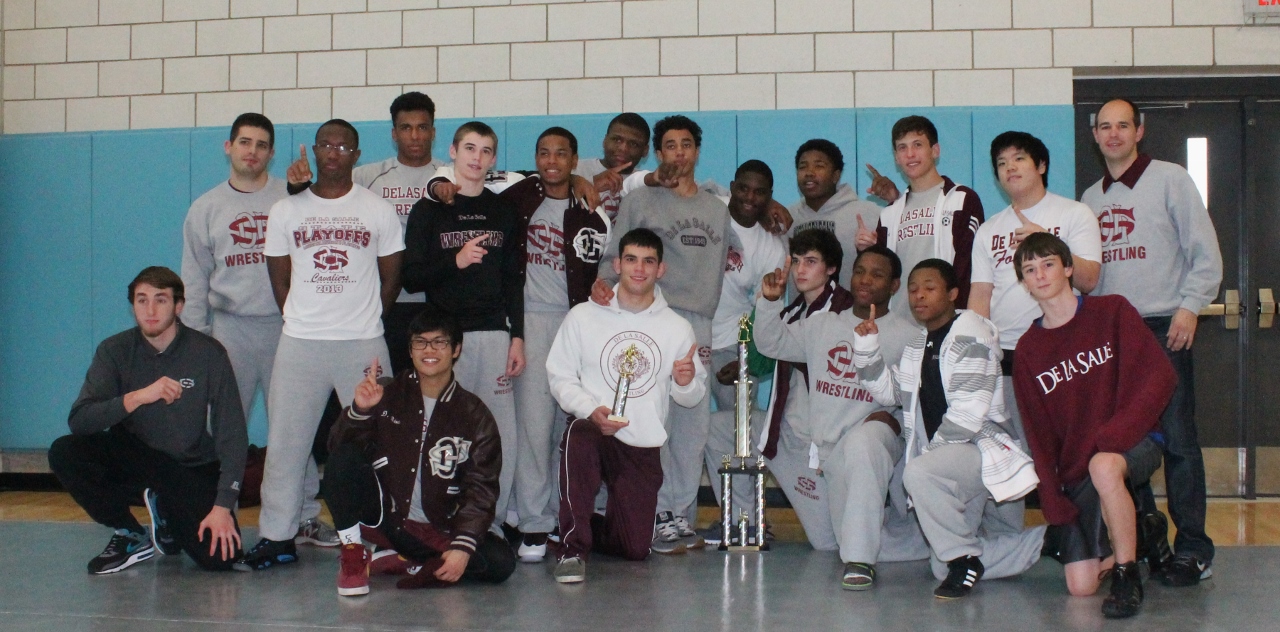 Duals on the Bayou champions: the De la Salle Cavaliers
| | |
| --- | --- |
| | |
| Runners-up: the John Curtis Patriots | 3rd place: the South Plaquemines Hurricanes |
Outstanding wrestler awards went to John Curtis' Bryce Cortez, South Plaquemines' James Graham and De la Salle's Alex Martin
.
Duals on the Bayou Outstanding Wrestler award winners
| | | |
| --- | --- | --- |
| | | |
| Bryce Cortez - John Curtis - 126 lbs. | James Graham - South Plaquemines - 132 lbs. | Alex Martin - De la Salle - 160 lbs. |
South Plaquemines is a long way from one of the major Division III bases, northwest Louisiana, which has teams including Calvary Baptist, Doyline, Evangel, Lakeside, Loyola, North Caddo and North Vermillion. But Division III teams have proved over the years that they are not averse to traveling long distances to "feel out" their Division III competition. For six years they have visited John Curtis, eschewing the Louisiana Classic, to see who they will face at the next month's state championship tournament. Another hour-and-a-half on the road should not deter them from a trip to South Plaquemines.
Food in the area is mainly from local restaurants. The coaches' hospitality room, based in the large cafeteria setting, is one of the best, perhaps only outdone by the well-seasoned folks at Brusly.
Lodging is available in the Buras area at the Venice Inn, Patty's Place and the Le Matidora Inn. A little less than an hour away are motels in Belle Chase and, if another 15-20 minutes is allotted, numerous facilities exist in Gretna, Harvey and Marrero on the west bank of the Mississippi River.
---
© 2014 by Louisiana Wrestling News
You may not make electronic copies of these copyrighted materials nor redistribute them to 3rd parties in any form without written permission.