| | | |
| --- | --- | --- |
| | | Status: Fini |
---
Deep South Bayou Duals Preview
December 28th, 2014, 2014 | Written by: Editor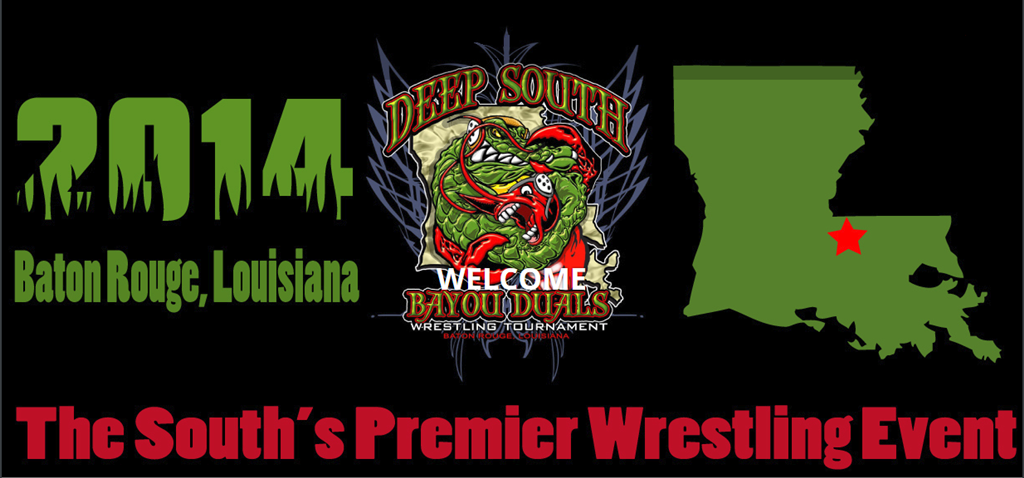 A cursory look at the 2014 Deep South Bayou Duals indicates several intriguing possible team matches as well as some stiff competition for Louisiana's best.
Team Summaries
Brother Martin has not lost a dual meet since the 2012 Deep South Bayou Duals in which they gave the champion MacArthur, Oklahoma, team their hardest match in the semifinals. It was thought that Allen, Texas, and Vestavia Hills, Alabama, might give the Crusaders a run in the Trey Culotta, but that did not pan out. A couple of teams may prove tougher this week, though.
Thompson, Alabama, the defending Alabama Class 6A state champions, has a line-up including two returning state champions in Riley Pike (138 lbs.) and T.J. Rayan (285 lbs.), as well as wrestlers who placed 3rd, 4th and 6th in 2014.
Altus, Oklahoma, placed 3rd in Oklahoma's Class 5A and brings state champion Keegan Pride (285 lbs.), runner-up Montorie Bridges (120 lbs.) and 4th placer Austin Baldwin (170 lbs.).
Phoenix and Liverpool, two teams from New York, are unknown entities.
Pool Rounds
Monday's pools are as follows:
Pool A
Pool B
Pool C
Pool D
Pool E
Pool F
Pool G
Pool H
Thompson, AL
Phoenix, NY B
Comeaux
Hahnville
Catholic
Acadiana
Duncan, OK
Shaw
Holy Cross
South Walton, FL
Teurlings Catholic
Baton Rouge
Liverpool, NY
Ocean Springs, MS
Rummel
St. Amant
Brother Martin
Fort Walton Beach
Brusly
Lafayette
Phoenix, NY
Zachary
Arlington, TX
De la Salle
Altus
Sam Houston
Live Oak
Niceville, FL
Jesuit
Dutchtown
Central, AL
Sulphur
Each team will advance to a 32-team championship bracket on Tuesday, seeded as per their pool results. As teams lose they will be relegated to other brackets.
Intriguing Pool Matches
Pool A: 120 lbs. - Nicholas Lirette (HNV) vs. Dominic Latona (THM) or Cody Mealer (THM);
Pool C: 120 lbs. - Beau Bush (HC) vs. William Pickren (SW); 145 lbs. - Jake Rando (HC) vs. Daniel Soto (SW); 152 lbs. - George Benoit (HC) vs. Cody Pickren (SW);
Pool E: 132 lbs. - 120 lbs. - Steven Rumney (BM) vs. Austin Franklin (BRU); Paul Klein (BM) vs. Kendon Lee-Kayser (BRU)
Pool G: 120 lbs. - Colt Olinde (LO) vs. Montorie Bridges (ALT);
Pool H: 132 lbs. - Brennan Taylor (SUL) vs. Brandon Wolff (JES).
Granted this information is by no means complete, but it may provide a hint as to which matches might be the ones to watch.
Will they stay undefeated against Louisiana Wrestlers?
Nicholas Shields (113-BM), Nicholas Lirette (120-HNV), Ben D'Antonio (120-JES), Taylor Gambill (126-BM), Paul Klein (132-BM), Joey Foret (138 HC), Brennan Taylor (132-SUL), Mason Williams (145-BM), Jake Rando (145-HC), Samuel Johnson¹ (145-ZAC), George Benoit (152-HC), Brice Duhe (170-HC), Yehia Riles (182-BM), Guy Patron, Jr. (182-JES), Kendrick Jones (195-HNV), Dominic Carmello (285-JES).
¹ Officially, Sam Johnson has a loss due to a disqualification, but the young man from Zachary was ahead at the time 12-4 in the third period.
Wrestling starts at 9 a.m. on Monday.
---
© 2014 by Louisiana Wrestling News
You may not make electronic copies of these copyrighted materials nor redistribute them to 3rd parties in any form without written permission.