| | | |
| --- | --- | --- |
| | | Fini |
---
Crusaders seek third consecutive Deep South Bayou Duals title
December 27th, 2015| Written by: Editor
The Brother Martin Crusaders will attempt to win their third consecutive Deep South Bayou Duals Monday and Tuesday at the Baton Rouge River Center. Since its inception in 2009 no team has repeated as champion aside form the Crusaders in the last two years. Perhaps more important is that the Louisiana teams that have won the event won Division I state championships the following February: Catholic in 2010, Rummel in 2011 and Brother Martin in 2013-5.
Wrestling is scheduled to begin at 9 a.m. on both days.
Forty teams will participate in the event. Joining 24 teams (including a Teurlings Catholic-B team) from Louisiana are five teams from Florida, three from Tennessee, three from Oklahoma (including an Altus-B team), two from Georgia, one from Texas, one from Alabama and one from Wisconsin.
Returning teams from last year include Jefferson, GA, who placed second behind Brother Martin, and Altus, OK, who placed fourth behind Holy Cross).
The Louisiana Wrestling News has not researched the out-of-state teams, but expect Jefferson, GA, Altus, OK, Somerset, FL and Arnold, FL to provide some excellent competition.
Monday pools matchups and notes on each are found below. The suggested matches to watch, however, are in no manner guaranteed to be the more important ones in each pool.
Pool A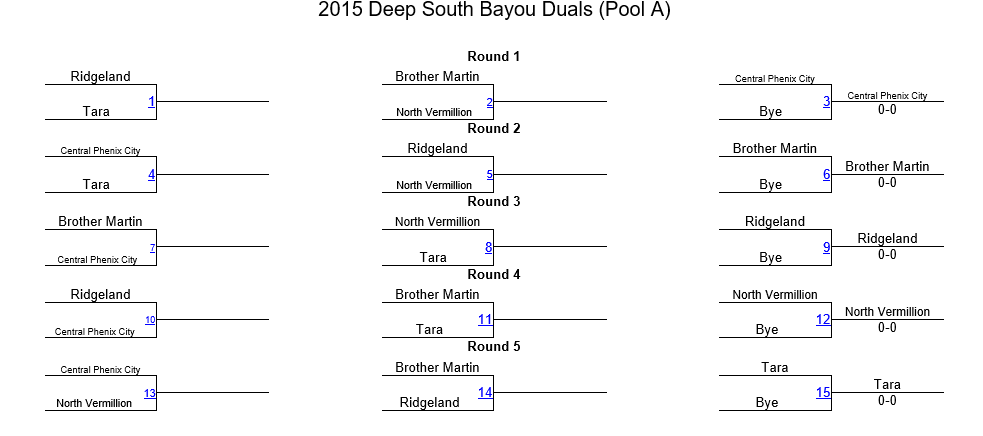 Expect the Crusaders to come out of this group unscathed.
Pool B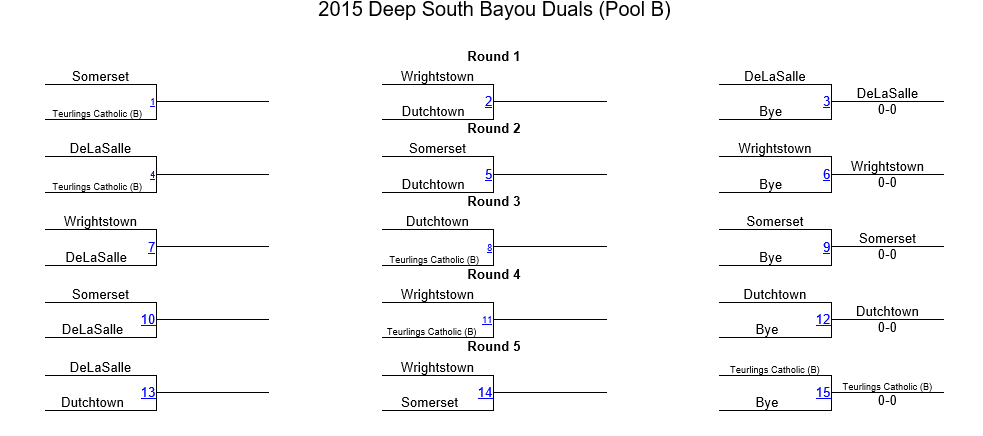 De la Salle is considered by many the favorite in Division III this season, but will have to defeat one of the out-of-state teams (Somerset, FL and Wrightstown, WI) to make Tuesday's championship bracket.
Pool C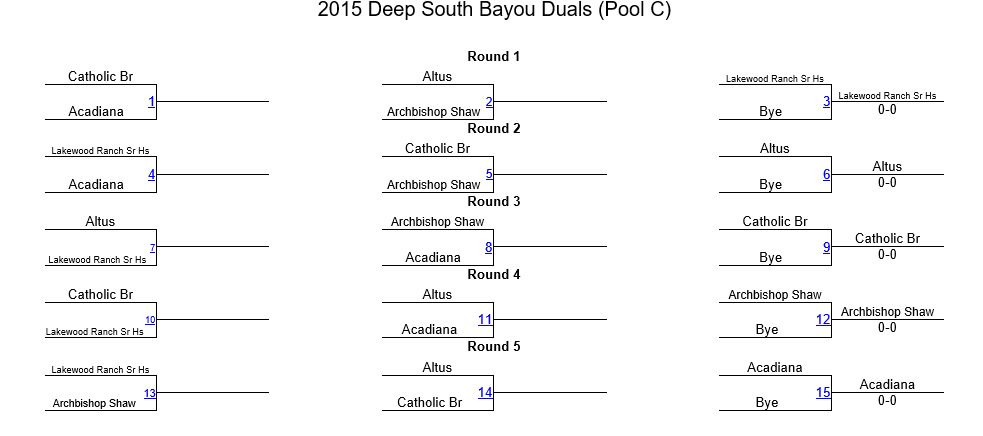 Catholic and Altus, OK will be interesting.
Pool D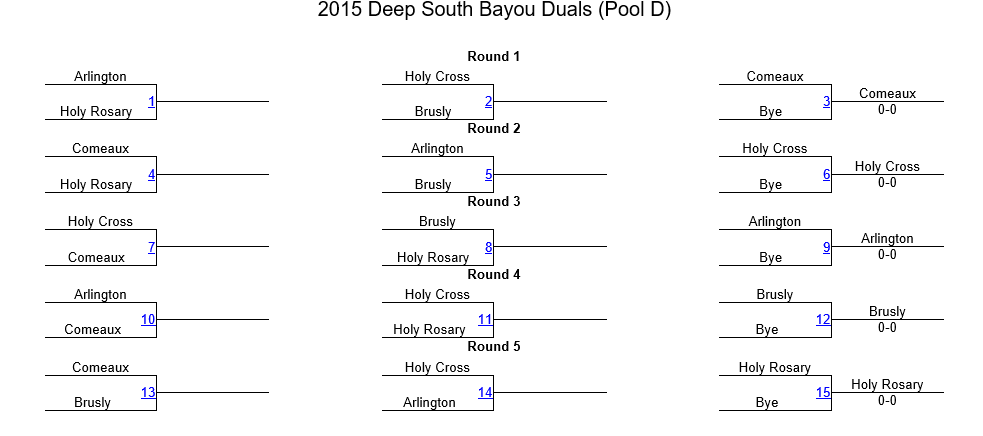 Comeaux and Arlington, TN should give Holy Cross their toughest matches.
Pool E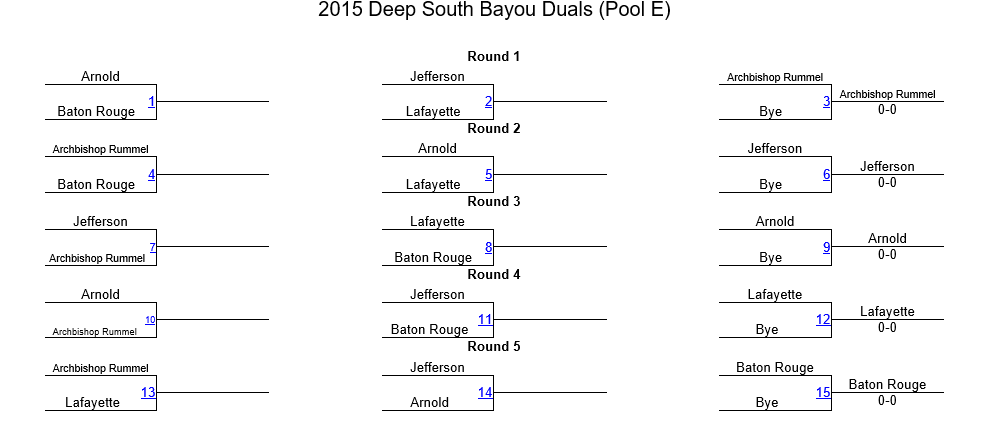 Jefferson is favored, while the second spot on Tuesday will probably be determined in Round 4 when Rummel meets Arnold, FL.
Pool F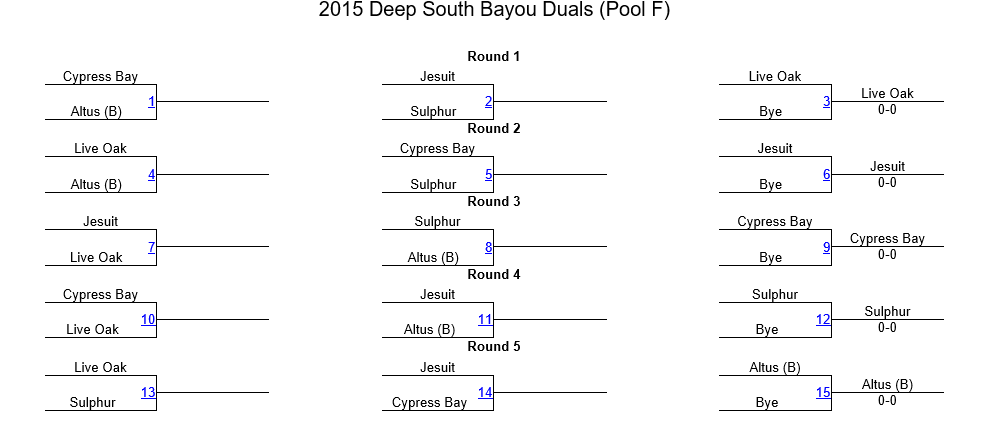 Jesuit should win this pool. Live Oak and Sulphur may vie for second.
Pool G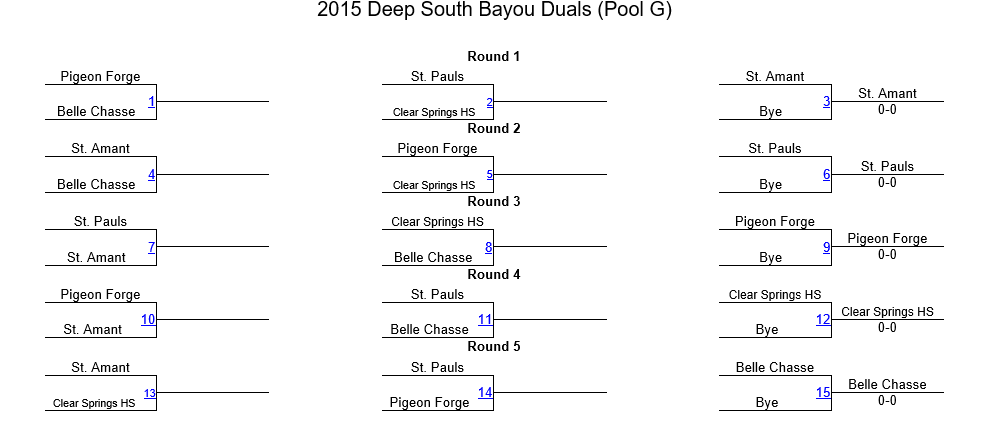 Trey Culotta runner-up St. Paul's will be favored, but a healthy St. Amant team could pose a challenge.
Pool H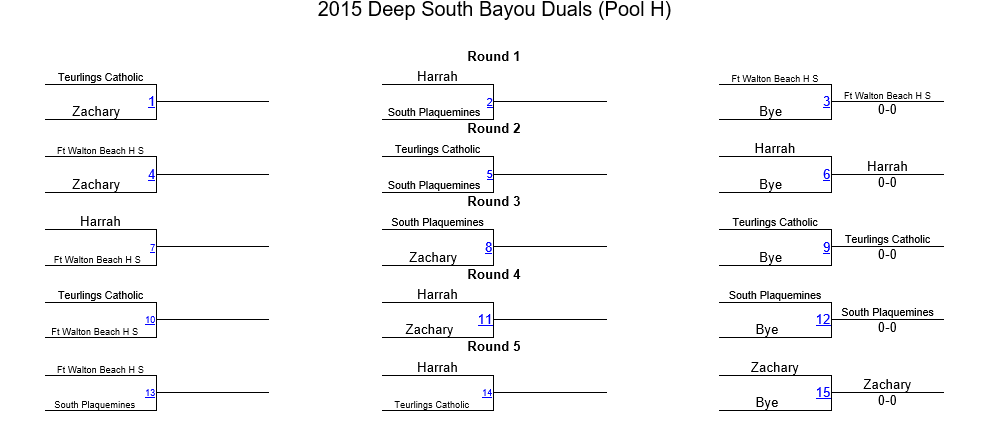 Teurlings Catholic and Harrah, OK, who placed 8th in Oklahoma's 4A 2015 state championships, should take the top two spots.
---
© 2015 by Louisiana Wrestling News
You may not make electronic copies of these copyrighted materials nor redistribute them to 3rd parties in any form without written permission.