| | | |
| --- | --- | --- |
| | | Fini |
---
Blue Jays nip Tigers in Senior Night season finale
February 4th, 2016 | Written by: Editor


Jesuit needed three falls in the final three matches to avoid giving Holy Cross a "moral victory" at the Jesuit gymnasium Wednesday night. Guy Patron, Jr., Evan Slattery and Corey Dublin provided just that, enabling the Blue Jays to erase an 11-point deficit to score a 39-32 dual meet win. The seven-point victory negated the six points the Blue Jays were given via a forfeit at 126 lbs.
| | |
| --- | --- |
| | |
| 39 | 32 |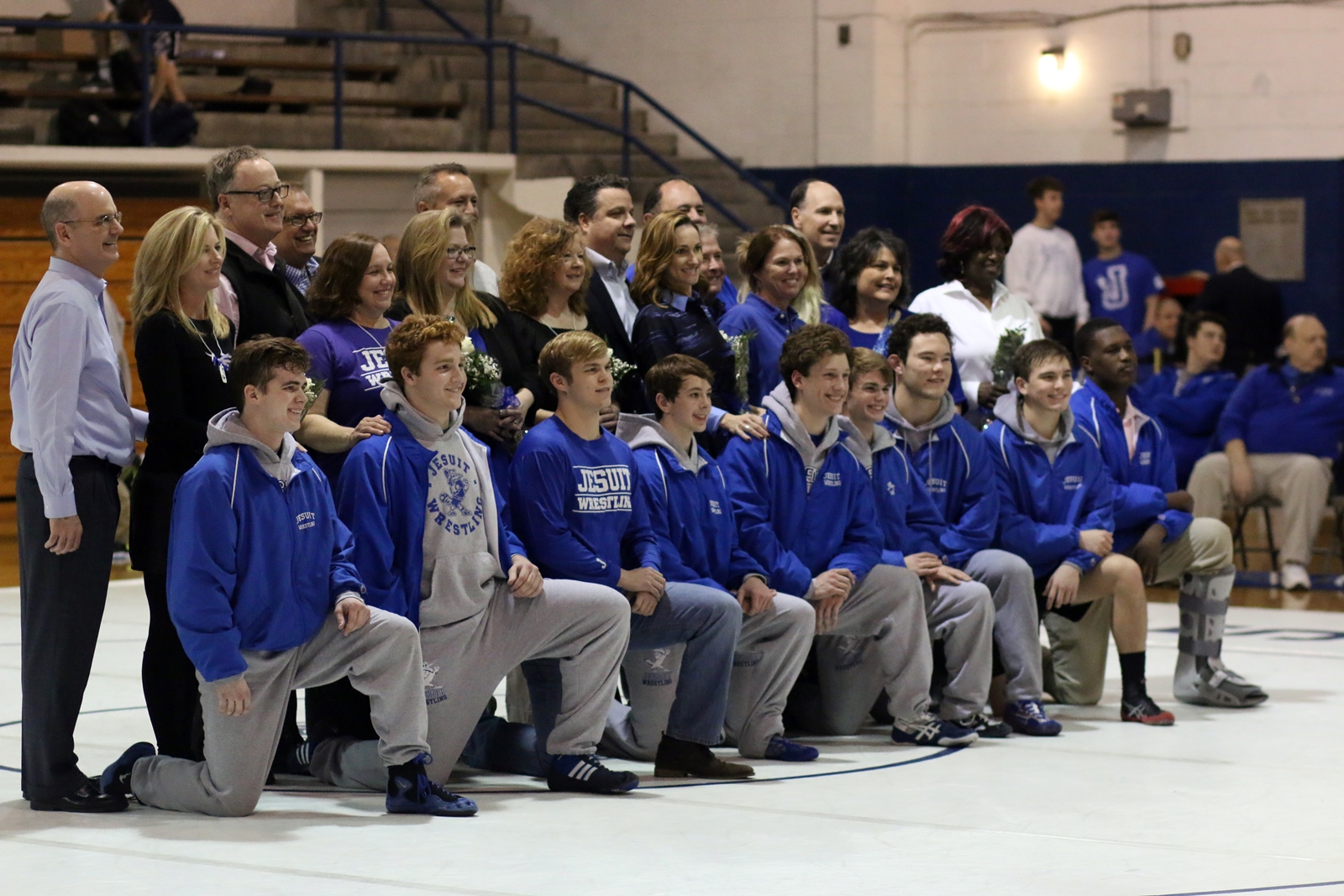 Jesuit seniors with their parents (kneeling, left-right): Griffin Mason, Evan Slattery, Kyler Pisciotta, Austin Ashburn, William Rosevalley, Joseph Dupre, Guy Patron, Jr., Brandon Wolff and Caleb Hart.
MORE SENIOR NIGHT PHOTOS
Even Blue Jay losses counted positively to their winning effort. Had either William Rosevalley or Griffin Mason been pinned rather than lose by major decisions, Holy Cross would have walked away with only a five point loss.
The best match of the night, however, was at 132 lbs. between the Blue Jays' Jackson DeGruy and Cole Clement, one of three likely Division I Holy Cross #1 seeds in Bossier City next week. Clement already had a tough time with DeGruy at the Ken Cole, winning 12-10 in a quarterfinal match (Clement placed first, DeGruy fourth), and Clement defeated DeGruy at the Mandeville Open. This time the Blue Jay started fast and built a 10-4 lead with little more than 90 seconds remaining in the match. Clement escaped and took down DeGruy to cut the Blue Jay's lead to 10-7 with 1:07 left. Clement would cut DeGruy loose three more times, but in the interim could only score two takedowns to cut the difference to two points, 13-11. On his feet with 13 seconds remaining, DeGruy was able to fend off a potential match-tying takedown by Clement to score three very important points for the Blue Jays. In the last two weeks DeGruy, whose Louisiana record after this match is 13-9, defeated the likely Division I #1 seed Clement and the likely #2 seed Seth Gambill of Brother Martin on January 20th. He also has 1-1 season splits with Landon Wheat of East Ascension and Catholic's Lance Blanchard .
The Tigers started off with a very good performance by Michael Lundin at 106 lbs., and later Michael Benton scored a tough 8-6 win over Brandon Wolff at 160 lbs.. Joseph Dupre scored a fall for the Blue Jays, as did Evan Palmisano. Jacob Spahn, David Clement and Matthew Putnam scored falls for the Tigers, and top-ranked Jake Rando and Joey Foret scored the two major decisions.
Lack of "morale victory" aside, the Tigers won seven of the 13 matches contested.
Matches
106 Pounds

Michael Lundin (HC) defeated Colby Queyrouze 4-2
113 Pounds

Jacob Spahn (HC) pinned Austin Ashburn in 3:16
120 Pounds

Joseph Dupre (JES) pinned Mason Macaluso (HC) in 2:53

126 Pounds

Jordan Giewat (JES) received a forfeit with the grace and style one would expect from a Giewat
132 Pounds

Jackson DeGruy (JES) defeated Cole Clement (HC) 13-11
138 Pounds

David Clement (HC) pinned Jordan Verhoeven (JES) in 3:50
145 Pounds

Jake Rando (HC) defeated William Rosevalley (JES) via a 14-5 major decision
152 Pounds

Joey Foret (HC) defeated Griffin Mason (JES) via a 9-0 major decision
160 Pounds

Michael Benton (HC) defeated Brandon Wolff (JES) 8-6
170 Pounds

Evan Palmisano (JES) pinned Laiton Johnson (HC) in 1:53
182 Pounds

Matthew Putnam (HC) pinned Brandon Greer (JES) in 5:17
195 Pounds

Guy Patron, Jr. (JES) pinned Cameron Drummond (HC) in 2:07
220 Pounds
Evan Slattery (JES) pinned Logan Heffner (HC) in 3:00
285 Pounds

Corey Dublin (JES) pinned Randel Amos (HC) in 0:58
---
© 2015 by Louisiana Wrestling News
You may not make electronic copies of these copyrighted materials nor redistribute them to 3rd parties in any form without written permission.