| | | |
| --- | --- | --- |
| | | Fini |
---
Division I - 106 pounds: Surprise drop to 106 pays off for Cotton, Crusaders
March 25th, 2016 | Written by: Editor
In a surprising move Brother Martin sophomore Luke Cotton, who had a very good season at 113 lbs., dropped to the 106 lbs. weight class for the state tournament. While he might have been seeded second to St. Paul's Cole Houser at 113 lbs., he was seeded #1 at the lighter weight and reaped Crusader dividends with a 9-6 finals win over another surprise finalist, unseeded Kobe Bernard of Dutchtown.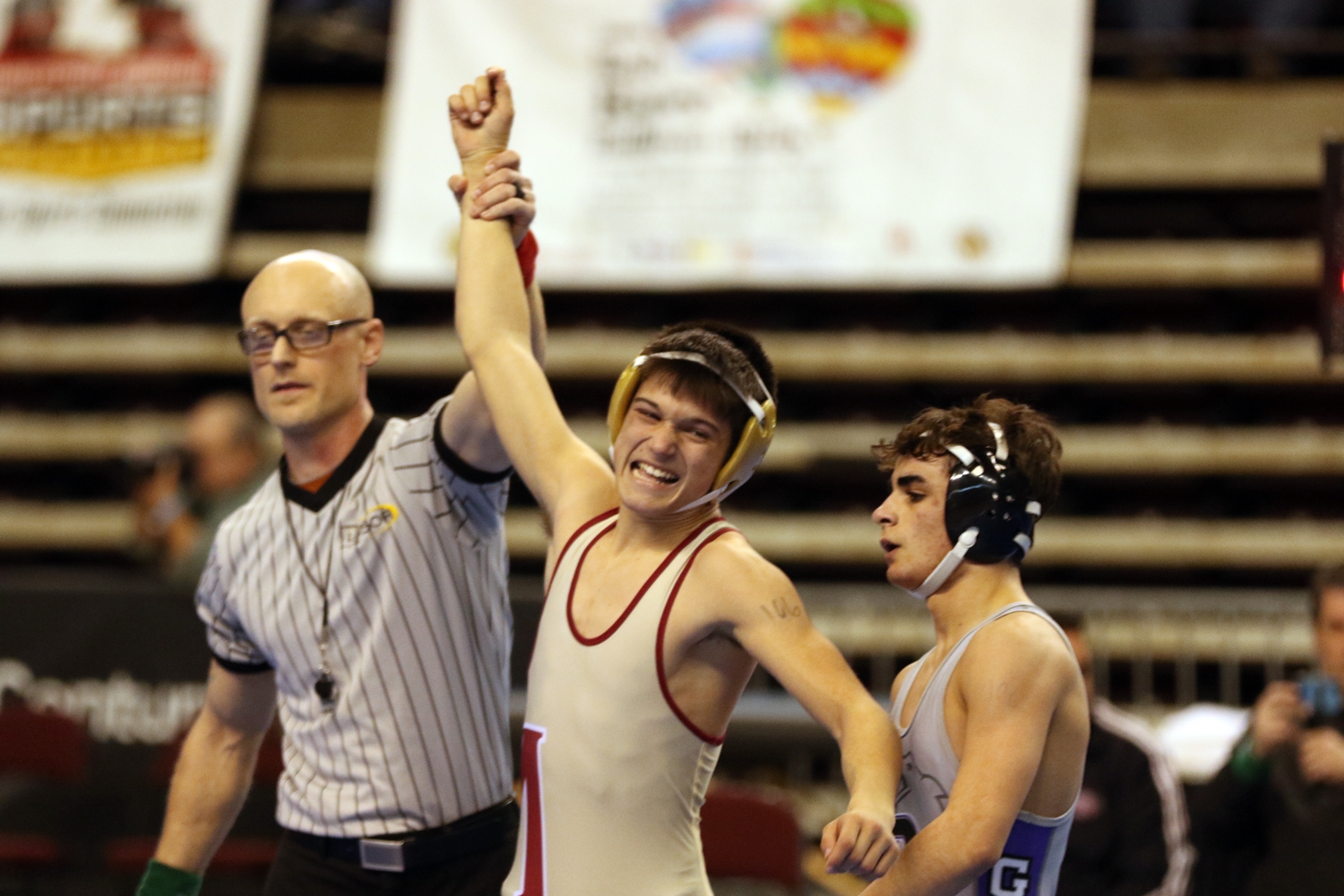 Synopsis
The 106 lbs. weight class in Division I provided a plethora of championship contenders over the course of the season. St. Paul freshman Brandon Stein led the pack initially by running off 13 wins and winning the Raider and Mandeville tournaments. His streak was stopped by another freshman, Michael Lundin of Holy Cross, in a December 2nd dual meet. Lundin served notice a week earlier though by dominating the Spartan Invitational. In mid-January, however, things fell apart a bit for the young Tiger as he only posted a 6-5 record through the Louisiana Classic, the Ken Cole and dual meets vs. Rummel, Brother Martin and Jesuit.
During all of that time, however, lurking in southwest Louisiana was Sulphur senior Kiefer Fuselier. Until the finals of the Louisiana Classic Fuselier had lost just one match to a Louisiana wrestler. That was to Jesuit's Adam Larriviere, but that was also at 113 lbs. In the Louisiana Classic Fuselier was bested by Rummel's Blake Mateu, but that did little to diminish his Division I standing.
Unexpectedly, however, when the Division I seeds were made public, it was Brother Martin's Luke Cotton who was seeded in the top spot. Cotton had only two Louisiana losses, to Mateu and to Cole Houser of St. Paul's, but both were at 113 lbs. He won the Cinco Ranch and Blackhorse tournaments, placed third at the Trey Culotta and second at the Louisiana Classic. Come the state championships, matches against Mateu appeared to be the deciding seeding factor. Fuselier lost to the Raider 12-0, while earlier at the Trey Culotta, Cotton only lost by a 5-0 score.
With Cotton and Fuselier seeded first and second, the third spot went to Byrd's Clay Celli, who was undefeated against Louisiana competition and had only lost two matches to very good Texas opponents. McKinley's Jeremiah Johnson, who only had losses to Division II Central's Austin Gouedy and Brother Martin's Daniel Varnado, was seeded fourth, followed by Stein, Comeaux's Blake Menard, Lundin and St. Amant's Tyree Morris.
Also lurking was a senior from Dutchtown who had 36 wins vs. 16 losses, yet who placed 3rd in the last two tournaments of the year - the Ken Cole and the Greater Baton Rouge Championships. His name was Kobe Bernard.
Bernard, who was not seeded among the first eight spots, won a close 9-8 match over Comeaux's Blake Menard, and he followed that with a 14-3 major decision over third-seeded Clay Celli of Byrd in the quarterfinals. The semifinals was another tough task against #2 Fuselier, but Bernard kept his streak alive by defeating Fuselier 7-5.
McKinley's Jerimiah Johnson defeated Michael Lundin of Holy Cross 10-3 to advance to the consolation finals. Fuselier did the same to Comeaux's Menard via a 9-2 score. For third place Johnson shutout Fuselier in a 2-0 win. Menard and Lundin met to determine 5th place, and it was Bernard prevailing in 4:31.
Placers

| | | | | |
| --- | --- | --- | --- | --- |
| Place | Name | School | Seed | Year |
| 1st | Luke Cotton | Brother Martin | 1 | 10 |
| 2nd | Kobe Bernard | Dutchtown | >8 | 12 |
| 3rd | Jeremiah Johnson | McKinley | 4 | 11 |
| 4th | Kiefer Fuselier | Sulphur | 2 | 12 |
| 5th | Blake Menard | Comeaux | 6 | 12 |
| 6th | Michael Lundin | Holy Cross | 7 | 9 |
Early and Consolation Rounds
In the first upset of the bracket Dutchtown's Kobe Bernard defeated #5 Blake Menard of Comeaux 9-8. The round two win avenged a previous 5-4 loss to Menard in the semifinals of the Ken Cole.
R2: Cotton (BM) over Queyrouze (JES) 21-6 TF
R2: Lundin (HC) over Guidry (ACA) in 3:52
R2: Bernard (DUT) over Menard (COM) 14-3 MD
R2: Morris (StA) over Baradell (BON) in 0:58
C2: Brace (AIR) over Parrish (FNT) 9-7.
C3: Celli (BYR) over Queyrouze (JES) 9-8
Quarterfinals
Everyone performed as expected in the quarterfinals except the pesky senior from Dutchtown who knocked of #3 Clay Celli of Byrd via a 14-3 major decision. Only Fuselier and Lundin had met before, with Fuselier taking an 11-5 decision in the Ken Cole quarterfinals.
(1) Luke Cotton (BM) over (8) Tyree Morris (StA) 10-2 MD.
(4) Jeremiah Johnson (McK) over (5) Brandon Stein (StP) 6-2.
Kobe Bernard (DUT) over (3) Clay Celli (BYR) 14-3 MD.
(2) Kiefer Fuselier (SUL) over (7) Michael Lundin (HC) 11-5.
Semifinals
None of the semifinalists had faced each other prior to this event. Only Cotton may have had some insight about Johnson due to a 5-4 win over the McKinley wrestler by Daniel Varnado, Cotton's teammate who competed at 106 lbs. for the majority of the Crusaders' season. Parity was not lacking though, as in the four remaining matches to determine the top four spots, three were determined by two points while the last was decided by three. And Bernard continued his upset streak by defeating Fuselier and to become the first of only two non-seeded Division I finalists.
(1) Luke Cotton (BM) defeated (4) Jeremiah Johnson (McK) 10-8.
Kobe Bernard (DUT) defeated Kiefer Fuselier (SUL) 7-5.
Championship Consolation Rounds
(4) Jeremiah Johnson (McK) defeated (2) Kiefer Fuselier (SUL) 2-0 to win 3rd place.
(6) Blake Menard (COM) defeated (7) Michael Lundin (HC) in 4:31 to win 5th place. Menard avenged an 8-2 loss to Stein at the Trey Culotta with a 5-4 win to advance to the consolation semifinals.
Finals
Bernard's run finally came to an end in the finals against Cotton. The Brother Martin sophomore became the first of the Crusaders' four state champions of the evening.
(1) Luke Cotton of Brother Martin defeated Kobe Bernard of Dutchtown 9-6.
While easy to do in hindsight, an argument could have been made earlier against Byrd's Celli receiving the number three seeding position. While this is not intended to be an indictment of northwest Louisiana wrestling nor Mr. Celli, it should be noted that his season only included one match against a Division I opponent. Hence he did not have experience against the prominent Division I catholic school teams nor most of the better public school programs. There also was some precedent the seeding committee could have followed. One of Celli's two losses was via a fall in 1:45 to Kynnyth Maban of Conroe Oak Ridge High School of Texas at the 2016 Hurricane Classic. In a prior Texas tournament, the Cy Fair Invitational, Fuselier pinned Maban in 1:37. Those matches are at pretty extreme ends of the results spectrum, and such a discrepancy should not be the difference between a #2 and #3 seed in Louisiana's Division I. His placement quite probably kept Johnson from reaching the finals. Granted, Bernard was "hot" in the state tournament, but Johnson owned two victories over the Dutchtown senior. Johnson also gave Cotton his toughest match of the tournament 10-8 Cotton), and then defeated the #2 seed Fuselier to place third.
---
© 2016 by Louisiana Wrestling News
You may not make electronic copies of these copyrighted materials nor redistribute them to 3rd parties in any form without written permission.