| | | |
| --- | --- | --- |
| | | Fini |
---
Division I - 113 pounds: Sophomore Houser gets past unexpected finalist Schmidt
March 25th, 2016 | Written by: Editor
Cole Houser won the Division I 113 lbs. state championship without having to go through top-seeded Adam Larriviere of Jesuit, the only Division I wrestler to defeat him all season. Larriviere, wrestling his first event since December 28th, was upset in the semifinals 8-4 by Brother Martin senior Paul-Stephen Schmidt. Unlike Larriviere, Houser had some very recent experience against the fourth-seeded Schmidt, having defeated the Crusader 3-1 in the Dale Ketelsen Memorial three weeks earlier. The experience counted as Houser again only got past Schmidt by two points in a 4-2 finals win.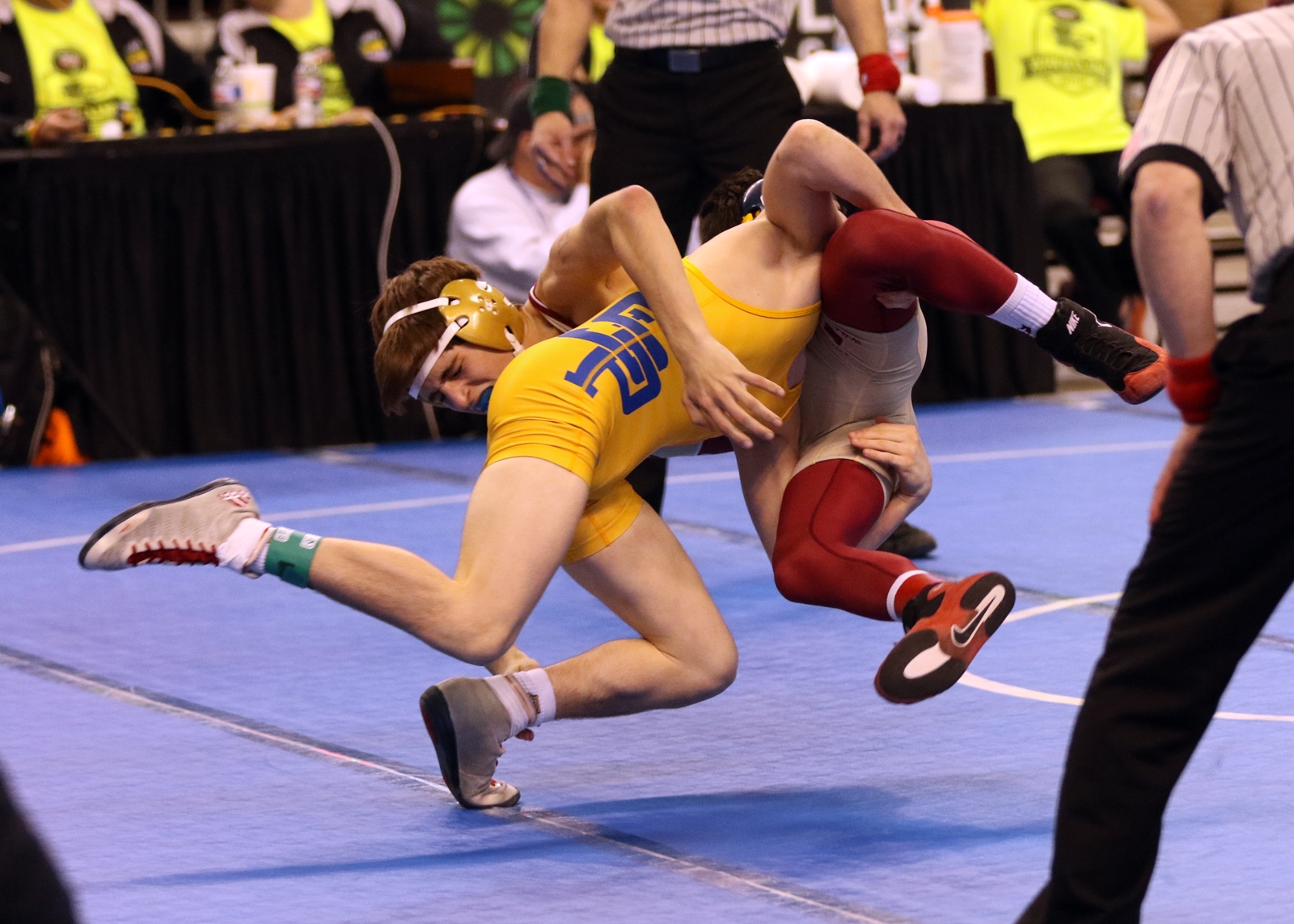 Synopsis

St. Paul's sophomore Cole Houser placed second in his first two tournaments, losing first to Rummel's Blake Mateu and then to Adam Larriviere of Jesuit. In a late November dual meet he lost to another Raider, Brandon Willis, and then again to Mateu in the Trey Culotta finals. Yet starting at the Deep South Bayou Duals, Houser did not lose to another Louisiana competitor, and he was able to avenge his loss to Willis twice. While many may have thought his 3-2 Louisiana Classic finals win over Brother Martin's Luke Cotton to be Houser's most important pre-state tournament match, as it turns out, the St. Paul's Invitational was more prophetic. Renamed the Dale Ketelsen Memorial, in honor of the Louisiana coaching legend and father of St. Paul's athletic director and head wrestling coach Craig Ketelsen, the event enabled Houser to compete against Schmidt, whom very few knew would be the Crusaders' 113 lbs. starter in the state championships.
Schmidt had a good season as a backup to Steven Shields and Luke Cotton. He placed third at the Mandeville Open, second at the Black Horse (behind Shields), second at the Jefferson Invitational and he won the Zachary Big Horse. After placing sixth at the Trey Culotta, Schmidt only wrestled one match at the Deep South Bayou Duals but had five matches at the Belle Chasse Cardinal Duals before the Dale Ketelsen Memorial. In Brother Martin's final dual meet against St. Paul's Houser did not compete for the Wolves. Neither did Cotton for the Crusaders, so very few knew about Cotton moving down to 106 lbs. giving Schmidt a starting opportunity.
Comeaux freshman Dylan Ames had an interesting season in the he lost more matches to Division II and Division III wrestlers (nine combined) than to Division one opponents three). The Division III losses were to Cotton, Houser and, at 120 lbs., Catholic's Cameron Carpenter. Seeded third, that is exactly where he finished after his semifinals loss to Houser, a close 6-4 affair, which was a far cry from an earlier 15-0 technical fall by Houser. The freshman the defeated 8th-seeded Josh Fitzpatrick of Fontainebleau in 2:18 before scoring a fall over Jacob Spahn of Holy Cross in 4:04 to place third.
Larriviere won the 5th-6th match over Fitzpatrick after losing 12-9 to Spahn in the consolation semifinals.
Placers


| | | | | |
| --- | --- | --- | --- | --- |
| Place | Name | School | Seed | Year |
| 1st | Cole Houser | St. Paul's | 2 | 10 |
| 2nd | Paul-Stephen Schmidt | Brother Martin | 4 | 12 |
| 3rd | Dylan Ames | Comeaux | 3 | 9 |
| 4th | Jacob Spahn | Holy Cross | 6 | 10 |
| 5th | Adam Larriviere | Jesuit | 1 | 10 |
| 6th | Josh Fitzpatrick | Fontainebleau | 8 | 10 |
Quarterfinals
(1) Adam Larriviere (JES) defeated (8) Josh Fitzpatrick (FNT via a 10-0 major decision.
(4) Paul-Stephen Schmidt (BM) pinned (5) Tucker Almond of Airline in 2:56.
(3) Dylan Ames (COM) defeated (6) Jacob Spahn (HC) via a 17-1 technical fall.
(2) Cole Houser (StP) defeated (7) Ruben Lorenzo (McK) via a 10-1 major decision.
Semifinals
(4) Paul-Stephen Schmidt (BM) defeated (1) Adam Larriviere (JES) 8-4.
(3) Houser (StP) defeated Ames (CCOM) 6-4.
Championship Consolation Rounds
(3) Dylan Ames (COM) pinned (6) Jacob Spahn (HC) in 4:04 to win 3rd place.
(1) Adam Larriviere (JES) pinned (8) Josh Fitzpatrick (FNT) in 1:57 to win 5th place.
Finals
(2) Cole Houser of St. Paul's defeated (4) Paul-Stephen Schmidt of Brother Martin 4-2.
---
© 2016 by Louisiana Wrestling News
You may not make electronic copies of these copyrighted materials nor redistribute them to 3rd parties in any form without written permission.