| | | |
| --- | --- | --- |
| | | Fini |
---
Division I - 120 pounds: Shields saves his best for last to win third Division I title
March 25th, 2016 | Written by: Editor
In the third match between Brother Martin's Steven Shields and Jesuit's Joseph Dupre, Shields left no room for doubt. There were some who thought Dupre might have gotten the best of Shields in their first two matches, which were both one-point affairs won by Shields. In this match, however, while the final score was only 7-5, Shields took control early and did not allow Dupre to get close enough to threaten the outcome. Only one year removed from when former teammate Paul Klein won his fourth consecutive Division I championship, Shields now has three Division I titles, and he still has his senior year ahead of him.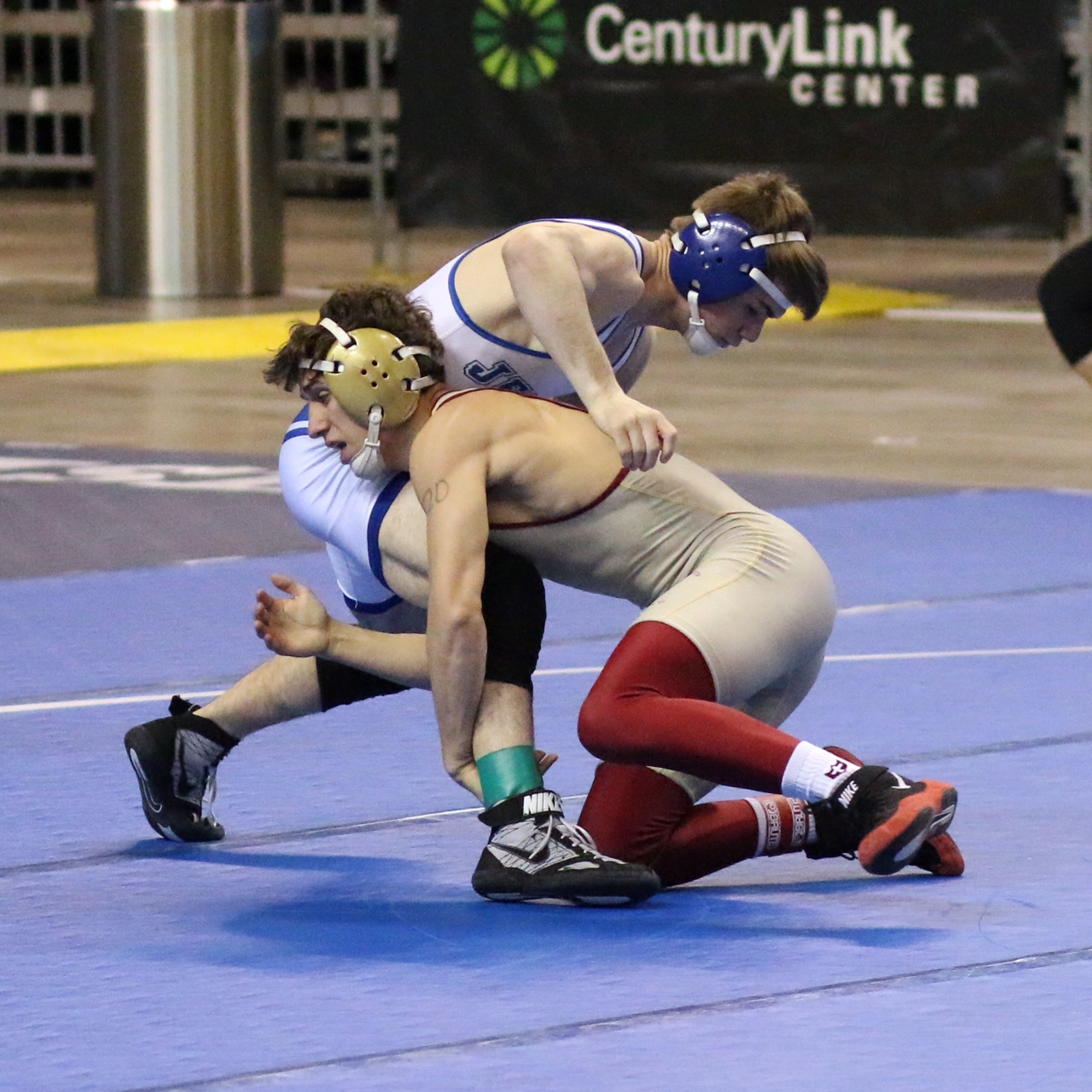 Synopsis

Even with a two-time defending Division I state champion in it, this weight class kept people alert. Junior Steven Shields, who won Division I titles at 106 lbs. in 2014 and 113 lbs. in 2015, ran off 17 initial wins and captured tournament titles at the Cinco Ranch Big 12, the Spartan Invitational and the Stewart Schay Blackhorse in Tennessee. A 9-4 win over St. Amant's Brier Babin on November 18th made Shields look a little less untouchable, but most probably spurred him to work harder. Vying for his third Trey Culotta championship, Shields dominated the pool rounds with falls in 0:36, 0:19 and a 15-0 technical fall at 3:34. His hardest match on the first day was a 13-8 decision over Comeaux senior Seth Oubre. On Saturday Shields started off as expected with a quarterfinals pin in 1:20. In the semifinals, though, a very fired-up Oubre took control in the third period and scored a fall over the Crusader in 4:50. That was Shields' first loss to a Louisiana wrestler since February 1st of 2014 - when he was a mere freshman. Although he would have two very close matches, Shields did not lose again, and added the Prep Slam VII and his second Louisiana Classic championships to his resume.
Jesuit senior Joseph Dupre was a relative unknown entity until the 2015 Ken Cole, which he entered as a a Jesuit non-scoring participant, and won. Proving that was not a fluke, he made it to the Division I finals, in which he placed second to Dylan Soileau of Holy Cross. Starting the season at 126 lbs., Dupre won the Warrior Open and the Mandeville Open, in which he defeated the first of three Division I 2015 Division I runners-up in Holy Cross' Beau Bush. He had a tough time against some very good competition at the South Walton Border Wars. He finished fourth but his two losses were to Florida wrestlers, including Arnold's William Pickren. Dropping to 120 lbs. Dupre advanced to the bracket round in the Kansas City Stampede and, while pushed hard against Cameron Carpenter of Catholic in a 3-2 match, went 4-0 at the Deep South Bayou Duals. Next came the Louisiana Classic, in which Dupre made the finals after a tough 10-6 win over Oubre in the semifinals. There he would meet Shields for the first time, who posted a 12-5 semifinals win over Jared Thieler of St. Paul's.
The two matches between Shields and Dupre were very good, and more than a few thought Dupre was denied some points in the Louisiana Classic and the subsequent dual meet at Brother Martin on January 20th. The officials thought otherwise. Shields won both matches by one point, 6-5 and 3-2. Nobody doubted the two would meet once again in the state finals.
Catholic's Cameron Carpenter was seeded third, and another tough Dupre-Carpenter was expected to occur in the semifinals. However, Carpenter was upset by Hahnville sophomore Robert Bryan via a fall in 4:58. Carpenter came back strong in the consolation rounds with a first-period fall, a technical fall and a major decision, but just missed the medal round with an 11-4 loss to Oubre.
The fourth and fifth seeds, Jared Thieler of St. Paul's and Seth Oubre of Comeaux, met twice during the Trey Culotta and would meet twice in the state championships. Thieler got the best of Oubre in the Culotta pool rounds, but after Oubre's upset over Shields and Thieler's subsequent upset of second-seeded Robert Fairchild of Rummel, Oubre wrestled a very strong third round and eked out a 6-5 decision over Thieler. After his win Oubre was voted the Outstanding Wrestler of the tournament.
In the state championships quarterfinals, it was Thieler earning a 6-5 win for the right to face Shields in the semifinals. Oubre was relegated to the consolation bracket in which he scored a fall, an 11-4 victory over Carpenter and then another fall over sixth-seeded Brier Babin of St. Amant to reach the consolation finals. After Thieler's semifinals loss to Shields, the St. Paul's sophomore scored a fall over seventh-seeded Troy Detweiler of Comeaux. In their last match, Oubre scored a fall over Thieler in 3:28, evening the season series between the two but also garnering the third place medal. Babin defeated Detweiler in 3:21 to place fifth.
Placers


| | | | | |
| --- | --- | --- | --- | --- |
| Place | Name | School | Seed | Year |
| 1st | Steven Shields | Brother Martin | 1 | 11 |
| 2nd | Joseph Dupre | Jesuit | 2 | 12 |
| 3rd | Seth Oubre | Comeaux | 5 | 12 |
| 4th | Jared Thieler | St. Paul's | 4 | 10 |
| 5th | Brier Babin | St. Amant | 6 | 11 |
| 6th | Troy Detweiler | Dutchtown | 7 | 11 |
Friday Rounds
R2: (1) Steven Shields (BM) pinned William Broussard (FNT) in 0:55.
R2: (8) Thomas Barringer (AIR) defeated John Le (CEN) 5-0.
R2: (5) Seth Oubre (COM) pinned Mason Macaluso (HC) in 4:41.
C3: Robert Bryan (HNV) pinned Jude Torres (DST) in 4:40.
Quarterfinals
(1) Steven Shields (BM) pinned (8) Thomas Barringer in 0:29.
(4) Jared Thieler (StP) defeated (5) Seth Oubre (COM) 6-5.
(6) Brier Babin (StA) pinned Robert Bryan (HNV) in 1:32.
(2) Joseph Dupre (JES) defeated (7) Troy Detweiler (DUT) via a 17-6 major decision.
Semifinals
(1) Steven Shields (BM) defeated (4) Jared Thieler (StP) via an 8-0 major decision.
(2) Joseph Dupre (JES) defeated (6) Brier Bain (StA) 10-6.
Championship Consolation Rounds
(5) Seth Oubre (COM) pinned (4) Jared Thieler (StP) in 3:28 to win 3rd place.
(6) Brier Babin (StA) pinned (7) Troy Detweiler (DUT) in 3:21 to win 5th place.
Finals
(1) Steven Shields of Brother Martin defeated (2) Joseph Dupre of Jesuit 7-5.
---
© 2016 by Louisiana Wrestling News
You may not make electronic copies of these copyrighted materials nor redistribute them to 3rd parties in any form without written permission.