| | | |
| --- | --- | --- |
| | | Fini |
---
Division I - 126 pounds: Jesuit's Eli Larriviere...WOW...just WOW!
March 25th, 2016 | Written by: Editor
Nobody saw this coming, and if they say they did, break out a polygraph. No one doubted that Jesuit's Eli Larriviere was very good, and he certainly proved the LWN editor wrong re his seeding, but even if he were the #3 seed he still would have made the finals based on what he did in the earlier rounds. But it was not supposed to matter as Airline's Javarious Jones had just crushed everybody he faced from Louisiana, with the exception of Shane Ulfers of St. Paul's whom Jones only defeated by one point.
The finals started off like a routine match for Jones. He took Larriviere down early and, after Larriviere escaped, looked to be on his way toward scoring another first period takedown when Larriviere literally flipped backwards on one leg, befuddling the spectators, real expensive camera lenses and, most importantly, Jones, who found himself on his back as a result. Jones' bewilderment seemed to remain throughout the rest of the match as Larriviere seemed to score at will, resulting in a 14-4 major decision and Jesuit's first state championship of the night.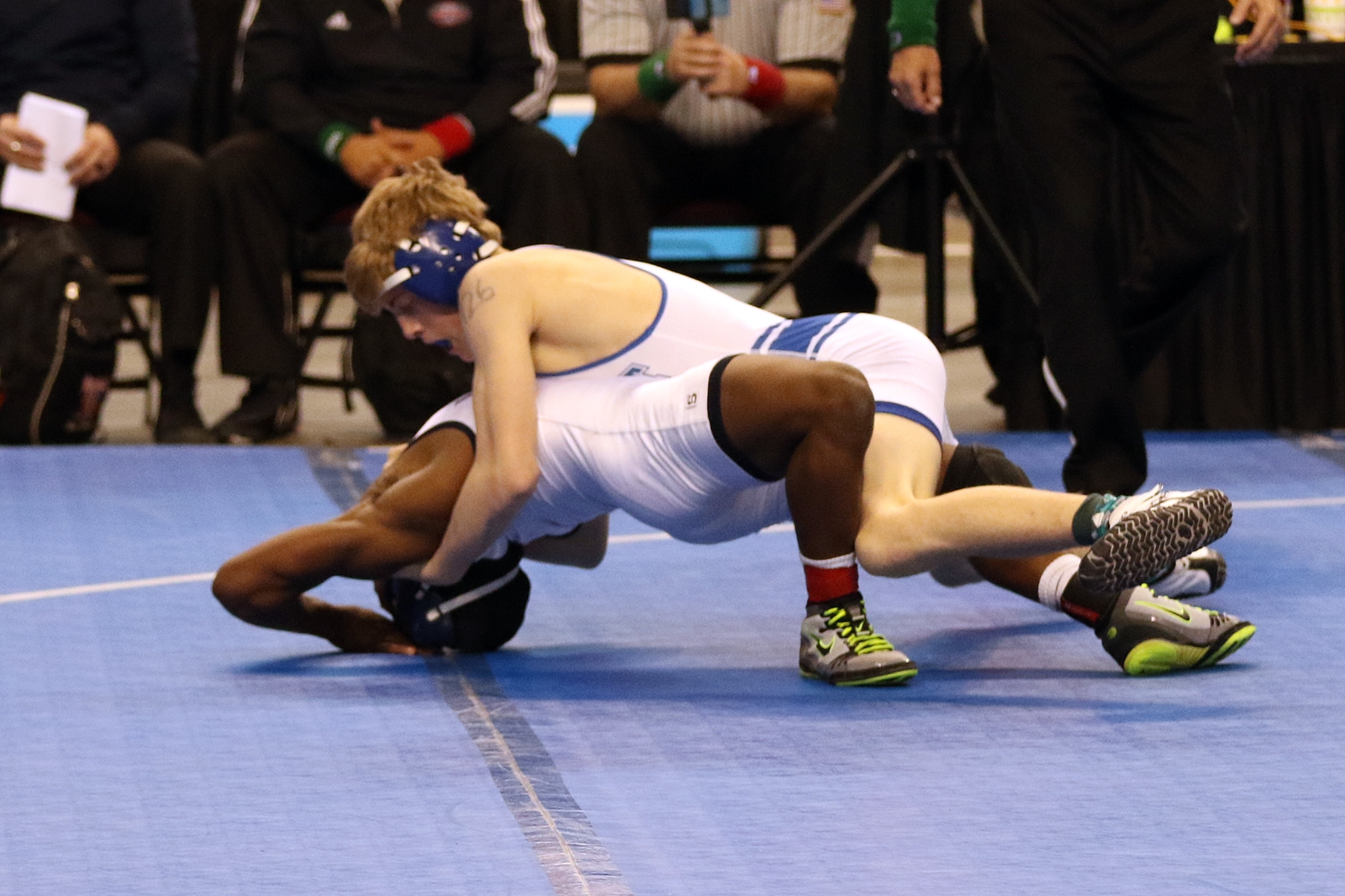 Synopsis
Initially there were three 2015 Division I runners-up in this weight class: Jesuit's Joseph Dupre, Brother Martin's Stephen Rumney and Holy Cross' Beau Bush. When Dupre dropped to 120 lbs. his spot was filled by Eli Larriviere, who placed third for the Blue Jays in 2015. After a solid sophomore season St. Paul's Shane Ulfers added his name to this elite list, as did newcomer Dyllon Bernard, a freshman from Comeaux.
And then their was this 5th-place finisher in 2015 from Airline High School, Javarious Jones.
All of them had seasons of which they can be proud, although a couple of them saved their best for last.
Rumney started off very well by winning championships at the Cinco Ranch Big 12, the Spartan Invitational (which included a much anticipated finals match with Bush) and the Blackhorse Invitational. Larriviere won the Warrior Open but was on the wrong end of three Sudden Victory matches against Louisiana opponents in the Mandeville Open and the South Walton Border Wars. Ulfers won the Raider Invitational, the Trygg Memorial and the Dale Ketelsen Memorial. The Comeaux freshman Bernard won the Wildcat Open, the Lafayette Metro tournament and placed second at the Spartan Invitational and the Ken Cole.
Placers


| | | | | |
| --- | --- | --- | --- | --- |
| Place | Name | School | Seed | Year |
| 1st | Eli Larriviere | Jesuit | 2 | 10 |
| 2nd | Javarious Jones | Airline | 1 | 12 |
| 3rd | Beau Bush | Holy Cross | 5 | 12 |
| 4th | Stephen Rumney | Brother Martin | 3 | 12 |
| 5th | Shane Ulfers | St. Paul's | 4 | 11 |
| 6th | Dyllon Bernard | Comeaux | 6 | 9 |
| | | | | | |
| --- | --- | --- | --- | --- | --- |
| 1st | 2nd | 3rd | 4th | 5th | 6th |
| | | | | | |
| Eli Larriviere | Javarious Jones | Beau Bush | Stephen Rumney | Shane Ulfers | Dyllon Bernard |
Trouble for the south Louisianans, however, came at the Trey Culotta in the form of that 2015 5th-place finisher from Airline. Jones, who at that time had only two losses to out-of-state opponents in the State Games of Oklahoma, won the event handily, defeating Ulfers twice and then Rumney in the finals. Rumney also met Jones in the finals of the Louisiana Classic, in which Jones prevailed again and thus locked-in the #1 seeding position for the state championships. Aside from his Trey Culotta and Louisiana Classic titles, Jones also won the Evangel Eagle Open, the North Louisiana Regionals and placed second in the Texas Outlaw. Larriviere, who dropped to 126 lbs. for the Deep South Bayou Duals (where he went 6-0) placed third despite a quarterfinals loss to Ulfers, and on the following Wednesday he upended Rumney, which propelled him into the #2 spot in Bossier City.
While Larriviere's domination of Jones in the finals was the major story of the weight class, it should also be noted that Beau Bush more than salvaged what had previously been a rather disappointing season. He lost to Dupre and Rumney in tournament finals and lost a heartbreaking one point match to William Pickren of Arnold to place fifth in the South Walton Border Wars (Pickren later defeated Dupre to take third), lost to Rumney again in the Louisiana Classic semifinals, then to Larriviere in the consolation semifinals and had to forfeit a chance for 5th-place to Ulfers. That cost Bush the #4 spot at the state championships even though Bush won their only actual match in a December 2nd dual meet. Even his one tournament win, a 5-1 decision over Bernard at the Ken Cole, was tainted as a post-match altercation resulted in his being disqualified.
Beau Bush's senior year probably did not start off as well as the Holy Cross 2015 Division I runner-up expected. In the Mandeville Open finals he was thrashed by Jesuit's Joseph Dupre. In a much anticipated match against the other 2015 Division I runner-up in the weight class, Rumney came out ahead in a 7-4 Spartan Invitational final. He placed fifth at the South Walton Border Wars, which included a very tough one-point loss to Arnold's William Pickren. In the Louisiana Classic semifinals he again lost to Rumney, and then to Larriviere and Ulfers for a 6th-place finish. Bush finally got a tournament win at the Ken Cole, in which he defeated the soon-to-be Division III state champion and runner-up prior to a 5-1 win over the very talented Dyllon Bernard of Comeaux. Yet that win was tarnished by an unfortunate altercation after the match that resulted in Bush being disqualified. While he did not win a state championship three weeks later, Bush most certainly salvaged a very tough season.
In Bossier City Bush "settled all family business" as if he were Michael Corleone at the end of The Godfather. He defeated Ulfers 5-3 in the quarterfinals. He had not faced and thus had nothing "to settle" with Jones, but he made the #1 seed work very hard in a 5-3 loss. In the consolation semifinals he met Bernard again and put a 9-0 major decision on the freshman. As if by design he once again faced Rumney in the consolation finals, and this time it was Bush coming away with a 10-6 win to place third. Ulfers defeated Comeaux's Bernard 7-2 to place fifth.
Early and Consolation Rounds
R2: Isaiah Johnson (McK) over McCully (HNV) in 4:52 (3 photos); E. Larriviere (JES) over Fautheree (COV) in 5:41
Quarterfinals
(1) Javarious Jones (AIR) pinned (8) Isaiah Johnson (McK) in 2:58.
(5) Beau Bush (HC) defeated (4) Shane Ulfers (StP) 5-3.

(3) Stephen Rumney (BM) defeated (6) Dyllon Bernard (COM) 6-5.

(2) Eli Larriviere (JES) defeated (7) Alex Williams (BYR) 8-2.
Semifinals
(1) Javarious Jones (AIR) defeated (5) Beau Bush (HC) 5-3.
(2) Eli Larriviere (JES) defeated Stephen Rumney (BM) 6-5.

Championship Consolation Rounds
(5) Beau Bush (HC) defeated (3) Stephen Rumney 10-6 to win 3rd place..
(4) Shane Ulfers (StP) defeated (6) Dyllon Bernard (COM) 7-2 to win 5th place.
Finals
(2) Eli Larriviere of Jesuit defeated (1) Javarious Jones of Airline via a 14-4 major decision.
---
© 2016 by Louisiana Wrestling News
You may not make electronic copies of these copyrighted materials nor redistribute them to 3rd parties in any form without written permission.