| | | |
| --- | --- | --- |
| | | Fini |
---
Division I - 132 pounds: Clement dominates a quiet 132 lbs.
March 25th, 2016 | Written by: Editor
Junior Cole Clement won the first of four state championships for the Holy Cross Tigers with a 3-0 finals win over Brother Martin's Seth Gambill. The top two seeds were not determined until the January 27th dual meet between the Tigers and the Crusaders at Brother Martin, which was won by Clement 9-5.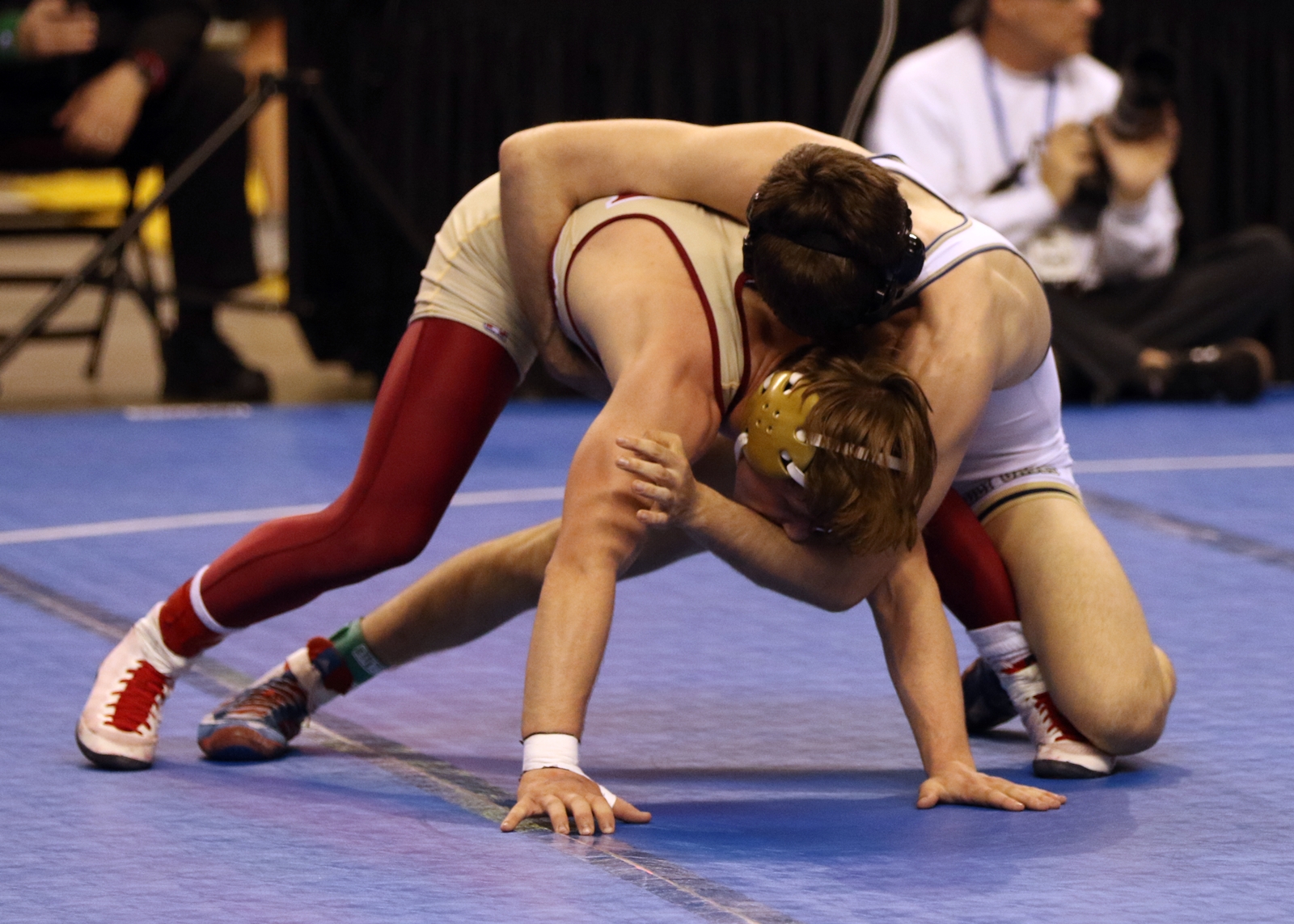 Synopsis

The Division I 132 lbs. weight class suffered an image problem in the 2015-16 season. Not that the wrestlers were problematic - they were great. Few, however, had a clear grasp on how good they were because a lot of them were pretty unknown entities. The third, fourth, sixth and seventh seeds, Airline's Josh Partin, Comeaux's Jake Verret, Landon Wheat of East Ascension and Joseph Davis-Lucas of John Ehret, did not place at the 2015 state championships. The first, second, fifth and eighth seeds, Holy Cross' Cole Clement, Brother Martin's Seth Gambill, Jackson DeGruy of Jesuit and Grant Hughes of St. Paul's, did not compete in the 2015 state tournament. Gambill's first event of the year was actually a junior varsity event.
Eventually the wrestlers started making themselves known. The most successful of them was Eli Larriviere. The Jesuit sophomore placed third in 2015 at 113 lbs. state championships, but his front-runner status was short-lived after Sudden Victory losses to Gambill and Davis-Lucas at the Mandeville Open. After the Kansas City Stampede and the South Walton Border Wars, Larriviere dropped to 126 lbs. Yet two telling things happened prior to that. The first was a hard fought 1-0 win at Mandeville of Cole Clement of Holy Cross. The second was a 10-8 Sudden Victory loss to Clement at the Border Wars.
Clement was seeded third at the Spartan Invitational yet won it handily with a 9-4 semifinals win over Wheat and a 6-1 finals win over top-seeded Patrick Evans of Brother Martin. His next event was the South Walton Border Wars where he placed second in an 8-7 loss to two-time Florida state champion Richard McClanahan of Arnold High School. Clement may not have fared as he wanted at the Las Vegas Holiday Classic but he made-up for that with a solid 4-2 Deep South Bayou Duals performance, losing only to two Florida competitors, including McClanahan again. Yet with Larriviere now at 126 lbs., Clement was seeded second to Gambill. That match-up, however, would have to wait as while Clement advanced to the finals Gambill was upset by fourth-seeded Austin Franklin of Brusly. The event was a great one for the two-time Division III state champion as Franklin got past the best in Division II, Ethan Alphonso of Live Oak, in a war, and then past Gambill whom was considered the best in Division I at 132 lbs. Clement asserted himself in that position, however, by beating Franklin 6-3 in the finals.
Placers


| | | | | |
| --- | --- | --- | --- | --- |
| Place | Name | School | Seed | Year |
| 1st | Cole Clement | Holy Cross | 1 | 11 |
| 2nd | Seth Gambill | Brother Martin | 2 | 11 |
| 3rd | Joshua Partin | Airline | 3 | 11 |
| 4th | Landon Wheat | East Ascension | 6 | 12 |
| 5th | Jackson deGruy | Jesuit | 5 | 11 |
| 6th | Jake Verret | Comeaux | 4 | 12 |
Gambill earned his spot as the top seed in the Louisiana Classic. He won the Mandeville Open which included Clement and Larriviere, was upset but placed third in the Sparta n Invitational, followed that with a third-place showing at the Blackhorse and then won a dominating finals match over East Ascension's Landon Wheat, who had defeated him by a point in the pool rounds. On top of those accomplishments, he won the Prep Slam VII in Atlanta, GA, which is a very tough event. The last month of the season Gambill had some troubles, placing fourth in the Louisiana Classic to Live Oak's Ethan Alphonso, and then losing a one-point decision to Jesuit's Jackson DeGruy. Yet he had a shot at the Division I top seed remaining on January 27th at Brother Martin. That was dashed, however, by a 9-5 loss to Clement. Clement had defeated third-seeded Josh Partin of Airline in the Trey Culotta handily, and Clement defeated Comeaux's Jake Verret in the Ken Cole, so the seeding was set.
If there was a "Wild Card" in this weight class, it was Jesuit's Jackson DeGruy. During the season DeGruy did not finish higher than fourth in a tournament and had lost to Division II and Division III opponents three times. But he did alter the course of Wheat's seeding, defeating the Spartan 8-6 at the Ken Cole after Wheat teched him 19-1 at the Spartan Invitational. More impressively, however, was that just prior to the Ken Cole deGruy beat Gambill 9-8 at Brother Martin, and in the last match before the state tournament, defeated Clement at Jesuit 13-11. A loss to Verret at the Ken Cole, put him in the fifth spot at the state championships and, after losing to Verret in the quarterfinals, fifth is exactly where deGruy placed, but this time via a 1-0 win over the Comeaux senior.
Albeit with two losses in the event, Landon Wheat had a better tournament than expected, placing fourth, two spots higher than his seeding. Wheat won the Wildcat Open and the Bulldog Brawl, placed second at the Warrior Open, the Trey Culotta, the Zachary Big Horse and the Greater Baton Rouge Championships, and placed third at the Spartan Invitational. Wheat had some very good wins over the likes of DeGruy, Gambill, Davis-Lucas, Jesse Breaud of St. Amant, Zach Vinson of Basile, Ean Hill and Ethan Alphonso of Live Oak and three wins over Verret. On the "right" day, Wheat was as good as anyone in the weight class.
Third place went to Airline's Joshua Partin, who defeated Wheat in 2:38. Partin beat de Gruy in the consolation finals, and Wheat beat Verret 8-6. For fifth place deGruy defeated Verret 1-0.
| | | | | | |
| --- | --- | --- | --- | --- | --- |
| 1st | 2nd | 3rd | 4th | 5th | 6th |
| | | | | | |
| Cole Clement | Seth Gambill | Josh Partin | Landon Wheat | Jackson deGruy | Jake Verret |
Early and Consolation Rounds
R2: (5) deGruy (JES) over Willie (FNT via a 17-3 major decision;
R2: (3) Partin (AIR) over Blanchard (CAT) in 5:34:
R2: (2) Gambill (BM) over Ebert (ZAC) via a 13-5 major decision (left two photos).
R2: (6) Wheat (EA) over Desselle (SUL) in 1:47.
C3: Blanchard (CAT) over (8) Hughes (StP) 8-4 (left two photos);
C3: (5) deGruy (JES) over Hazlett (DUT) via a 15-5 major decision.
Quarterfinals
(1) Clement (HC) defeated (8) Hughes (StP) 4-1.
(4) Verret (COM) defeated (5) deGruy (JES) 9-3.
(3) Partin (AIR) defeated (6) Wheat (EA) 8-7.
(2) Gambill (BM) pinned (7) Joseph Davis-Lucas (EHR)in 5:03.
Semifinals
(1) Clement (HC) defeated (4) Verret (COM) via a 12-1 major decision.
(2) Gambill (BM) pinned (3) Partin (AIR) in 3:17.
Championship Consolation Rounds
(3) Partin (AIR) pinned (6) Wheat (EA) in 2:38.to win 3rd place.
(5) DeGruy (JES) defeated (4) Verret (COM) 1-0 to win 5th place.
Finals
(1) Cole Clement of Holy Cross defeated (2) Seth Gambill of Brother Martin 3-0.
---
© 2016 by Louisiana Wrestling News
You may not make electronic copies of these copyrighted materials nor redistribute them to 3rd parties in any form without written permission.