| | | |
| --- | --- | --- |
| | | Fini |
---
Division I - 182 pounds: Unheralded Putnam, unseeded Greer, provide the best finals match of the night
March 25th, 2016 | Written by: Editor
Neither Matthew Putnam of Holy Cross nor Brandon Greer of Jesuit were supposed to be in the finals - but evidently neither of them received "the memo". In a match that contained a methodical comeback by Greer that was foiled by a rebuke by Putnam in the waning seconds of the match, sixth-seeded Holy Cross senior Matthew Putnam defeated unseeded Jesuit junior Brandon Greer 12-8 to win the Division I 182 lbs. championship.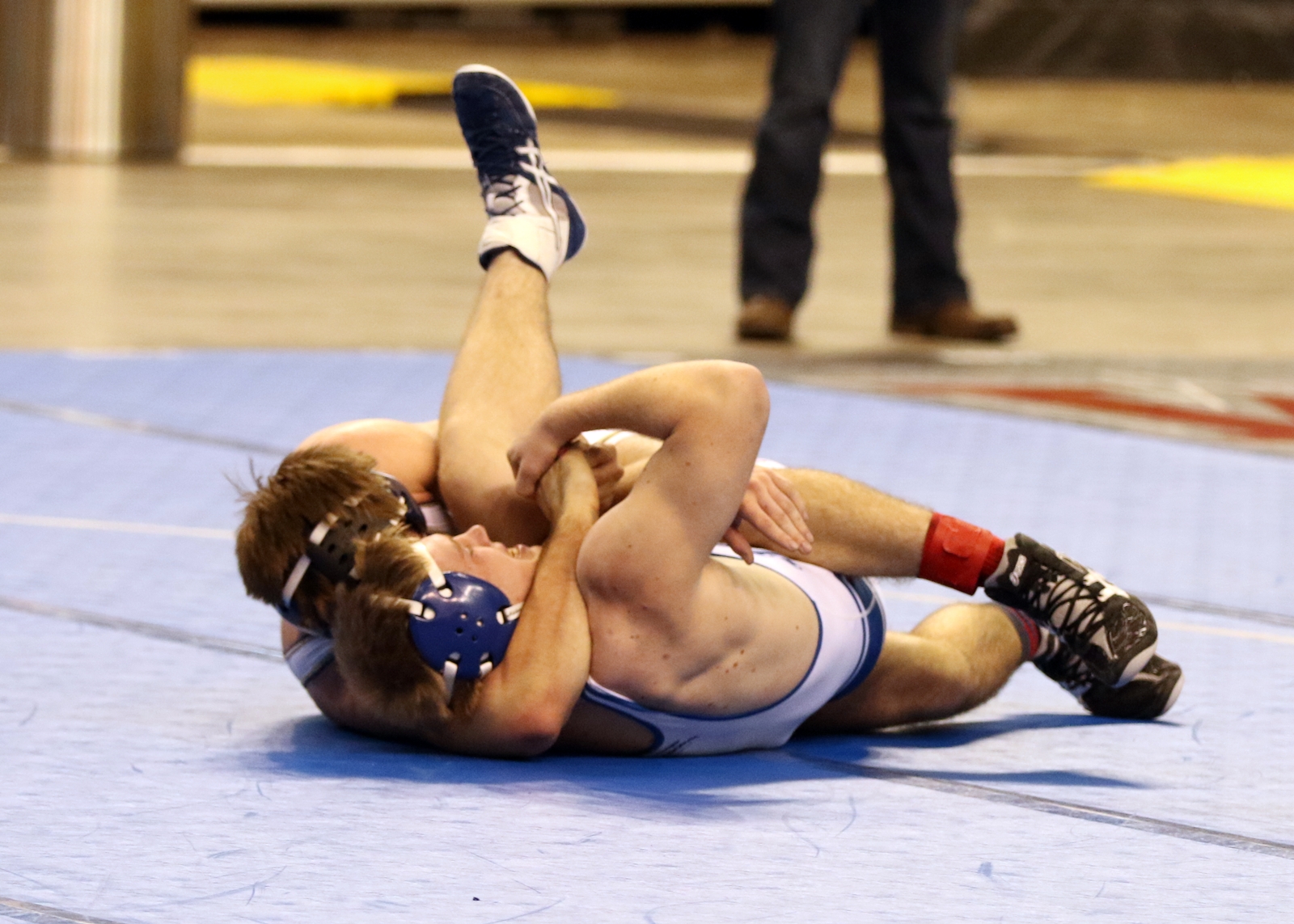 Synopsis

Senior Matthew Putnam of Holy Cross appeared to have fared a lot better than an average sixth seed. For a team that needed one of their bigger guys to make a dent, Putnam beat the state starters from Catholic and Jesuit to do just that. Aside from Brother Martin's Travis Viener, none of the top five seeds at the state tournament had actually defeated him. His seeding was evidently low because of a November 7th forfeit to Josh Mascaro of St. Paul's, who was seeded fourth because he happened to lose to third-seeded Dakota Brogden of Covington. During the season Putnam placed third in the Raider Invitational, placed seventh at the South Walton Border Wars and placed fifth at the Ken Cole.
Jesuit's Brandon Greer had what could be called a "journeyman season." He started off at 160 lbs. and fared well in winning the Warrior Open over Catholic's Andrew Messina, and placing third at the Mandeville Open and the South Walton Border Wars. For the Ken Cole he moved to 170 lbs. where he also placed third. However, he was given that spot as Jesuit intended to place Brandon Wolff at 160 lbs. and Evan Palmisano at 170 lbs. The spot was open because both Wolff and Palmisano were not competing at the Ken Cole. After the Ken Cole Greer wrestled one more match at 170 lbs., losing to Ramirez of Rummel, and then he was called to fill the Blue Jays' 182 lbs. spot. His only match at that weight before the state tournament was against Putnam in a Holy Cross dual meet. Putnam won that via a fall in 5:17.
Brogden, Mascaro, Wicker and Putnam were actually placed one seed ahead of their original positions. At Friday's weigh-in, third-seeded Jordan Averette of St. Amant, despite having an "all clear" note from a dermatologist, was not allowed to wrestle because of eczema the weigh-in doctor did not recognize. Aside from dashing St. Amant's hopes for a top five team finish, Averette's dismissal really did not affect the outcome. That is because seeding did not matter at all in the top half of the bracket.
Gilligan was the #1 seed in the weight class, and he earned it with wins at the Warrior and Evangel Eagle opens before placing third at the State Games of Oklahoma. He finished second to Rummel's Josh Ramirez in the Trey Culotta finals and fourth in the Texas Outlaw. Evidently he was injured on or about January 7th and did not wrestle again until the week before that state tournament.
The year for Brother Martin senior Travis Viener was great. It started with a win in the Cinco Ranch Big 12, which was followed by a Warrior Open championship. He then placed third in the Blackhorse, third in the Trey Culotta and fourth in Atlanta's Prep Slam VIII. After another win over St. Amant's Jordan Averette in the Louisiana Classic semifinals, Viener fell to Rummel's Josh Ramirez to place second.
Viener came back from his loss to Putnam with a 3-1 decision over Catholic's Nicholas Danna, followed by a 4-2 win over Gilligan to place third. In another very close match, Zachary's Peyton Wicker defeated Danna 2-1 to place fifth.
During the last 30 seconds of the 182 lbs. finals:
(Left: Holy Cross coaches. Right: Jesuit coaches.)
Bob Fosse could not have choreographed this.
The upsets started in the second round on Friday. Airline's Keegan Gilligan was the #1 seed. The Viking's only Louisiana losses were to Josh Ramirez of Rummel, both of which were at the Trey Culotta in which Gilligan placed second, one spot higher than Brother Martin's Travis Viener. Gilligan, though, was out for most of January with an injury, and when he returned he did not face the competition that prepares one for a Division I state tournament. After a first round bye Gilligan's first match was against Greer. With 1:06 remaining both grapplers were on their feet with 1:06 remaining when Greer shot and scored on a double-leg takedown. Gilligan was able to escape, but Greer did not let him score again. Gilligan became the second of three Division I number one seeds to not advance to the finals.
Mascaro, the #4 seed, was also upset in the second round by Destrehan's Jakobe Durant in an 11-10 nail-biter.
Upsets continued in the quarterfinals when Greer gutted out a 2-1 win over #8 Nicholas Danna of Catholic and Putnam scored a 4-0 win over #3 Brogden. Viener and #5 Wicker, after Durant negated the #4 seeding spot, advanced to the semifinals as expected.
Greer pulled off another upset by handily defeating Wicker 11-5. Right after that Putnam avenged a January 27th pin by Viener with an 8-3 win over the second seed.
Of the top eight seeds, only Wicker appeared to get "the memo" as he was seeded and placed fifth via a 2-1 win over Danna. Viener rebounded to take a 4-2 win over Gilligan in the consolation finals. Gilligan, to his credit, maintained a very positive attitude during what must have been a disappointing final high school tournament for him.
Greer had made the finals notably due to a devastating double-leg takedown. Finding himself trailing midway through the second period, it started working for him again. Through the remainder of that period and most of the third Greer successfully used that shot to take Putnam down just to let him escape so Greer could do it again. With 57 seconds remaining Greer had achieved an 8-6 lead but let Putnam escape again to try to "ice" the match with one more takedown. The strategy backfired, though, as Putnam defended the double-leg shot well, spun behind Greer and listed him off of and then back onto the mat to take a 9-8 lead with 23 seconds remaining. Putting on his own "icing," Putnam then cradled Greer to score three nearfall points and a 12-8 state championship.
Greer, of course, should be very proud of his accomplishments during the course of the tournament, and may take solace in that all five of the other placers were seniors.
Placers


| | | | | |
| --- | --- | --- | --- | --- |
| Place | Name | School | Seed | Year |
| 1st | Matthew Putnam | Holy Cross | 6 | 12 |
| 2nd | Brandon Greer | Jesuit | 8> | 11 |
| 3rd | Travis Viener | Brother Martin | 2 | 12 |
| 4th | Keegan Gilligan | Airline | 1 | 12 |
| 5th | Peyton Wicker | Zachary | 5 | 12 |
| 6th | Nicholas Danna | Catholic | 8 | 12 |
| | | | | | | |
| --- | --- | --- | --- | --- | --- | --- |
| 1st | 1st | 2nd | 3rd | 4th | 5th | 6th |
| | | | | | | |
| Matthew Putnam | Matthew Putnam | Brandon Greer | Travis Viener | Keegan Gilligan | Payton Wicker | Nicholas Danna |
Friday Early and Consolation Rounds
R2: Greer (JES) defeated (1) Gilligan (AIR) 6-5.
R2: (8) Danna (CAT) pinned Stewart (BON) in 2:17.
R2: (7) Caswell (SUL) pinned Britton (BYR) in 0:56.
R2: (5) Wicker (ZAC) pinned Belizaire (EHR) in 3:48.
C1: Rayburn (BR) pinned (4) Mascaro (StP) in 3:20.
Quarterfinals
Brandon Greer (JES) defeated (8) Nicholas Danna (CAT) 2-1.
(5) Peyton Wicker (ZAC) pinned Jakobe Durant (DST) in 1:05.
(6) Matthew Putnam (HC) defeated (3) Dakota Brogdon (COV) 4-0.
(2) Travis Viener (BM) pinned (7) Matthew Caswell (SUL) in 1:56.
Semifinals
Brandon Greer (JES) defeated (5) Peyton Wicker (ZAC) 11-5.
(6) Matthew Putnam (HC) defeated (2) Travis Viener (BM) 8-3.
Championship Consolation Rounds
(2) Travis Viener (BM) defeated (1) Keegan Gilligan (AIR) 4-2 to win 3rd place.
(5) Peyton Wicker (ZAC) defeated (8) Nicholas Danna (CAT) 2-1 to win 5th place.
Finals
(6) Matthew Putnam (HC) defeated Brandon Greer (JES) 12-8.
---
© 2016 by Louisiana Wrestling News
You may not make electronic copies of these copyrighted materials nor redistribute them to 3rd parties in any form without written permission.