| | | |
| --- | --- | --- |
| | | Fini |
---
Division I - 195 pounds: Guy Patron, Jr. completes a dominating season with a dominating state championship
March 25th, 2016 | Written by: Editor
Twice a Division I runner-up via one overtime match as a sophomore, and a match which, had it lasted 30 more seconds, probably would have also gone to a Sudden Victory period, Jesuit's Guy Patron, Jr. wasted no time in winning the 2016 195 lbs. state championship - almost literally. After an extraordinarily quick first round bye, Patron pinned his next opponent in 0:41 and his quarterfinals opponent in 0:51. His semifinals match ended after 0:24 seconds, but for another reason, in that Zachary's Kennan Tate suffered an injury and could not continue. Finals jitters probably got to the Jesuit senior in his last match, as he needed 1:12 to score a fall and claim the title he had come so close to winning in the last two state tournaments.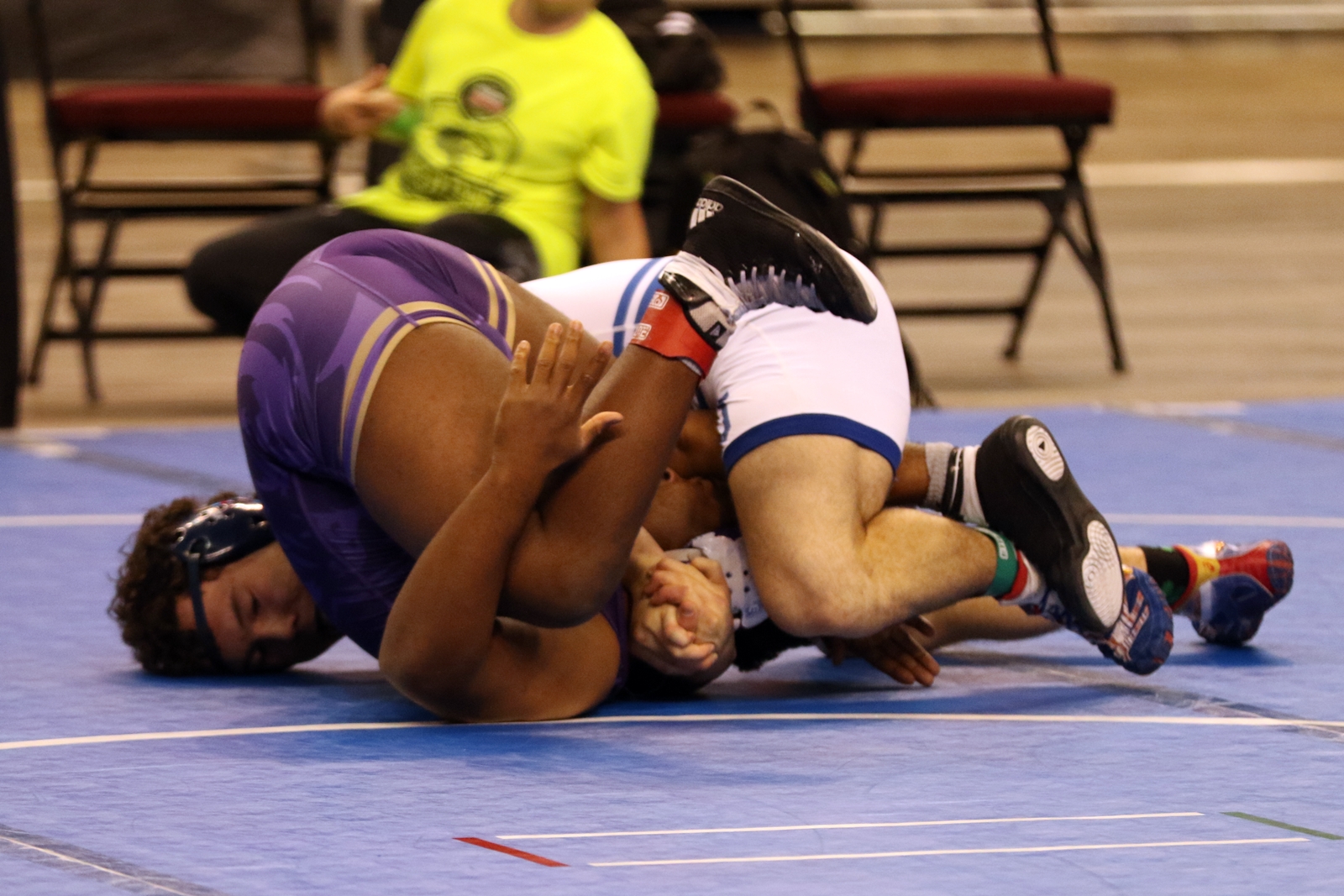 Synopsis

Patron had one loss in 39 matches, and that was in the Kansas City Stampede on December 19th. Patron placed third, albeit a very questionable call cost him a finals appearance.
That aside, Patron suffered no more losses. He scored one technical fall, one major decision, three full six-minute matches, one injury default, and 32 falls in his 38-1 2015-16 record. The technical fall, the major decision and the three six-minute matches were all against out-of-state wrestlers. Not one Louisiana competitor survived an entire six minutes against Patron.
Patron's first tournament was the South Walton Border Wars where he returned as the 2015 champion and Outstanding Wrestler award winner. He went 7-0 to win the event again and this time won one of the "Outstanding Match" awards for his 12-4 major decision in the finals. Next up was the Kansas City Stampede in which Patron supporters feel he should have received points for a switch near the end. But that was the only time he lost all season. He was 8-0 at the Deep South Bayou Duals and in his five matches at the Louisiana Classic, only two wrestlers got past the first round. After that came the Ken Cole, and Patron was nicer, letting three of his opponents advance into the second period on his way to a second Ken Cole title.
If one forgets Patron then the season primarily came down to Hahnville junior Trevon Honor, seeded second, and Brother Martin senior Cole Alfonso, who was seeded third. These two first met in the Jefferson Invitational finals. After seven minutes of wrestling Alfonso ended up putting Honor on his back in the tie-breaker round for an 8-5 win. The two met again in the semifinals of the Trey Culotta. That match also went into the tie-breaker round, but this time Honor emerged with a 6-4 win. Three weeks later at a dual meet at Hahnville, Honor defeated Alfonso 6-4 in another tie-breaker match. Hence one should not have been surprised that, in the state championships semifinals, Alfonso and Honor ended in a tie after six minutes had elapsed. This time Honor saved a little time as he scored a takedown in the Sudden Victory period for a 3-1 win to advance to the finals.
The remainder of the tournament did not go so well for either after that match. Honor, of course, got the pleasure of Patron, Jr., in the finals. Alfonso, though, dropped his next match in 2:33 to Covington's fifth-seeded Blake Huffman and the Crusader senior placed fifth via a forfeit by the injured Tate of Zachary. It should be noted that Alfonso, who did not participate in the 2015 state championships, and who was easily one weight class heavier than he wrestled, won 33 matches for the Crusaders over the season, and only lost to top guys who finished 5th, 2nd and 1st in Division I as well as two Division II state champions.
"Best of the Rest applies here as it was sixth-seeded Ian Crawford, a senior at Lafayette, who, after losing to Alfonso in the quarterfinals, scored two falls prior to advancing in the consolation semifinals due to the injury to Tate, and then pinned Huffman in 3:39 to place third.
Placers


| | | | | |
| --- | --- | --- | --- | --- |
| Place | Name | School | Seed | Year |
| 1st | Guy Patron, Jr. | Jesuit | 1 | 12 |
| 2nd | Trevon Honor | Hahnville | 2 | 11 |
| 3rd | Ian Crawford | Lafayette | 6 | 12 |
| 4th | Austin Huffman | Covington | 5 | 12 |
| 5th | Cole Alphonso | Brother Martin | 3 | 12 |
| 6th | Kennan Tate | Zachary | 5 | 12 |
1st
1st
1st
2nd
3rd
4th
5th
6th
Photo not
Available
Guy Patron, Jr.
Guy Patron, Jr.
Guy Patron, Jr.
Trevon Honor
Ian Crawford
Austin Huffman
Cole Alphonso
Kennan Tate
Friday Rounds
R1: Samson (BR) over Maggio (MND) in 2:25;
R2: Huffman (COV) over Smith (BON) in 0:42 (photo right).
R2: Crawford (LAF) over Manuel (SUL) 4-2.
Quarterfinals
(1) Guy Patron, Jr. (JES) pinned (8) Theo Edwards (McK) in 0:51.
(4) Kennan Tate (ZAC) defeated (5) Austin Huffman (COV) 5-4.
(3) Cole Alphonso (BM) defeated (6) Ian Crawford (LAF) 10-3.
(2) Trevon Honor (HNV) pinned Matthew Johnson (DUT) in 3:18.
Semifinals
(1) Guy Patron, Jr. (JES) defeated (4) Kennan Tate (ZAC) via an injury forfeit.
(2) Trevon Honor (HNV) defeated (3) Cole Alphonso (BM) 3-1 in Sudden Victory.
Championship Consolation Rounds
(6) Ian Crawford (LAF) pinned (5) Austin Huffman (COBV) in 3:39 to win 3rd place.
(3) Cole Alphonso (BM) advanced over (4) Kennan Tate (ZAC) due to an injury forfeit to win 5th place.
Finals
(1) Guy Patron, Jr. of Jesuit pinned (2) Trevon Honor of Hahnville in 1:12.
---
© 2016 by Louisiana Wrestling News
You may not make electronic copies of these copyrighted materials nor redistribute them to 3rd parties in any form without written permission.