| | | |
| --- | --- | --- |
| | | Fini |
---
Division II - 120 pounds: Mateu earns first of three championships for the Raiders
March 25th, 2016 | Written by: Editor
After an undefeated season against Louisiana competitions at all division and skill levels, Rummel's Blake Mateu captured the 2016 Division II 120 lbs. title with a 10-1 major decision over Rayne freshman Morgan Manuel.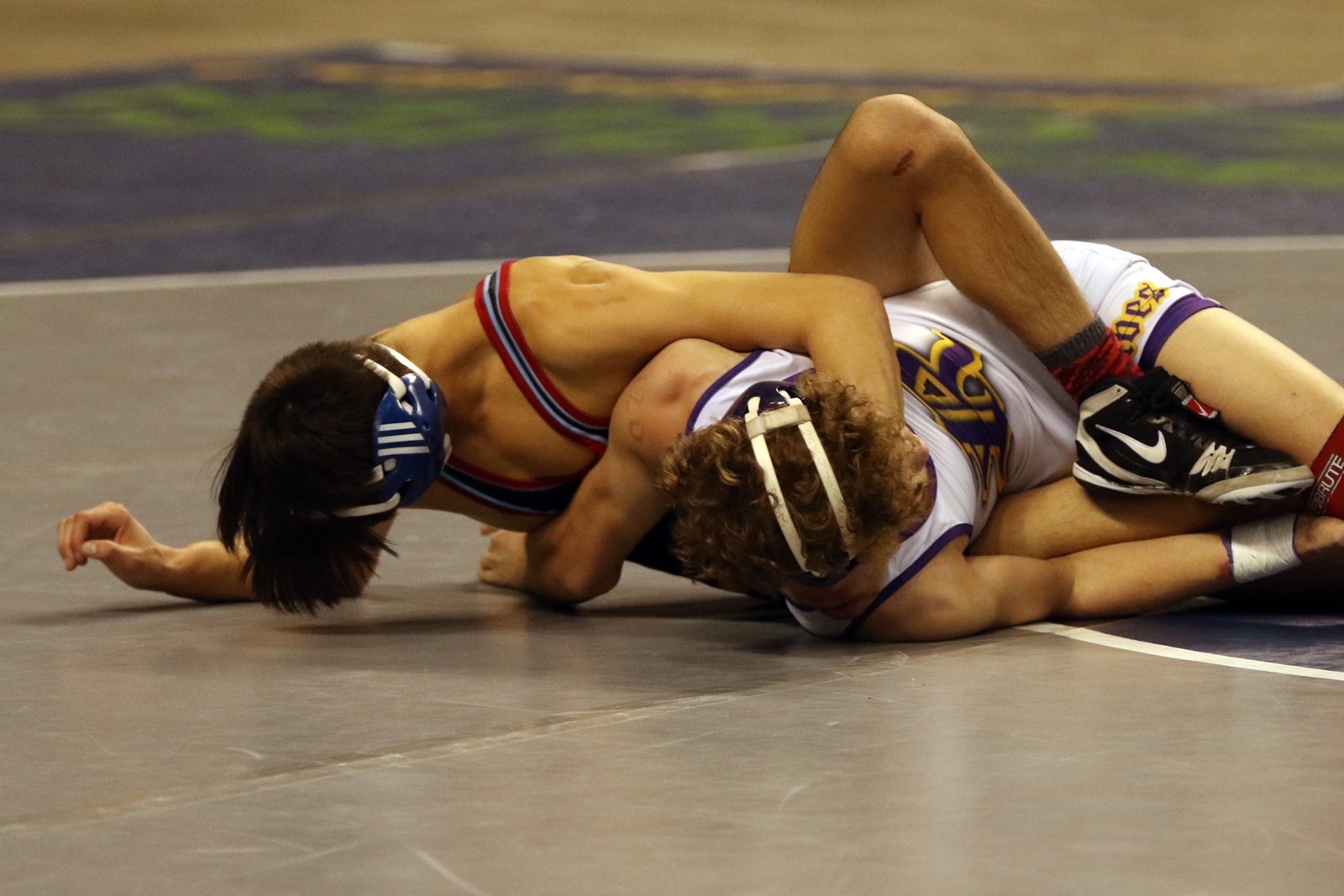 Synopsis

Mateu was the best in Louisiana at 106 lbs. and 113 lbs. He proved this with wins over Kiefer Fuselier of Sulphur, Luke Cotton of Brother Martin, Cole Houser of St. Paul's among, well, everybody else he faced. He won the Raider Invitational, the Trey Culotta and the Louisiana Classic handily. In fact, during the whole season, the two times Mateu did not win by a major decision he shut out his opponents. One such match was a 5-0 semifinals win over Cotton in the Trey Culotta. The other figuratively was "closer to home," as Parkway's fourth-seeded Trevor Tamburo held Mateu to only a 4-0 win in the state semifinals. Unfazed, Mateu went back to a 10-1 major decision in the finals. It is a safe bet that Coach Jon Orillion put Mateu at 120 lbs. to enhance the Raiders' chance of winning the Division II team title, as Rummel had a very good replacement in Brandon Willis, who placed second at 113 lbs.
Rayne's Morgan Manuel had a very good season, aside from perhaps having Mateu in the state finals. Manuel, even though only a freshman, is used to that caliber of competition. At the Wildcat Open he placed third, losing to Basile's Gavin Christ in the semifinals. He placed second to Brother Martin's Steven Shields in the Spartan Invitational, after which he placed third at the Jacob McMillan Memorial. Manuel placed third at the Ken Cole, avenging a quarterfinals loss to Division II's Dylan Holliday of Carencro, which would come in very handy at the state championships. In the Lafayette Metro tournament, Manuel placed second again, falling to Christ in the finals. That kind of experience prepares one well for the state championships, and Manuel was asked to use everything he had to reach the finals. After a first round bye and a second round fall in 1:56, seventh-seeded Dawson Vallee of Shaw gave Manuel all he wanted in a 2-1 victory. Haughton's Holliday pushed Manuel also in a 7-5 semifinals match.
Holliday, the only senior of the top six placers, was upset by a point in an 8-7 loss to Brett Schneider of Teurlings Catholic in the consolation semifinals. Holiday went on to place fifth over unseeded Dawson Vallee of Shaw, while Schneider, seeded fifth, faced fourth-seeded Trevor Tamburo of Parkway in the match for third. Tamburo beat Schneider 6-2 in the quarterfinals, but this time Schneider made it much harder, falling only 5-4 match to the Parkway wrestler.

Placers


| | | | | |
| --- | --- | --- | --- | --- |
| Place | Name | School | Seed | Year |
| 1st | Blake Mateu | Rummel | 1 | 10 |
| 2nd | Morgan Manuel | Rayne | 2 | 9 |
| 3rd | Trevor Tamburo | Parkway | 4 | 10 |
| 4th | Brett Schneider | Teurlings Catholic | 5 | 10 |
| 5th | Dylan Holliday | Haughton | 3 | 12 |
| 6th | Dawson Vallee | Shaw | 7 | 10 |
Friday Rounds
R2: (7) Dawson Vallee (SHW) defeated Levi Shaw (ND) via a 20-6 major decision.
C3: (8) Glenn Falcon (LO) pinned Jackson Gilchrist (CAD) in 0:13.
Quarterfinals
(1) Blake Mateu (RUM) pinned (8) Glenn Falcon (LO) in 1:14.
(4) Trevor Tamburo (PKY) defeated (5) Brett Schneider (TC) 6-2.
(3) Dylan Holliday (HGT) pinned (6) Gavin Hatfield (EJ) in 1:31.
(2) Morgan Manuel (RAY) defeated (3) Dylan Holliday (PKY) 7-5.
Semifinals
(1) Blake Mateu (RUM) defeated (4) Trevor Tamburo (PKY) 4-0.
(2) Morgan Holliday (RAY) defeated (3) Dylan Holliday (HGT) 7-5.
Championship Consolation Rounds
(4) Trevor Tamburo (PKY) defeated (5) Brett Schneider (TC) 5-4 to win 3rd place.
(3) Dylan Holliday (PKY) pinned (7) Dawson Vallee (SHW) in 2:00 to win 5th place.
Finals
(1) Blake Mateu of Rummel defeated Morgan Manuel of Rayne via a 10-1 major decision.
---
© 2016 by Louisiana Wrestling News
You may not make electronic copies of these copyrighted materials nor redistribute them to 3rd parties in any form without written permission.