| | | |
| --- | --- | --- |
| | | Fini |
---
Division II - 132 pounds: Alphonso makes it two-in-a-row for the Eagles
March 25th, 2016 | Written by: Editor
Live Oak's Ethan Alphonso defeated North Desoto's Chase Bates for the second time this season to win the 132 lbs. state championship 7-4. It was Live Oak's second title in a row, as it followed Ean Hill's overtime win in the 126 lbs. finals. Until the finals, Alphonso was never seriously challenged, winning via a fall in 14 seconds, a major decision and then 12-5. Bates had an easier path, though, as after a fall and a major decision as well, he advanced past the semifinals due to a forfeit by third-seeded John Doyle of Rummel.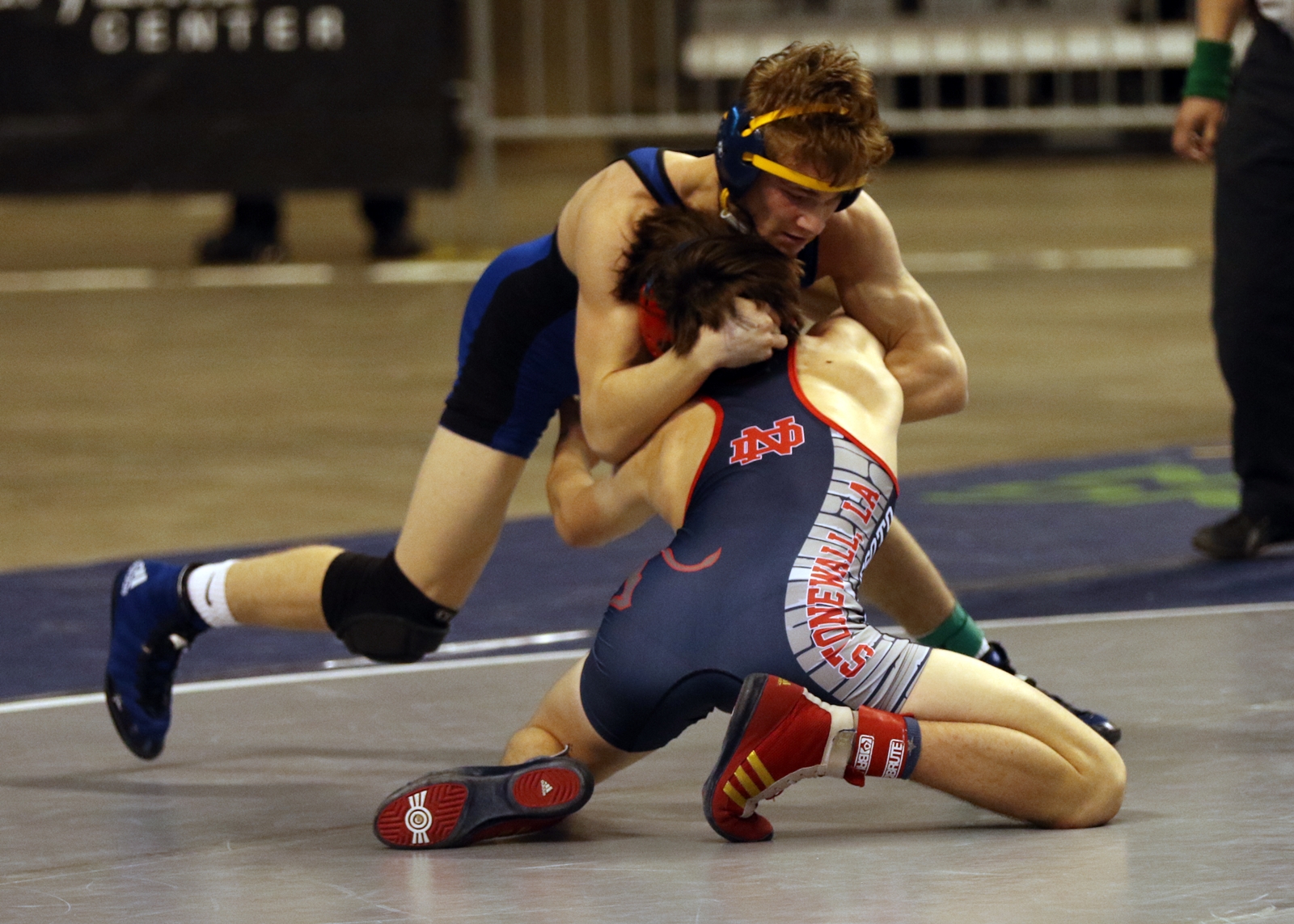 Synopsis

Alphonso started off well at 138 lbs., winning the Warrior Open and the Spartan Invitational over Division I wrestlers Mason Feredy of Dutchtown and Pierce Richard of Comeaux, respectively. In what appeared to be an upset, Rummel's Dawson Mire, who already had five losses on the year, pinned Alphonso in 3:00, but that was a "throw-fest" in which if a pin did not happen, one of them was going to get hurt. In the Zachary Big Horse, he placed second to Matthew Matherne of Ouachita Christian but rebounded at the Lone Survivor, defeating Bates in the finals 9-3. After that Alphonso dropped to 132 lbs. for the Louisiana Classic, at which he placed a hard-earned third. He lost to the eventual runner-up Franklin in the quarterfinals, but, after his first consolation match, defeated two important Division II opponents in Teurlings Catholic's Luke Kilchrist and Rummel's John Doyle. The consolation finals must have bolstered his confidence even more as he scored a major decision over top-seeded Seth Gambill 12-3. Alphonso had a less than stellar Greater Baton Rouge Championships, but losses often prove beneficial late in a season, and he did not lose to any Division II opponents.
Aside from Alphonso, junior Chase Bates of North Desoto only lost to Division I opponents the likes of Holy Cross' Cole Clement, Eli Larriviere of Jesuit and Comeaux's Jake Verret. He defeated Airline's Josh Partin in four of five matches, Jackson deGruy of Jesuit, Parkway's Matthew Pitts, Landon Wheat of East Ascension and Doyle of Rummel. He placed third at the Warrior Open, second at the Brusly 8, the Lone Survivor and the Ken Cole, where he fell to Clement in the finals. Prior to the state tournament he won the North Louisiana Regionals rather easily.
Luke Kilchrist of Teurlings Catholic did very well to place third in this weight class, but "The Best of the Rest" was eighth-seeded DeAvante Cooper of East Jefferson. After losing to Alphonso in the quarterfinals, Cooper scored a second round fall and then beat #5 Toby Fontenot of Parkway to advance to the consolation finals match against Kilchrist, won by Kilchrist in 1:44.
Placers


| | | | | |
| --- | --- | --- | --- | --- |
| Place | Name | School | Seed | Year |
| 1st | Ethan Alphonso | Live Oak | 1 | 11 |
| 2nd | Chase Bates | North Desoto | 2 | 11 |
| 3rd | Luke Kilchrist | Teurlings Catholic | 4 | 12 |
| 4th | DeAvante Cooper | East Jefferson | 8 | 12 |
| 5th | Kevin Balleza | Shaw | 7 | 12 |
| 6th | John Doyle | Rummel | 3 | 12 |
| | |
| --- | --- |
| 1st | 1st |
| | |
| Ethan Alphonso | Ethan Alphonso |
Friday Rounds
R2: (8) DeAvante Cooper (EJ) over Anthony Berlinghof (BC) in 4:55 (first eight photos);
R2: (4) Luke Kilchrist (TC) over J'Juan Keller (GK) in 4:14 (last photo).
Quarterfinals
(1) Ethan Alphonso (LO) defeated (8) DeAvante Cooper (EJ) via an 18-7 major decision.
(4) Luke Kilchrist (TC) defeated (5) Trey Fontenot (CEN) via a 14-5 major decision.
(3) John Doyle (RUM) pinned (6) Armunti Turner (CAD) in 1:06.
(2) Chase Bates (ND) defeated (7) Kevin Balleza (SHW) via an 11-2 major decision.
Semifinals
(1) Ethan Alphonso (LO) defeated (4) Luke Kilchrist (TC) 12-5.
(2) Chase Bated (ND) advanced over (3) John Doyle (RUM) via a forfeit.
Championship Consolation Rounds
(4) Luke Kilchrist (TC) pinned (8) DeAvante Cooper (EJ) in 1:44 to win 3rd place.
(7) Kevin Balleza (SHW) advanced over (3) John Doyle (RUM) via a forfeit to win 5th place.
Finals
(1) Ethan Alphonso of Live Oak defeated (2) Chase Bates of North Desoto 7-4.
---
© 2016 by Louisiana Wrestling News
You may not make electronic copies of these copyrighted materials nor redistribute them to 3rd parties in any form without written permission.