| | | |
| --- | --- | --- |
| | | Fini |
---
Division II - 160 pounds: Fourth-seeded Hebert makes his last match count
March 25th, 2016 | Written by: Editor

With only four losses on the season, two to very good Division I wrestlers and twice to a returning Division II state champion, it is hard to see why Teurlings Catholic senior Trey Hebert was seeded only fourth. Most probably it was due to the fact that for the state tournament (and his last match prior to it) Hebert moved up a weight class to 160 lbs. Whatever the reason, it certainly worked for Hebert as he started with a 15-4 major decision, followed that with a quarterfinals fall in 1:00, then a 15-8 win over top-seeded Aaron John of Sam Houston. In the finals against Shaw sophomore Martin Garrett, Hebert scored a 5-0 shutout.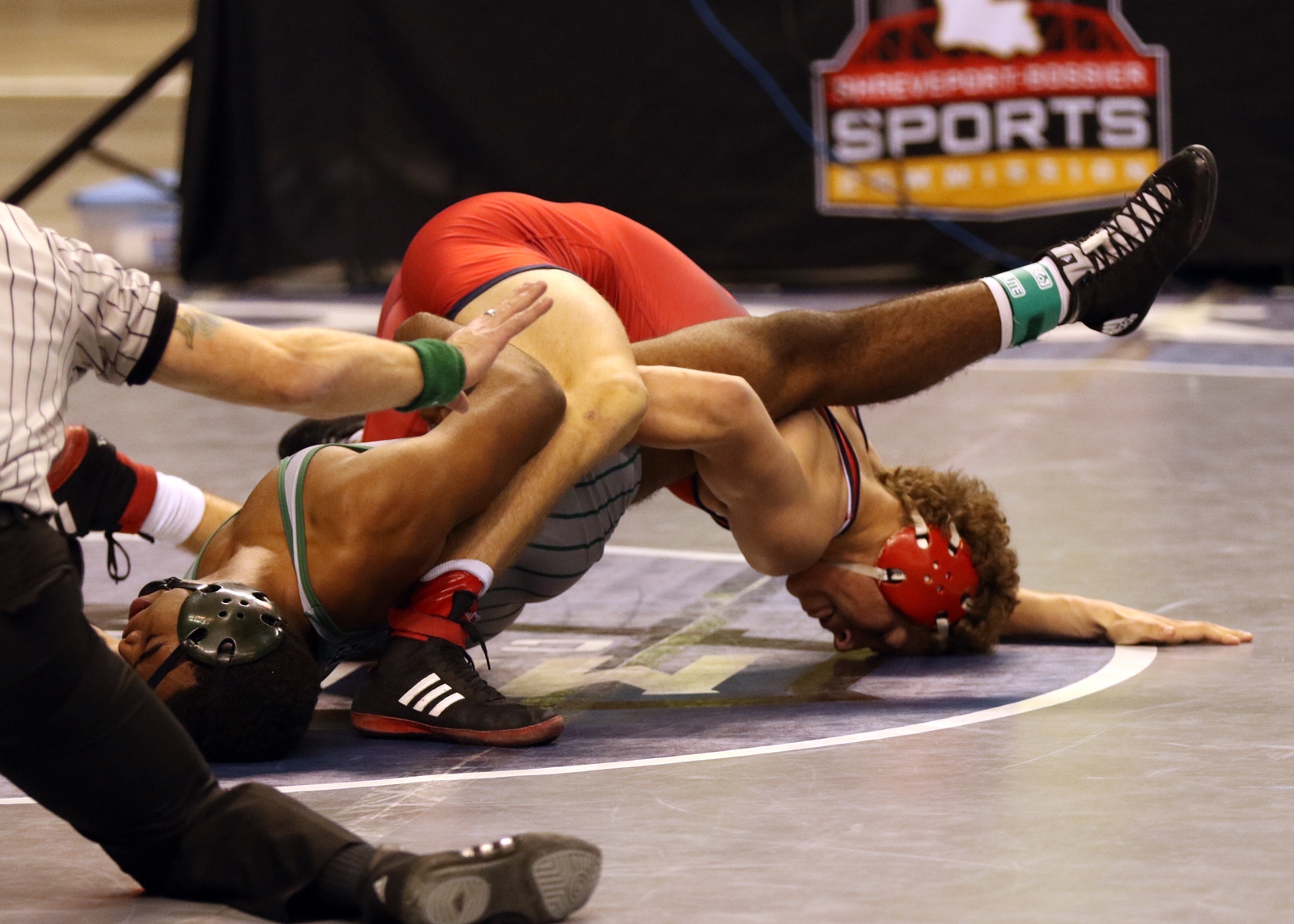 Synopsis

Aaron John of Sam Houston was the top seed at this weight, and he had fine reasons for not winning any tournaments this year. They came in the form of Jesuit's Griffin Mason and Brandon Wolff (Warrior Open), Thaquan Priestly of Lafayette and Kaelin Lambert of St. Amant (Central Wildcat), Brad Guidry of Brother Martin (Spartan Invitational) and Hunter Fitch of Comeaux (Lafayette District Tournament). Not only were those opponents Division I wrestlers, but five of the six placed in the Division I state championships. At the Spartan Invitational, in which John Was the runner-up, he avenged his earlier loss to Lambert. He did the same to Priestley in the Lafayette District Tournament in which he also placed second. John, however, was injured shortly after that and did not compete again until the state championships over two months later. After his semifinals loss to Hebert, John came back strong, pinning second-seeded Levar Allen of Parkway in 2:19 before doing the same to Live Oak's fifth-seeded Kyle Roberts in 1:17 to place third.
Hebert's season included a Lafayette Metro championship, a runner-up finish to Parkway's Nathan Pitts in the Rayne Invitational, and a fourth-place finish at the Ken Cole, losing to Lafayette's Thaquan Priestley. His only losses all year were two to Pitts, the one to Priestley and an early-season 5-2 decision to Comeaux's Pierce Richard. Why Hebert was only seeded fourth is a mystery. John earned a higher seed with a better performance against Priestley, but no other common opponents exist between the second, third or fourth seeds. In all probability Hebert was seeded lower than he should have been because he competed at 152 lbs. for the majority of the season.
The fifth-seeded senior from Live Oak also did better than expected, winning three consolation rounds before meeting John in the consolation finals. Allen placed fifth, and exacted some revenge, against St. Thomas More's Joshua Fontenot with a fall in 4:23. It was Fontenot, seeded seventh, who knocked Allen into the consolation rounds with a 10-6 quarterfinals win.
The story of this weight class was Shaw's surprise finalist Garrett Martin. The sophomore was seeded sixth but won the Jefferson Parish Championships, placed second at the Mandeville Open and the Bulldog Brawl and third at the Raider Invitational. He did have division II losses to Zach Edwards and Josh Edwards of Belle Chasse, Scott Bonnot of Grace King and a Division III loss to North Vermillion's Cooper Derouen, which probably accounted toward his relatively low seeding. Obviously, though, he cared not. After a second round fall in 0:33 Garrett beat third-seeded Joseph Venable of Carencro 9-6 and then edge John Fontenot, the second seed from St. Thomas More, 6-5. And one must remember, Garrett is only a sophomore, so he should have a good future in front of him.
Placers


| | | | | |
| --- | --- | --- | --- | --- |
| Place | Name | School | Seed | Year |
| 1st | Trey Hebert | Teurlings Catholic | 4 | 12 |
| 2nd | Martin Garrett | Shaw | 6 | 10 |
| 3rd | Aaron John | Sam Houston | 1 | 10 |
| 4th | Kyle Roberts | Live Oak | 5 | 12 |
| 5th | Levar Allen | Parkway | 2 | 10 |
| 6th | Josh Fontenot | St. Thomas More | 6 | 12 |
| | | | | | | |
| --- | --- | --- | --- | --- | --- | --- |
| 1st | 1st | 2nd | 3rd | 4th | 5th | 6th |
| | | | | | | |
| Trey Hebert | Trey Hebert | Martin Garrett | Aaron John | Kyle Roberts | Levar Allen | Josh Fontenot |
Friday Early Rounds
R2: (3) Joseph Venable (CAR) defeated Charles Solomon (RAY) 6-5.
Quarterfinals
(1) Aaron John (SH) pinned (8) Preston Beach (BNT) in 1:09.
(4) Trey Hebert (TC) pinned (5) Kyle Roberts (LO) in 1:00.
(6) Martin Garrett (SHW) defeated (3) Joseph Venable (CAR) 9-6.
(7) Josh Fontenot (StMo) defeated (2) Levar Allen (PKY) 10-6.
Semifinals
(4) Trey Hebert (TC) defeated (1) Aaron John (SH) 15-8.
(6) Martin Garrett (SHW) defeated (7) Josh Fontenot (StMo) 6-5.
Championship Consolation Rounds
(1) Aaron John (SH) pinned (5) Kyle Roberts (LO) in 1:17 to win 3rd place.
(2) Levar Allen (PKY) pinned (7) Josh Fontenot (StMo) in 4:23 to win 5th place.
Finals
(4) Trey Hebert of Teurlings Catholic defeated (6) Martin Garrett of Shaw 5-0.
---
© 2016 by Louisiana Wrestling News
You may not make electronic copies of these copyrighted materials nor redistribute them to 3rd parties in any form without written permission.