| | | |
| --- | --- | --- |
| | | Fini |
---
Division II - 195 pounds: Not this time - Sonnier takes the title in his third Division II finals match
March 25th, 2016 | Written by: Editor
Kynan Sonnier of Teurlings Catholic finally won the title he was denied at the last two state championship tournaments with a fall in 3:13 over third-seeded D.J. Monroe of Haughton. This was Sonnier's third trip to the finals as the number one seed. In 2015 he l0st a Sudden Victory match to Northside's Cozinski Alfred (for which Alfred was awarded the Division II Outstanding Wrestler award). In 2014, again seeded first, Sonnier fell to Benton's Jordan White, whom Sonnier had defeated in the Ken Kole. This year, however, the top-seeding stuck, as did Sonnier, who pinned all four of his opponents in the tournament.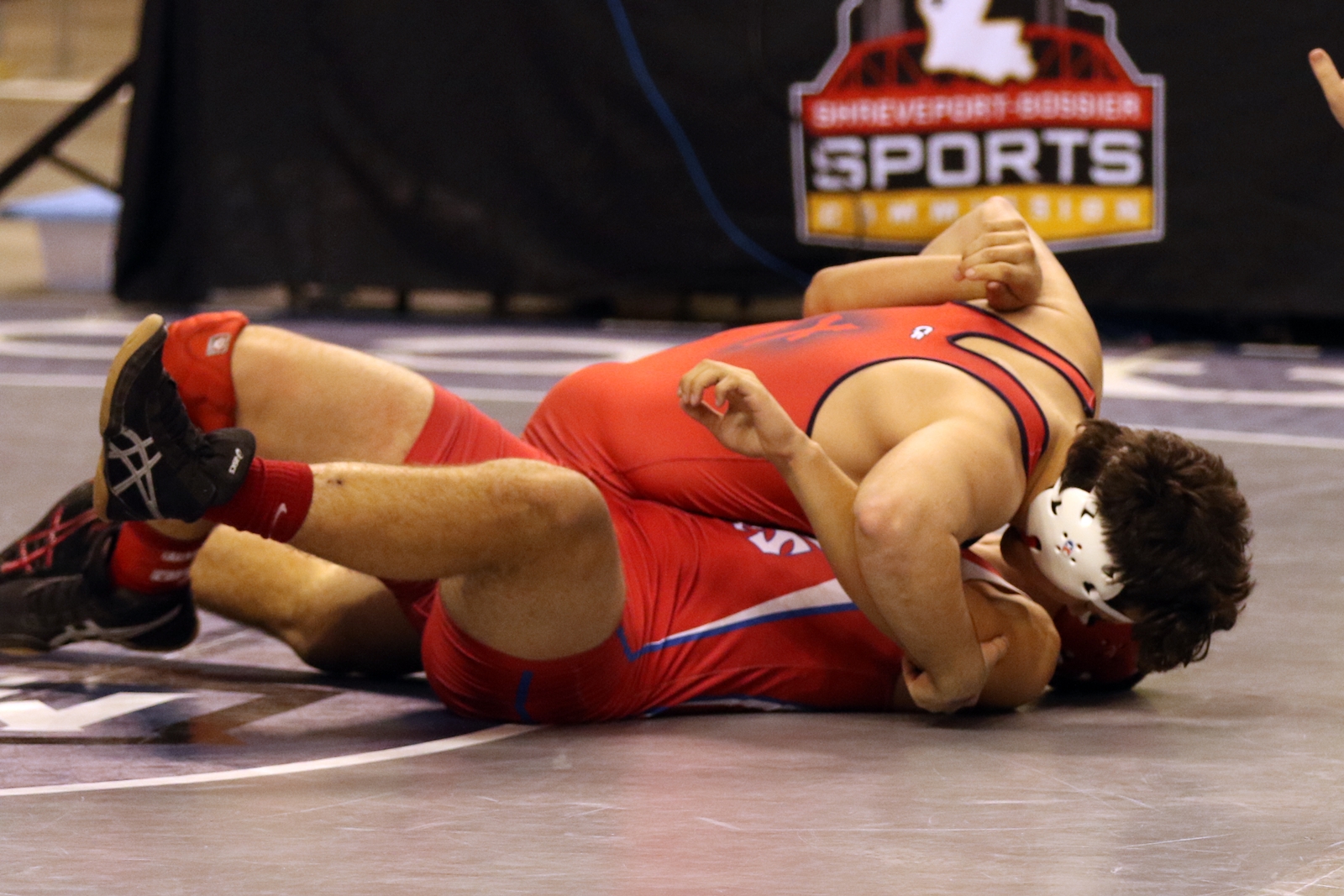 Synopsis
Sonnier had a great season marred by only five losses. One was to Rummel's Josh Ramirez and two were to Jesuit's Guy Patron, but those two beat everybody. Another was against Rodrigo Diaz, but Sonnier moved up to 220 lbs. to test his mettle against the Division I favorite from Lafayette. His other loss was to Carencro's Austin Gary, who was a very valid Division II foe. Sonnier won their previous match, and after the loss, defeated Gary three more times.
The only tournaments Sonnier did not win were the Louisiana Classic and the Ken Cole, losing to Patron both times. He won the Jacob McMillan Memorial, beating Gary in the finals. At the Trey Culotta Sonnier met and defeated Hahnville's Trevon Honor twice, 7-1 in the pool round and 10-4 in the finals. In the Lafayette Metro tournament, he again defeated Gary in the finals. During the season he also defeated the 2016 state champion from Shaw, Cameron Bertot, as well as Lane Joubert of Basile, who won a 2016 title in Division III. He had wins over Colin Francis of St. Paul's and Kennan Tate of Zachary. Suffice to say, had Patron, Jr. not been in his weight class and since Ramirez spent most of his time at 182 lbs. and 170 lbs., Sonnier would have been the best in Louisiana at 195 lbs. He may not have appeared as strong as many of his opponents, but all season he proved he was very smart on the mat and extremely quick.
Gary finished second in the Jacob McMillan Memorial and the Lafayette Metro tournaments, third in the Ken Cole and fourth in the Louisiana Classic. No doubt to his chagrin it was Sonnier who prevented him from winning any of them. His loss in the Louisiana Classic consolation finals (after a semifinals loss to Sonnier) was to Hahnville's Trevon Honor. Until the state tournament, Sonnier and Honor were the only two wrestlers to defeat him. Gary defeated third-seeded D.J. Monroe in 3:54 at the Ken Cole, so his 7-5 semifinals loss to Monroe was unexpected. Gary came back to place third over fourth-seeded Justin Gaskin of North Desoto. Brett Dingler of Belle Chasse fared better than anyone expected. Unseeded entering the tournament, he defeated the eighth seed in 2:18 before losing to Sonnier, defeated fifth-seeded Bradley Brignac of St. Michael and then lost the match for fifth by one point, 10-9, to the sixth-seeded Justin Adams of Shaw.
Placers


| | | | | |
| --- | --- | --- | --- | --- |
| Place | Name | School | Seed | Year |
| 1st | Kynan Sonnier | Teurlings Catholic | 1 | 12 |
| 2nd | D.J. Monroe | Haughton | 3 | 10 |
| 3rd | Austin Gary | Carencro | 2 | 12 |
| 4th | Justin Gaskin | North Desoto | 4 | 12 |
| 5th | Justin Adams | Shaw | 6 | 12 |
| 6th | Brett Dingler | Belle Chasse | >8 | 11 |
| | | | | | | |
| --- | --- | --- | --- | --- | --- | --- |
| 1st | 1st | 2nd | 3rd | 4th | 5th | 6th |
| | | | | | | |
| Kynan Sonnier | Kynan Sonnier | D.J. Monroe | Austin Gary | Justin Gaskin | Justin Adams | Brett Dingler |
Quarterfinals
(1) Sonnier (TC) pinned Dingler (BC) in 0:47.
(4) Gaskin (ND) pinned (5) Brignac (StMi) in 3:00.
(3) Monroe (HGT) defeated (6) Adams (SHW) 7-1.
(2) Gary (CAR) pinned (7) Benoit (RAY) in 2:47.
Semifinals
(1) Kynan Sonnier (TC) pinned (4) Justin Gaskin (ND) in 3:42.
(3) D.J. Monroe (HGT) defeated (2) Austin Gary (CAR) 7-5.
Championship Consolation Rounds
(2) Austin Gary (CAR) defeated (4) Justin Gaskin (ND) 6-5 after TB-1 to win 3rd place.
(6) Justin Adams (SHW) defeated unseeded Brett Dingler (BC) 10-9 to win 5th place.
Finals
(1) Kynan Sonnier of Teurlings Catholic pinned (3) D.J. Monroe of North Desoto in 3:13.
---
© 2016 by Louisiana Wrestling News
You may not make electronic copies of these copyrighted materials nor redistribute them to 3rd parties in any form without written permission.