| | | |
| --- | --- | --- |
| | | Fini |
---
Division III - 145 pounds: Landry becomes North Vermillion's second repeat champion
March 25th, 2016 | Written by: Editor
With a 6-0 shutout of De la Salle's Conrad Wyre in the finals, North Vermillion's Brennen Landry became only the second Patriot to win two Division III state championships, joining Garrett Granger who won titles in 2008 and 2011. Landry is the Patriot first to win consecutive titles for North Vermillion, and will have a chance next year to score a "hat trick" with three of them.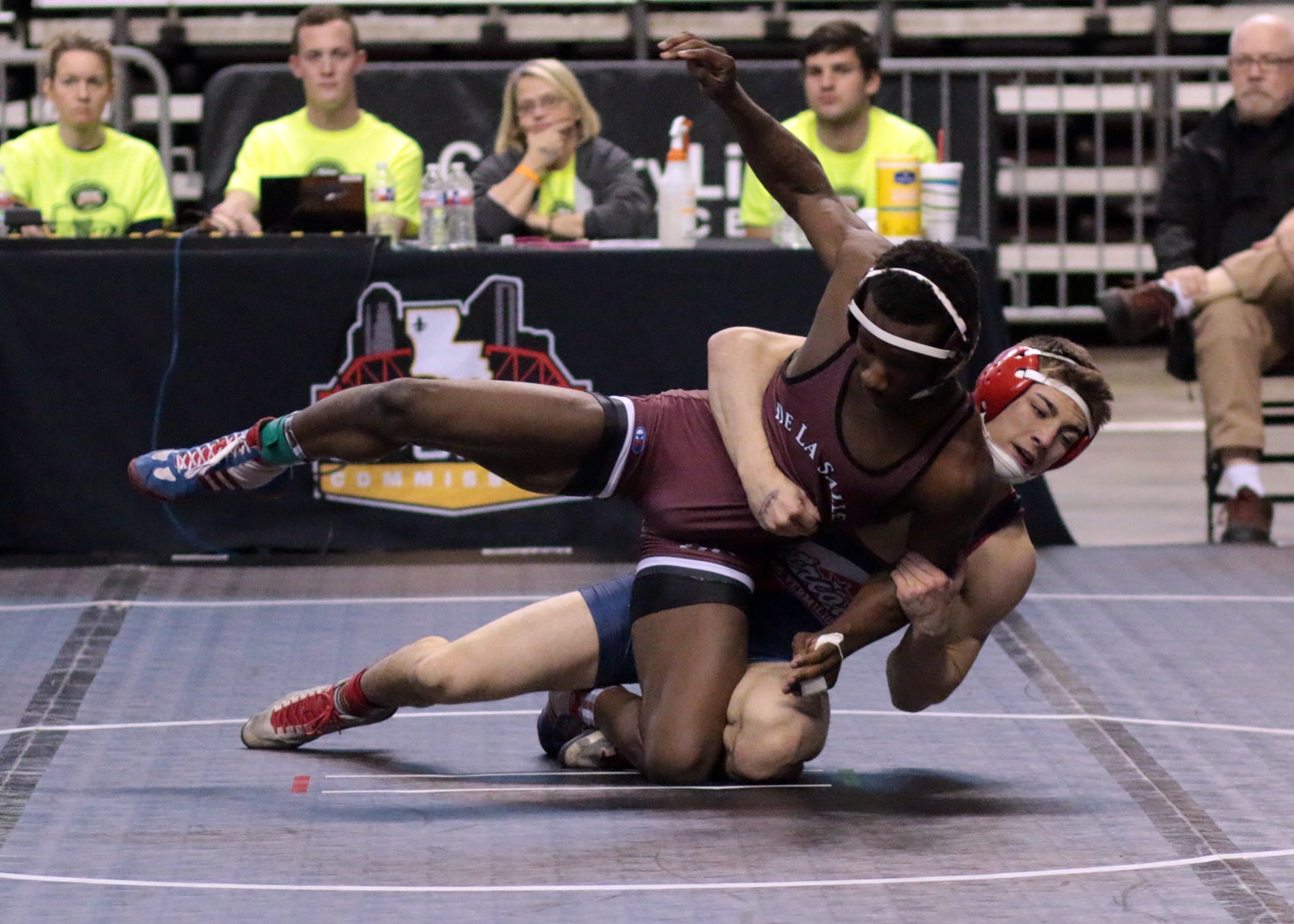 Synopsis
Brennen Landry did not lose to a Division III wrestler this season, and most importantly had a win over De la Sale's Conrad Wyre in the finals of the Brusly Invitational before the state tournament. He also won the Lafayette Metro Tournament over Teurlings Catholic's Jacob LaFleur. In the Jacob McMillan and the the Ken Cole he placed fourth. It took some quality Division I and Division II wrestlers to get past Landry, including names like Thaquan Priestly (LAF), Hunter Fitch (COM), Andrew Aucoin (SH), Brennan Webb (LO) and Hunter Bourgeois (StP). Landry also had 10 victories over Division I opponents.
De la Salle's Conrad Wyre had a very busy season. He wrestled 43 matches against Louisiana competition and won 39 of them, with three losses to Division I opponents and one to Landry. He won the Pearl River Invitational, the Bulldog Brawl and the Greater New Orleans Division III District Tournament. He placed second in the Brusly Invitational and the Trygg Memorial. Among his victories were matches against Fontainebleau's Leaf Ballast, Shaw's Collin Ballas and Dutchtown's Mason Fereday.
A freshman from Kaplan surprised a lot of people by placing third. Dylon Case was seeded sixth and lost, as expected via his seeding, in the quarterfinals to third seed Connor Costello of Ouachita Christian after suffering a match-ending injury. "Match-ending," however, is much different than "tournament-ending" or "season-ending." Case came back in the consolation rounds with falls in 0:40 and 4:41. He added another in 3:32 over the higher-seeded Jacob Pelle of Crescent City, and then upset the third-seeded Costello 7-6 to place third.
Placers


| | | | | |
| --- | --- | --- | --- | --- |
| Place | Name | School | Seed | Year |
| 1st | Brennen Landry | North Vermillion | 1 | 11 |
| 2nd | Conrad Wyre | De la Salle | 2 | 11 |
| 3rd | Dylon Case | Kaplan | 6 | 9 |
| 4th | Connor Costello | Ouachita Christian | 3 | 10 |
| 5th | Jacob Pelle | Crescent City | 5 | 10 |
| 6th | Vincent Acosta | Thomas Jefferson | 8 | 12 |
1st
1st
2nd
3rd
4th
5th
6th
No Photo
Available
Brennen Landry
Brennen Landry
Conrad Wyre
Dylon Case
Connor Costello
Jacob Pelle
Vincent Acosta
Quarterfinals
(1) Brennen Landry (NV) defeated (8) Vincent Acosta (TJ) 8-1.
(5) Jacob Pelle (CC) pinned (4) Tony Sode (SPL) in 5:57.
(3) Connor Costello (OC) defeated (6) Dylon Case (KAP) via an injury forfeit at 4:24.
(2) Conrad Wyre (DLS) pinned (7) William Gage (StL) in 1:23.
Semifinals
(1) Brennen Landry (NV) defeated (5) Jacob Pelle (CC) via a 16-6 major decision.
(2) Conrad Wyre (DLS) pinned (3) Connor Costello (OC) in 3:22.
Championship Consolation Rounds
(6) Dylon Case (KAP) defeated (3) Connor Costello (OC) 7-6 to win 3rd place.
(5) Jacob Pelle (CC) pinned (8) Vincent Acosta (TJ) in 3:29 to win 5th place.
Finals
(1) Brennen Landry of North Vermillion defeated (2) Conrad Wyre of De la Salle 6-0.
---
© 2016 by Louisiana Wrestling News
You may not make electronic copies of these copyrighted materials nor redistribute them to 3rd parties in any form without written permission.