| | | |
| --- | --- | --- |
| | | Fini |
---
Division III - 195 pounds: Senior Joubert claims third title for the Bearcats
March 25th, 2016 | Written by: Editor
Second seeded Lane Joubert of Basile avenged his only loss of the season to a Division III opponent, pinning top-seeded Brandon Young of Brusly to win a third state championship for the Bearcats.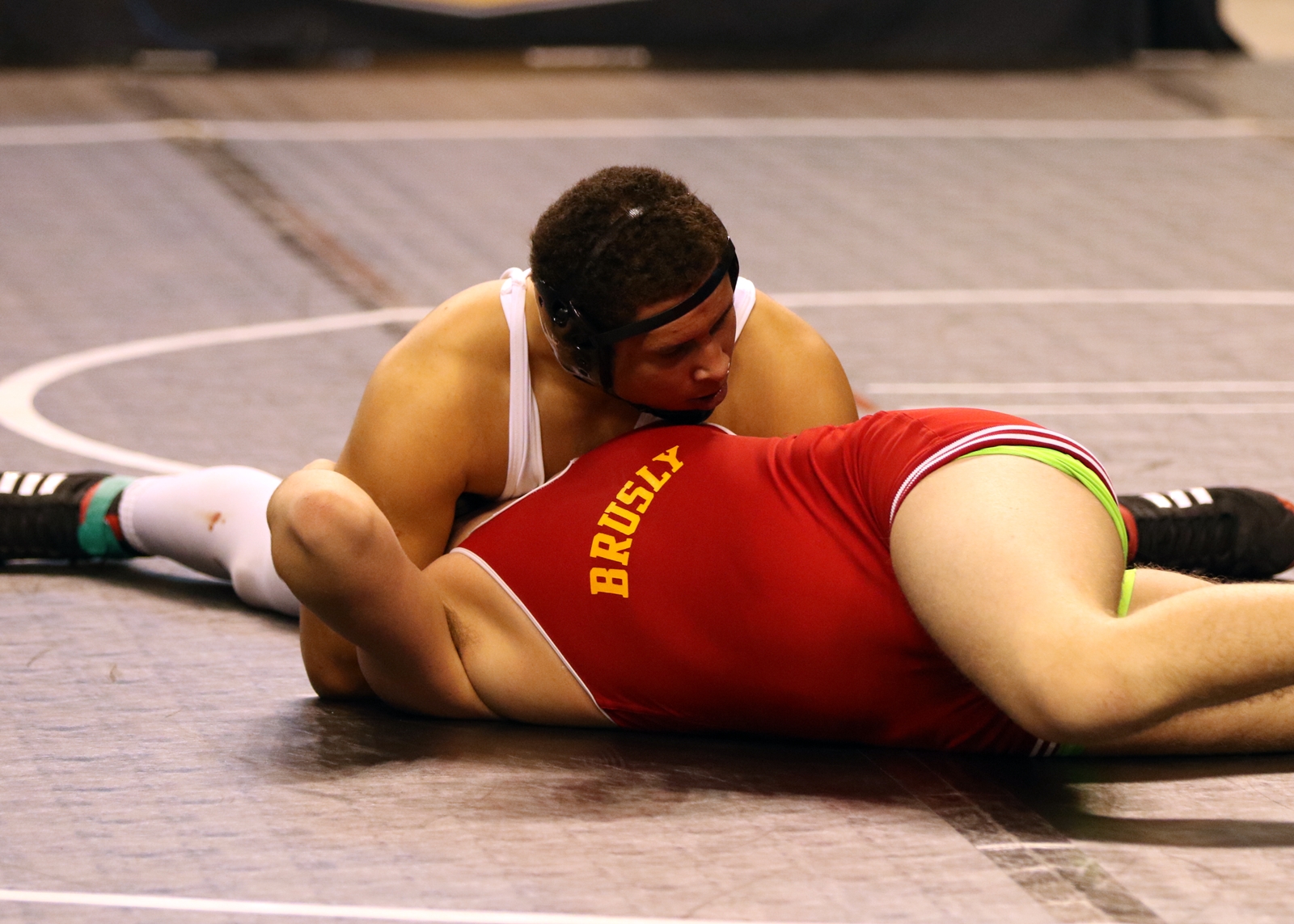 Synopsis

Brusly's Brandon Young and Basile's Lane Joubert made seeding this weight class pretty simple. Young was undefeated against Division III competition and Joubert's only Division III loss was to Young in the Brusly Invitational finals. That was enough to put Young on top even though Joubert had a Rayne Invitational title, a third place finish at the Jacob McMillan and a fourth place Lafayette Metro tournament finish, while Young's only tournament place other than at the Brusly Invitational was third at the Greater Baton Rouge Championships. But this was a tough weight class overall, with Jesuit's Guy Patron's domination of it, and both had to tangle with Teurlings Catholic's Kynan Sonnier during the season. Both finalists, however, advanced to the last match via falls or, in Joubert's case, a technical fall.
Unfortunately, Royce Richardson of De la Salle, who was seeded third, and sixth-seeded John Inocencio of Doyline, were injured during the event. Holy Rosary's fifth-seeded Accord Green, who had already defeated fourth-seeded Dylan Maassen-Veeters of Episcopal, won third place with a fall in 1:47 over surprise consolation finalists Austin Stelly of Kaplan, a sophomore who was seeded eighth. Kendrick Smith of South Plaquemines took fifth due to Richardson's injury.
This weight class may be hotly contested in 2017, though, as Joubert will be the only one of the top six who will graduate this year. Smith is a junior and the other four are sophomores.
Placers


| | | | | |
| --- | --- | --- | --- | --- |
| Place | Name | School | Seed | Year |
| 1st | Lane Joubert | Basile | 2 | 12 |
| 2nd | Brandon Young | Brusly | 1 | 10 |
| 3rd | Accord Green | Holy Rosary | 5 | 10 |
| 4th | Austin Stelly | Kaplan | 8 | 10 |
| 5th | Kendrick Smith, Jr. | South Plaquemines | 6 | 11 |
| 6th | Royce Richardson | De la Salle | 3 | 10 |
1st
1st
2nd
3rd
4th
5th
6th
No Photo
Available
(Injury)
Joubert
Joubert
Young
Green
Stelly
Smith
Richardson
Quarterfinals
(1) Brandon Young (BRU) pinned (8) Austin Stelly (KAP) in 0:47
(5) Accord Green (HR) pinned (4) Dylan Maassen-Veeters (EPI) in 2:20.
(3) Royce Richardson (DLS) defeated (6) John Inocencio (DOY) via an injury default.
(2) Lane Joubert (BAS) pinned (7) Kendrick Smith, Jr. (SPL) in 1:16.
Semifinals
(1) Brandon Young (BRU) pinned (5) Accord Green (HR) in 1:34.
(2) Lane Joubert (BAS) defeated (3) Royce Richardson (DLS) via a 16-0 technical fall.
Championship Consolation Rounds
(5) Accord Green (HR) pinned (8) Austin Stelly (KAP) in 1:47 to win 3rd place.
(7) Kendrick Smith, Jr. (SPL) won via an injury forfeit over (3) Royce Richardson (DLS) to win 5th place.
Finals
(2) Lane Joubert of Basile pinned (1) Brandon Young of Brusly in 5:44.
---
© 2016 by Louisiana Wrestling News
You may not make electronic copies of these copyrighted materials nor redistribute them to 3rd parties in any form without written permission.