| | | |
| --- | --- | --- |
| | | Fini |
---
Patron nails first collegiate tournament title
Two other Louisianans place second for Loras College
November 7th, 2016| Written by: Editor, Duhawks.com, IAWrestle.com, Guy Patron, Sr.
Guy Patron, Jr. started his college wrestling career as he ended his high school one last February in Bossier City. Patron, the 195 lbs. Division I state champion and Outstanding Wrestler for Jesuit in 2016, now competes for Loras College of Dubuque, Iowa, under coach T.J. Miller (formerly of Holy Cross and Wartburg).

In his first college event for the Division III Duhawks, the Super 8 Invitational held by the University of Wisconsin of Platteville, Patron, wrestling at 197 lbs., accepted a first-round bye and then scored falls in 0:53 and 1:54 in the quarterfinals and semifinals respectively before posting an 8-4 finals win over Matt Seabold of Central College of Pella, Iowa. Seabold is a two-time NCAA Division III national qualifier and All-American and was ranked fourth by Intermat in the Division III at 197 lbs. before being introduced to Mr. Patron.
Two other former Louisiana wrestlers, Kalik Battle (photo left), who placed fourth in Division I in 2014 (behind the likes of Brother Martin's Paul Klein and Holy Cross' George Benoit), and Quinn Gilliam (1st and undefeated in Division I in 2014), who both graduated from C.E. Byrd High School in Shreveport, placed second in the event.

Battle, competing at 133 lbs., scored a first-round fall in 0:29, a 7-4 quarterfinals decision and a 4-2 semifinals match before falling to Central's Cam Timok by a 14-2 major decision.

Gilliam, competing at 285 lbs., opened with a fall in 2:01, followed by a quarterfinals fall in 4:45 and a 4-2 semifinals win. He lost to the host school's #5-ranked D'Andre Johnson 8-4 in the finals.
The Loras Duhawks Website article may be found by clicking here.
| | |
| --- | --- |
| For Guy, Sr. | For Guy, Jr. |
| | |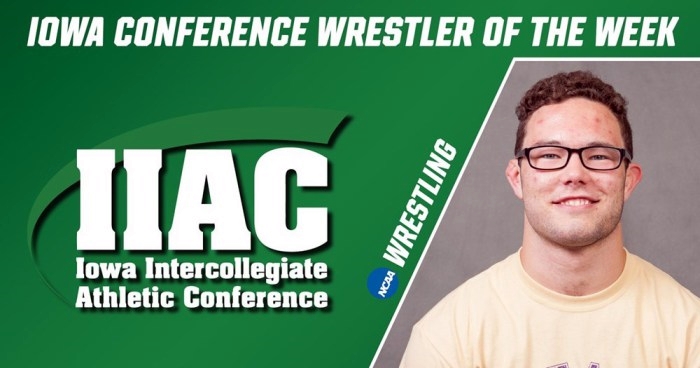 Guy Patron, Jr. recognized as Iowa Conference "Wrestler of the Week"
by the Iowa Intercollegiate Athletic Conference.
Click here for complete article by Tony Hager
---
© 2016-7 by Louisiana Wrestling News
You may not make electronic copies of these copyrighted materials nor redistribute them to 3rd parties in any form without written permission.