| | | |
| --- | --- | --- |
| | | Fini |
---
Crusaders remain Division I favorites after Louisiana Classic win
January 30th, 2017 | Written by: Editor

Anyone who thought Brother Martin's dual meet loss to Jesuit on January 11th meant a "changing of the guard" come February's state championships best think again. A mere 72 hours after the 33-28 loss to the Blue Jays, the Crusaders were hoisting high the Louisiana Classic team championship trophy. The tournament was held on January 13th-14th in the Baton Rouge Community College gymnasium.
1st Place - Brother Martin Crusaders
Jesuit finished in second place with 237 points, 32 points behind Brother Martin's 269. The Blue Jays were 26 points better than Holy Cross, which garnered 211.
| | | |
| --- | --- | --- |
| | The Airline Vikings placed fourth with 149 points, and were the highest placing team from a public school. Airline also received the Dale Ketelsen Sportsmanship Award | |
The top 10 team finishers are presented below:
| | | | | | |
| --- | --- | --- | --- | --- | --- |
| Place | School | Points | Place | School | Points |
| 1 | Brother Martin | 269 | 6 | De la Salle | 111 |
| 2 | Jesuit | 237 | 7 | Rummel | 99 |
| 3 | Holy Cross | 211 | 8 | Catholic | 95.5 |
| 4 | Airline | 149 | 9 | East Ascension | 92 |
| 5 | St. Paul's | 129.5 | 10 | Live Oak | 83 |
Rummel's Blake Mateu and Josh Ramirez, Jake Rando and Joey Foret of Holy Cross, Christian Walden of Airline and Cole Houser of St. Paul's each won their second Louisiana Classic titles.
Kneeling, left-right


| | |
| --- | --- |
| 106 | Daniel Varnado (BM) |
| 113 | Daniel Croy (BM) |
| 120 | Blake Mateu (RUM) |
| 126 | Cole Houser (StP) |
| 132 | Trent Mahoney (EA) |
| 138 | Joshua Bell (EHR |
| 145 | Patrick Evans (BM) |


2017 Louisiana Classic Individual Champions

Standing, left-right


| | |
| --- | --- |
| 152 | Jake Rando (HC) |
| 160 | Christian Walden (AIR) |
| 170 | Joey Foret (HC |
| 182 | Josh Ramirez (RUM) |
| 195 | Trevon Honor (HNV |
| 220 | Darion Mitchell (BRB |
| 285 | Corey Dublin (JES) |
Could things have been different? Certainly. Viable scenarios exist in which Jesuit or Holy Cross could have won the event.
2nd Place - Jesuit Blue Jays

Jesuit's defending state champion Eli Larriviere injured an ankle in his quarterfinal win, forcing him to withdraw from the tournament. He would have faced Brother Martin's Patrick Evans in the semifinals, whom he defeated 1-0 in the dual meet three days earlier. Had Larriviere won that match and then won the finals, as much as a 30-point swing might have won the championship for Jesuit. Any conjecture that Larriviere withdrew to preserve his seeding over Evans in Bossier City is ridiculous. Jesuit would have loved to win the team championship. Nobody has as yet shown they can match-up well with Larriviere or Evans at 145 lbs., and they should be on opposite sides of the bracket in Bossier City. (Nobody should dismiss St. Paul's Grant Hughes, though, who made the finals after a Sudden Victory win over top-seeded Austin Franklin of Brusly, and will likely be seeded third.)

Holy Cross entered the tournament without starters Jacob Spahn at 120 lbs. and Michael Benton at 182 lbs. Their replacements only scored nine points for the Tigers. A finals appearance by Benton and a third-place or fourth-place finish by Spahn could have won the event for the Tigers.

Using Larriviere, Spahn and Benton above is not meant to lay blame on those wrestlers. They were just the easiest examples to use to show that a lot of things did not go the way of the Blue Jays or Tigers.
The Blue Jays had one champion and six others who placed fourth or better. The Tigers had two champions and four others who placed fourth or better. The Crusaders had three champions and eight wrestlers who placed fourth or better. They simply outperformed their major contenders in the field of 45 teams.

132 lbs. Champion and OW Winner Trent Mahoney

The Crusaders had a very unexpected setback, though. Their list of champions did not include three-time defending Division I state champion Steven Shields.

Shields, competing at 132 lbs., was upset by Trent Mahoney of East Ascension in the semifinals. The son of East Ascension coach Pat Mahoney, the fourth-seeded freshman stunned the crowd by catching Shields with a head-and-arm and pinning him in 2:57. It was Shields' first loss to a Louisiana competitor since last season's Trey Culotta Invitational.

The 132 lbs. field was probably the toughest of the tournament, as it also had defending Division I state champion Cole Clement of Holy Cross in it. Clement, however, after a first round bye, fell 5-3 to Jesuit's Jackson DeGruy, which was Clement's first loss to a Louisiana wrestler this year. After pinning his way through the quarterfinals, DeGruy met third-seeded Dyllon Bernard of Comeaux. In that match, Bernard was injured and had to withdraw, putting the unseeded Blue Jay in the finals. The Spartan freshman, however, was not daunted by the Jesuit senior, pinning DeGruy in 2:57.

In a tournament in which the champions of the other weight classes shared 11 state titles between them, the freshman Mahoney was voted the Outstanding Wrestler.

Clement and Shields met in the consolation semifinals, a match won by Shields 3-1. Shields placed third while Clement placed fifth




Semifinals over Shields




Finals over DeGruy
Attending Saturday's matches was coaching royalty in the form of Coach Sam Harnsongkram (photo left), who coached Jesuit to 18 Division I team championships dating back to 1972, including 11 consecutive ones from 1988 to 1998.

An innovative crowd (photo upper right) in an end seating area started a "wave" which ebbed and flowed through the main seating area, hit the end wall and reverberated back to the originators.

Nobody thought to tell this gentleman (photo lower right) that the batteries in his invisibility cloak were dead.
The introduction of the finalists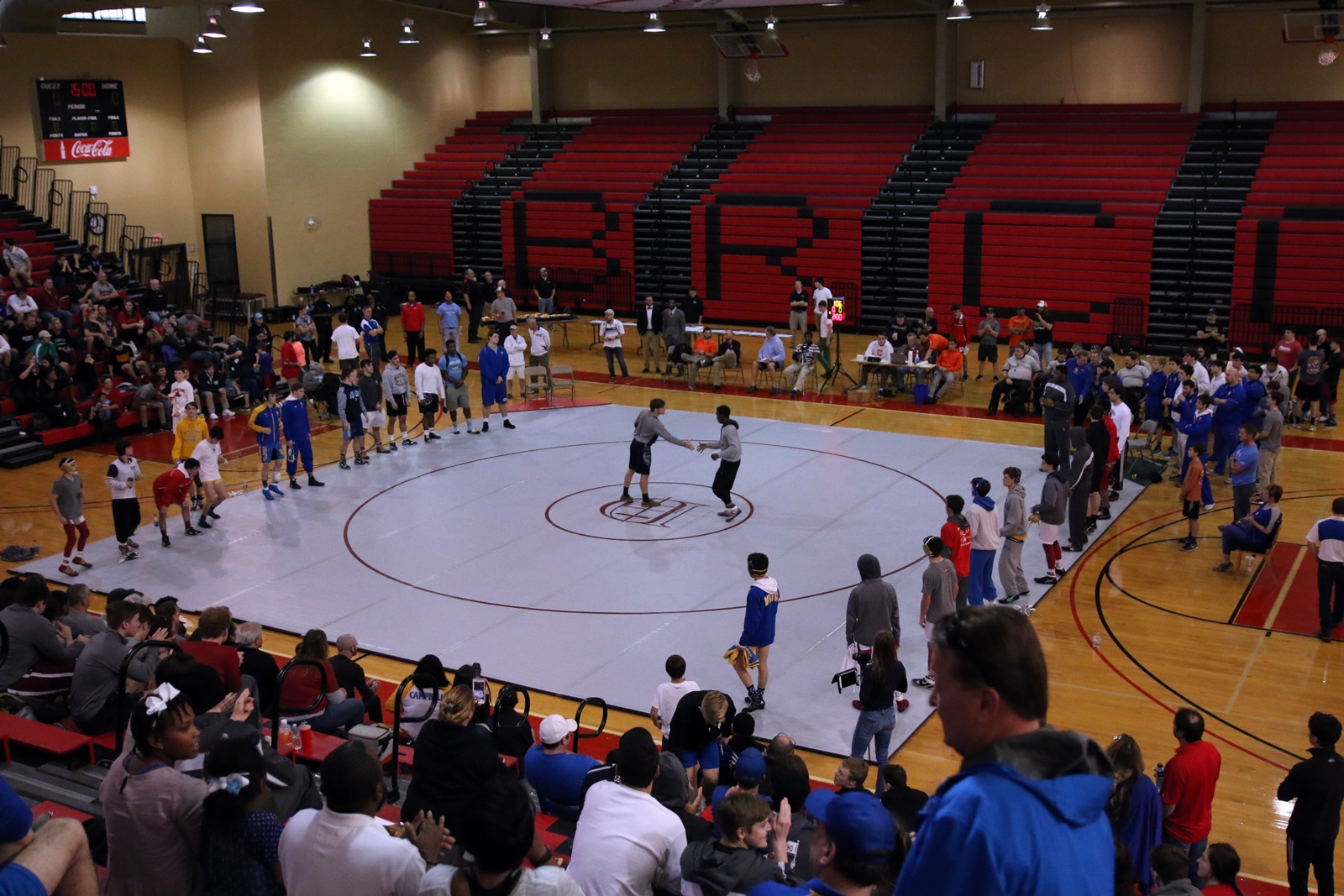 ---
© 2015 by Louisiana Wrestling News
You may not make electronic copies of these copyrighted materials nor redistribute them to 3rd parties in any form without written permission.