| | | |
| --- | --- | --- |
| | | Fini |
---
Holy Cross fends off Jesuit and Brother Martin; Teurlings Catholic and De LaSalle repeat team titles
LHSAA State Wrestling Tournament - February 10-11 2017
May 12th, 2017 | Written by: Editor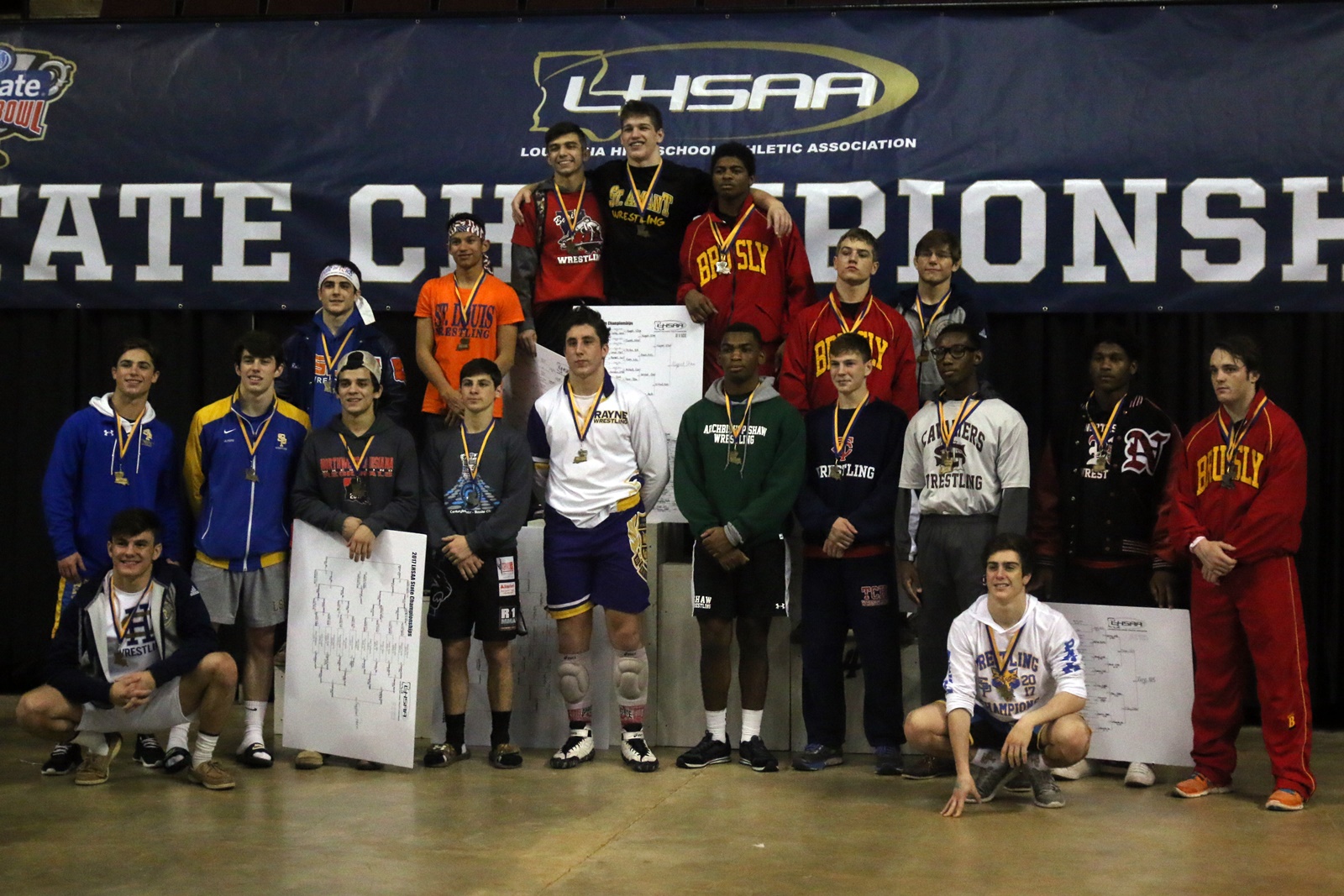 A sample of state champions still in the CenturyLink Center after the team presentations:
(Left-to-right sitting): Joey Foret (170 lbs. Holy Cross); Cole Houser (120 lbs. St. Paul's); (Left-to-right standing on floor): Jared Thieler (126 lbs. St. Paul's), Shane Ulfers (138 lbs. St. Paul's), Trey Fontenot (126 lbs. Parkway), Cooper Simon (113 lbs. Rayne), Tyler Carriere (195 lbs. Rayne), Martin Garrett (160 lbs. Shaw), George Femmer (145 lbs. Teurlings Catholic), Conrad Wyre (152 lbs. De LaSalle), Byron Zeno (182 lbs. Northside); (left-to-right parabola): Robert Christman (138 lbs. St. Louis), Alex Yokubaitis (106 lbs. St. Louis), Gavin Christ (126 lbs. Basile), Sage Nugent (182 lbs. St. Amant), Richard Hunter (182 lbs. Brusly), Owen Mabile (170 lbs. Brusly), Jake Rando (145 lbs. Holy Cross).
The 2016-17 wrestling season will be remembered in many ways:
It was the season in which Holy Cross won the Division I team championship for the first time since 1988;
It was the season in which Brother Martin's five-year dominance of Division I ended;
It was the season in which Holy Cross' legendary wrestler and coach, Ed Kavanaugh, passed away;
It was the year wrestling legend Dale Ketelsen was remembered at the state championships;
It was the year Belle Chasse's Jovany Cortez lost a battle with several diseases on the day before the state championships began;
It was the year St. Amant High School lost their wrestling room amid flooding that all but destroyed the school, only to have a new wrestling room and mats donated to them;
It was the year Steven Shields of Division I Brother Martin and Austin Franklin of Division III Brusly won their fourth consecutive state championships;
It was the season Cliff Strider retired from 50 years of wrestling, coaching, officiating and rules interpreting;
It was the season in which the comradery of wrestling teams and schools superseded competition for the sake of restoring what some competitors lost.
Ending a five-year dominance by the Brother Martin Crusaders, the Holy Cross Tigers won the Division I title for the first time in since 1988, but this time there was no three-way tie (in 1988 Holy Cross, Bonnabel and Jesuit tied for the championship.) In Division II the Rebels of Teurlings Catholic High School won their fourth consecutive team title, and sixth of the last seven, despite having only one individual champion. De LaSalle won the Division III team title for the second straight year.
| | | |
| --- | --- | --- |
| Division I | Division II | Division III |
| | | |
| Holy Cross | Teurlings Catholic | De LaSalle |
As they did in 2015, the CenturyLink Center, SMG and the Shreveport-Bossier Sports Commission hosted a great LHSAA State Wrestling Championships.
Ten mats fit on the floor of the arena easily, and there was ample space for wrestlers, coaches, photographers and CenturyLink Center personnel outside of the gates that segregated the mats from the rest of the floor space. Spectators were seated above the main floor of the facility, offering a great view of the wrestling.
Tournament Director B.J. Guzzardo of the LHSAA said the production was a "team effort." "There was no assistant tournament director. Coaches John Walden of Airline High School and Caleb Guidry of North DeSoto High School, were in charge of set-up, scales, table workers and student workers. Matt Pinero of St. Paul's was in charge of scoring, the seeding meeting, clocks, computers, printers and securing people for the head table. Jim [Ravannack] supplied the scoring equipment and is in charge of the weight control program.
Greater Baton Rouge, St. Amant High School Flooding
Between August 12th and August 15th the Greater Baton Rouge area was deluged by a 1-in-500-year rainfall event. Others say it was a 1-in-1,000-year rainfall event.
As far as schools with wrestling programs go, the flooding all but washed away St. Amant High School. St. Amant's students took classes at Dutchtown High School, and then practiced on the East Ascension mats.
(Left to right): Flooding of the St. Amant campus and other areas; Flooding of the Gators' wrestling room; St. Amant wrestling team founder Ernest Brown cuts the ribbon for the new mats with Olympian and World Champion wrestler Adeline Gray; Coach Brian Hess addresses the crowd.
Livingston Parish was also subject to flooding which affected Live Oak High School's wrestling room and the homes of people associated with the Eagles. When subjected to annihilation by Hurricane Katrina, in 2005, Belle Chasse received box-loads of out of state donations. With new faces abounding since then, the Cardinals decided to "give back" and do what they could for their Division II competitors at Live Oak High School.
"When I saw reports of the flooding," said Belle Chasse coach Michael Cronin, "I called Chris Collier [Live Oak Head Coach] and let him know that we would be collecting donations and head up there with a couple of trucks to see what we could do to help. We met Coach Collier at the Live Oak Wrestling Club and unloaded what we had for them. After unloading we went to a home owned by a relative of Norvin Hill and helped gut the flooded property.
It was me, Anthony Berlinghoff and the Edwards twins: Josh and Zachary. We put a few hours of work in and tried to help our neighbors when they were in need."
Cliff Strider retires after 50 years on the mats
| | | |
| --- | --- | --- |
| | | |
| With his wife Carol at the 2007 Louisiana Wrestling Hall of Fame Induction Ceremony | At the 2017 State Championships | At the 2016 State Championships |
For five decades Clifford R. Strider, III, has been a "fixture" of Louisiana wrestling. In his senior year at East Jefferson, 1969, Strider was a captain and won a state championship under the tutelage of Ray Gremillion. In his freshman year wrestling for the University of Southwest Louisiana (now ULL), Strider started officiating wrestling matches. Transferring to LSU for his sophomore year, Strider coached at Baton Rouge High School, producing state champions in Tom McAdams and Mike Boyce.

In 1986 Strider was dubbed the "Head Official" of the LHSAA State Wrestling Championships. That same year he was accorded the status of "Rules Interpreter" for Louisiana wrestling, which entailed explaining new rules at coaches' meetings across the state. Strider officiated 37 state wrestling tournaments and, from 1976 to 1984, NCAA events.

In 2000 Strider was named Wrestling USA Magazine's "Wrestling Man of the Year." He was honored by Louisiana wrestling officials with the "Wayne Schmidt Memorial Golden Whistle Award in 2004. The LHSAA recognized Strider with a Distinguished Service Award for his contributions to high school wrestling. In 2007, he was inducted into the Louisiana Chapter of the National Wrestling Hall of Fame, and in 2013 he was inducted into the LHSAA Hall of Fame.

During his association with wrestling Strider earned a law degree in 1979 and was a prosecutor in Alexandria, Ruston and New Orleans. Currently Strider is an Assistant Attorney General in Baton Rouge in charge of the Gaming Division.

For many, many people, Strider has been a fount of advice and information about wrestling, and has always made himself available, whether at home or in the office. On numerous occasions, Strider has advised the editor of the Louisiana Wrestling News, to whom he has been a fixture since the editor first put on wrestling shoes in 1977.

Wresting will miss Cliff Strider, and will be lucky to find someone to match the indelible mark Strider has provided for the sport over the last 50 years.
Steven Shields - Brother Martin
| | | | |
| --- | --- | --- | --- |
| | | | |
| 2014 (106 lbs.): 13-5 over Nicholas Lirette of Hahnville | 2015 (113 lbs.): 5-2 over Beau Bush of Holy Cross | 2016 (120 lbs.): 7-5 over Joseph Dupre of Jesuit | 2017 (132 lbs.): 5-2 over Cole Clement of Holy Cross |
Shields became the second Division I wrestler to win four consecutive state championships, joining former Brother Martin teammate Paul Klein, who accomplished the same feat in 2015.
Austin Franklin - Brusly
| | | | |
| --- | --- | --- | --- |
| | | | |
| 2014 (106 lbs.): 13-4 over Matthew Matherne of Ouachita Christian | 2015 (113 lbs.): 9-7 over Gavin Becker of North Vermillion | 2016 (138 lbs.): 12-7 over Matthew Matherne of Ouachita Christian | 2017 (145 lbs.): via a 4:56 fall over Matthew Matherne of Ouachita Christian |
Brusly's Austin Franklin joined Tim Leblanc, Austin Schermer and Trevor Schermer as a four-time state champion for the Panthers.
Invocation and National Anthem
After the invocation, The National Anthem was performed by freshman Maya Kimmel of Evangel Christian Academy
Jovany Cortez of the Belle Chasse Cardinals
| | |
| --- | --- |
| | Prior to the start of the championships, a moment of silence was observed in honor of Jovany Cortez, a sophomore Belle Chasse wrestler, who passed away from a series of illnesses the day before the state tournament began, of . (Above - the Belle Chasse wrestling team and coaches.) |

Coaches Dale Ketelsen and Ed Kavanaugh

St. Paul's coach Craig Ketelsen watches the screen as his father, Dale Ketelsen, who passed away on March 22nd, 2014 is remembered on the jumbo screen. Long-time Holy Cross wrestler and coach Ed Kavanaugh was also remembered. Kavanaugh passed away on October 27th, 2016.

2017 All-Academic Scholarship Composite Wrestling Team
To earn Composite Team honors, a student-athlete's six-semester GPA must have an un-weighted 4.00. The composite team (all un-weighted 4.0 students) will be honored at the state events. The students who will be recognized are now listed on the website. These students cannot even have an "B" on their transcript.

The 2016-17 Exxon-Mobil ISC All-Academic Scholar Composite Wrestling Team winners are:

| | | | | |
| --- | --- | --- | --- | --- |
| Name | School | Class | Division | GPA |
| Harroon Wall | Barbe | 5A | I | 4.0 |
| Max Daigle | Church Point | 3A | III | 4.0 |
| Isaac Fincher | John Curtis Christian | 2A | III | 4.0 |
| Dalton Ellers | Evangel Christian Academy | 2A | III | 4.0 |
| Vincenzo Signorelli | Holy Cross | 3A | I | 4.0 |
| Richard Besselman | Jesuit | 5A | I | 4.0 |
| Van Bohn | Jesuit | 5A | I | 4.0 |
| Adam Gaspard | Kaplan | 3A | III | 4.0 |
| Daniel Seither | Pearl River | 4A | II | 4.0 |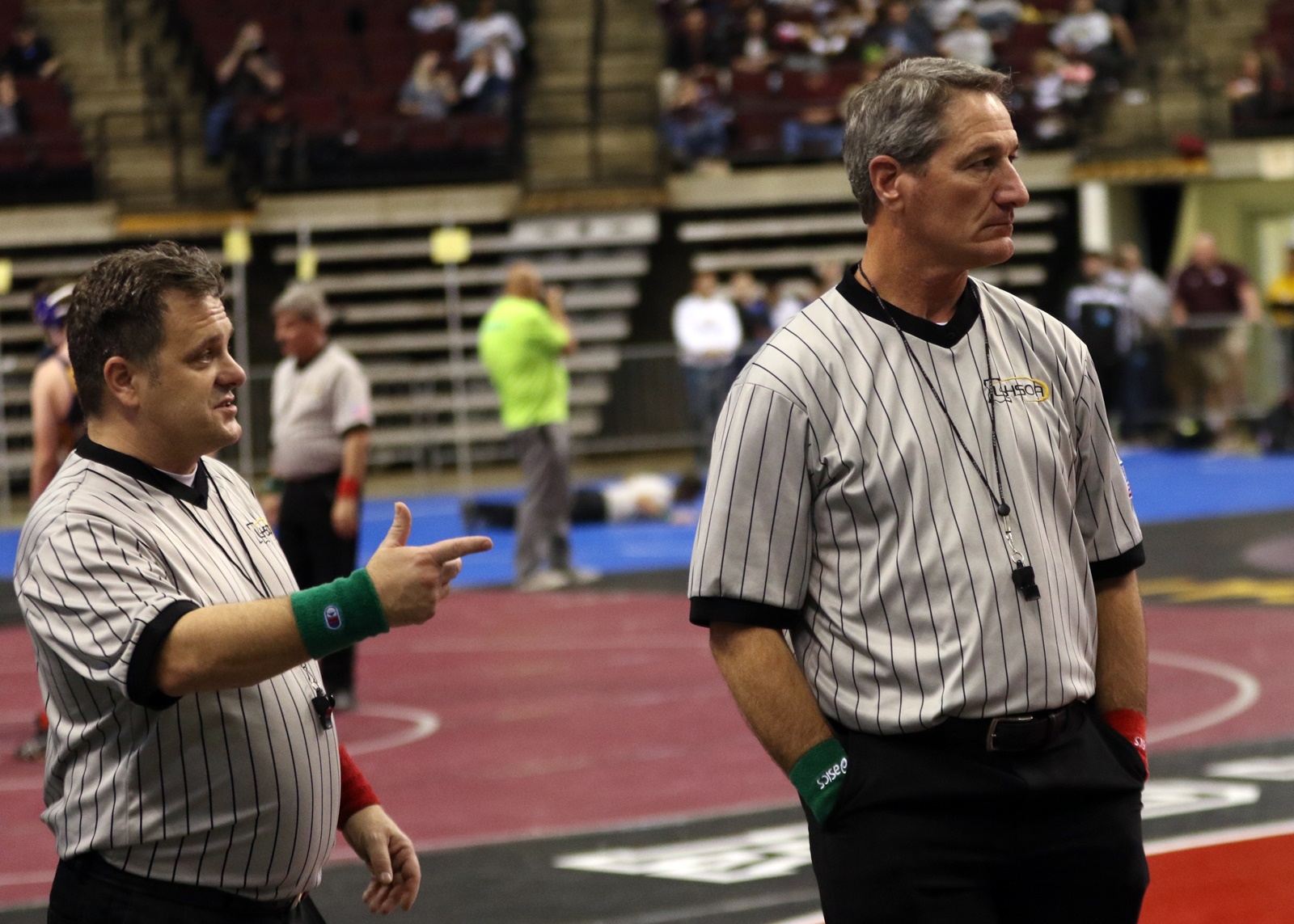 Mark Prejean and "Aces and Eights" winner James Casadaban.
| | | | | | | | |
| --- | --- | --- | --- | --- | --- | --- | --- |
| | | | | | | | |
| Wayne Prejean | Art Davis | Chris Godso | Connor Stampley | Dennis Bertot | Doug Hanson | Gene Strogen | Harrison Hooper |
| | | | | | | | |
| --- | --- | --- | --- | --- | --- | --- | --- |
| | | | | | | | |
| Jaime Smith | Cabot Ballard | James Casadaban | Jay Harris | Jerry Smith | John Vezina | Mark Prejean | Mikal Stall |
| | | | | | | |
| --- | --- | --- | --- | --- | --- | --- |
| | | | | | | |
| Neil Badeaux | Paul Schmidt | Robert Hennessey | Trey Davis | Tyler Frame | Alan Prejean | Prior to Introductions |

A well-earned break
LWN Photographers Left: Matthew Dwyer, Emily Hamman, Martin Muller; Right: Anna Tedesco, Matthew Dwyer
Future State Championships Sites
As early as February 13th, a New Orleans-based Website ran an article, citing only "sources," that claimed that the Shreveport-Bossier Sports Commission and SMG, the company that runs the CenturyLink Center, "is not interested in having the tournament back next year."
That came as news to John Walden, the coach of Airline High School, the official host school of the tournament. "That's surprising," said Walden. "Everyone I've spoken with has wanted to keep it in Bossier.
"
It was also news to Mr. Kelly Wells, the executive director of the Shreveport-Bossier Sports Commission. "We would love to have the event back and we will be bidding for the [next] two years in June," said Wells. "I have grown over the last two years to enjoy the family of LA wrestlers and the competition itself. I cannot detail our bid, but it will be very favorable to the championships as the last two years. We want to support and continue to assist growing the sport statewide. Our bid will be very favorable to the championships as in the last two years. We want to support and continue to assist growing the sport statewide.
"
Said Jimmy Watson of the Shreveport Times, "The Shreveport-Bossier Sports Commission is definitely interested in having the state wrestling tournament return. Anything said to the contrary is incorrect.
" Watson wrote an article on February 11th regarding the issue.
No doubt there will be more controversy if Bossier City is again chosen by the LHSAA Executive Committee to host the event for the next few years. Bossier City, though, has now proven twice that they are fully capable of handling the event, particularly if they get the supports of people like John Walden, Caleb Guidry of North Desoto High School, Matt Pinero of St. Paul's, Jim Ravannack, and the ladies who ran the head table: Jennifer Macha and Tracie Sonnier of Teurlings Catholic and Christina Doucet of Sulphur.
The LHSAA should receive a bid from the Baton Rouge River Center, and possibly the Cajundome in Lafayette, representatives of which have or will have meetings with Lafayette area coaches about their hosting the event. For the present, it should be a relief that a facility with experience exists to hold the event since it became too large for Kenner's Pontchartrain Center.
50 Years Ago
25 Years Ago
Divisions I and II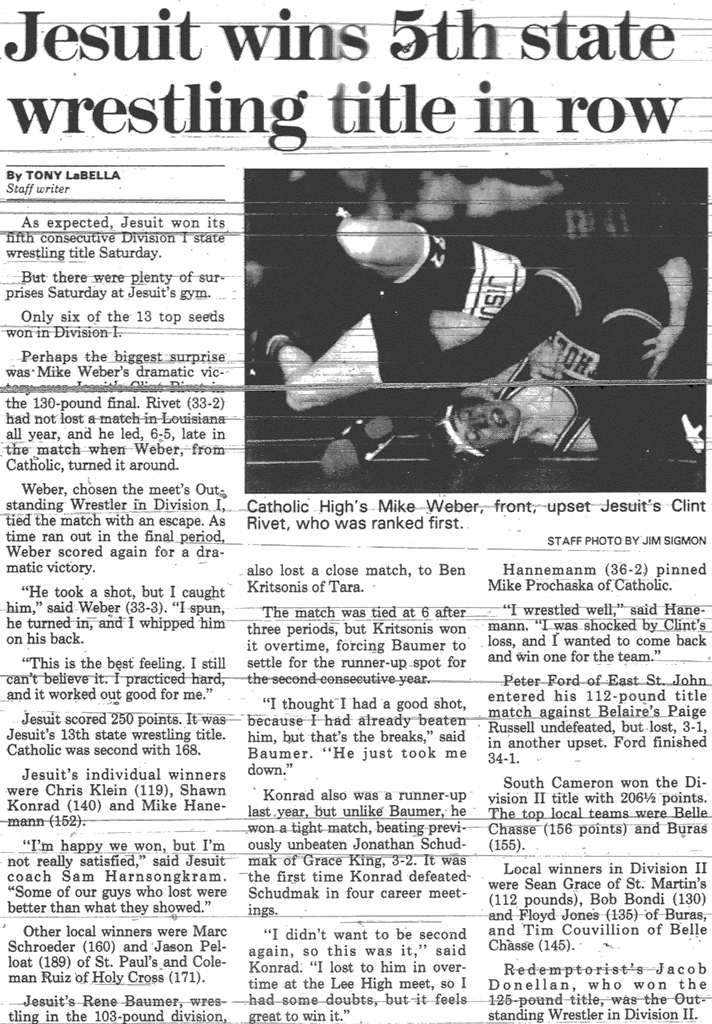 10 Years Ago
| | | |
| --- | --- | --- |
| Division I | Division II | Division III |
| | | |
---
© 2017 by Louisiana Wrestling News
You may not make electronic copies of these copyrighted materials nor redistribute them to 3rd parties in any form without written permission.