| | | |
| --- | --- | --- |
| | | Fini |
---
Holy Cross holds off Jesuit for Division I team championship


Crusaders place third
LHSAA State Wrestling Tournament: Division I
May 12th, 2017 | Written by: Editor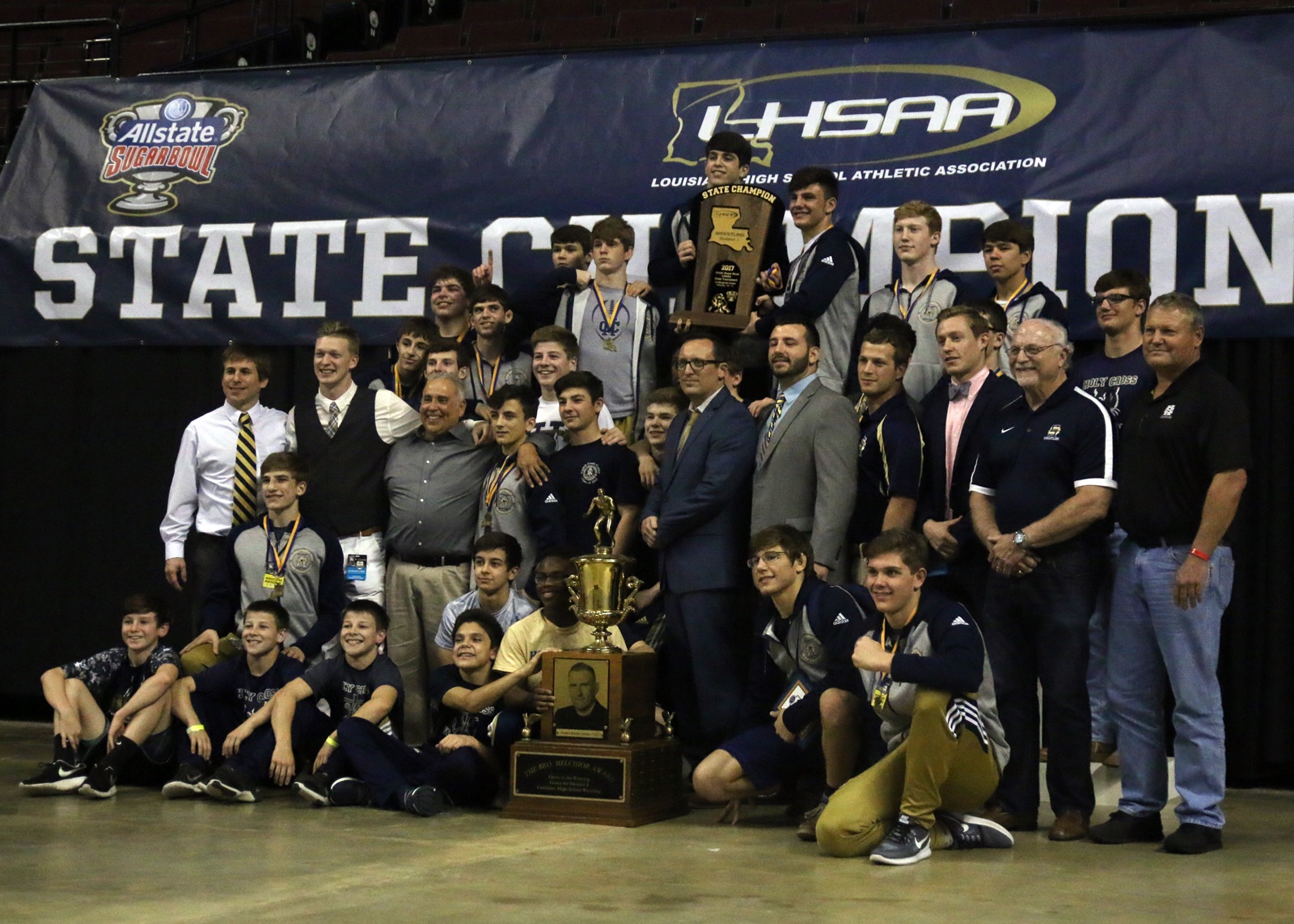 The Holy Cross Tigers had not won a Division I team championship since 1988, when they tied with Bonnabel and Jesuit. The last time they won outright was in 1983. Both of those teams were coached by the recently deceased Ed Kavanaugh.
Winning the Division I team title was expected to be a war between two programs. It was - just not the ones most people expected. The five-time defending Division I champion Brother Martin Crusaders, even though they were putting 12 wrestlers on the mat who had never competed in a state tournament, was still the team to beat. And the Crusaders are well known for having very good back-ups to their starters.
Holy Cross was the other team expected to perform well, returning three state champions, four placers and three others from their 2016 state tournament team. The Tigers only had five newcomers to the event.
Jesuit, though, made sure nobody forgot about the Blue Jays. On January 11th, they defeated the Crusaders 33-28 in a dual meet at Jesuit. Everyone knows, however, that dual meets are not the best predictors of how a team will place in a tournament format. Hence, any euphoria felt by the Blue Jays or Tigers was erased the following weekend when the Crusaders dominated the Louisiana Classic, defeating Jesuit by 32 points and Holy Cross by 58 points. A week later, a Crusader "B" squad, plus Steven Shields, won the Ken Cole Memorial by 60 points over De LaSalle and 105 points over Teurlings Catholic.
In the end, though, it was the Tigers winning with 305 points to Jesuit's 298.5. Brother Martin finished third with 277 points.
(Photos - left to right): 1) Holy Cross Head Coach Eric Desormeaux, Steven Kleminakis, Nick Michael; 2) Richie Dixon, Landon Williams, Jorge Lauriano; 3) Dylan Azinger and Holy Cross principal Dr. Joseph Murry. Above on team photo, standing on the far right, is Coach Donnie Ortego.
For winning his third consecutive state final with a pin in 1:06, Holy Cross' Jake Rando won the Division I Outstanding Wrestler award.

In his first match after a bye, Rando pinned Matthew Mire of Destrehan in 1:25. Next, in the quarterfinals, he pinned the eighth-see Jeremy Flieg of Catholic in 3:35. Altering his routine a little, Jake scored a 25-10 Technical Fall in 6:00 against the fourth seed, Grant Hughes of St. Paul's.

In the finals against Patrick Evans, the excellent sophomore from Brother Martin, Rando took only 1:06 seconds to win his third championship.
Holy Cross entered the state championships with defending state champions Cole Clement (132 lbs.), Jake Rando (145 lbs.) and Joey Foret (170 lbs.).
Rando and Foret won again (Jake's 3rd, Joey's 2nd). Clement fell in the finals the Brother Martin's Steven Shields and Caruso Signorelli, seeded third, won his semifinals match to place second. The Tigers had four other wrestlers who placed in the top six spots last year, and two who participated by did not place. Their five "new guys," between them, won six tournament titles, finished second in two more, and included a third and a fourth place at the Louisiana Classic. Caden Mumme was an eighth seed and finish fourth. Two fifth seeds, Brady Butler and Jeffrey Argrave, placed third. At 126 lbs., unseeded Mason Macaluso placed fifth.
The Crusaders may have only had two wrestlers with state experience, but they were very, very good. One was Luke Cotton, a defending state champion. The other was Steven Shields, a defending-defending-defending state championship looking to accomplish what Crusade Paul Klein did in 2015 - win four consecutive Division I individual championships.
The rest of the "new" Crusaders accounted for 16 tournament championships, nine tournament runner-up finishes, six third-place finishes and two fourth-place Louisiana Classic finishes. It seemed odd, though, that this was the first state championship in which Daniel Varnado participated. The senior showed no evidence of anxiety, but that may be natural for a winner of four tournaments (the Cinco Ranch Big 12, the Spartan Invitational, the Trey Culotta, the Louisiana Classic), as well as runner-up finishes at the Blackhorse in Memphis and the Prep Slam in Atlanta.
The only difference between the Crusader team that won the Louisiana Classic and the team the put forward at the state tournament was that, at 152 lbs., Noah Roux got the nod over Seth Alfonso. This most likely became the case after Roux defeated Alfonso 8-5 in the finals of the Dale Ketelsen Memorial tournament.
Jesuit entered state champions Eli Larriviere and Cory Dublin. The Blue Jays also had six wrestlers who placed in the 2016 state championships. Of the six new Blue Jay grapplers, they produced five tournament championships, three runner-up spots and five third-place spots (including two at the Louisiana Classic), as well as a fourth-place winner at the Louisiana Classic.
However, as predicted by the Holy Cross coaches, it would be a race between Holy Cross and Jesuit, which Holy Cross won by 6.5 points. The Tigers scored 305 points to the Blue Jays' 298.5. The Crusaders took third place with 277 points.
No team wrestled perfectly - each had some unexpected great moments as well as disappointing performances. It was the "better than expected" performances, though, that kept the Tigers and Blue Jays close.
Holy Cross had five wrestlers place higher than their seeding. Jesuit had six do the same, but on average Jesuit was seeded well below Holy Cross. Only one Tiger did not place (albeit he was very important to the Tigers' victory). Two Blue Jays did not place, and that can explain a 6.5-point difference easily. It also helped immensely that Macon Macaluso placed fifth at 126 lbs. when he was not seeded at all.
As for the Crusaders, while they were on average seeded between Holy Cross and Jesuit, only one Brother Martin wrestler placed higher than he was seeded (Luke Cotton at 120 lbs.). In the first five finals matches, the Crusaders won three championships and earned a runner-up title. After 132 lbs., though, the Crusaders could only watch.
SHOUT OUT FOR LOGAN HEFNER
Sophomore Logan Hefner was entered by Holy Cross at 220 lbs. In the 2016 state championships Hefner did not win a match, going 0-2. This season, against Louisiana competition, Hefner had a record of 10-13, and that mark was well below what was needed to be seeded. Hence, Hefner easily could have gone 0-2 again. Instead, he pinned Sulphur's Thomas Adams in his first match in 2:57. Next, he lost to Lafayette's Andrew Hiatt in a 15-2 Major Decision. In the consolation rounds, Hefner pinned Bonnabel's Malik Smith in 1:28. His fourth match was a 5-4 loss to St. Amant's Karl Mires that knocked Hefner out of the tournament. Hefner scored only seven points, which was the lowest of any of his teammates.

However, the Tigers defeated Jesuit by only 6.5 points. Without Hefner's seven points, the Brother Melchior Trophy would be at the corner of North Carrollton Avenue and Banks Street instead of on Paris Avenue.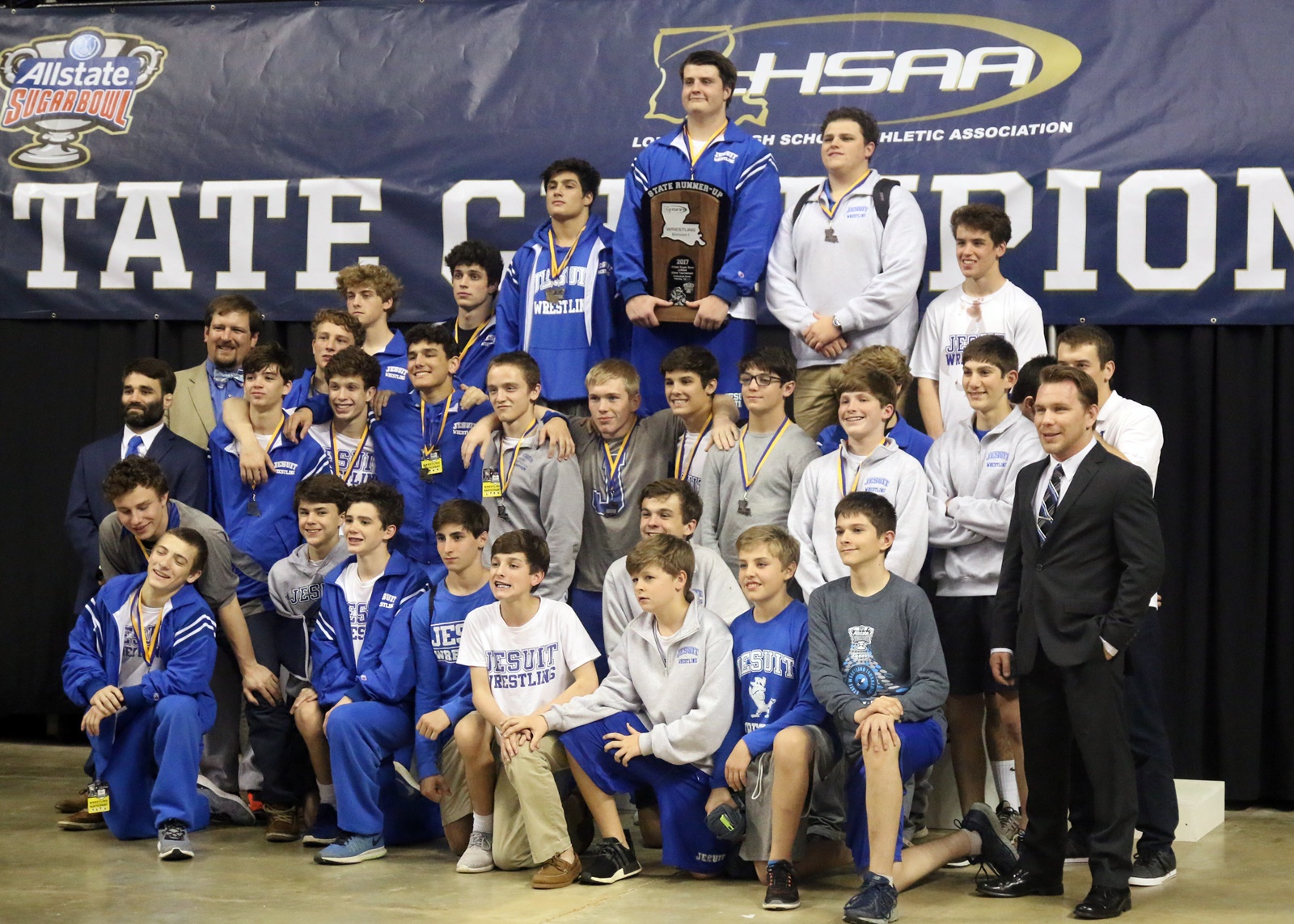 The Jesuit Blue Jays placed second for the fifth consecutive year, and six of the last seven years. They last won the Division I team championship in 2009 when Carlos Bertot, now at Brother Martin, was the head coach. This year the Blue Jays had three state champions in Nathan Koenig, Perry Ganci and Corey Dublin.
FINAL TEAM SCORES
| | | | | | | | | | | | |
| --- | --- | --- | --- | --- | --- | --- | --- | --- | --- | --- | --- |
| Place | Team | Points | Place | Team | Points | Place | Team | Points | Place | Team | Points |
| 1 | Holy Cross | 305 | 8 | Catholic | 158 | 15 | Lafayette | 61 | 22 | Covington | 38 |
| 2 | Jesuit | 298.5 | 9 | East Ascension | 130.5 | 16 | Zachary | 53 | 23 | Dutchtown | 36.5 |
| 3 | Brother Martin | 277 | 10 | Sulphur | 95.5 | 17 | Acadiana | 52 | 24 | Baton Rouge | 27 |
| 4 | St. Paul's | 178 | 11 | Hahnville | 84 | 18 | Fontainebleau | 51 | 25 | Bonnabel | 23.5 |
| 5 | Airline | 172 | 12 | John Ehret | 76 | 19 | Chalmette | 42 | 26 | Walker | 22 |
| 6 | St. Amant | 161 | 13 | Barbe | 71.5 | 20 | Mandeville | 41 | 27 | C.E. Byrd | 14 |
| 7 | Comeaux | 159.5 | 14 | McKinley | 65 | 21 | Destrehan | 40 | 28 | L.W. Higgins | 4 |
---
© 2017 by Louisiana Wrestling News
You may not make electronic copies of these copyrighted materials nor redistribute them to 3rd parties in any form without written permission.