| | | |
| --- | --- | --- |
| | | Fini |
---
Brother Martin "B" team, plus Steven Shields, dominates Ken Cole Invitational
June 6th, 2015 | Written by: Editor
With only 12 entrants and only one varsity starter, the Brother Martin Crusaders handily won the 41st Ken Cole Invitational, held on January 20th and 21st at Comeaux High School in Lafayette. The Crusaders scored 229 points, which was 60 points more than the runner-up team from De la Salle. Garnering third place were the Teurlings Catholic Rebels.
Most of what Brother Martin wanted to establish re state tournament seeding was handled last week at the Louisiana Classic. One Crusader, however, and the one nobody expected to, stumbled last week by only placing third, possibly jeopardizing a #1 seed in Bossier City. That Crusader decided that situation should be remedied at this weekend's Ken Cole Invitational at Comeaux High School.

Three-time defending Division I state champion Steven Shields was upset in the semifinals of the LA Classic by East Ascension freshman Trent Mahoney. Hence, Shields, accompanied a Crusaders team of non-starters, sought a rematch with Mahoney at the Ken Cole. The decision worked as both Shields and Mahoney made it to the finals, and Shields walked away with a 9-2 win. Due to a Louisiana Classic win over Holy Cross' Cole Clement, Shields should be a #1 seed at the state championships at either 132 lbs. or 126 lbs., depending upon where his coaches believe is best for the Crusaders to earn their sixth consecutive Division I team title.

Shields and unseeded Logan Bertot won championships for the Crusaders, and nine of the remaining 10 Brother Martin wrestlers placed sixth or higher.
| | |
| --- | --- |
| | |
| The De la Salle Cavaliers placed second | Teurlings Catholic Rebels placed third |
Final Team Scores
| | | | | | | | | | | | | | | | | | | |
| --- | --- | --- | --- | --- | --- | --- | --- | --- | --- | --- | --- | --- | --- | --- | --- | --- | --- | --- |
| Place | School | Points | | Place | School | Points | | Place | School | Points | | Place | School | Points | | Place | School | Points |
| 1 | Brother Martin | 229 | | 11 | Ouachita Christian | 97 | | 21 | Fontainebleau | 67 | | T-30 | Sulphur | 36 | | 41 | East Jefferson | 14 |
| 2 | De la Salle | 169 | | 12 | Airline | 94.5 | | 22 | North Desoto | 66.5 | | 32 | Dutchtown | 35 | | 42 | Baton Rouge | 12 |
| 3 | Teurlings Catholic | 124 | | 13 | Rayne | 93.5 | | 23 | Carencro | 65.5 | | 33 | Church Point | 32 | | 43 | Episcopal | 10 |
| 4 | East Ascension | 122 | | 14 | John Curtis | 90 | | 24 | St. Paul's | 59 | | T-34 | Dunham | 30 | | T-44 | Higgins | 7 |
| T-5 | Comeaux | 119.5 | | 15 | St. Louis | 88.5 | | T-25 | Holy Cross | 43 | | T-34 | Hahnville | 30 | | T-44 | Summerfield | 7 |
| T-5 | Parkway | 119.5 | | 16 | Lafayette | 80 | | T-25 | Northside | 43 | | 36 | Kaplan | 22 | | T-46 | St. Thomas More | 6 |
| 7 | Jesuit | 117 | | T-17 | Central | 73 | | 27 | Acadiana | 40 | | 37 | Mandeville | 21.5 | | T-46 | Zachary | 6 |
| 8 | John Ehret | 110 | | T-17 | North Vermillion | 73 | | 28 | Haughton | 39 | | 38 | Thomas Jefferson | 19 | | 48 | Walker | 4 |
| 9 | St. Amant | 106.5 | | 19 | Barbe | 71 | | 29 | Sam Houston | 38 | | 39 | Crescent City | 18 | | 49 | South Cameron | 3 |
| 10 | Brusly | 103.5 | | 20 | Basile | 70.5 | | T-30 | Catholic | 36 | | 40 | South Plaquemines | 15 | | | | |
Outstanding Wrestlers
| | | | | | |
| --- | --- | --- | --- | --- | --- |
| | Jesuit's Parry Ganci won the "Most Pin in the Least Time" Award. The Blue Jay pinned five opponents in 1:34, 1:39, 0.41, 0:44 and 4:19 for a total of 8:57. Ganci placed third in the 220 lbs. weight class. | | Basile sophomore Gavin Christ was voted the Outstanding Wrestler in the lighter weights. Christ scored pins in 1:26, 1:12 and 3:00, and recorded a 10-7 over Rayne's Morgan Manuel in the semifinals. Top-seeded Brier Babin of St. Amant. Christ decisively avenged that loss with a 11-6 finals victory over Babin. | | De la Salle's Conrad Wyre was voted the Outstanding Wrestler award in the heavier weights. Wyre had two first minute falls which he followed with two major decisions. In the finals, Wyre pinned Parkway's Dalton Driggers. |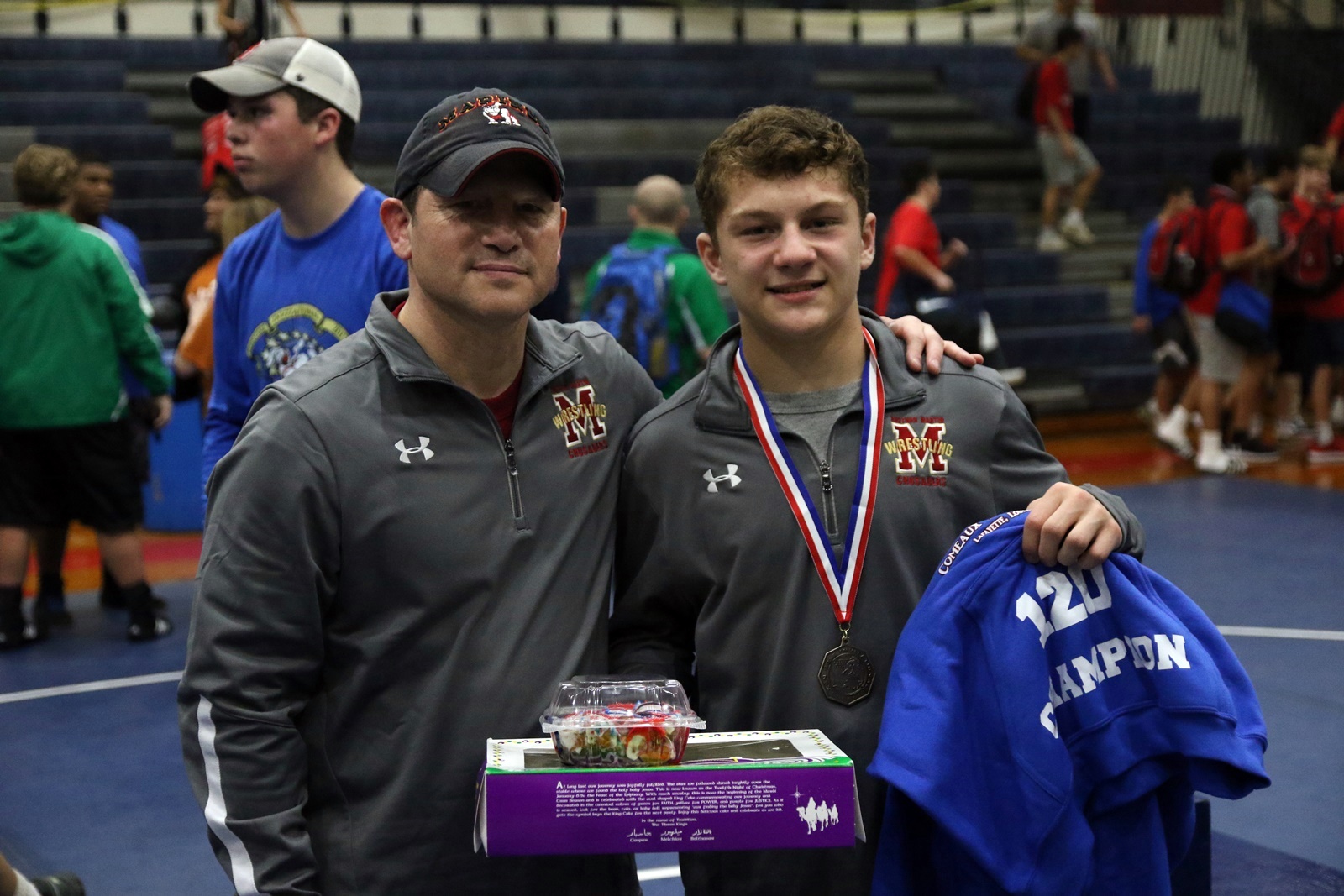 Brother Martin Coach Carlos Bertot and son
Logan, who won the 120 lbs. weight class