| | | |
| --- | --- | --- |
| | | Fini |
---
End of 2017 update
January 3rd, 2018| Written by: Editor
Twenty-nine teams converged on the Lamar-Dixon Expo Center in Gonzales Louisiana for the 2017 Deep South Duals. The event, held on Thursday, December 28th, and Friday, December 29th, was a dual meet competition with pools on the first day qualifying teams for championship brackets on Friday.
Perennial Georgia powerhouse Jefferson High School of Jefferson, Georgia, dominated the competition. The Dragon won their pool rounds by scores of 75-3, 84-0, 84-0, 76-6 and 75-6. In Saturday's championship bracket, the Dragons received a first-round bye, and then defeated Sulphur 72-12 in the quarterfinals and Rockwall High School of Texas, 61-15, in the semifinals. In their last match they faced the team from Pigeon Forge, Tennessee, and won 60-15. While Pigeon Forge and Rockwall did not meet each other in the event, one can say Pigeon forge did fare the best against the Dragon, as six of Rockwall's 15 points were due to an injury forfeit. The Jefferson wrestler was not seriously hurt, but as the winner of the match was already a foregone conclusion, the Jefferson coaches forfeited the match for safety concerns.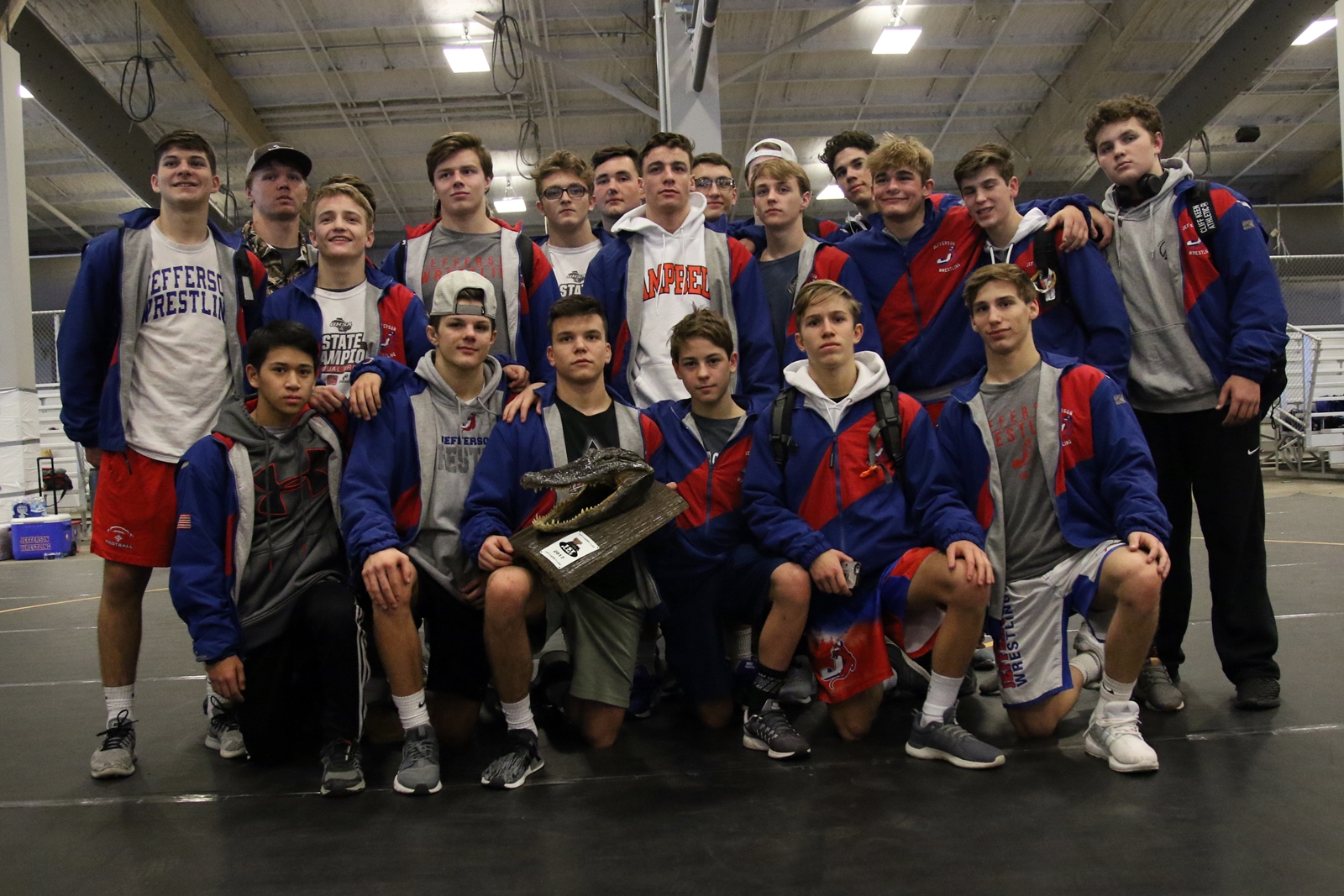 The Jefferson High School Dragons won their second Deep South Bayou Duals championship
OW Dawson Bates

Outstanding Wrestler Awards

The Outstanding Wrestler awards went to members of the teams that met in the finals.

In the lighter weight classes, Dawson Bates of Jefferson, at 132 lbs., won the award. Bates won seven of his matches via falls, with none lasting through the first period (1:27, 0:15, 1:31, 0:33, 0:24, 2:00 and 0:48). The only match in which Bates did not score a fall was in the semifinals against Rockwall's Chase Howerton, against whom Bates scored a 12-3 major decision.

In the heavier weight classes, Pigeon Forge's Ethan Olinger won the honors. Olinger wrestled eight matches, three at 182 lbs. and five at 195 lbs. He scored falls in all of them in times of 1:36, 1:14*, 2:39, 0:35*, 0:26*, 1:27*, 3:22 and 1:22*.

* Denotes matches at 195 lbs.

OW Ethan Olinger
The highest finish by a Louisiana team was by East Ascension, who placed fourth. The Spartans won their pools with victories of 60-22 over Acadiana, 52-18 over Niceville, FL, 39-35 over Arlington, TN, 52-22 over John Curtis and 75-6 over Hahnville.
In the championship brackets competition on Saturday, East Ascension defeated Lafayette 66-15, and, in the quarterfinals, got past St. Amant 45-31. In the semifinals, despite a one forfeit advantage, the Spartans fell to Pigeon Forge of Tennessee 45-29. In the consolation finals, Rockwall, Texas defeated East Ascension 56-24.
A second-string Brother Martin team placed fifth. Other Louisiana teams placing in the top-16 were St. Amant (7th), Sulphur (8th), De la Salle (9th), Live Oak (12th), Hannan (13th), Lafayette (14th) and Shaw (15th).
| | | | |
| --- | --- | --- | --- |
| | | | |
| Runners-up - Pigeon Forge, TN | 3rd Place - Rockwall, TX | 4th Place - East Ascension | 8th Place - Sulphur |
| | |
| --- | --- |
| | In his fifth season coaching the St. Amant Gators, Coach Brian Hess notched his 100th win in dual meet competitions at the Deep South Bayou Duals. Hess's St. Amant Gators went 6-3 in the event and finished in seventh place. The Gators defeated Fontainebleau 48-24, Hannan 56-21, North Vermillion 53-25, Ridgeland, GA, 41-28, De la Salle 40-36 and Sulphur 43-36. |
Through the first part of the 2017-18 season it looked as if the Parkway Panthers were the team to beat in Division II. The Panthers won the Riot on the Red by 21 points over Division I competitor Airline. Then they won the Jacob McMillan by 54 points over runner-up Comeaux, but more importantly, by 57 points over four-time defending Division II team champion Teurlings Catholic.
On Friday and Saturday, the 29th and 30th of December, the Parkway Lone Survivor tournament changed all of that. Teurlings adjusted their line-up from the Jacob McMillan, putting four different Rebels in the line-up. The changes were made in the 120 lbs., 152 lbs., 160 lbs. and 220 lbs. weight classes. In the Jacob McMillan, those four weight classes scored a total of 32.5 points for the Rebels. In the Lone Survivor, the new Rebel wrestlers in those weight classes combined for 109.5 points, leading the Rebels to a 50-point win over Parkway for the team championship. The Rebels convincingly debunked the conjecture about their prowess in a Louisiana Wrestling News article of September 15th. The Rebels scored 376.5 points, the Panthers 326.5, and the Airline Vikings finished third with 318.5 points.
| | | |
| --- | --- | --- |
| | | |
| Airline Lone Survivor champions D.J. Evans, Tucker Almond and Matt Salinas | Basile placers Gavin Christ (1st), Isaac Cortez (2nd), Alex Menier (4th) and Blake Menier (3rd) | Rayne placers Morgan Manuel (3rd), Cooper Simon (1st) and Tyler Carriere (2nd) |
Three Outstanding Wrestler awards were presented when the tournament was over. In the lighter weight classes, Gavin Christ of Basile (left) recorded four falls and a technical fall in Friday's pool rounds, and a fall followed by a tough 9-4 semifinal victory over Rayne's Morgan Manuel, and a 5-2 decision over Parkways defending Division II state champion Trey Fontenot.

John Michael Christler of North Desoto won the award for the middle weight classes. At 152 lbs., Christler only recorded a 3-2 record in the pool rounds, which led to a #5 seed in Saturday's championship bracket. Christler went "on a tear" Saturday pinning his first opponent in 2:47, his semifinals opponent, top-seeded Austin Pratt of Teurlings Catholic (a non-scorer for TC) in 2:48, and then second-seeded Carlos Femmer, also of Teurlings Catholic, in 2:54 for the championship.

In the heavier weight classes, the honor went to Daniel Monroe of Haughton at 220 lbs. In a rematch of last year's Division II state finals, Monroe met Rayne's Tyler Carriere in the finals. In that event Carrier prevailed in a close 3-2 match. This match was even closer, as it went to the end of the second overtime period when Monroe scored a fall at 7:00.
Teurlings Catholic, as they have done before, won with top placements rather than championships. They did win two individual titles, as Colten Sonnier won at 113 lbs. and Miles Santiago at 285 lbs. The Rebels, though, had runners-up at 106 lbs., 145 lbs. and 152 lbs., third-place finishes at 120 lbs., 138 lbs., 170 lbs., 182 lbs. and 220 lbs., and fourth-place finishers at 126 lbs. and 160 lbs.
Out-of-state teams dominated the Evangel Holiday Classic last weekend, taking first, second and third-place honors. Ouachita Christian finished fourth, but the next highest Louisiana team finish was by host Evangel, who placed ninth.
Jefferson City, Missouri placed first with 289 points. They were followed by Poteau, Oklahoma with 212.5 points and then Little Rock Central of Arkansas, with 210 points. Ouachita Christian scored 164 points.
Louisiana schools did not earn any individual championships, but six Louisiana wrestlers made it to the finals. From Ouachita Christian Van Matherne at 132 lbs., Mikey Gordy at 138 lbs., Matthew Matherne at 145 lbs., Matthew Webre at 160 lbs. and Connor Costello at 170 lbs. placed second, while Evangel's Datremecious "Trey" White did the same at 285 lbs.
An article on this event, published by the Shreveport Times and written by Shawn C. White, may be found here: Missouri wrestlers take Holiday Classic team title.
The East Ascension Spartans wrested the Jambalaya Cup from St. Amant, ending the Gators' three-year reign as Ascension Parish champions. The annual dual meet event between Dutchtown, East Ascension and St. Amant was last won by the Spartans in 2014.
Bringing the Cup back to Gonzales was not an easy task for the Spartans. They had placed second to the Gators in three tournaments, the Central Wildcat Open, the Spartan Invitational and the Griffin Open, before finally switching spots when they won the Zachary Big Horse, again breaking a three-year hold on that title by St. Amant. At the Bayou Duals, East Ascension defeated St. Amant 45-31 in the quarterfinals, but the Jambalaya Cup was a different matter.
The Spartans and the Gators had little problem with the rebuilding Dutchtown Griffins. East Ascension beat them 57-12; St. Amant 45-27. Nobody doubted the Cup would be won by a Spartans-Gators match.
The Gators started off with an 8-0 lead behind a Garrett Parks decision over Brandon Bivins and a Hunter Hawkins technical fall over Reginald Barnes. Kyle Chatman pinned Alex Newman for East Ascension's first points, and two St. Amant forfeits gave the Spartans an 18-8 lead. Devon Clark added to that lead with a major decision over Nicholas Fusilier, and pins by Jordan Campbell (over Haven Bruce) and Anthony Krass (over Ty Didier) gave the Spartans what was close to an insurmountable lead. But the Gators came back. A forfeit for Corey Brownell made the score 34-14. Tyree Morris then pinned Albert Beauford and Jaden Snyder pinned Devin Deranger. That made the score 34-26 in East Ascension's favor, and after a major decision by Cody Comeaux over Gahzy Mazlum, the Gators pulled within four points at 34-30. Two matches remained, and the Gators had to win both to repeat as Jambalaya Cup champions. The Spartans, however, still had their "ace in the hole" in Trent Mahoney, who during the last two days recorded a 9-0 record, all by falls, in the Bayou Duals. He faced Joseph Cagayao, whom he had defeated in three previous matches, and Mahoney guaranteed a Spartan championship via a fall in 3:29. Nakie Brown pinned David Pellerin to give the Gators a total of 36 points, but it was not enough as East Ascension had 40. Someone evidently "pulled a stupid" which cost the Spartans a team point for unsportsmanlike conduct, but they nevertheless won the match with a final 39-36 score.
LEFT: The Jambalaya Cup winning East Ascension Spartans, with Trent Mahoney posing as Joe Namath. CENTER: The Jambalaya Cup. RIGHT: East Ascension's Trent Mahoney after winning the match that assured the Spartans of their first Jambalaya Cup in four years.
The four top Division I teams in Louisiana headed to Atlanta last weekend for the Holy Innocents Prep Slam X tournament. Brother Martin placed second with 210 points, 37.5 points removed from champion St. Christopher. St. Paul's finished 6th, Holy Cross 8th and Jesuit 12th.
Jesuit was the only New Orleans school to earn a championship, won by Perry Ganci at 220 pounds. After an R32 bye, Ganci pinned his R16 opponent in 0:25 and his quarterfinals opponent in 5:06. In the semifinals Ganci scored another fall, this time in 4:10. In the finals against Jens Ames of St. Christopher, Ganci won his title via a 7-4 score.
| | | | | | | | | |
| --- | --- | --- | --- | --- | --- | --- | --- | --- |
| SCHOOL | WEIGHT | WRESTLER | PLACE | | SCHOOL | WEIGHT | WRESTLER | PLACE |
| Brother Martin | 120 | Daniel Croy | 2nd | | St. Paul's | 152 | Grant Hughes | 3rd |
| Brother Martin | 285 | Mack Brown | 2nd | | St. Paul's | 113 | Connor Oviedo | 5th |
| Brother Martin | 145 | Patrick Evans | 4th | | St. Paul's | 120 | Peyton Ward | 5th |
| Brother Martin | 132 | Alex Duncan | 5th | | St. Paul's | 126 | Brandon Stein | 5th |
| Brother Martin | 195 | Garrett Legendre | 5th | | Holy Cross | 120 | Michael Lundin | 4th |
| Brother Martin | 132 | Luke Cotton | 5th | | Holy Cross | 170 | Caden Mumme | 5th |
| Brother Martin | 152 | Seth Alfonso | 5th | | Holy Cross | 285 | Brady Maillet | 5th |
| Brother Martin | 113 | Ethan Castex | 6th | | Jesuit | 220 | Perry Ganci | 1st |
| Brother Martin | 170 | Mason Massicot | 6th | | Jesuit | 182 | Thomas Arseneaux | 4th |
| St. Paul's | 138 | Cole Houser | 3rd | | Jesuit | 126 | Luke Eccles | 6th |
LEFT: Daniel Croy (2nd) and Michael Lundin (4th) on the awards podium. RIGHT: Michael Lundin with his fourth-place medal.
---
© 2017-8 by Louisiana Wrestling News
You may not make electronic copies of these copyrighted materials nor redistribute them to 3rd parties in any form without written permission.