| | | |
| --- | --- | --- |
| | | Fini |
---
Panthers run away from opponents by over 50 points at Jacob McMillan
January 10th, 2018 | Written by: Editor
In the Jacob McMillan Memorial Tournament, held on December 16th, 2017, at Lafayette High School, Parkway made themselves noticed. The Panthers showed themselves to be a legitimate contender to supplant Teurlings Catholic re the Division II state team championship. Parway put six wrestlers in the finals and won three championships: Trey Fontenot at 132lbs., Carson Sanders at 170 lbs. and Khaleb Garcia at 182 lbs.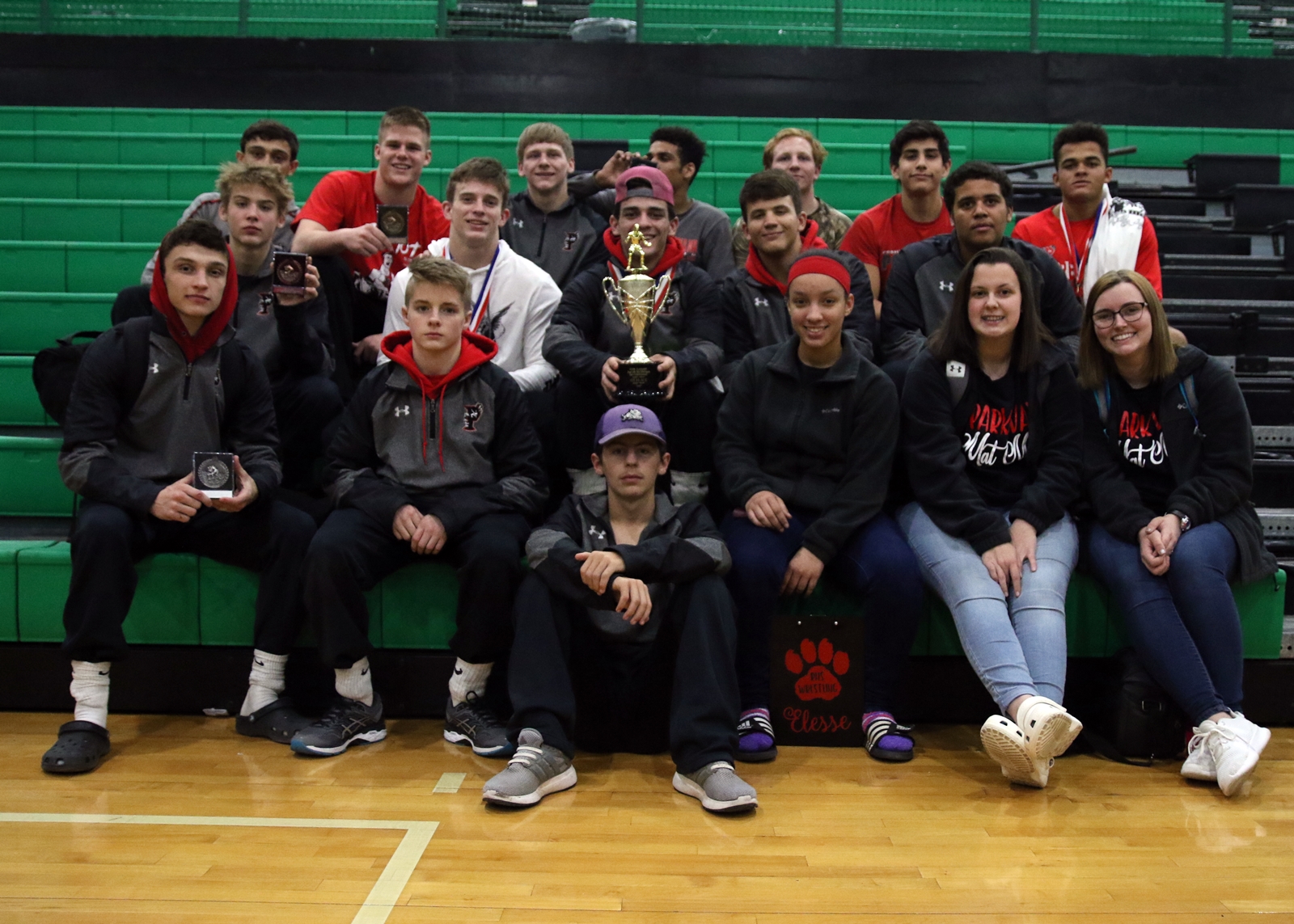 1st Place - Parkway Panthers
The Comeaux Spartans, who placed second, 54 points behind the Panthers, won three consecutive weight classes. Dylan Ames won at 145 lbs., Charles Hudson at 152 lbs. and Evan Richards at 160 lbs.
The Rebels of Teurlings Catholic won "bookend" championships. Matthew Carrier won at 106 lbs. and Miles Santiago at 285 lbs.
The remaining champions were Jordan Theall of North Vermillion at 120 lbs., Cooper Simon of Rayne at 126 lbs., Gavin Christ of Basile at 138 lbs., Hunter Dominguez of Church Point at 195 lbs. and Dwight Johnson of Sulphur.
| | |
| --- | --- |
| | |
| 2nd Place - Comeaux | 7th Place - Church Point |
The most exciting match was unquestionably the 132 lbs. finals between Trey Fontenot of Parkway and Jacob Routon of Church Point. Fontenot is a returning 2017 Division II state champion, while Routon placed third in Division III. Routon flustered Fontenot throughout most of the match, hanging on to a 2-0 lead. Whomever had the choice in the third period chose to start in the neutral position, and Routon held off Fontenot's attempts to tie the match with a takedown. With about 20 seconds remaining, however, Fontenot managed to throw Routon to his back for a 5-2 lead, which is how the match ended.
| | | |
| --- | --- | --- |
| | | |
| Cooper Simon and Alex Yokubaitis | Evan Richards | Gavin Christ and Grandmother |
Three wrestlers won Outstanding Wrestler awards. In the lower weight classes, the vote was tied between Rayne's Alex Yokubaitis and Rayne's Cooper Simon. Yokubaitis defeated Teurlings Catholic's Colten Sonnier, the only opponent who defeated Yokubaitis twice in the 2016-7 season. Simon blew through his weight class with falls of 0:30, 0:28, a 20-2 technical fall and a 10-1 major decision in the finals. In the heavier weight classes, the award went to Evan Richards of Comeaux. Richards, who was undefeated, defeated 2017's Division I runner-up Dustin Doucet of Sulphur 3-2. Having been plagued with injuries since the 2017 Ken Cole (on January 21st, 2017), Richards first match this season was on December 2nd.
The toughest weight class may have been 138 lbs., which included two-time defending Division III state champion Gavin Christ, who is undefeated on the season, defending Division II state champion Trevor Tamburo, who was undefeated prior to the finals match, and Comeaux's Dyllon Bernard, who placed 4th in the 2017 Division I state championships and was undefeated until his 3-2 loss to Tamburo in the semifinals. As a consolation, Christ received a hug from his grandmother.
---
© 2018 by Louisiana Wrestling News
You may not make electronic copies of these copyrighted materials nor redistribute them to 3rd parties in any form without written permission.