| | | |
| --- | --- | --- |
| | | Fini |
---
Parkway wins Ken Cole, East Ascension nips Comeaux for second
January 29th, 2018 | Written by: Editor
Once again, a team showed that having no individual champions does not mean they cannot win. The Parkway Panthers did that at the 2018 Ken Cole Invitational, held Friday and Saturday, January 26th and 27th, at Comeaux High School in Lafayette. The Panthers had three runners-up, a third-place finish, a fourth-place finish and three sixth-place finishes to outscore runner-up East Ascension 176.5 to 154.5. Comeaux placed third, just 1.5 points behind East Ascension with 153 points. After Friday's action the Panthers were in third place, behind East Ascension and Teurlings Catholic.
East Ascension had a champion in Jordan Campbell, the top-seed at 285 lbs. and host Comeaux had two champions: top-seeded Dyllon Bernard at 138 lbs. and second-seeded Shelby Savoie at 170 lbs.
The fourth through tenth spots went to (with champions in parentheses) Brother Martin, Teurlings Catholic, Ouachita Christian (Matthew Matherne at 145 lbs.)), Rayne (Cooper Simon and Tyler Carriere at 126 lbs. and 195 lbs., respectively)), St. Amant (Hunter Hawkins at 160 lbs.), Zachary and St. Louis (Alex Yokubaitis at 113 lbs.).
Champions not among the top-ten teams were Sam Dreuil of Jesuit (seeded fourth at 106 lbs.), Justin Theall of North Vermillion (seeded first at 120 lbs.), Gavin Christ of Basile (seeded first at 132 lbs.), Camdyn Ingram of Live Oak (seeded first at 152 lbs.), Dane Harter (seeded first at 182 lbs.) and Daniel Monroe of Haughton (seeded second at 220 lbs.).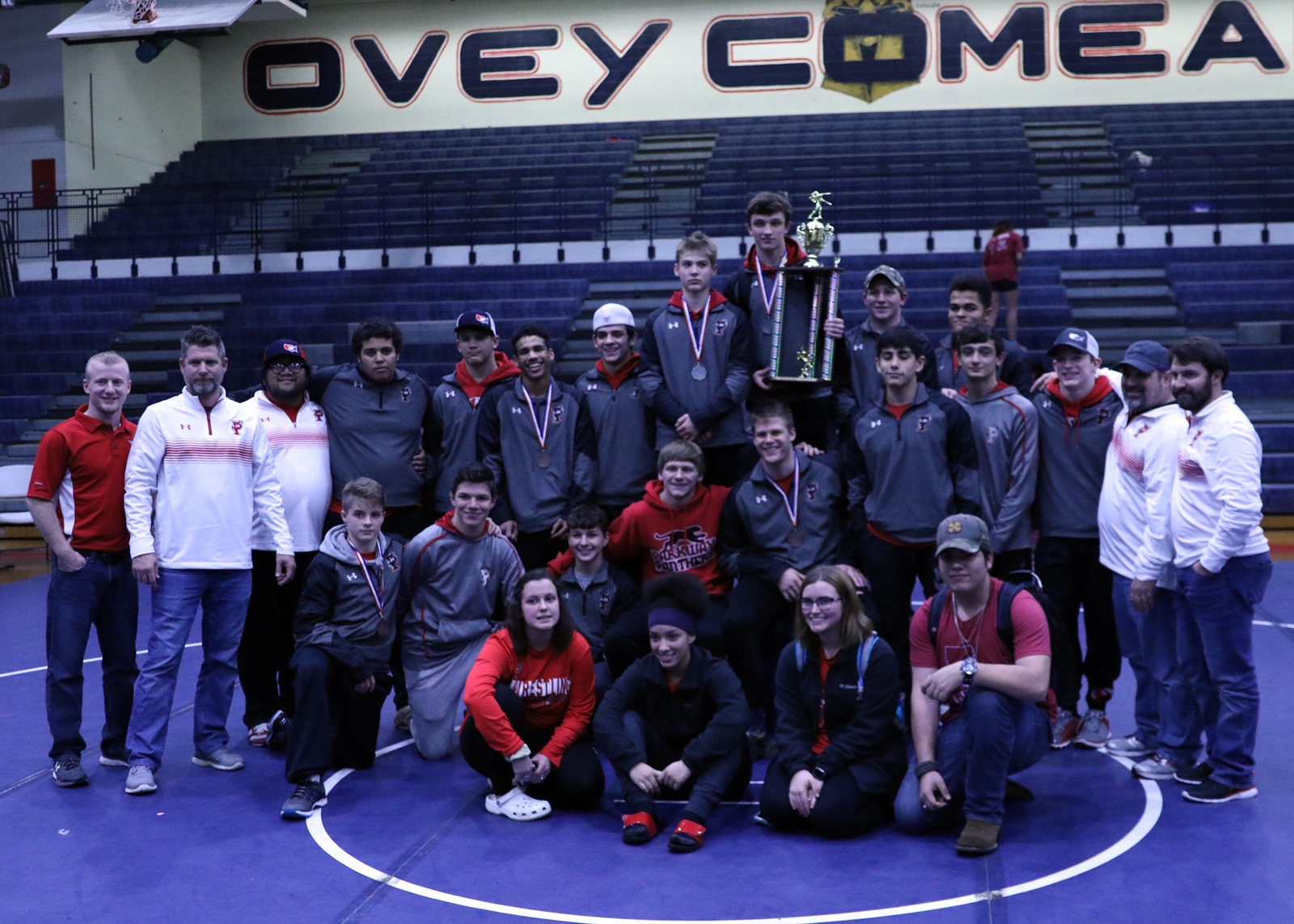 Champions - Parkway Panthers
| | |
| --- | --- |
| | |
| 2nd - East Ascension Spartans | 3rd - Comeaux Spartans |
Individual Champions

106 lbs.
113 lbs.
120 lbs.
126 lbs.
132 lbs.
138 lbs.
145 lbs.

NOT AVAILABLE




FOR PHOTO




(Facing a very long




road back to Monroe, Ouachita Christian




did not remain for the




awards ceremonies.)

Sam Dreuil
Jesuit
Alex Yokubaitis
St. Louis
Jordan Theall
North Vermillion
Cooper Simon
Rayne
Gavin Christ
Basile
Dyllon Bernard
Comeaux
Matthew Matherne
Ouachita Christian
152 lbs.
160 lbs.
170 lbs.
182 lbs.
195 lbs.
220 lbs.
185 lbs.
Camdyn Ingram
Live Oak
Hunter Hawkins
St. Amant
Shelby Savoie
Comeaux
Dane Harter
St. Michael
Tyler Carriere
Rayne
Daniel Monroe
Haughton
Jordan Campbell
East Ascension
Individual Awards
| | |
| --- | --- |
| Left: | North Vermillion's Drake Griffin won the Most Pins/Least Time award. Griffin, who placed third at 285 lbs., who wrestled an 8-1 tournament, recorded seven pins of 1:09, 0:35, 1:56, 1:34, 1:53, 3:39 and 1:00, for a combined time of 11:49, including one over Baton Rouge's Chandler Crawford, who pinned Griffin in 3:38 on Round 2, to earn third place. |
| Center Left: | The 132 lbs. weight class was not just arguably, but definitely the toughest of the tournament. Top-seeded and undefeated Basile junior Gavin Christ destroyed it. Christ recorded a pin in 1:00 in Round 1, in 3:15 in Round 2, and 1:15 in the quarterfinals. In the semifinals he showed he was human by only recording a 15-0 technical fall. In the finals against East Ascension's Trent Mahoney, Christ won 10-3. Aside from Christ and Mahoney, this weight class also had Parkway's defending Division II state champion Trey Fontenot, Division II third-place winner Morgan Manuel, Ouachita Christian's Mikey Gordy, Riley Horvath of Brother Martin, Cody Comeaux of St. Amant, Christian Satchell of Sam Houston and Jacob Routon of Church Point. For his efforts Christ was recognized as the Lower Weight Classes Outstanding Wrestler award, which he also won in 2017. |
| Center Right: | St. Michael the Archangel's Dane Harter remained undefeated at 182 lbs. He defeated his first opponent by a 19-4 technical fall, and won his quarterfinals match against a tough Haven Dominguez of Church Point with a fall in 4:58. In the semifinals he pinned Ouachita Christian's Connor Costello in 1:11, and required only 3:00 to pin Parkway's Kaleb Garcia in the finals. Costello and Dominguez should be high seeds in the Division III state championships, and Harter may face Garcia in the semifinals or finals of the Division II state championships. For his domination of the 182 lbs. weight class Harter received the Heavier Weight Classes Outstanding Wrestler award. |
Lagniappe
Two-time Winners
The event marked the second consecutive Ken Cole championships for Cooper Simon, Gavin Christ, Matthew Matherne and Hunter Hawkins.
"Big Three" Contenders
Christ and Ingram remain undefeated in Louisiana. Those two, along with Rayne's Cooper Simon and Tyler Carrier, and St. Michael's Dane Harter, have a chance to win the mythical "Big Three," the Louisiana Classic, the Ken Cole Invitational and an LHSAA state championship.
Match of the Tournament
The story of the tournament was the 132 lbs. consolation finals match between second-seeded Trey Fontenot of Parkway and sixth-seeded Morgan Manual of Rayne. In last year's Division II state semifinals, Fontenot defeated Manuel 6-5 in an Ultimate tie-breaker (UTB) round. Fontenot went on the win a state championship and Manuel placed third. This match appeared to be won on a last-second takedown (the editor cannot recall if that took place at the end of the third period or the end of a Sudden Victory period). The wrestlers removed their ankle bands, shook hands, and the official raised Manuel's hand in victory. After acknowledging the Parkway coaches, Manuel left the mat.
Morgan Manuel reacts after finally winning his 132 lbs. consolation finals match against Parkway's Trey Fontenot

It was then that the Parkway coaches ask for an explanation of how Manuel was awarded the final takedown. The match was officiated by only one official, a matter that may undergo revision for future third-place matches. A bevy of officials, however, were in the middle of the four mats, and some veterans were asked for their interpretations of the last seconds of the match. When all was said and done at the scorers' table, the takedown points were disallowed, and Manuel was called back to the mat.

By this time a large crowd had amassed along the barricades and around the two other edges of the mats not used by the scorers' table. It was definitely a partisan Rayne crowd, due to Rayne's proximity to Lafayette, but Parkway fans made their voices known.

In the overtime rounds each wrestler scored an escape, and the match went into the UTB round. By virtue of winning the coin toss between the first and second periods, Manuel was given his choice of starting positions, and he chose to be on the bottom. It took about 15 seconds, but Manuel escaped to finally win the match outright.
The lessons of this match are for the tournament directors and the coaches. In a tournament of this size, two officials probably should referee 3rd-4th place and 5th-6th place matches. And if coaches have an issue with an official's call, they should make that known before the wrestlers shake hands, the winner's hand is held up by the official, and one of the wrestlers legally leaves the mat.
It is important to know that neither Fontenot nor Manuel did anything wrong. Fontenot had every reason to act astounded at the call which originally ended the match, and it turned out that, according to the observations of veteran officials, he was correct. Yet before that determination, as disappointed as he was, Fontenot accepted the call and went to the center of the mat to shake Manuel's hand. And while the crowd during the match was definitely "Pro-Rayne," they were not "Anti-Parkway." This was evidenced in that no disparaging remarks, groans or other negative intonations were displayed by the fans when Parkway wrestlers entered their finals matches, took their places on the podium or when the team were* recognized as the tournament champions.
| | | |
| --- | --- | --- |
| | With a determined look, and not wanting to miss any action, Gabe Dalton used his size advantage to gain an unimpeded view of the final minutes of the match. | |
* A retired St. Martin's Episcopal School English teacher said to use "were" in this context is wrong, and that as "team" is a "collective" term, "was" is the proper word to use. This, however, contradicts J.R.R. Tolkien's use of "The Company were..." when speaking of the "Fellowship of the Ring" in the Lord of the Rings trilogy. The retired teacher may be correct, despite Tolkien's role as an editor of the Oxford English Dictionary. In this circumstance, however, the editor used "were" merely to elicit a debate among readers.
Officials "In Action" and Inaction
Miscellaneous
The Comeaux Honor Guard and the singing of the National Anthem by Comeaux wrestling junior Lillian Richoux
| | |
| --- | --- |
| Photos 1 & 2: | After winning this event in 2017, St. Amant's champion Hunter Hawkins forgot any etiquette he learned then. This year on the awards podium, his medal is on backward, and he dropped his King Cake (returned to him by Coach Keith Bergeron). |
| Photo # 3: | 138 lbs. champion Dyllon Bernard with his little brother Kelby and father Bernard, Glenn Bernard. |
| Photos 4 & 5: | Gabe Dalton getting in front of the camera yet again! |
| Photo 6: | Trent Mahoney monitoring his stock portfolio. |
---
© 2018 by Louisiana Wrestling News
You may not make electronic copies of these copyrighted materials nor redistribute them to 3rd parties in any form without written permission.