| | | |
| --- | --- | --- |
| | | Status: Still Working |
---
Crusaders lead after a day of upsets at the Louisiana Classic
January 13th, 2018 | Written by: Editor
The Brother Martin Crusaders opened up a 50-point lead over the second-place Holy Cross Tigers after the first day of the 45th Louisiana Classic. Held at the Lamar-Dixon Expo Center in Gonzales, Louisiana, the tournament generally attracts the toughest competition in the state, including wrestlers from each of the Divisions into which schools are classified for the state championships.
Jesuit, with 82 points, is third, 14.5 points behind Holy Cross' 96.5 points. Parkway and Teurlings Catholic are tied for fourth with 80 points.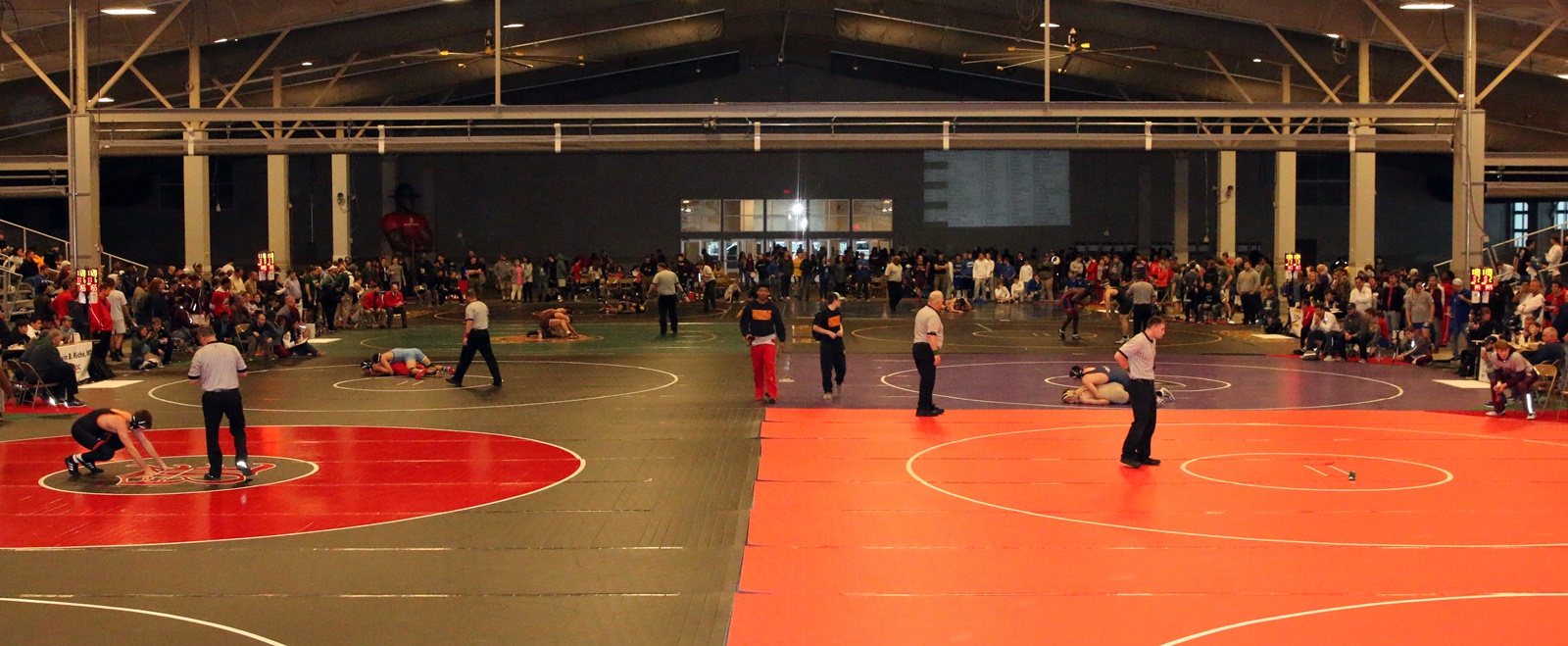 This year marks the first time that the tournament is run as a double-elimination event. In previous seasons, to cut down on the longevity and space required for the tournament, wrestlers who lost a match before the quarterfinals only qualified for the consolation rounds if the wrestler they lost to advanced to the semifinals.
The Crusaders lead the rest of the field with seven semifinalists. Holy Cross has five and Jesuit has three. Four Blue Jays were eliminated on the first day, as were three Tigers. The Crusaders still have their original 14-man contingent participating on Saturday.
Upsets
Upsets are, of course, what most people most want to hear about - otherwise the top seeds would get the trophies for their seed and there would be no reason to have a season. There were plenty of upsets on Friday.
Two #1 seeds, four #2 seeds, five #3 seeds and six #4 seeds fell on the first day of competition. A list of the upsets of the #1-#4 seeds is presented below:
| | |
| --- | --- |
| Weight | Upsets of the Top-Four Seeds |
| 106 | #1 Jacob Frost, according to many witnesses (albeit disputed by his brother Evan), pinned himself in 1:52 while tilting De la Salle's Zachary Lauland. If that was a fluke, Lauland did not see it that way. Lauland went on to defeat #8 Cameron Witherwax of St. Louis via a fall in 2:53 to earn a trip to the semifinals. That match will be against St. Paul's #5 Carter Duet, who pinned Jesuit's Ben Dreuil in 5:32 after Dreuil pinned Chad Baradell, the #4 seed from Bonnabel, in 5:02. |
| 113 | No upsets of the top-four seeds occurred. |
| 120 | #6 Josh Fitzpatrick defeated #3 Tyrick Clay of Carencro 8-5 in the quarterfinals. |
| 126 | #5 Jacob Spahn of Holy Cross pinned #4 Raheem Bonnet of Shaw in 3:10 in the quarterfinals. |
| 132 | No upsets of the top-four seeds occurred. |
| 138 | #2 Trent Mahoney of East Ascension was defeated 10-8 in a Sudden Victory match by #7 Richard Mack, III in the quarterfinals. #3 Mikey Gordy of Ouachita Christian was also upset in the quarterfinals, losing a 3-1 match to Brother Martin's Alex Duncan. |
| 145 | #5 Nakie Brown of St. Amant defeated #4 Tucker Almond of Airline 6-3 in the quarterfinals. |
| 152 | #2 Nathan Koenig of Jesuit lost in the second round via a fall in 3:47 by Charles Hudson of Comeaux. Huson then pinned #7, Christopher Allen of Covington, in 0:30. |
| 160 | #1 Hunter Hawkins was upset in the quarterfinals 12-6 by #8 Paul Treuting of Jesuit. #2 Brison Adams of Covington was also upset in the quarterfinals, via a fall in 0:28 by #7 Mataius Lavine of Sam Houston. Seth Alfonso of Brother Martin, seeded #4, lost a 6-3 quarterfinals match to #5 Evan Richards of Comeaux. |
| 170 | No upsets of the top-four seeds occurred. |
| 182 | No upsets of the top-four seeds occurred. |
| 195 | #6 Garrett Legendre of Brother Martin defeated #3 Kyle Boell of Fontainebleau 13-0 in the quarterfinals. #4, Brandon Young of Brusly also fell in the quarterfinals to Rayne's Tyler Carriere via a 2:47 fall. |
| 220 | De la Salle's Eric Hamrick, a #7, defeated #2 Devon Clark of East Ascension 4-3. Kanyn Barton of Sam Houston upset #5 John Drake of John Curtis10-2, and then defeated #4 Evan Miller of Fontainebleau 8-6 in a Sudden Victory round. |
| 285 | #6 Jeremiah James of De la Salle pinned #3 Roberto Rivero of Grace King in 0:18. |
A selection of Friday's Upsets:

Unseeded Zachary Lauland (DLS) pinned #8 Cameron Witherwax (StL) in 2:53; #7 Richard Mack, III defeated #2 Trent Mahoney (EA) 10-8 SV; #7 Mataius Lavine (SH) pinned #2 Brison Adams (COV) in 0:28; #8 Paul Treuting (JES) defeated #1 Hunter Hawkins (StA) 12-6; #7 Eric Hamrick (DLS) defeated #2 Devon Clark (EA) 4-3
---
© 2018 by Louisiana Wrestling News
You may not make electronic copies of these copyrighted materials nor redistribute them to 3rd parties in any form without written permission.