| | | |
| --- | --- | --- |
| | | Fini |
---
Wrestlers off the mats present a slew of emotions
May 30th, 2018| Written by: Editor
Just as wrestling is not like any other high school sport, so is the state championship tournament. This is not an event that takes three hours to complete - it takes two days. Most of that time is spent off of the mats (Brother Martin's Daniel Croy spent a whole 7:36 on the mats in his five matches). The "off" time often consists of laughs, sometimes tears after a loss, recuperation and rest (sleep if possible), "jawing," social media, homework (yeah, right!), preparations for a future match, coaching, eating and drinking. (There should be more "Scrabble.") These photographs try to capture those moments when the athletes are not eyeing each other's every nuance to gain an edge.
These photos are not organized in any particular manner. Were they noted by names or schools, the reader would not be seeing this in May of 2018. Hence, just seeing one picture of a wrestler or wrestlers does not mean others will not be found further down the page, Gavin.
Numbers on the left are for photo location purposes.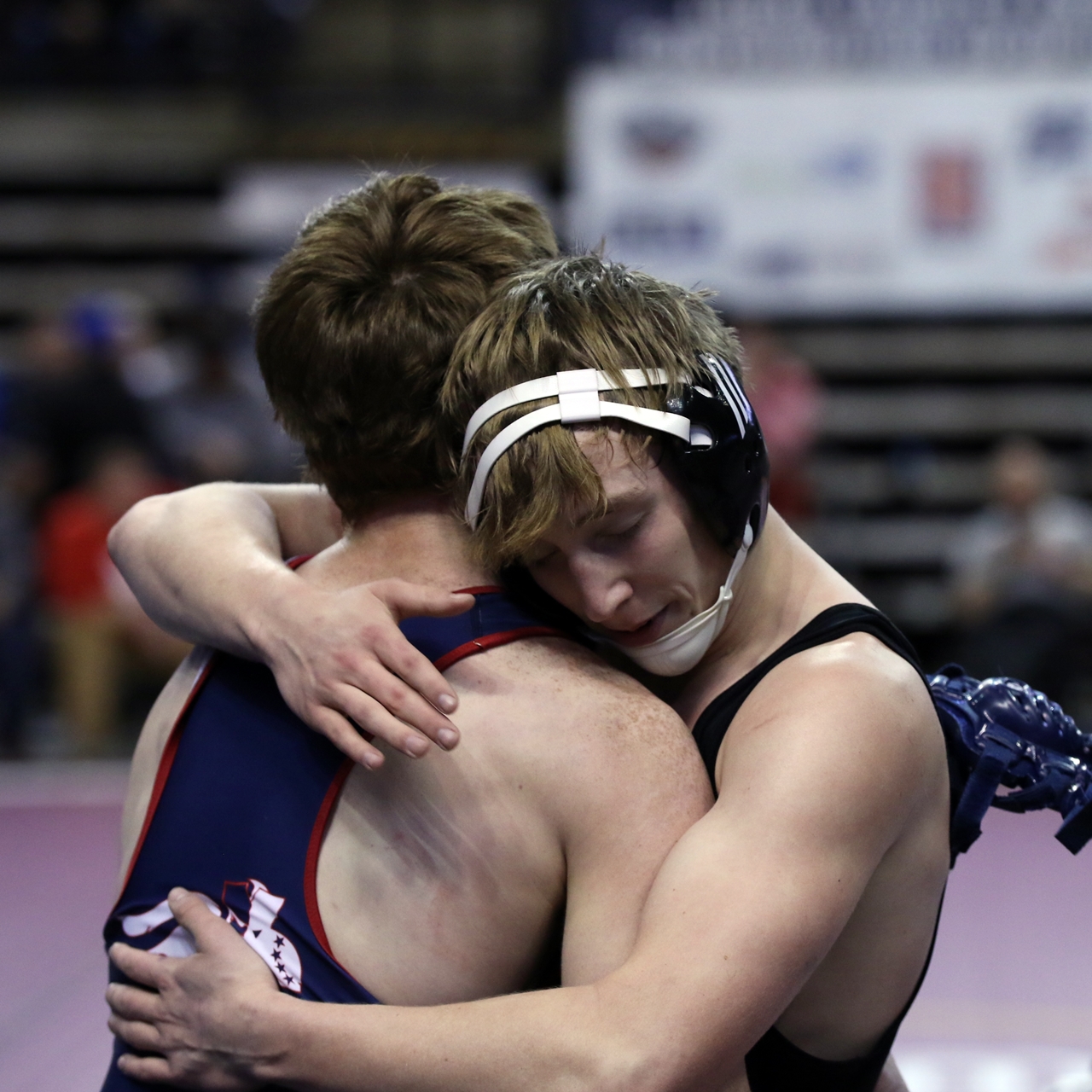 Tyrin Hoover (North Vermillion) and Ashton Gaspard (Kaplan) wrestled each other four times this season. Each won twice, alternating the outcomes. This picture epitomizes the respect wrestlers often have for someone they only recently met, from a different school in a different area of the state, yet who also suffered through months of grueling practices and preparation. Wrestlers appreciate other wrestlers via factors that are not comprehensible to athletes in other high school sports.
1
2.
3
4

5
6
7
8
9
10
11
12
13
14
---
© 2018 by Louisiana Wrestling News
You may not make electronic copies of these copyrighted materials nor redistribute them to 3rd parties in any form without written permission.