| | | |
| --- | --- | --- |
| | | Fini |
---
2018 LHSAA State Wrestling Championships another success story for Shreveport/Bossier City
LHSAA State Wrestling Tournament - February 16-17 2018
May 30th, 2018 | Written by: Editor
The CenturyLink Center in Bossier City, Louisiana, was the setting of the 2018 LHSAA State Wrestling Championships, held on February 16th and 17th. As it had in the 2016 and 2017, the Shreveport-Bossier Sports Commission put on an excellent event, with the assistance of the LHSAA, CenturyLink Center personnel, and local area high school coaches, parents and fans.
A new yet seemingly popular twist was added in this year's tournament. Instead of delaying the start of most finals matches to present awards for the top six placers in each division on one podium, each division had their own podium and awards for completed weight classes were presented after the 145 lbs. and 285 lbs. finals were completed, which substantially cut into the time required to complete the last session.
Another time-saving innovation was used to shorten the introduction of the finalists. In previous years finalists ran in from the wings of the building to shake hands in the center of the mat. This was done in a darkened arena with spotlights following the wrestlers, and the finalists' season records, school GPAs and notable tournament achievements were announced. Several wrestlers mentioned that while the hoopla of such an entrance was rather neat, they preferred to just shake hands with their opponents and get ready for their matches.
Denied a school record sixth consecutive Division I team title in 2017, the Crusaders started a new streak, outscoring runner-up Jesuit by 86.5 points. In Division II, Teurlings Catholic matched the Crusaders with their fifth consecutive Division II championship (the Rebel's seventh in the last eight years), but they shared that honor with the Parkway Panthers, who won their last Division II championship in 2006. Parkway and Teurlings Catholic each scored 244.5 points, which was 70 points better than third-place finisher Live Oak.
In Division III, St. Louis Catholic stopped De la Salle's streak at two by winning their first team title by 4.5 points over two-time defending team champion De la Salle. The Saints scored 209 points to 204.5 for the Cavaliers.
Division I
Brother Martin Crusaders
Division II
Tie - Parkway Panthers and Teurlings Catholic Rebels
Division III
St. Louis Catholic Saints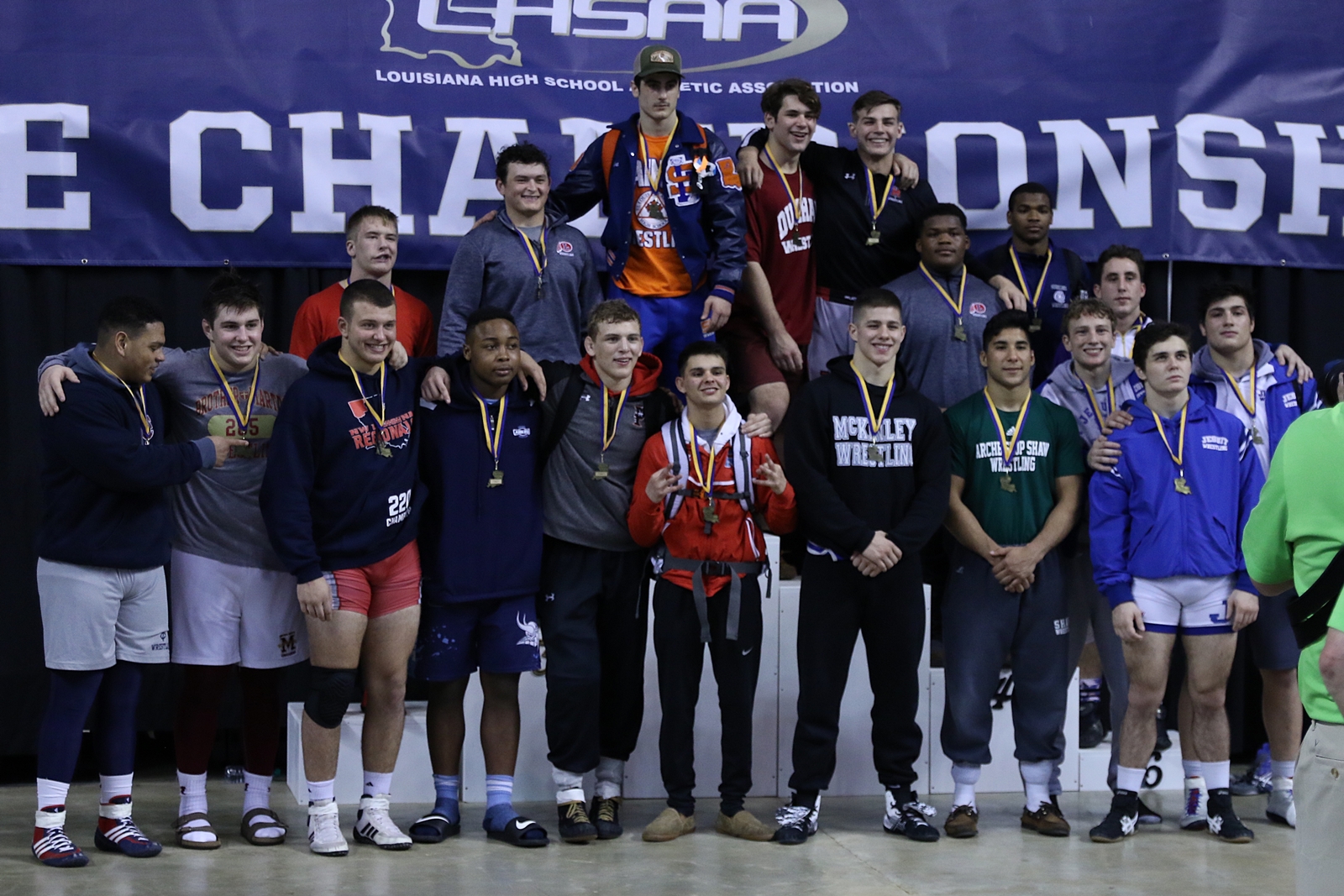 A random assortment of state champions from all three divisions:
[Top L-R]: Isaac Cortez (Basile), Mason Sparks (Lakeside), Robert Christman (St. Louis), Robert Rabel (Dunham), Dane Harter (St. Michael), D.J. Harvey (Lakeside)
[Bottom L-R]: Miles Santiago (Teurlings Catholic), Mack Brown (Brother Martin), D.J. Monroe (Haughton), D.J. Evans (Airline), Dalton Driggers (Parkway), Blake Mateau (Rummel), Gavin Bonilla (McKinley), Eduardo Garcia (Shaw), Nathan Koenig (Jesuit), Paul Treuting (Jesuit), Perry Ganci (Jesuit)
For the third straight year the CenturyLink Center in Bossier City provided a great venue for the tournament. Seating was plentiful, and those who argue that was because the crowds were not as big as in previous years in Kenner, they should recall the CenturyLink Center has a capacity of 14,000, as compared to the 4,600 of the Pontchartrain Center. The overall gate has been lower than the Pontchartrain Center's was in numerous past years, but empty seats as a whole is not an indicator of that. Additionally, the CenturyLink Center was simply more comfortable than the last years in the Pontchartrain Center, when a foursome often had trouble finding places to sit together to view the last session's finals matches.
An invocation and a U.S. Marine Corps Honor Guard preluded the singing of the National Anthem.
2018 All-Academic 2018 All-Academic Composite Wrestling Team
Each of the wrestlers pictured below maintained a 4.0 grade point average in the 2017-18 academic year: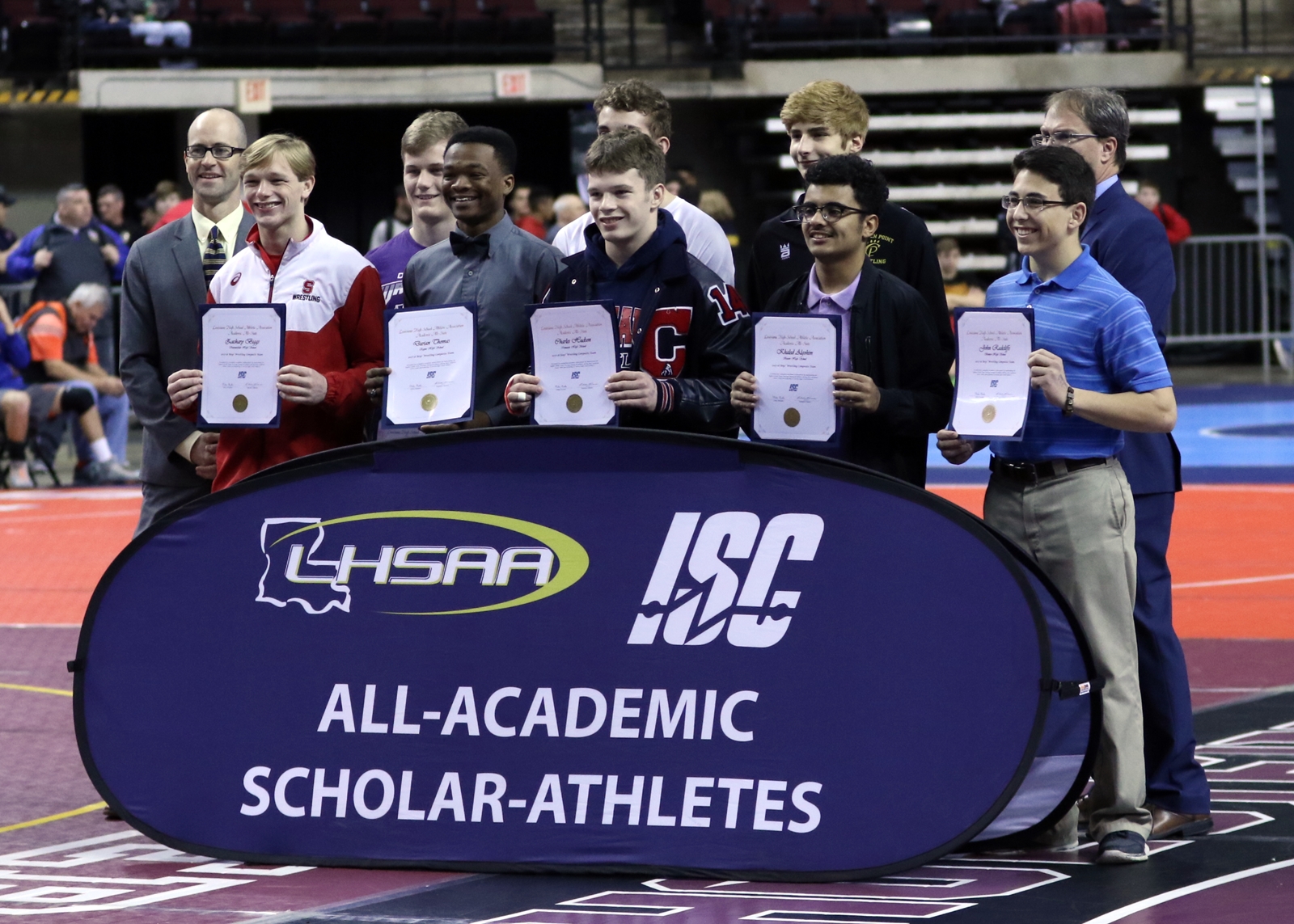 TOP

: All-Academic Scholar-Athletes.

MIDDLE

: Khaled Algohim - Bossier; Zachary Biggs - Summerfield; Connor Costello - Ouachita Christian; Charles Hudson - Comeaux.

BOTTOM

: Matthew Johnson - Dutchtown; John Radcliffe - Benton; Jacob Routon - Church Point; Darian Thomas - Rayne
List of the All-Academic Boys Wrestling Class Team members from Divisions I, II and III
These wrestlers include those who averaged a 2017-18 academic year GPA of 3.5 or higher.
Coverage by the New Orleans Times-Picayune
50 Years Ago
| | |
| --- | --- |
| 03-25-1968 | Holy Cross won the team title for the 22nd time, nipping East Jefferson by one point, 89 to 88. This was the last Tigers team coached by the legendary Brother Melchior. Notables in this event include the late East Jefferson coach George Trygg and former official Gary Ashbury, who placed first for East Jefferson. At 127 lbs. former West Jefferson coach John Ruth of Jesuit was the runner-up, the distinguished Cliff Strider, who retired last year as the Louisiana Rules Interpreter and Head Official, place third for the Warriors and would win the following year for East Jefferson, and former Fontainebleau coach and now Athletic Director Rick Zimmer placed fourth. |
25 Years Ago
02-14-1993

Behind state championship performances by Rene Baumer, Richard Barnett, Mike Hanemann and Sean Griletta Jesuit won its second of what would be 17 Division I state championships for coach Sam Harnsongkram. The Blue Jays outscored runner-up Northside by 97 points.

In Division II Tim McCall's South Cameron Tarpons defeated the Basile Bearcats by 12 points. Winners in that event included Teurlings Catholic coach Brad Macha and Gavin Christ's stepfather Chris Briscoe of Basile. Basile Coach Kevin Bushnell and NOMMA coach Herb Juneau placed fifth. Sean Grace, the uncle of Jesuit's Chris Grace, was a runner-up for St. Martin's.
10 Years Ago
Division I
Division II
Sidebars and
Division III Results
Summaries
(D I, D II, D III)
All-Metro GNO
02-10-2008
02-10-2008
02-10-2008
02-10-2008
03-02-2008
Division I: According to the seeding committee, Jesuit should have had three finalists and Catholic should have had two. As it turned out, though, only two Blue Jays, both seeded second, made it to the finals. However, both of them lost. Catholic, however, had one #1 seed and one #2 seed, both of whom won. Catholic had nine others who placed in the top-six, but four of them advanced to the finals. At 113 lbs. Blake Savoie, seeded 4th, won a championship. Next, Alex Hurst won at 120 lbs., only that was not a surprise at he was seeded 1st. At 130 lbs. Beau Town was seeded #3 but made the finals. At 145 lbs. #6 seed Ben Carroll made the finals. Trent Fresina was seeded 2nd but won at 152 lbs. and John Luckett placed second when he was seeded third. While it was Fresina's win that gave the Bears the four points by which they won, the main reason for Catholic's victory was that seven of their wrestlers placed higher than their seeding indicated they would, and only one did not (a 5th-seed who placed 6th). Five Blue Jays finished higher than they were expected, but only two placed as high as third-place. Catholic appears to simply have been better prepared for the state tournament.
Division II:
In the Division II team championship Northside clipped Shaw by seven points. Second-place is the best Shaw has ever placed (they would do it again in the following year). Two of Shaw's two finalists who were seeded 1st placed 2nd. That is an eight-point swing, which was all Northside needed. Shaw's champions were Raymond Savoie, Blaise Pertuit, John Dantagnan and Alex Rutledge. Runners-up for the Eagles were Brandon Surrency, Stefan Valencia, Ben Collins and Steven Blair.
Division III:
Little is mentioned about Division III, despite that two wrestlers, one from Fisher and one from John Curtis, won titles. The two sentences published only stated that Brusly had an insurmountable lead over Redemptorist, and that Brusly won its 4th consecutive Division III team championship. Eight Panther wrestlers won championships: Blake Panepinto, Ethan Wunstall, Nick Paul, Mark Myers, Ty Welch, Willie Young, Anthony Hood and Alex Schofield.
Louisiana Wrestling News Photographers
THANKS!

This article could not be as extensive as it is without the help of the people on the left who volunteered to get paid to cover this event with me.





Emily Schmidt (née Hamman) helped me in 2016 when she was a senior at Centenary College. For the 2017 event she recruited Miss Anna Tedesco and Mr. Matthew Stroud. With those four shooting (often in "burst mode" up to 10 photographs per second) I went home with 20,000 photographs.





For this event Emily recruited Anthony Benedetto, and now there were five of use taking photographs during the event. They arrived about a half-hour before wrestling started on Friday and Saturday and stayed through the duration, even taking photos after all of the awards were distributed. I "nixed" their using the "burst mode" options and I left Bossier City with only 15,000 photographs. I did purchase another two cameras and several great lenses last year prior to the tournament, but that only allowed me to get more usable photos. It is the equipment that I blame for making me only throw-out only about 11,000 and taking over two months to produce this article!





Please tell them "hello" when you see them "out and about" in Shreveport or Bossier City proudly wearing their

LWN

t-shirts (as often as washing them allows, I am sure). Without them a lot of wrestlers would not have a chance to see themselves on the Web.



| | | | | |
| --- | --- | --- | --- | --- |
| | | | | |
| Emily Schmidt (née Hamman) | Anna Tedesco | Matthew Stroud | Anthony Benedetto | Editor* |
* Emily took this photo as the editor was swallowing a large gulp of Coke. She found it to be very amusing.
LWN Photographers:
---
© 2018 by Louisiana Wrestling News
You may not make electronic copies of these copyrighted materials nor redistribute them to 3rd parties in any form without written permission.