| | | |
| --- | --- | --- |
| | | Fini |
---
Croy wins a second title for the Crusaders and himself
LHSAA State Wrestling Tournament
Division I, 126 Pounds
May 30th, 2018 | Written by: Editor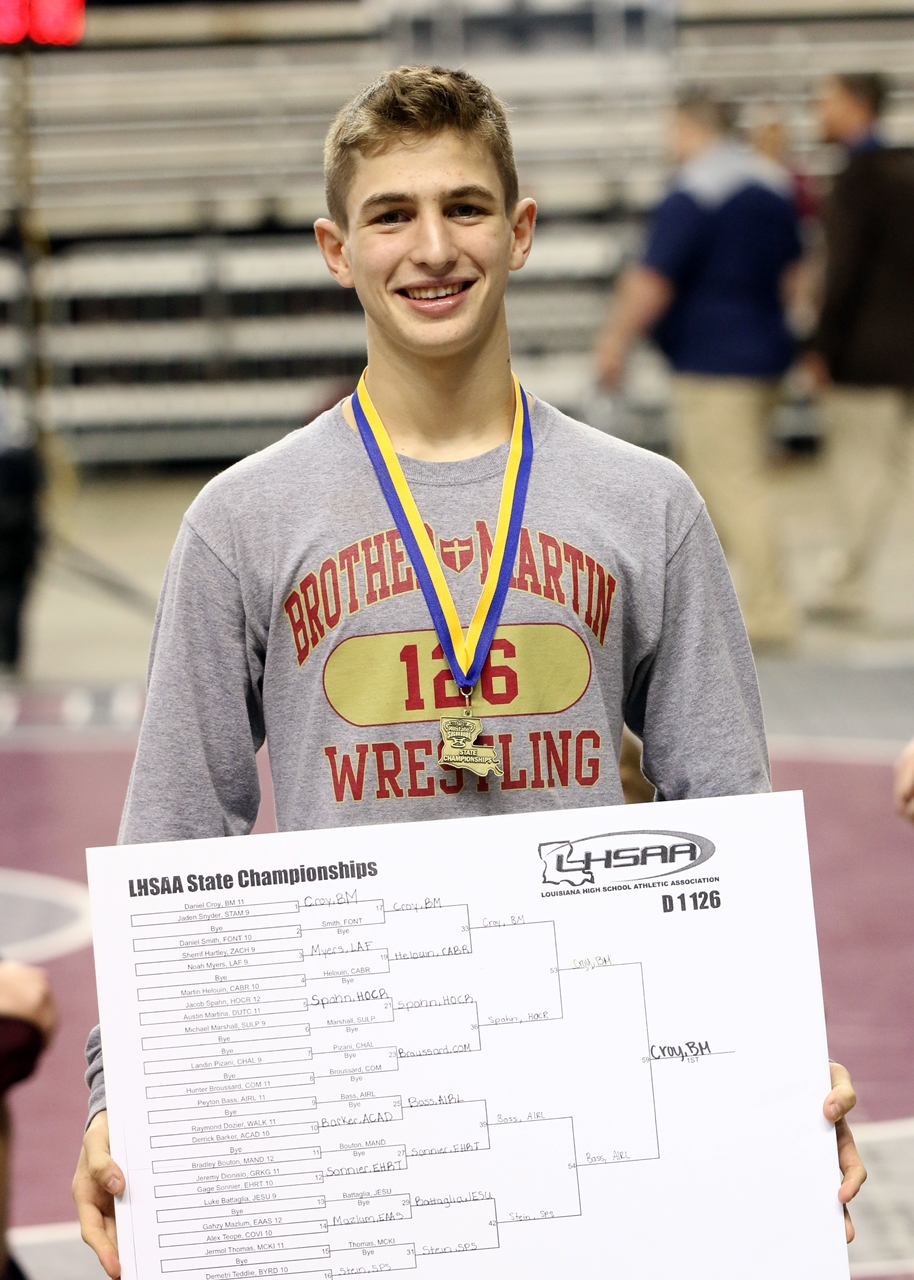 Daniel Croy with his second Division I wall decoration
| | | | | | | |
| --- | --- | --- | --- | --- | --- | --- |
| Place | 1st | 2nd | 3rd | 4th | 5th | 6th |
| Name | Daniel Croy | Peyton Bass | Jacob Spahn | Brandon Stein | Martin Helouin | Demetri Teddie |
| School | Brother Martin | Airline | Holy Cross | St. Paul's | Catholic | C. E. Byrd |
| Seed | 1 | 3 | 5 | 2 | 8 | Unseeded |
| Class | Junior | Junior | Senior | Junior | Sophomore | Sophomore |
Defending Division I state champion Daniel Croy owned the 126 lbs. weight class in Louisiana. His closest match against a Louisiana opponent was a 7-3 win over Holy Cross senior Jacob Spahn on December 15th. Croy had defeated second-seeded Brandon Stein of St. Paul's 10-1 in the Trey Culotta finals and scored a fall in 1:02 over third-seeded Payton Bass of Airline. Croy finished the season 30-0 against Louisiana competition, and 37-1 overall. His only loss was in the finals of the Prep Slam, and that was a close 7-5 match. His closest match in Louisiana was to an out-of-state wrestler. In the Louisiana Classic finals, he defeated South Walton's Ethan Pickren in a highly contested 3-2 match. (Pickren went on to place third in the Florida Division 1 class.) In his half of the Division I bracket, Croy scored a fall in 1:38 and defeated eighth-seeded Martin Helouin of Catholic in 3:13. In the semifinals he would face fifth-seeded Spahn who defeated fourth-seeded Hunter Broussard of Comeaux 5-1. Croy dominated Spahn in the semifinals with a fall in 1:09.
Sophomore Peyton Bass was 34-4 against Louisiana competition. He lost to Brother Martin's Lane Boudreaux and Rummel's Chris Montalbano each 10-5, Rayne's Cooper Simon 7-1, and his last loss was to second-seeded Brandon Stein of St. Paul's, 7-2. After byes in the first and second rounds, Bass' first match was a quarterfinals battle with talented John Ehret sophomore Gage Sonnier. He had to work for a 5-0 win that gave him a rematch against Stein. In an active match, the two were tied 8-8 after regulation ended, and it was Bass who scored a takedown in the Sudden Victory period to advance to the finals.
Bass initially tried to out-muscle Croy, but the Crusader junior was much too wily to allow that. A bear-hug/lateral attempt failed and Croy countered for the only takedown of the match. On bottom, Bass tried a Granby roll, but Croy stepped over it straight into a half-nelson, and then pretty much barb-wired Bass's head for a fall in 1:11. With the jubilation Bass exhibited after his semifinals win over Stein, advancing to the finals, even against Croy, probably did little to mar a great tournament for the Viking wrestler.
Croy and Crusader teammate Mack Brown (285 lbs.) were the only Division I champions who pinned all of their opponents. Croy averaged 1:52 per match and Brown averaged 2:45 (each had five matches.)
The Holy Cross senior Spahn made the consolation semifinals and finals very exciting in opposite ways. He had a point-fest in a 14-2 major decision over Byrd's Demetri Teddie, and followed that with a gut-wrenching 8-6 win in Sudden Victory over Stein. Stein had defeated Helouin via a fall in 2:49, but Helouin came back to place fifth with a 10-6 decision over Teddie.
R1: Gahzy Mazlum (EA) over Alex Teope (COV) 15-5 MD
R2: (3) Peyton Bass (AIR) over Derrick Barker (ACA) 18-2 TF
R2: (4) Hunter Broussard (COM) over Landin Pizani (CHL) in 3:14
R2: (8) Martin Helouin (CAT) over Noah Myers (LAF) in 5:33
(1) Daniel Croy (BM) over (8) Martin Helouin (CAT) in 3:13
(5) Jacob Spahn (HC) over (4) Hunter Broussard (COM) 5-1
(3) Peyton Bass (AIR) over (6) Gage Sonnier (EHR) 5-0
(2) Brandon Stein (STP) over (7) Luke Battaglia (JES) 8-2
(1) Daniel Croy (BM) over (5) Jacob Spahn (HC) in 1:09
(3) Peyton Bass (AIR) over (2) Brandon Stein (STP) 10-8 SV
C3: Derrick Barker (ACA) over Bradley Bouton (MND) in 2:48
Championship Consolation Rounds
(5) Jacob Spahn (HC) defeated (2) Brandon Stein (STP) 8-6 via SV to place 3rd
(8) Martin Helouin (CAT) defeated Demetri Teddie (BYR) 10-6 to place 5th
(1) Daniel Croy of Brother Martin pinned (3) Peyton Bass of Airline in 1:11
---
© 2017-18 by Louisiana Wrestling News
You may not make electronic copies of these copyrighted materials nor redistribute them to 3rd parties in any form without written permission.