| | | |
| --- | --- | --- |
| | | Fini |
---
Adam Larriviere wins the first title for the Blue Jays
LHSAA State Wrestling Tournament
Division I, 138 Pounds
May 30th, 2018 | Written by: Editor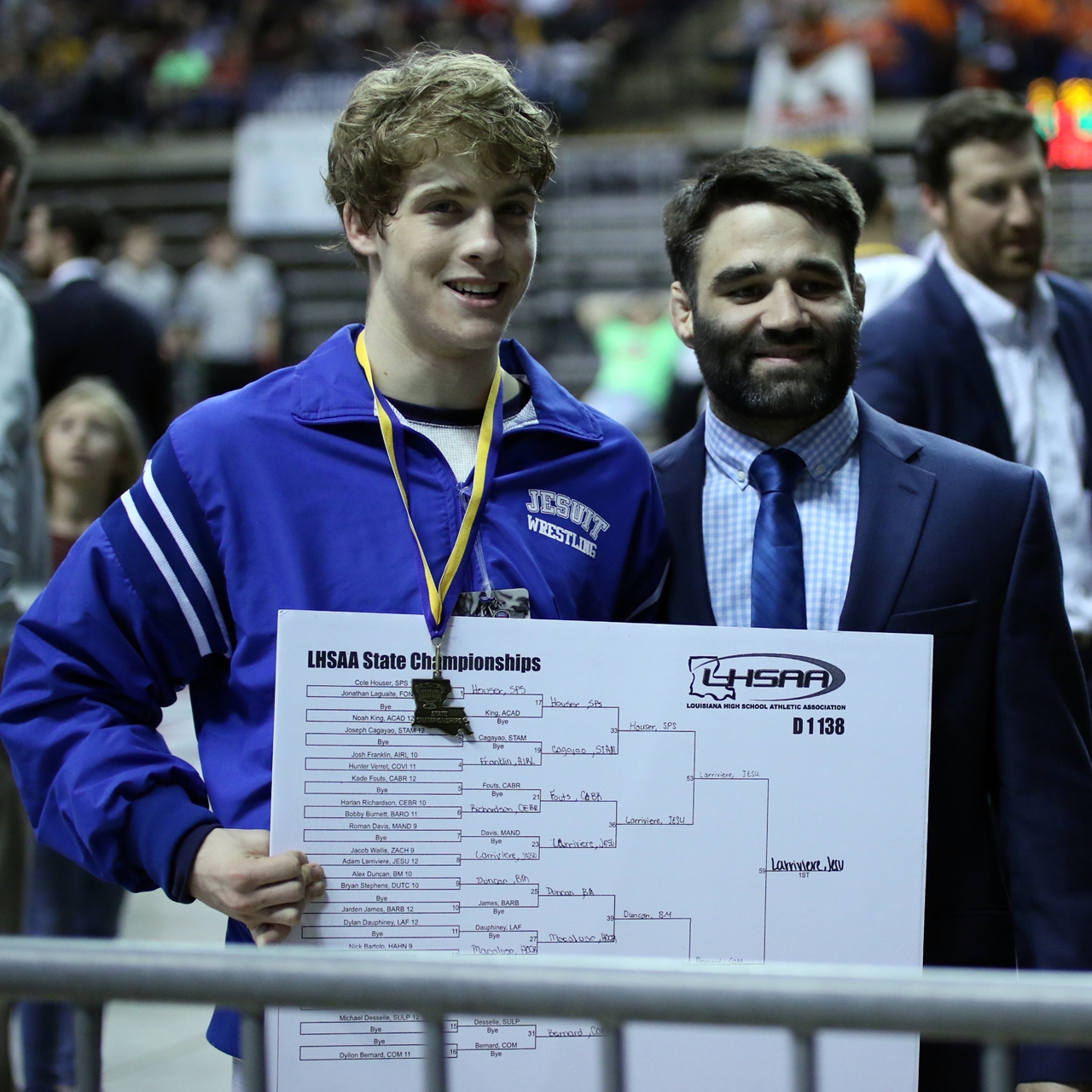 Jesuit champion Adam Larriviere with Blue Jays coach Sheridan Moran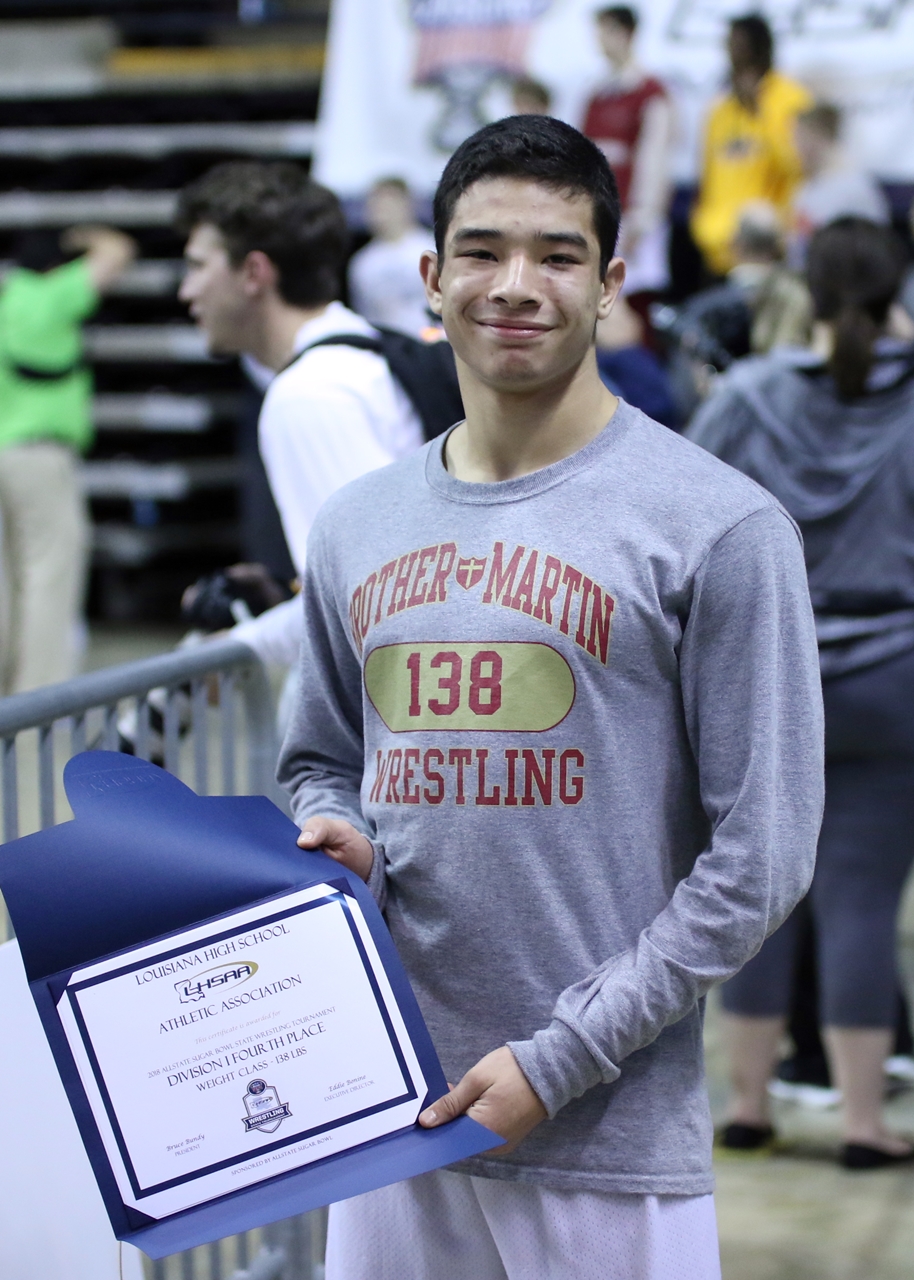 Alex Duncan placed
fourth for the Crusaders
| | | | | | | |
| --- | --- | --- | --- | --- | --- | --- |
| Place | 1st | 2nd | 3rd | 4th | 5th | 6th |
| Name | Adam Larriviere | Dyllon Bernard | Cole Houser | Alex Duncan | Kade Fouts | Mason Macaluso |
| School | Jesuit | Comeaux | St. Paul's | Brother Martin | Catholic | Holy Cross |
| Seed | 4 | 2 | 1 | 3 | 5 | 6 |
| Class | Senior | Junior | Senior | Sophomore | Senior | Junior |
Anyone who thought Cole Houser of St. Paul's would not collect his third consecutive Division I state championship title was in a very small minority. His sole loss on the season was via a 4-1 score to Andrew Pace of Tennessee at the Prep Slam in Atlanta, in which Houser recovered to place third. His overall record before the state championships was 38-1, including a South Walton Border Wars title, the Trey Culotta and his third Louisiana Classic title. He had defeated five of the top-eight seeds in the state championships: Dyllon Bernard of Comeaux, Alex Duncan of Brother Martin, Catholic's Kade Fouts, Mason Macaluso of Holy Cross and Joseph Cagayao of St. Amant. In the Trey Culotta finals he defeated the soon-to-be Division I 132 lbs. champion and Outstanding Wrestler award winner Trent Mahoney. He had only not faced Chalmette's Jackson Hoyle, who was in the bottom half of the bracket, and Jesuit's Adam Larriviere, who was seeded fourth. Larriviere, however, was in that aforementioned small minority who did not concede another title for Houser.
Larriviere was riddled with injuries during the season. His first match was on November 29th, and his next was not until December 29th. He also lost to Tennessee state champion Andrew Pace at the Prep Slam, and afterward only wrestled 13 matches. In those matches he defeated Division II state champion Trevor Tamburo of Parkway, Macaluso (whom he also defeated in the Prep Slam) and Richard Mack, III, of North Desoto. He placed fourth in the Louisiana Classic, with both of his losses coming from Trent Mahoney via scores of 11-4 and 10-4. Hence, in a day Larriviere got one-point better against the sophomore Spartan. Six days later he had gained three more points, losing to Mahoney 7-4 in a dual meet. After getting some matches "under his belt," Larriviere was improving.
Neither Adam nor his twin brother Eli can in any manner be considered "standard" on the mats. They both have legs and arms that run for miles and possess uncanny balance. They have a freakish "X" factor which, when awakened, defies many general laws of physics. Eli showed his in the 2016 state finals against the heavily favored and undefeated Javarious Jones of Airline. When Jones had a high single-leg on Eli, Eli flipped in a manner that perplexed Jones, to the tune of a 14-4 major decision for Larriviere, and which still perplexes the editor to this day.
Adam found something of that "X" factor in his semifinals match with Houser. They scrambled a lot in the first round, both coming close to scoring, and eventually Houser, after missing a chance to put Larriviere on his back, settled for a takedown and a 2-0 lead. But with Houser riding one leg and trying to force a half-nelson, Larriviere backed up and came behind Houser with a half-nelson of his own that put Houser on his back. Larriviere took a 5-2 lead into the second period. Choosing neutral to start, Houser could not get another takedown and the round also ended 5-2 in Larriviere's favor. On top for the third, Houser again applied the single-leg ride and a forced half, but Larriviere snuck out the back again for a reversal. Houser escaped, and at the end was awarded a stalling point, but Larriviere succeeded in doing what no other Louisiana wrestler had done since Steven Shields in the Trey Culotta finals of November 23rd, 2016. He defeated Houser 7-4.
Prior to the match with Houser Larriviere recorded falls in 2:18, 5:00 and, in the quarterfinals, an 8-3 decision over Catholic's Kade Fouts.
Seeded second was Comeaux junior Dyllon Bernard. The Spartan had a 31-5 record which was very impressive as his losses came from Houser and East Ascension's Trent Mahoney (both twice) and to defending Division II state champion Trevor Tamburo of Parkway. He was able to avenge the loss to Tamburo not once, but three times later in the season. Aside from the three wins over Tamburo, he also defeated soon-to-be Division II state champions Morgan Manuel of Rayne and Richard Mack, III, of North Desoto. He won his first tournament of the season, the Ronnie Suarez SPOT District, but was not really challenged. After that he only managed to finish third in the Jacob McMillan and the Trey Culotta, and fifth in the Louisiana Classic, which explain the five losses. He did win one of the more notable tournaments, and aside from the state championship it would certainly be the one he appreciated the most. After placing second as a freshman and being injured and missing the event as a sophomore, Bernard won the Ken Cole Invitational at his home school of Comeaux. Bernard coasted to the finals. The combined score of his three prior matches was 35-2, with his hardest match being an 8-0 major decision over the third-seeded Duncan.
The finals was active but did not yield a lot of points. Larriviere tried three duck-unders which Bernard foiled, but was finally able to get one of his snake-like legs behind Bernard's to trip the Spartan and take a 2-0 lead into the second period. Bernard tied the match quickly by rolling over Larriviere's single-leg ride for a reversal in 15 seconds. Bernard rode Larriviere very well after that, but allowed the Blue Jay to escape with 20 seconds remaining and take a 3-2 lead. Larriviere chose to start on the bottom for the third period, but Bernard wanted to go back to takedowns and gave up another escape point at the start, increasing Larriviere's lead to 4-2. The strategy worked as Bernard used arm control to lower Larriviere for an ankle-pick takedown which tied the match at 4-4. The tie was fleeting, though, as Larriviere escaped immediately. Bernard attacked incessantly in the remaining time, but Larriviere held him off, although he was hit with a stalling warning. But when time ran out Jesuit had their first state championship of the evening in a 7-4 match.
Bernard will be a favorite in the upcoming season. Both seniors, the Larriviere brothers will graduate even more "twinsy," now that Adam has a Division I bracket to match Eli's.
Houser was back to his former self in the consolation rounds, defeated Macaluso 10-2 in the consolation semifinals and Duncan 8-2 to place third. Duncan reached the consolation finals with a 5-3 SV win over Fouts, who took fifth-place with a 7-1 win over Macaluso.
R1: Josh Franklin (AIR) over (8) Hunter Verrett (COV) in 4:28
R2: Joseph Cagayao (STA) over Josh Franklin (AIR) 7-6
R2: (4) Adam Larriviere (JES) over Roman Davis (MND) in 5:00
R2: (7) Jackson Hoyle (CHL) over Josiah Wakefield (EA) in 3:33
R2: (2) Dyllon Bernard (COM) over Michael Desselle (STP) 11-1 MD
(1) Cole Houser (STP) over Joseph Cagayao (STA) 19-4 TF
(4) Adam Larriviere (JES) over (5) Kade Fouts (CAT) 8-3
(3) Alex Duncan (BM) over (6) Mason Macaluso (HC) 6-2
(2) Dyllon Bernard (COM) over (7) Jackson Hoyle (CHL) 16-1 TF
(4) Adam Larriviere (JES) over (1) Cole Houser (STP) 7-4
(2) Dyllon Bernard (COM) over (3) Alex Duncan (BM) 8-0 MD
C2: Michael Desselle (SUL) over Jonathan Laguaite (FNT) 4-2 SV
C2: Harlan Richardson (CEN) over Nick Bartolo (HNV) in 2:29
Jarden James (BRB) over Jacob Wallis (ZAC) in 2:27
CSF: (1) Cole Houser (STP) over (6) Mason Macaluso (HC) 10-2 MD
Championship Consolation Rounds
(1) Cole Houser (STP) defeated (3) Alex Duncan (BM) 8-2 to place 3rd
(5) Kade Fouts (CAT) defeated (6) Mason Macaluso (HC) 7-1 to place 5th
(4) Adam Larriviere of Jesuit defeated (2) Dyllon Bernard of Comeaux 5-4
After the match Larriviere showed his other talents, ranging from dancing in the West Side Story prologue to a modified Walk Like an Egyptian.
---
© 2017-18 by Louisiana Wrestling News
You may not make electronic copies of these copyrighted materials nor redistribute them to 3rd parties in any form without written permission.