| | | |
| --- | --- | --- |
| | | Fini |
---
Patrick Evans wins third title of the evening for the Crusaders
LHSAA State Wrestling Tournament
Division I, 145 Pounds
May 30th, 2018 | Written by: Editor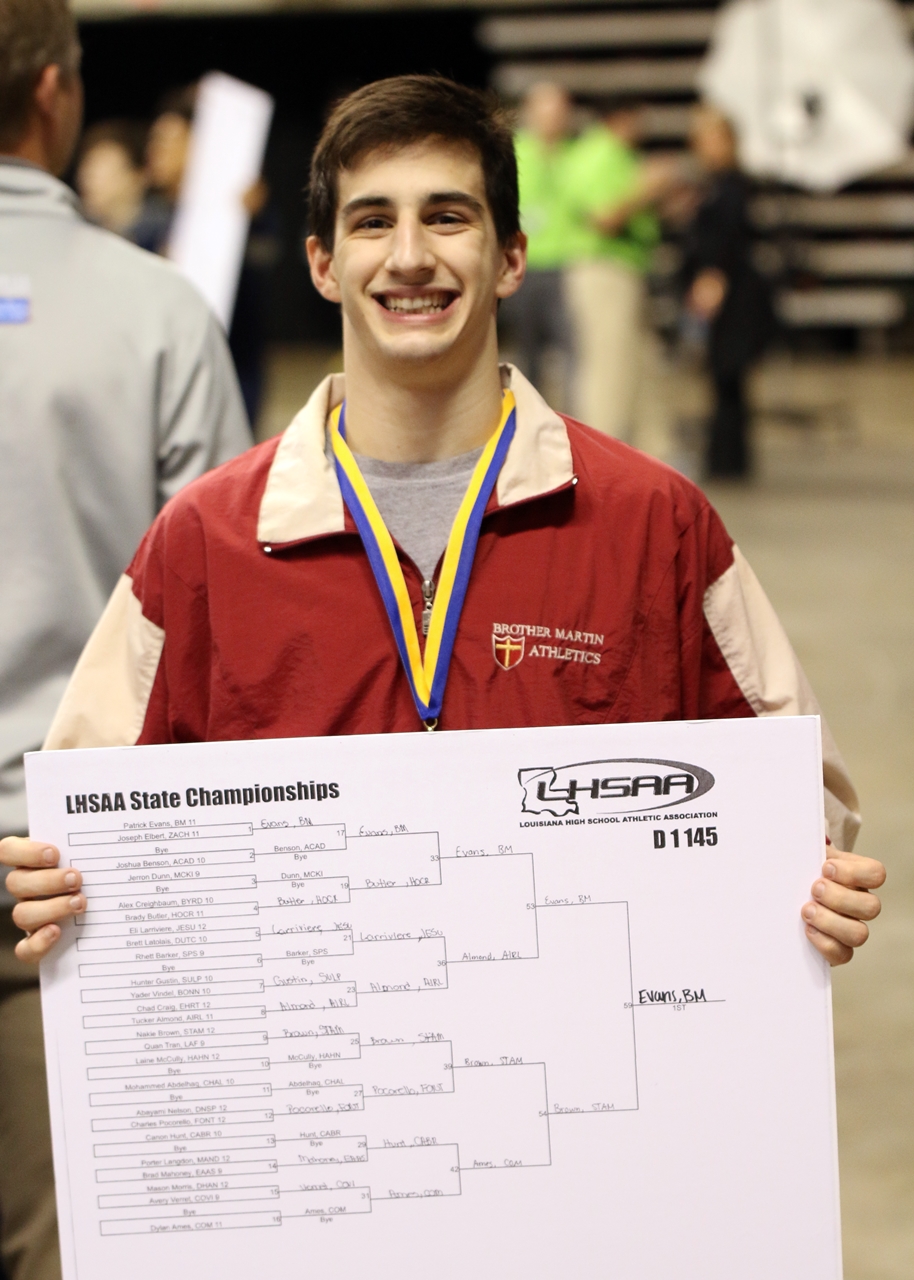 State champion: Patrick Evans
Brother Martin
| | | | | | | |
| --- | --- | --- | --- | --- | --- | --- |
| Place | 1st | 2nd | 3rd | 4th | 5th | 6th |
| Name | Patrick Evans | Nakie Brown | Eli Larriviere | Tucker Almond | Hunter Gustin | Dylan Ames |
| School | Brother Martin | St. Amant | Jesuit | Airline | Sulphur | Comeaux |
| Seed | 1 | 3 | 5 | 4 | Unseeded | 2 |
| Class | Junior | Senior | Senior | Junior | Sophomore | Junior |
The state championship coronation for Brother Martin's Patrick Evans was delayed a year when Holy Cross' Jake Rando dropped to Evan's weight class in the last two events of the 2016-17 season. This year, however, it appeared nothing would get in the junior Crusader's way. His only loss in Louisiana was a two-point decision by a Florida opponent in the Trey Culotta finals. He dropped two matches in the Prep Slam while placing fourth, but was victorious in his other two out-of-state tournaments, the Cinco-Ranch Big 12 in Houston and the Black Horse in Germantown, Tennessee. He was 22-0 against Louisiana opponents prior to the state championship, a streak that included his second Louisiana Classic title. His closest matches were a 4-2 win over defending Division I state champion Jared Thieler of St. Paul's in the Trey Culotta, and a 5-3 win in the Louisiana Classic semifinals against St. Amant's Nakie Brown.
The streak almost came to an abrupt stop in the state championships quarterfinals against Holy Cross's Brady Butler. Two weeks earlier Evans defeated Butler 7-1 in the Catholic League Championships, but in this match several onlookers thought he might not have earned his 5-4 win. He allowed no more close calls after that match, though. He defeated fourth-seeded Tucker Almond of Airline 9-3 in the semifinals.
In the other half of the bracket the second and third seeds were Comeaux's Dylan Ames and St. Amant's Nakie Brown. The two had split very close matches during the season. Ames defeated Brown 9-8 to place third at the Louisiana Classic, and Brown returned the favor in the Ken Cole semifinals with a 4-2 SV win. Ames, though, had only two other Division I losses in his 29-5 season, while Brown, who was 49-12, had four Division I losses aside from Ames. It was Brown, though, who had a better showing against Patrick Evans, losing only 3-1 in the Louisiana Classic semifinals. Both started the tournament strong. Ames had a bye and then scored a fall in 3:17 before being pushed by Catholic's Canon Hunt in a 6-4 quarterfinals win. Brown posted falls in 2:45, 0:56 and 5:29 to reach the semifinals. In another close match it was Brown who advanced to the finals with a 5-3 win.
The finals started off as if it might be as close a match as the Louisiana Classic semifinals one was. Brown started most of the offense in the round but never could complete a shot for points. Evans was finally able to score with a single-leg trip to take a 2-0 lead. That was awarded with two seconds remaining in the round. In the second period Brown road Evans well, but the Crusader escaped after 50 seconds elapsed. Brown attempted a single-leg, but Evans was able to counter it to increase his lead to 5-0. After Brown escaped he tried a double-leg again, and this time Evans whipped him briefly to his back, scoring a takedown for a 7-1 lead when the round ended. Brown chose to start the third period standing. He appeared tired and knew scoring an escape point would just waste time when he needed to score points in chunks to get back into contention. Evans did not comply, however, and scored with a single-leg takedown, let Brown escape, then shot a single, walked it around and switched to a double to score the last points in an 11-2 major decision.
In the wrestle-backs, it should have come as no surprise that fifth-seeded Eli Larriviere of Jesuit battled back from a 4-3 quarterfinals loss to Almond with victories of 6-2 over Joseph Ebert of Zachary, 6-0 over Butler, 11-6 over Ames and, for third place, 2-1 over Almond. Almond advanced to the consolation finals with an 8-1 win over Sulphur's Hunter Gustin. Gustin lost to Almond in the second round by a close 2-1 score. Hence, Gustin went through an arduous track to make the placement rounds. He scored a fall in 2:01 in his first consolation match. He followed that with a 7-0 decision, then a 4-2 decision, and then he emerged victorious over Fontainebleau's sixth-seeded Charles Pocorello in a 3-3 UTB match. He was to face Ames in the match for fifth-place, but was awarded the place via a forfeit, which was probably appreciated after the Pocorello match.
R1: (4) Tucker Almond (AIR) over Chad Craig (EHR) in 5:53
R1: (8) Brady Butler (HC) over Alex Creighbaum (BYR) in 1:53
R1: Hunter Gustin (SUL) over Yader Vindel (BON) in 2:34
R1: Avery Verret (COV) over Mason Morris (DES) in 0:57
R2: (3) Nakie Brown (STA) over Laine McCully (HNV) in 0:56
R2: (7) Canon Hunt (CAT) over Brad Mahoney (EA) 8-0 MD
(6) Charles Pocorello (FNT) over Mohammed Abdelhaq (CHL) in 1:48
(1) Patrick Evans (BM) over (8) Brady Butler (HC) 5-4
(4) Tucker Almond (AIR) over (5) Eli Larriviere (JES) 4-3
(3) Nakie Brown (STA) over (6) Charles Pocorello (FNT) in 5:29
(2) Dylan Ames (COM) over (7) Canon Hunt (CAT) 6-4
(1) Patrick Evans (BM) over (4) Tucker Almond (AIR) 9-3
(3) Nakie Brown (STA) over (2) Dylan Ames (COM) 5-3
C2: Porter Langdon (MND) over Jerron Dunn (MCK) in 1:44
C5: Hunter Gustin (SUL) over (6) Charles Pocorello (FNT) 3-3 via UTB
Championship Consolation Rounds
(5) Eli Larriviere (JES) defeated (4) Tucker Almond (AIR) 2-1 to place 3rd
Hunter Gustin (SUL) received a forfeit from (2) Dylan Ames (COM) and placed 5th
(1) Patrick Evans of Brother Martin defeated (3) Nakie Brown of St. Amant via an 11-2 major decision
---
© 2017-18 by Louisiana Wrestling News
You may not make electronic copies of these copyrighted materials nor redistribute them to 3rd parties in any form without written permission.