| | | |
| --- | --- | --- |
| | | Fini |
---
Blue Jays' Treuting completes utter domination of the 160 lbs. weight class
LHSAA State Wrestling Tournament
Division I, 160 Pounds
May 30th, 2018 | Written by: Editor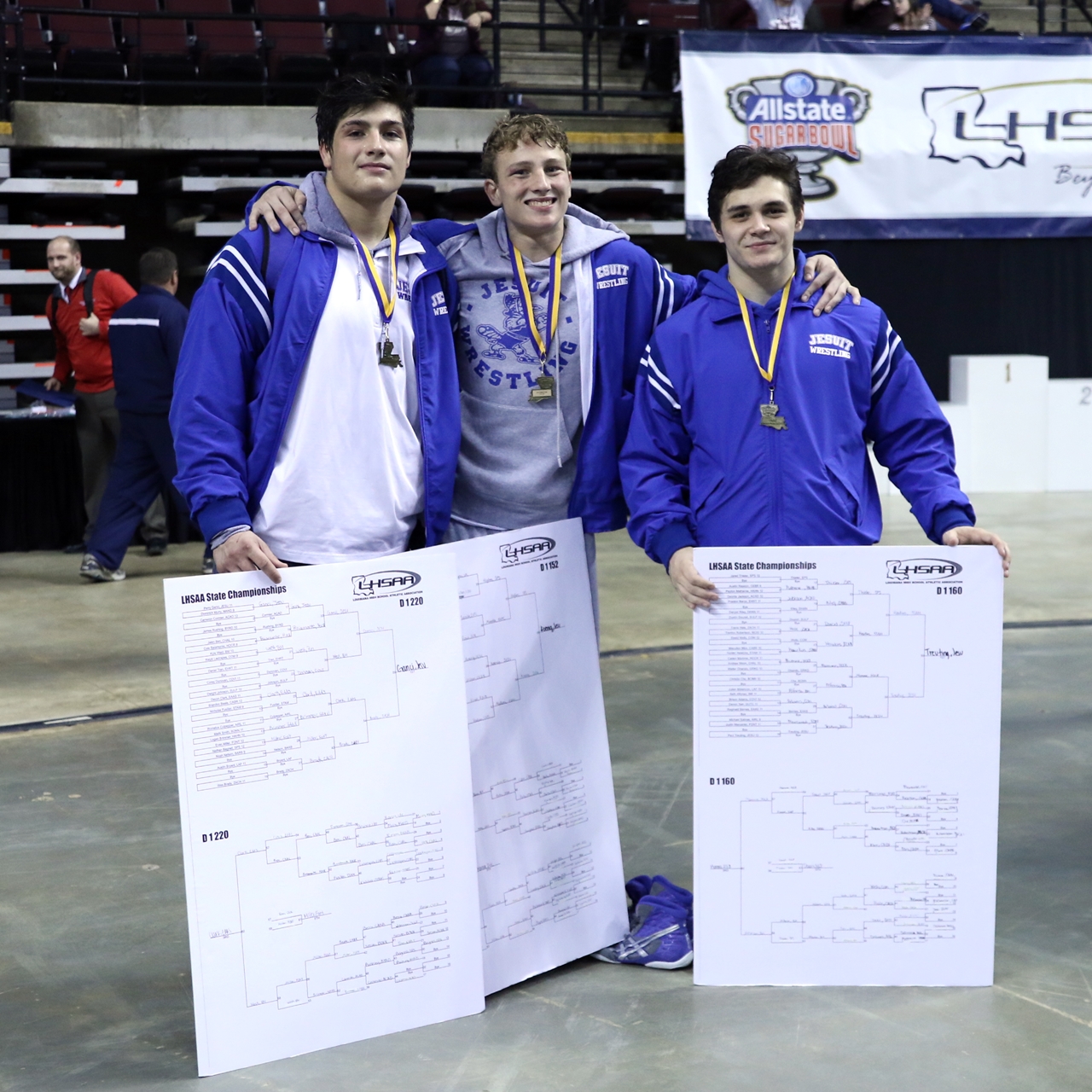 Jesuit's Paul Treuting (right) with fellow Blue Jay champions Perry Ganci (left) and Nathan Koenig (center)
| | | | | | | |
| --- | --- | --- | --- | --- | --- | --- |
| Place | 1st | 2nd | 3rd | 4th | 5th | 6th |
| Name | Paul Treuting | Hunter Hawkins | Caden Mumme | Seth Alfonso | Dustin Doucet | Jared Thieler |
| School | Jesuit | St. Amant | Holy Cross | Brother Martin | Sulphur | St. Paul's |
| Seed | 2 | 4 | 3 | 6 | 5 | 1 |
| Class | Senior | Junior | Junior | Junior | Senior | Senior |
St. Amant's Hunter Hawkins was the one to beat at 160 lbs. for the first three months of the season. His one loss came in a disputed match with St. Louis' Robert Christman at the Wildcat Open. Christman took a taking a 2-0 lead into the second, but then Hawkins started scoring a lot. Hawkins, though, was called for a slam which sounded worse than it looked. Even Christman, despite trailing by five or so points at the time, did not want to win the match via an injury default when he really was not hurt (which he proved as he went on to win the event). Christman, however, was overruled by his coaches. Yet everyone who witnessed or heard about his conduct were very impressed by him.
Except for the loss to Christman, Hawkins won 47 straight matches against Louisiana competition, and only lost to Bowman Hill of Vestavia Hills, Alabama in the Trey Culotta finals. He had quality wins over the likes of Shaw's Martin Garrett, Brother Martin's Seth Alfonso, Dutchtown's Zion Marable, Covington's Brison Adams and Comeaux's Shelby Savoie. He was an obvious choice to be the top-seed in the Louisiana Classic.
Awaiting Hawkins in that event, as the eighth seed at 160 lbs., was Jesuit's Paul Treuting. Treuting had done very well prior to the Louisiana Classic at 170 lbs. He won the South Walton Border Wars and placed eighth at the Kansas City Stampede. In Louisiana he had two losses, one to two-time Division I runner-up Jacob Fereday of Catholic 8-2, and one to Holy Cross' Caden Mumme 2-1. (Treuting had previously defeated Mumme 3-1 and 14-2) Losses like that made 160 lbs. look better for Treuting, and 160 lbs. liked Treuting just fine. As the eighth seed, Treuting scored a 17-5 major decision and a fall in 3:37 before knocking off Hawkins 12-6 in the quarterfinals. Comeaux's Evan Richards held him to a 3-0 semifinals match (and sadly, that match ended the stellar Spartan's career via a shoulder injury), but he took apart defending Division II state champion Martin Garrett via a 16-1 technical fall in the finals. Before the state championships Treuting lost one more match when he went back up to 170 lbs. for another shot at Fereday, losing only 5-3 this time. A week later, at 160 lbs. in the Catholic League Championships, he defeated Mumme again 9-3.
A Louisiana Classic title and a 12-0 record at 160 lbs., (17-3 overall in Louisiana) though, was not enough to earn Treuting the #1 seed at the Division I state championships. That honor went to St. Paul's Jared Thieler, who had not been on a mat since December 30th and had only competed at 152 lbs. and 145 lbs., a weight at which he lost to Brother Martin's Patrick Evans in the Trey Culotta. Treuting, after a first-round bye, scored a fall in 2:33 in the second round and had to work for a 6-2 quarterfinals win over Adams and an 8-2 semifinals win over Mumme.
Theiler would be Hawkins' problem, as he was seeded fourth behind Mumme. Mumme had only competed at 160 lbs. since February 3rd. Hawkins was at 160 lbs. all season, and aside from the SNAFU at the Warrior Open, had lost only once to Treuting. Mumme, who had four matches at 160 to his credit, one of which was a loss to Treuting by the same six-point margin by which Hawkins lost, received the #3 seed via his one win in in three tries against Treuting at 170 lbs. People were overheard talking about how the seeding process seemed off this season. This weight class appeared to be a prime example of it.
Despite the seeding confusion the scenario worked fine for Hawkins, who brought a record of 61-2 against Louisiana competition into the state championships. He cruised into the finals with a 14-0 major decision, a fall in 0:31, a quarterfinals 17-2 technical fall, and a 12-4 major decision over Thieler in the semifinals. Thieler proved he was a "gamer" by just competing, but for anything less than a concussion it is probably very difficult for a coach to not let a defending state champion compete in what would be his last high school event. Smartly, Thieler took no more chances and withdrew from the tournament after the semifinals match.
In the finals, Treuting showed how fast a "fire-plug" type of wrestler could be by diving for an ankle before the TrackWrestling video camera started. Hawkins fought off that shot, but 30 seconds later Treuting did it successfully to take a 2-0 lead. Hawkins escape but Treuting the turned a Hawkins shot into a single-leg takedown of his own to end the round ahead 4-1. Treuting took 15 seconds to escape from Hawkins in the second period. Hawkins shot a deep single, but Treuting fought it off and shot his own, turned it into a double and used that to end the round with a 7-1 lead. As takedowns were working for Treuting, the Blue Jay let Hawkins escape 10 seconds into the third period. Hawkins tried a head-and-arm throw, but Treuting slipped out of it for another takedown. After Hawkins escaped again he spent almost the rest of the period fending of attacks by Treuting. Hawkins finally slipped behind Treuting for his first takedown, but it was as time ran out. Treuting had a 9-5 win and Jesuit had their third state champion of the evening.
Brother Martin's Alfonso lost to Mumme in the quarterfinals in a tight 5-3 Sudden Victory match and had to win two matches, one over Adams, before accepting Thieler's forfeit into the consolation finals. Mumme got past last season's finalist from Sulphur, Dustin Doucet, 6-4 to earn another match against Alfonso. The Mumme-Alfonso rematch also went into a Sudden Victory round, and it was again Mumme who took the decision with a takedown that led to a fall 40 seconds into the period. Sulphur's Dustin Doucet placed fifth as a result of Thieler withdrawing from the tournament.
R1: (4) Hunter Hawkins (STA) over Macullen Mire (CAT) 14-0 MD
R1: Justin Marcantel (FNT) over Michael Salinas (AIR) in 0:41
R1: (3) Caden Mumme (HC) over Andrew Nixon (CHL) in 3:26
R2: (5) Dustin Doucet (SUL) over Travis Hale (ZAC) in 5:50
R2: (7) Brison Adams (COV) over Reginald Barnes (EA) 11-2 MD
(1) Justin Thieler (STP) over Denzel Riley (DES) 12-4 MD
(4) Hunter Hawkins (STA) over (5) Dustin Doucet (SUL) 17-2 TF
(3) Caden Mumme (HC) over (6) Seth Alfonso (BM) 5-3 SV
(2) Paul Treuting (JES) over (7) Brison Adams (COV) 6-2
(4) Hunter Hawkins (STA) over (1) Jared Thieler (STP) 15-5 MD
(2) Paul Treuting (JES) over (3) Caden Mumme (HC) 8-2
CSF: (3) Caden Mumme (HC) over (5) Dustin Doucet (SUL) 6-4
Championship Consolation Rounds
(3) Caden Mumme (HC) pinned (6) Seth Alfonso (BM) in 6:40 in SV to place 3rd
(5) Dustin Doucet (SUL) received a forfeit from (1) Jared Thieler (STP) and placed 5th
(2) Paul Treuting of Jesuit defeated (4) Hunter Hawkins of St. Amant 9-5
---
© 2017-18 by Louisiana Wrestling News
You may not make electronic copies of these copyrighted materials nor redistribute them to 3rd parties in any form without written permission.