| | | |
| --- | --- | --- |
| | | Fini |
---
Fereday finally leaves "runner-up" title in the dust - wins second championship for Catholic
LHSAA State Wrestling Tournament
Division I, 170 Pounds
May 30th, 2018 | Written by: Editor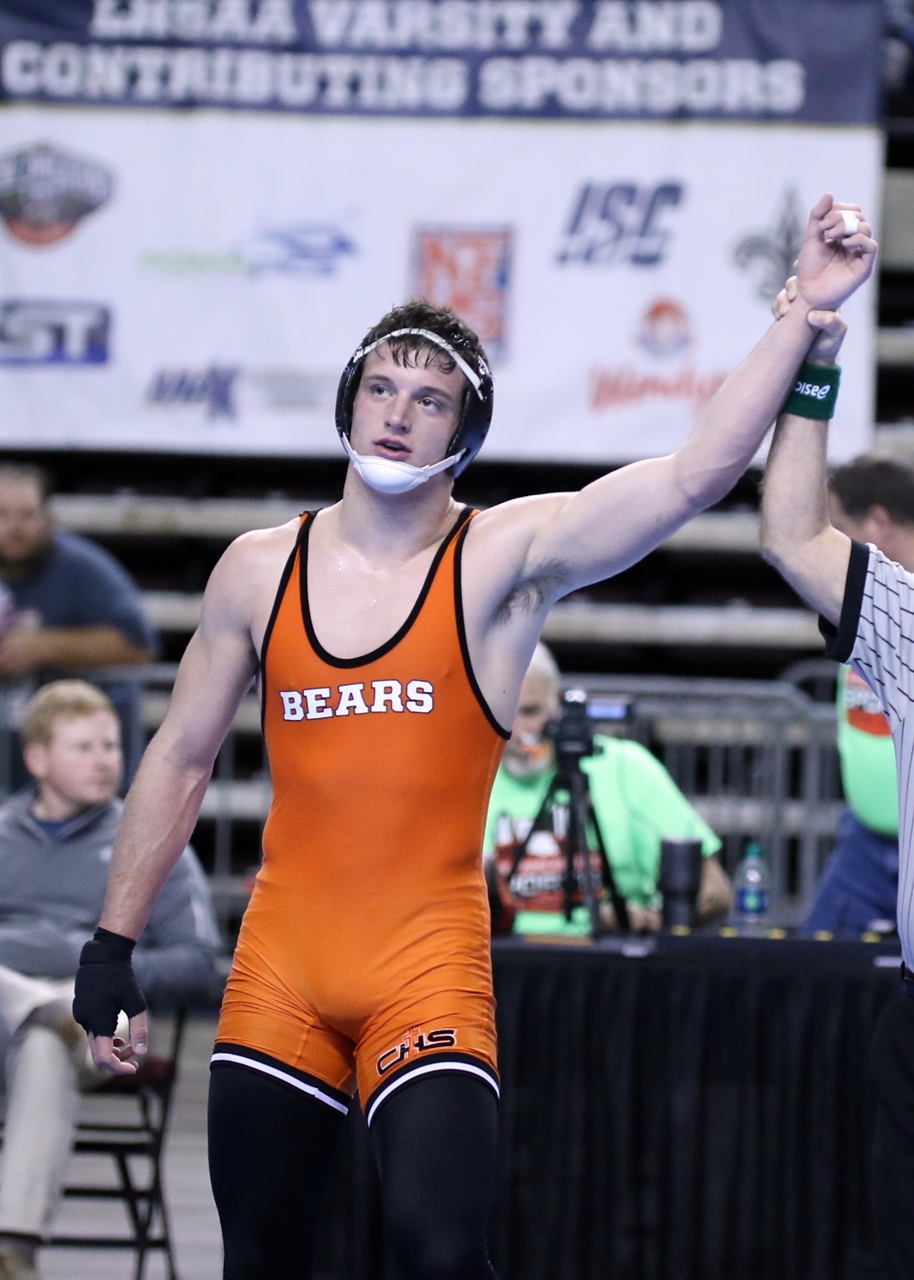 In his third Division I finals appearance, Catholic's Jacob Fereday finally has his hand raised when the match was over.
| | | | | | | |
| --- | --- | --- | --- | --- | --- | --- |
| Place | 1st | 2nd | 3rd | 4th | 5th | 6th |
| Name | Jacob Fereday | Mason Masicot | Kyle Chatman | Shelby Savoie | Caleb Mickelson | Jeremiah Brooks |
| School | Catholic | Brother Martin | East Ascension | Comeaux | Zachary | Acadiana |
| Seed | 1 | 3 | 4 | 2 | 6 | 5 |
| Class | Senior | Sophomore | Senior | Senior | Junior | Sophomore |
Runner-up was not an option for Catholic's Jacob Fereday in 2018. He had been there, twice. In 2016 he faced Airline's Christian Walden and came up four points short. In 2017 he fell to Joey Foret of Holy Cross. This season, he seemed to decide nothing would stand in his way. And he delivered. (People fled Fereday's weight class - those who stayed at 170 lbs. in Division I get points just for being there.)
Fereday started and ended the season at 170 lbs. That was HIS weight class, and everyone knew it. (Fereday did venture to 182 lbs. once, for all of 67 seconds.) And he posted a record akin to that of Brother Martin's Daniel Croy and Patrick Evans. He was undefeated in Louisiana, with a 31-0 record prior to the state championships. His three losses came from out-of-state opponents via a runner-up finish at the Cy-Ridge Classic and a fourth-place finish at the Hoover (AL) Invitational. He was not "given" the weight class, as a lot of very good competitors tried but failed to beat him. Jesuit's Paul Treuting, Shaw's Eduardo Garcia, South Plaquemine's Brandon Turner (all soon to be state champions in Divisions I, II and III respectively), Holy Cross's Caden Mumme, De la Salle's Ryan Hamrick and East Ascension's Kyle Chatman all chalked-up losses due to Fereday. Only two came within four or less points versus the Bears' senior - Treuting in a 5-3 match and Hamrick in a 6-2 one.
Of the second-through fourth seeds, Fereday had defeated #3 Mason Massicot of Brother Martin 6-1 in the Trey Culotta, and he defeated #4 Chatman twice, once 8-3 (also in the Trey Culotta) and in the Greater Baton Rouge Championships via a fall in 1:19. He had not tangled with Comeaux's Shelby Savoie, the #2 seed, but as it turned out, he did not need to. Fereday opened the state championships with a 9-0 major decision, and 11-1 major decision and a 16-2 major decision before a 5-0 semifinals win against Chatman.
Savoie was 30-5 but really did not include a lot of quality wins, save his 5-3 win over Chatman at the Ken Cole. He had losses to opponents in each division: a runner-up and 5th-place finisher in Division I, 3rd-place and a 5th-place winners in Division II and a 3rd-place winner in Division III. He did, however, win the Ken Cole Invitational and the Lafayette Metro tournaments. He had a pretty easy time making the semifinals. He started with a 9-1 major decision and a fall in 3:51 before he was tested in the quarterfinals by Mandeville veteran Michael Housey in a 9-5 match.
Savoie was 15-2 against Division I opponents. Massicot's record against Division I opposition was 10-4, so Savoie won the division W-L percentage criteria re seeding.
Massicot's record does not look like the record of a Division I 3rd-seed. Against Louisiana competition he was 15-12. He had a win over Chatman, but no other opponents of stature, except for Holy Cross' Spencer Rayes, whom Massicot defeated in Rayes' first match since being injured in the Prep Slam. The record is deceiving, though, as his losses show the caliber of wrestler he is. He lost to Shaw's defending Division II state champion Martin Garrett 3-2. He lost a 6-1 match to Fereday. Caden Mumme defeated Massicot three times by scores of 3-1, 4-2 and 7-2. Paul Treuting of Jesuit defeated him 2-1. He had two losses to Shaw's Eduardo Garcia by scores of 6-3 and 3-1. South Plaquemines' two-time defending Division III state champion Brandon Turner beat Massicot 7-2. Of those wrestlers, Treuting and Mumme went down to 160 lbs. and placed first and third. Garcia won a Division II title and Garrett was a Division II runner-up. Turner would go on to win his third Division III state championship. Massicot's only "unexplained' loss was to North Desoto's Hunter Brooks. But Brooks had a very good year which included wins at the Lone Survivor and the Northwest Louisiana Regionals. Brooks defeated Massicot 4-2 in a Sudden Victory round. In this event Massicot had a tough road to the semifinals. He won his first match in 2:45 but won his second-round match only 6-3. In the quarterfinals Zachary's Caleb Mickelson gave the Crusader a very tough 6-4 match.
The semifinals would be tough for both the #2 and #3 seeds. Massicot squeaked past Savoie 4-3 for the chance to beat Fereday.
Against Massicot in the finals Fereday used a high-crotch to a single-leg which he used to lift the Crusader and place him down on his back to take a 5-0 lead just after a minute elapsed. Massicot surprised Fereday at the start of the second period with a fast switch at the whistle, and, now only behind 5-2, it looked like Massicot might make it a close match, particularly as Massicot rode Fereday for the next 1:45. Fereday escaped to make the match 6-2 to start the final period. This time Fereday spent little time, only three seconds, to escape for a 7-2 lead, and then he put together another single-leg combination with a knee-twist for the final two points of the match. Fereday rode out the rest of the period to finally take the Division I title 9-2.
Chatman advanced to the consolation finals with a first period fall over Zachary's Caleb Mickelson, the #6 seed. Savoie's path was not as easy against Acadiana's Jeremiah Brooks. In the Jacob McMillan consolation finals Savoie won a 3-2 match. This time, he only got past Brooks via a 2-1 score. Savoie had a previous 5-3 win over Chatman in the Ken Cole finals, but this time Chatman returned the favor with a fall in 2:19. Mickelson took fifth with a 4:13 pin of Brooks.
R1: (4) Kyle Chatman (EA) over Lee Bledsoe (BYR) in 0:22
R1: Alvin Diggs (EHR) over Jayce Lambert (CEN) in 1:17
R1: (3) Mason Masicot (BM) over Colyn Vaughn (AIR) in 2:45
R1: (8) Tanner Melendez (FNT) over Eduan Portillo (GK) in 1:49
R2: (6) Caleb Mickelson (ZAC) over Austin Firmin (COV) in 3:19
R2: (2) Shelby Savoie (COM) over Edward Jones (DUT) in 3:51
(1) Jacob Fereday (CAT) over (8) Tanner Melendez (FNT) 16-2 MD
(4) Kyle Chatman (EA) over (5) Jeremiah Brooks (ACA) in 5:31
(3) Mason Masicot (BM) over (6) Caleb Mickelson (ZAC) 8-6
(2) Shelby Savoie (COM) over (7) Michael Housey (MND) 9-5
(1) Jacob Fereday (CAT) over (4) Kyle Chatman (EA) 5-0
(3) Mason Masicot (BM) over (2) Shelby Savoie (COM) 4-3
Championship Consolation Rounds
(4) Kyle Chatman (EA) pinned (2) Shelby Savoie (COM) in 2:19 to place 3rd
(6) Caleb Mickelson (ZAC) pinned (5) Jeremiah Brooks (ACA) in 4:13to place 5th
(1) Jacob Fereday of Catholic defeated (3) Mason Masicot of Brother Martin 9-2
---
© 2017-18 by Louisiana Wrestling News
You may not make electronic copies of these copyrighted materials nor redistribute them to 3rd parties in any form without written permission.