| | | |
| --- | --- | --- |
| | | Fini |
---
Gavin Bonilla brings a state championship to McKinley after a 13-year drought
LHSAA State Wrestling Tournament
Division I, 195 Pounds
May 30th, 2018 | Written by: Editor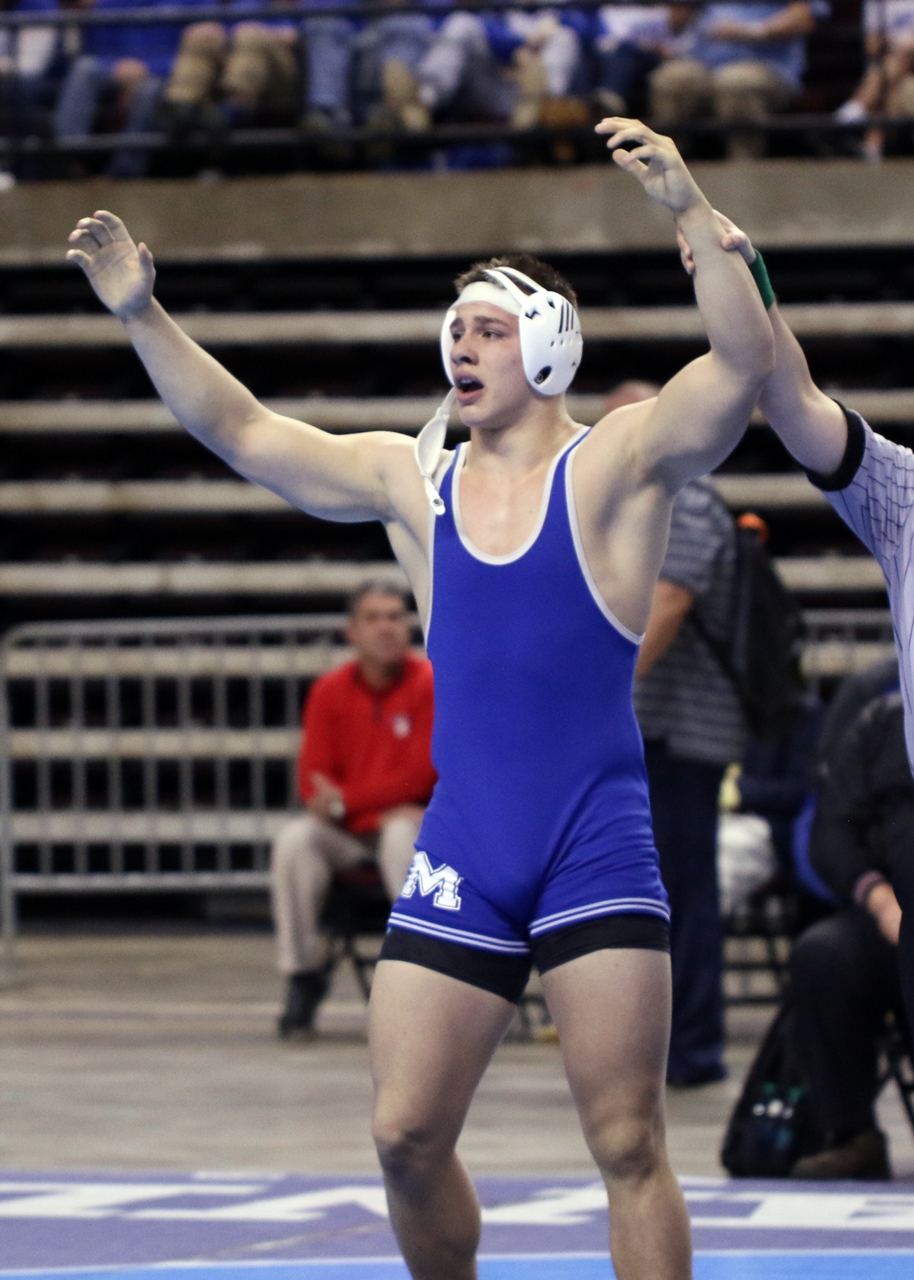 Division I state champion:
Gavin Bonilla of McKinley
| | | | | | | |
| --- | --- | --- | --- | --- | --- | --- |
| Place | 1st | 2nd | 3rd | 4th | 5th | 6th |
| Name | Gavin Bonilla | Matt Salinas | Jake Arena | Garrett Legendre | Chris Hart | Kyle Boell |
| School | McKinley | Airline | St. Paul's | Brother Martin | Zachary | Fontainebleau |
| Seed | 2 | 1 | 3 | 5 | 6 | 4 |
| Class | Junior | Senior | Senior | Senior | Senior | Junior |
This was yet another weight class in which the seeding seemed odd, but in the end did not matter. Defending Division I state champion Matt Salinas was 31-1. McKinley junior Gavin Bonilla was 18-2. Both lost to Rayne's Tyler Carriere in the Louisiana Classic, and in that event, Bonilla placed second while Salinas placed third. Yet Salinas was at the top of the bracket and Bonilla was at the bottom. In between the two were Jake Arena of St. Paul's at #3, Kyle Boell of Fontainebleau at #4, Brother Martin senior Garrett Legendre at #5 and Zachary's Chris Hart at #6.
Salinas brought a 35-1 record against Louisiana opponents (45-3 overall) into the CenturyLink Center. He won every tournament he entered in Louisiana save for a third-place finish at the Louisiana Classic after a 4-3 semifinals loss to Rayne's Tyler Carriere. His 31 wins included ones over Haughton's D.J. Monroe, Parkway's Connor Cloinger and Peyton Bass (x2), Lakeside's Mason Sparks, Brandon Young of Brusly and Isaac Cortez of Basile. In Bossier City, Salinas had a first round bye, so he only used falls in 1:43,1:37 and 2:46 in the semifinals over Fontainebleau's Kyle Boell, to advance to the finals.
Bonilla had an 23-2 record, which included two wins over St. Michael's Dane Harter before Harter went down to his natural 182 lbs. weight. Those wins put Bonilla "on the map," as he only placed sixth in 2017. Aside from Harter Bonilla also defeated Brandon Young and Brother Martin's Garrett Legendre. Bonilla needed four falls to get there. None of those seven matches got past the second round either. They came at 1:59, 3:08, 2:58 and 3:39 in the semifinals over Jake Arena of St. Paul's.
The two wrestlers just felt each other out in the first round, and no points were scored. In the second period Salinas started on the bottom and tried rolling Bonilla. But Bonilla did not comply, allowing Salinas to expose his back while the McKinley wrestler inserted a half-nelson. Salinas got out of the predicament, but not before giving Bonilla a 3-0 lead. With 30 seconds remaining in the round Salinas scored his first, and what would be his only point, with an escape. After going out of bounds, Salinas dove for Bonilla's ankle off the whistle on the restart. Bonilla was quick to reacted and sprawled on Salinas and caught hold of the Airline wrestler's head and shoulder. These he shucked aside and spun around to be back for a quick takedown with three seconds remaining.
Bonilla enjoyed a 5-1 lead and a start on the bottom as the third period started. Salinas tried everything he could on top to turn Bonilla, but all he received was a stalling warning on his McKinley opponent. With 12 seconds remaining the match was stopped due to an injury to Salinas, but it resumed not long after. Salinas, knowing he needed a big move, chose to start the last 12 seconds on the wrestlers' feet. The two grappled high, and Salinas came close to throwing Bonilla, but could not finish it as time ran out. Bonilla became McKinley's first state champion since Jared Valdry in 2005.
Arena and Legendre won the one match they needed to advance to the consolation finals. Arena defeated Boelle 9-4 and Legendre defeated Hart 3-2. Arena placed third with a 6-2 win over Legendre. Hart, the sixth-seed, beat #4 Boell 5-3 to place fifth.
R1: DaiJon Bibbs (CHL) over Jaylen Etienne (COM) in 5:28
Jacob Kief (JES) over (8) Logan Hefner (HC) in 3:19
(4) Kyle Boell (FNT) over Allen Pennington (COV) in 3:41
R2: (5) Garrett Legendre (BM) over DaiJon Bibbs (CHL) in 2:51
R2: (2) Gavin Bonilla (MCK) over Matthew Johnson (DUT) in 3:08
(1) Matt Salinas (AIR) pinned (8) Jacob Kief (JES) in 1:37
(5) Garrett Legendre (BM) over (4) Kyle Boell (FNT) 10-2 MD
(3) Jake Arena (STP) over (6) Chris Hart (ZAC) 9-3
(2) Gavin Bonilla (MCK) over (7) Henry White, IV (BON) in 2:58
(1) Matt Salinas (AIR) over (5) Garrett Legendre (BM) in 2:46
(2) Gavin Bonilla (MCK) over (3) Jake Arena (STP) in 3:39
Championship Consolation Rounds
(3) Jake Arena (STP) defeated (5) Garrett Legendre (BM) 6-2 to place 3rd
(6) Chris Hart (ZAC) defeated (4) Kyle Boell (FNT) 5-3 to place 5th
(2) Gavin Bonilla of McKinley defeated (1) Matt Salinas of Airline 6-1
---
© 2017-18 by Louisiana Wrestling News
You may not make electronic copies of these copyrighted materials nor redistribute them to 3rd parties in any form without written permission.