| | | |
| --- | --- | --- |
| | | Fini |
---
Ganci's second second state championship is the fourth for the Blue Jays
LHSAA State Wrestling Tournament
Division I, 220 Pounds
May 30th, 2018 | Written by: Editor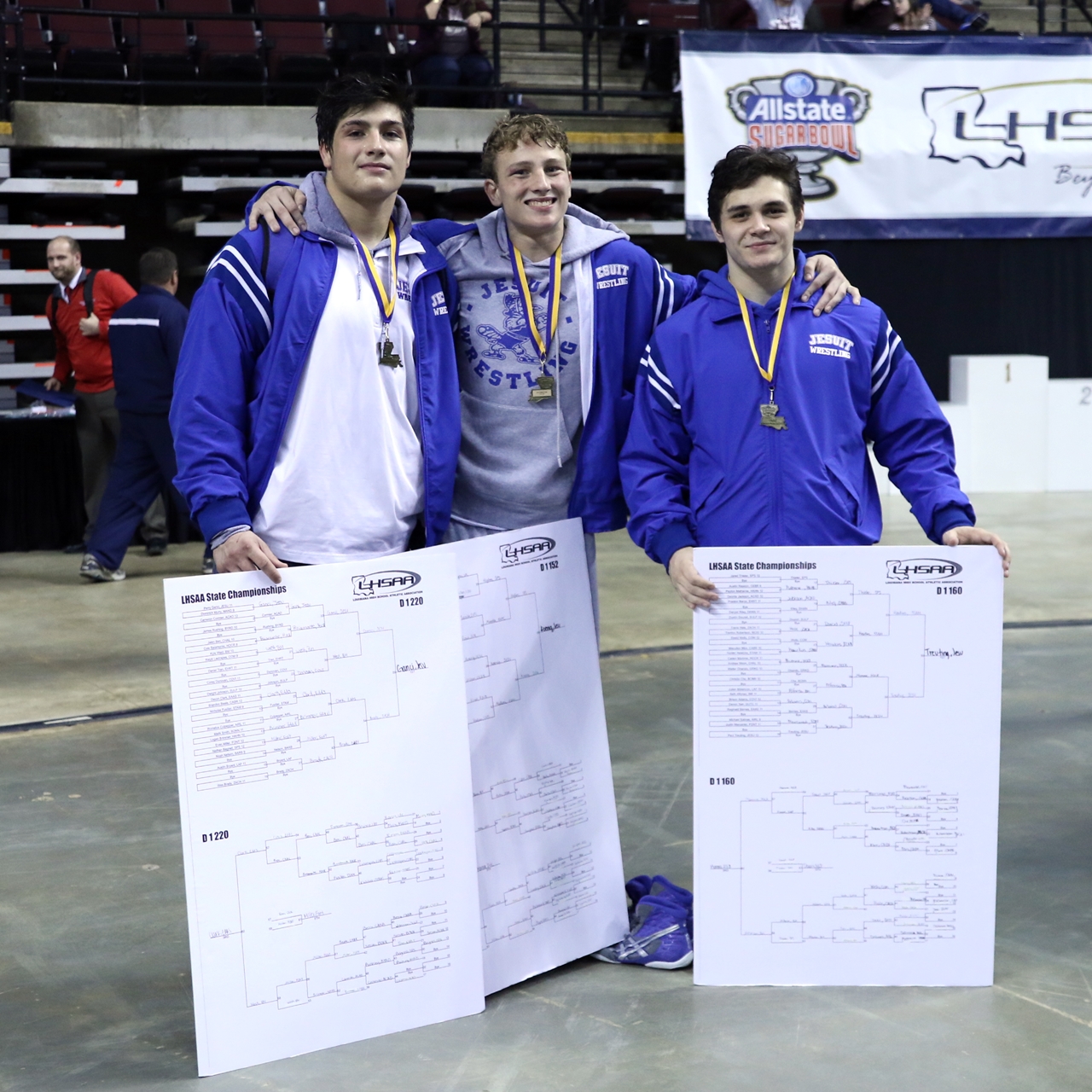 Junior Perry Ganci (left) won his second Division I state championship. Senior Nathan Koenig (center) also won a second title for the Blue Jays, and seniors Paul Treuting (right) and Adam Larriviere (not pictured) won their first.
| | | | | | | |
| --- | --- | --- | --- | --- | --- | --- |
| Place | 1st | 2nd | 3rd | 4th | 5th | 6th |
| Name | Perry Ganci | Wes Brady | Devon Clark | Kyle West | Evan Miller | Jalen Ben |
| School | Jesuit | Zachary | East Ascension | Brother Martin | Fontainebleau | Chalmette |
| Seed | 1 | 2 | 3 | 5 | 7 | Unseeded |
| Class | Junior | Junior | Junior | Sophomore | Senior | Sophomore |
Three top competitors started off well at 220 lbs. East Ascension's Daren Clark started the season 26-0 against Louisiana competition, and won the Warrior Open, Wildcat Open, Griffin Invitational, the Spartan Invitational and the Zachary Big Horse. In that stretch he defeated Dunham's Robert Rabel in a Sudden Victory match, and he bested Zachary's Wesley Brady 6-5. But 220 lbs. dominance was not to be for the Spartan, as Brady defeated Clark in the Trey Culotta finals via a fall in 5:28. Brady would defeat Clark again in the Greater Baton Rouge Championships via an 8-3 win. Clark only lost to two other wrestlers during the season. One was to De la Salle's defending Division III state champion Eric Hamrick by a 4-3 score in the Louisiana Classic quarterfinals. Clark recovered from that disappointment quickly as he defeated Hamrick 8-4 in the consolation finals. Brady looked to have the upper-hand in the weight class, but another challenger was about to come into play. And this was the one who gave Clark his other loss.
Defending Division I state champion Perry Ganci of Jesuit only competed in two Louisiana matches prior to the Louisiana Classic, and he scored a fall in each of them. He mainly competed in other states. He placed third in the South Walton Border Wars, second at the Kansas City Stampede and he won the Prep Slam. Those accomplishments vaulted him to the top-seed at the Louisiana Classic, and he did not disappoint. He dominated with consecutive falls in 0:21, 0:13, 0:18, 0:20 and 1:16 against Brady in the finals. Ganci looked as if he was on his way to smother all he faced at 220 lbs. That thought lasted all of six days, as Brady won their next match 10-7 in the Division I Duals Championships.
Ganci brought a record of 17-1 against Louisiana (33-3 overall). He had defeated everyone of consequence and while he was 1-1 against Brady, he placed higher than Brady in the Louisiana Classic. He did not waste any time advancing to his second state championship finals match. He scored falls in 0:46, 1:25, 1:58 and, against fourth-seeded Caleb Jackson of Zachary, in 2:08.
Zachary junior Wesley Brady was 21-3 against Louisiana competition. One loss was to Ganci in the Louisiana Classic finals. Prior to that he lost in the finals of the Zachary Big Horse to East Ascension's Devon Clark in a 6-5 match. He avenged that loss in the greater Baton Rouge Championships finals, 8-3. His other loss was an 8-6 one to Haughton's Daniel Monroe in the Ken Cole finals. He placed third at the Scott Rohrer Hoover Invitational in Alabama, and his out-of-state record was 6-1. Brady did not have any problems reaching the finals match, either. He scored falls in 1:19, 4:10 and, against the third-seeded Clark, in 1:58.
One of the previous matches between Ganci and Brad was going to be dismissed as a fluke. As it happened, it turned out to be Ganci's quick pin in the Louisiana Classic.
The finals match was arduous, not so much for the onlookers who did not see much scoring, but for the two combatants. Neither could score a takedown in the first period. Ganci escaped in 20 seconds to start the second period, but neither could score on their feet in this period either. Brady scored an escape three seconds into the third round, and the two again failed to score any additional points. The third round ended tied at 1-1, and as no takedowns were scored it did not look likely that the match would end in a Sudden Victory period. Brady thought otherwise, though, and quickly shot a double-leg and lifted Ganci off the mat. But Ganci was able to mitigate the damage potential on his way down, and no points were scored. Undaunted, Brady shot another double-leg, but this time Ganci reacted faster and sprawled Brady's face into the mat. As Ganci spun behind him, Brady stood up to try to counter Ganci, but Ganci lifted Brady and put him back on the mat for the winning, and only takedown of the match. A Ganci-Brady rivalry might be a part of the 2017-18 season as both wrestlers are only juniors.
Clark, who was pinned by Brady in the semifinals, and Brother Martin's Kyle West, whom Ganci pinned in their semifinals, both advanced via falls in almost identical times of 2:29 and 2:27 over Chalmette's Jalen Ben and Fontainebleau's Evan Miller, respectively. Clark owned a 10-2 decision over West from the Trey Culotta, and this he time pinned the Crusader in 4:56 to place third. Evan Miller of Fontenot, the seventh-seed, pinned unseeded Jalen Ben of Chalmette in 2:53 to place fifth.
R1: (8) Cole Baiamonte (HC) over Jalen Ben (CHL) 12-4 MD
R1: (6) Logan Brimmer (HNV) over Malik Smith (BON) in 2:18
(1) Perry Ganci (JES) over (8) Cole Baiamonte (HC) in 3:37
(5) Kyle West (BM) over Corey Donovan (COV) in 2:26
(3) Devon Clark (EA) over (6) Logan Brimmer (HNV) in 3:44
(2) Wes Brady (ZAC) over (7) Evan Miller (FNT) in 4:10
(1) Perry Ganci (JES) over (5) Kyle West (BM) in 0:34
(2) Wes Brady (ZAC) over (3) Devon Clark (EA) in 1:58
C2: Ralph Lastrapes (COM) over Romelus Culpepper (AIR) 17-5 MD
C2: James Rushing (BYR) over Nathan Bagnell (STP) 12-5
C2: Malik Smith (BON) over Daniel Tran (EHR) 4-2
Championship Consolation Rounds
(3) Devon Clark (EA) pinned (5) Kyle West (BM) in 4:46 to place 3rd
(7) Evan Miller (FNT) pinned Jaylen Ben (CHL) in 2:53to place 5th
(1) Perry Ganci of Jesuit defeated (2) Wes Brady of Zachary 3-1 via Sudden Victory
---
© 2017-18 by Louisiana Wrestling News
You may not make electronic copies of these copyrighted materials nor redistribute them to 3rd parties in any form without written permission.