| | | |
| --- | --- | --- |
| | | Fini |
---
Mateu captures third championship in four finals appearances
LHSAA State Wrestling Tournament
Division II, 120 Pounds
May 30th, 2018 | Written by: Editor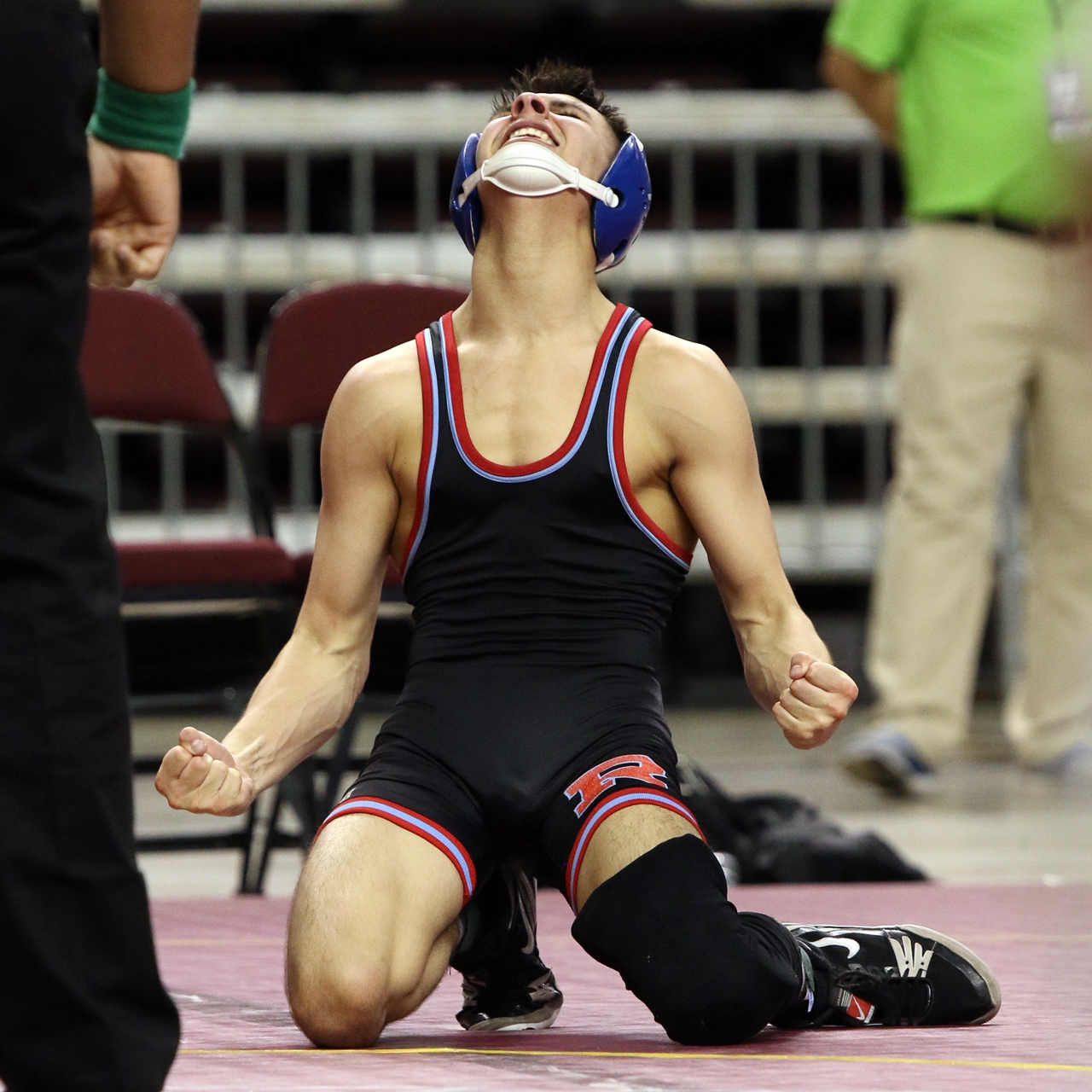 Rummel's Blake Mateu celebrates his third consecutive Division II championship
| | | | | | | |
| --- | --- | --- | --- | --- | --- | --- |
| Place | 1st | 2nd | 3rd | 4th | 5th | 6th |
| Name | Blake Mateu | Zachary Harper | Anthony Ribando | Jack Cooke | Tyrick Clay | Jaylen Smith |
| School | Rummel | Parkway | Shaw | Teurlings Catholic | Carencro | Sam Houston |
| Seed | 1 | 2 | 3 | 4 | 5 | 6 |
| Class | Senior | Senior | Junior | Junior | Freshman | Junior |
This was a weight class in which the quarterfinals saw a #5 defeat a #4 and a #6 defeat a #3. Yet by the end, the top-six seeded wrestlers placed exactly as they were seeded...but just barely.
The potential upset came in the finals between two-time defending Division II state champion and undefeated (18-0 prior to the tournament) Blake Mateau of Rummel, and Zachary Harper (38-5) of Parkway.
Mateu was an obvious choice for the top seeding spot, particularly after winning his third Louisiana Classic title over then undefeated Alex Yokubaitis of St. Louis. Mateu, however, had been injury-plagued all season - if not a shoulder then a leg, and quite often both. This was evident in a Louisiana Classic quarterfinals match against Love Oak's Clayton Hill. Mateu was ahead 10-1 or the like, and the LWN photographer decided to concentrate on other matches. When looking back on that mat a few minutes later, the score was 12-10 and, when the match was over, Mateu only prevailed by one point, 13-12. Despite the injury in that match, Mateu continued, scoring a semifinals fall and a 5-3 finals win over Yokubaitis. Hill and Yokubaitis were the only two opponents against whom Mateu did not score a major decision, a technical fall or a pin. In Bossier City, Mateu scored falls in 1:21 and 1:07 in his first two matches, and defeated Carencro freshman and fifth seed Tyrick Clay 7-3 to reach his fourth consecutive state finals match.
Harper had a record of 38-5 and had won three tournaments as well as placing as runner-up at the Ken Cole and fifth in the Louisiana Classic. Harper had split matches with third-seeded Anthony Ribando of Shaw and was pinned by fifth-seeded Tyrick Clay of Carencro. But his other losses were to Division I finalists Michael Lundin and Justin Leal, and to undefeated Jourdan Theall of North Vermillion. Ribando and Clay has spottier records, and Clay lost to Jack Cooke of Teurlings Catholic twice in three matches, putting the Rebel in the fourth spot. Harper had a first-round bye and followed that with a 7-0 decision and a 5:24 fall over fifth seed Jaylen Smith of Sam Houston, who had upset third-seeded Anthony Ribando of Shaw 10-8 SV in the quarterfinals.
This match probably would not have merited a lot of attention based on Mateu's previous Division II finals matches, the first of which was a 10-1 major decision and the second a 6-3 match that he controlled throughout. This match was much more like the Division I finals match against Jesuit senior Brody Martin when Mateu was a mere freshman. Mateu lost that bid 1-0 due to a stalling call.
Both wrestlers locked-up high for most of the match. Mateu shot two good double-leg attempts in the first period, but Harper defended them well both times. Harper chose bottom for the second period, and Mateu rode him with arm-bars, cross-body rides and threw in a few cross-faces. Harper withstood the onslaught but was warned for stalling with 0:50 seconds remaining. A little later in the period, Harper was cited for stalling again, and Mateu was awarded a point. It was the only points of the match. Mateu chose neutral in the third period, and while there were no more calls for stalling, neither wrestler could get a decent shot off. Mateu's last finals match ended the same way as his first, but it was 1-0 victory this time.
Ribando rebounded from his quarterfinals loss to Sam Houston's Jaylen Smith with a fall in 0:46, a 14-1 major decision and a 9-2 decision to advance to the consolation finals. There he met Cooke, who defeated Smith 6-2. In keeping with the seeding committee's judgment, Ribando won the match 11-5 to place third. Clay defeated Smith 8-4 to place fifth.
R1: (7) Dorian Gross (BC) over Joshua Lackland (NS)
R1: (6) Jaylen Smith (SH) over Landon Poole (BNT) in 3:24
(1) Blake Mateu (RUM) over (8) Roney Golding (EJ) in 1:07
(5) Tyrick Clay (CAR) over (4) Jack Cooke (TC) in 1:13
(6) Jaylen Smith (SH) over (3) Anthony Ribando (SHW) 10-8 SV
(2) Zachary Harper (PKY) over (7) Dorian Gross (BC) 7-0
(1) Blake Mateu (RUM) over (5) Tyrick Clay (CAR) 7-3
(2) Zachary Harper (PKY) over (6) Jaylen Smith (SH) in 5:24
C1: Cameron Carter (HAU) over Moses Thomas (BOS) in 2:48
Championship Consolation Rounds
(3) Anthony Ribando (SHW) defeated (4) Jack Cooke (TC) 11-5 to place 3rd
(5) Tyrick Clay (CAR) defeated (6) Jaylen Smith (SH) 8-4 to place 5th
(1) Blake Mateu of Rummel defeated (2) Zachary Harper of Parkway 1-0
---
© 2017-18 by Louisiana Wrestling News
You may not make electronic copies of these copyrighted materials nor redistribute them to 3rd parties in any form without written permission.